blog
8 ways to make your house move more eco-friendly
08 September 2020 | Matt Mostyn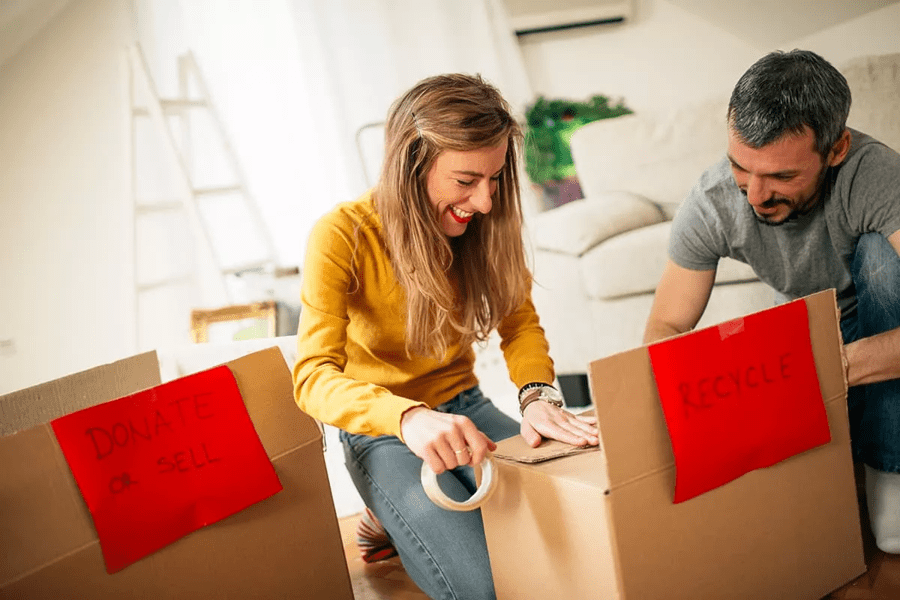 Shock fact: the average UK home move creates around 16.8kg of carbon emissions1. That's about the same as keeping an LED light bulb switched on continuously for a whole year2. 
From moving van emissions and shopping trips to cast-off items going to landfill, moving home can take its toll on the planet. But there's lots you can do to reduce the stress on our resources and environment! Choose the low-impact option, with our 8 top tips for an eco-friendlier house move.
Download our handy Moving House Checklist to guide you step-by-step
Sustainable consumption, waste and recycling
Have a pre-move sort-out!
Before you start packing, go through your possessions and sell/give away/recycle anything you definitely don't want or need. Why's this a good idea from an eco-friendly perspective? Namely because it puts your unused stuff back into circulation where it can be useful elsewhere, it cuts down the energy needed to move things twice over, and it reduces the space needed in your removal van.
That last fact means you could very likely hire a smaller vehicle – or at least lighten the load – which will also help to reduce your costs, your vehicle emissions and the toll on the planet.
Stop waste going to landfill
Moving home is a great opportunity to declutter your life – but it's better if you can do it responsibly! Resist the temptation to just throw stuff in the bin. Instead, consider taking all the things you no longer want or need to charity shops. 
You could also make good use of websites like eBay and Gumtree to sell those higher value items – while sites like Freegle and Freecycle are great for giving away anything you can't sell. Not only will this lighten the load when it comes to your move, but it'll also help cut down on the amount of stuff going into landfill.
Of course, there may be some things that will be hard to sell or give away. Whether it's a broken fridge, an old laptop or a sagging mattress, there are plenty of environmentally-friendly ways to get rid of them rather than just sending them to the local rubbish tip. Use the handy Recycling Locator at recyclenow.com to find your nearest recycling centre, or check to see whether your local council has a household pick-up service.
Finally, fly-tipping should never be a last resort! It's a big problem in the UK, with local councils recently spending a whopping £695 million in street-cleaning to tackle litter and fly-tipping, according to government figures3. Not only is fly-tipping terrible for the environment, but it's also incredibly costly for local councils – and anyone caught doing it could face a very hefty fine, or even prison time. 
Buy second-hand
Here's a mind-boggling statistic. Here in Britain, we send 300,000 tonnes of usable furniture to landfill each year4. That's about the weight of 24,000 buses. Abandoning perfectly good items rather than recycling or repurposing them doesn't just create tonnes of waste. It's also a gigantic waste of money, materials and resources.
With that in mind, buying whatever you need second-hand is a fantastic way to reduce the weight of continuous production and consumption on the planet. There are so many websites designed to help you source quality second hand items. Think eBay, Freecycle, charity shops, Facebook Marketplace and buying from friends and family.
Same goes for packing materials. Get hold of second-hand boxes from the supermarket, and use sheets, blankets and clothes to wrap fragile items. They're much better for the environment than bubble wrap and packing peanuts, which take over 1,000 years to decompose. You could also check out websites like Freecycle, which is a brilliant community resource to help you find (and give away) packing stuff for free in your town and neighbourhood.
Upcycling is the new recycling! Get creative here. Perhaps make a lampshade from glass bottles, or turn an old ladder into a coat stand. Upcycling will not only save you cash and help the environment – every item will also tell an old story in your new home!
Transport
Choose an eco-friendly transport option
Many moving companies tend to use large amounts of fossil fuels. With that in mind, we recommend finding a company that uses low-emission EEVs (Enhanced Environmentally-friendly Vehicles).
Look at companies that offer hybrid vans, or vans that run on biodiesel. And be sure to ask about their environmental credentials, check out what they're doing to minimise their carbon footprint, and find out what else they can do to help reduce emissions on the big day. 
When it comes to ways to move your treasured possessions, there are a few smart ways to make sure your transport method is low-impact. If you're moving smaller amounts – and particularly if you're only going a short distance – renting a self-drive van or truck (especially an electric one) rather than relying on your car will help to reduce the number of journeys between your old and new home. 
Limit your trips
Whether you're driving between your old and new home, doing a run to the charity shop or hot-footing it to the supermarket for supplies, think about how you can tackle these in as few trips as possible. That way, you'll minimise your carbon emissions, and save yourself valuable time in the process.
Also be aware that the most direct route anywhere might not always be the most energy-efficient! Cut carbon emissions further by planning a route that uses wide, well-maintained roads, and try to avoid steep hills! 
Cleaning
Clean green
Your old and new homes will likely both need a thorough scrubbing before you move in – so to make your household clean lean and green, consider which products and equipment are the most earth-friendly.
Using eco-friendly cleaning products prevents harmful chemicals from making their way into the environment. And they're not only better for the planet – they're also much better for your health. 
You could have a go at making your own from store-cupboard ingredients like vinegar, bicarbonate of soda and lemon juice. Most supermarkets sell ranges of non-toxic, earth-friendly biodegradable options, too.
Find out more about how to do a green clean, with our complete guide to eco-friendly cleaning.
Energy
Learn a few nifty ways to waste less energy
Moving home is a great opportunity to turn over a new leaf and create some brand new habits. Once you're all moved in, there are all kinds of ways you can care for the planet as you settle in. From putting a lid on a saucepan to turning the thermostat down 1 degree, find ways to cut back your energy use and you'll help to lower your bills, as well as bring down your carbon emissions.
Choose an eco-friendly energy supplier
There's also another sure-fire way to continue the eco-friendly vibe in your new home – get green energy!
Here at OVO, we use a range of cutting-edge technologies to help you embrace a greener lifestyle. They include everything from smart meters, air source heat pumps and smart storage heaters to grid-balancing software, renewable energy storage technologies, and clever chargers that turn electric vehicles into power stations.
On top of that, all our plans come with 100% renewable electricity5 as standard. And if you want 100% carbon-neutral gas6 on top of this, why not check out OVO Beyond - the green upgrade that cuts carbon and restores nature.
OVO Beyond will help you shrink your carbon footprint further, with personalised tips to cut energy waste and bills through Energy Spotlights. Plus, we plant 5 trees a year7 in UK schools and communities on behalf of every member who signs up, and protect natural habitats around the world with our carbon-offsetting projects.
Find out more about how to set up your gas and electricity in your new home
1Eco Age magazine: https://eco-age.com/magazine/how-move-house-sustainably
2Average wattage of an LED light bulb x number of hours in a year x UK grid average emissions factor for electricity = carbon emissions from keeping an LED light bulb switched on continuously for a whole year. LED bulb wattage information sourced from Energy Savings Trust: https://www.energysavingtrust.org.uk/sites/default/files/reports/EST%20Lighting%20Guide%20-%20the%20Right%20Light.pdf. Emissions factors are based on the lifecycle electricity emissions for the 2019 UK grid average electricity fuel mix provided by the Carbon Trust.
32019-20 data: https://www.inyourarea.co.uk/news/the-true-cost-of-litter-and-fly-tipping-in-england/
4https://www.edie.net/news/5/RSA-urge-manufacturers-to-embrace-circular-economy-for-furniture/
5 100% of your electricity comes from renewable sources such as wind, solar and hydro. The renewable electricity we sell is backed by renewable certificates (Renewable Energy Guarantee of Origin certificates (REGOs)). See here for details on REGO certificates and how these work.
6 By providing 100% carbon-neutral gas (15% green gas and 85% offset) and offsetting all associated lifecycle carbon emissions involved in the production and consumption of your electricity & gas, OVO Beyond reduces your yearly carbon emissions from the energy used in your home that's supplied by OVO to net zero. The renewable electricity we sell is backed by renewable certificates (Renewable Energy Guarantee of Origin certificates (REGOs)). See here for details on Renewable Energy Guarantee of Origin certificates and how these work. The green gas we sell is backed via renewable certificates (Renewable Gas Guarantees of Origin (RGGOs)). See here [https://www.ovoenergy.com/green-gas] for details on Renewable Gas Guarantees of Origin and how these work. We offset the remaining emissions by supporting UN REDD+ carbon reduction projects that are certified to the Verified Carbon Standard or the Gold Standard.
7 OVO plants 5 trees for every OVO Beyond member through our award-winning I Dig Trees programme with The Conservation Volunteers. Trees absorb carbon dioxide from the atmosphere, so tree-planting helps to slow down climate change. Since 2015 we have planted over 1 million trees.
View more from these categories