guide
DNOs: Who is my distribution network operator?
04 December 2020 | Matt Mostyn

A short guide to DNOs and what they do
A Distribution Network Operator (Or DNO) is a company licensed to distribute electricity in the UK. These companies own and operate the system of cables and towers that bring electricity from the national transmission network to our homes and businesses.
Most of us know about the companies that supply electricity to consumers  (such as OVO). But there's another aspect to the delivery of energy to UK homes and businesses – distribution. And many of the leading distribution companies are largely unknown to the public. In this guide we'll look at who they are, and what they do.
What is a Distribution Network Operator (DNO)?
You might be surprised to learn there are actually 4 different types of businesses involved in keeping our lights blazing and our homes warm. Here's a quick summary of the sectors that run our power network:
Generation: responsible for power plant ownership and operation
Transmission: responsible for high voltage transmission networks
Distribution: responsible for local distribution via towers, cables and meters
Suppliers: electricity sellers like OVO
Distribution Network Operators run the distribution of electricity from the national grid to your home or business. Being responsible for the network of towers, transformers, poles, cables and meters that deliver power to your home, they're also the people to call if there's a power cut. 
By the way, if you're experiencing a power cut, call 105 (free from most landline and mobile numbers) to be put straight through to your local District Network Operator.
Ready to fight the climate crisis together? Switch to OVO today. 
DNO regions and operators
In Great Britain there are 14 different district networks or DNO regions. However, because these 14 regions are managed by just six operators, it's relatively simple to work out yours.
DNO map: find your local DNO supplier
The map below (from the Energy Networks Association) gives a good visual idea of where each DNO operates. If you're looking to work out who your DNO is, check below to find the right contact details.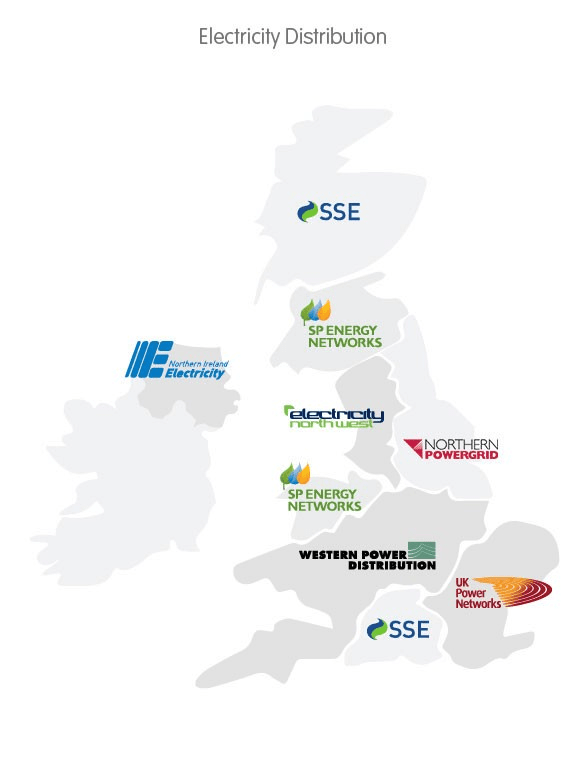 Who is my District Network Operator? 
First, check the map to find out who your Distribution Network Operator is. Then, if you need to contact them, you can find the right number in the details below (from the ENA):
DNO by postcode
If for some reason you can't work out who you should call from the map and tables above, simply enter your postcode here to find out.
District Network Operator solar connection
Whenever you connect any type of electricity generation to the grid, you need to inform your local Distribution Network Operator (DNO). In general this isn't a big issue – but if you're connecting a home solar system, be aware that your responsibilities will change, depending on the size of the system you're installing. Any installer registered with the Microgeneration Certification Scheme should be well aware of these details, but it's worth knowing the following: 
Smaller systems
If you're connecting a small system (up to 16A per phase or 3.7 kW), your installer just needs to inform the DNO within 28 days of the system's commissioning. Small systems are unlikely to result in load issues for the local grid – so the regulation is relatively simple. For more details, check out this guide on the G83/2 engineering recommendation.
Larger systems
For bigger systems, your installer will need permission from the DNO in order to connect to the grid. In many cases this will require a network study (which you may be charged for), to check that the local grid network is adequate for the power your system will produce. If the grid needs additional work to cope with the energy from your system, the DNO is required to provide you with a quote for the work within 45 days.
Keen to learn about the solar revolution, from how they work, to how they could power your home? Learn more about solar panels here.
Want to join the renewable energy revolution and fight climate change? Find out more about our energy plans and switch to OVO!
View more from these categories