blog
A pint-sized solution to food waste
21 February 2020 | OVO Energy
80% of deforestation.
70% of freshwater use.
25% of the world's carbon emissions.
The way we produce our food is responsible for all this1 – and yet, a third of food goes to waste.
To stop this from happening we need green, carbon-cutting companies, like Toast Ale, to fast-forward change. We sat down with its COO, Louisa Ziane, to talk about their ingenious idea of changing things for the better. Here's how it went.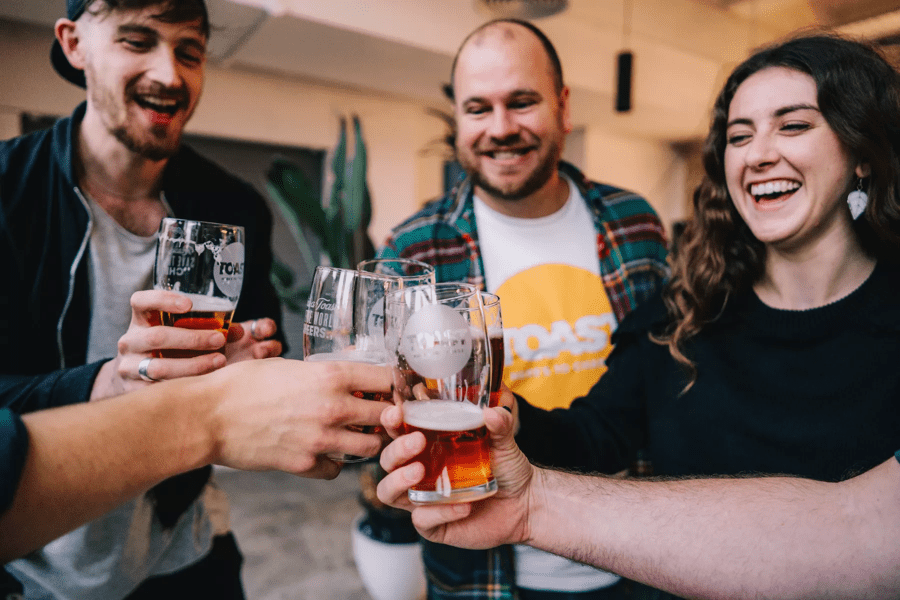 So, who are Toast Ale?
We brew all our beer with surplus fresh bread that would otherwise go to waste. We work with sandwich manufacturers, replacing a third of the malted barley in our brewing process with the heel end of the loaf. And then we give all our profits to charities who are fixing the food system.
How can beer help save the planet?
Creating beer from bread has been around for thousands of years, but it was in 2015 that Tristram Stuart, our Toastmaster, first came across this idea at the Brussels Beer Project, Belgium.
Since then, we've been rediscovering an old tradition – and giving it a modern twist to help fight food waste, and inspire action to solve the climate crisis.
Let's talk bread: fancy sourdoughs, baguettes or...?
In the brewing process, bread works with malted barley - providing starches that are broken down to fermentable sugars by enzymes. It's this sugar that the yeast feeds on during fermentation to create alcohol. Simple white or brown sliced bread is best as it typically has more easily accessible sugars.
We've explored brewing with all sorts, from award-winning sourdough at the World Bread Awards, to more unusual breads like rye. The only breads we avoid are oily breads (think focaccia) or flavoured ones with ingredients like olives, cheese or seeds – we've found that these fancier breads typically have a higher salt content which isn't good for beer.
Unfortunately, because 44% of all bread produced in the UK is never eaten, there is plenty of surplus and we can be quite picky about which we use.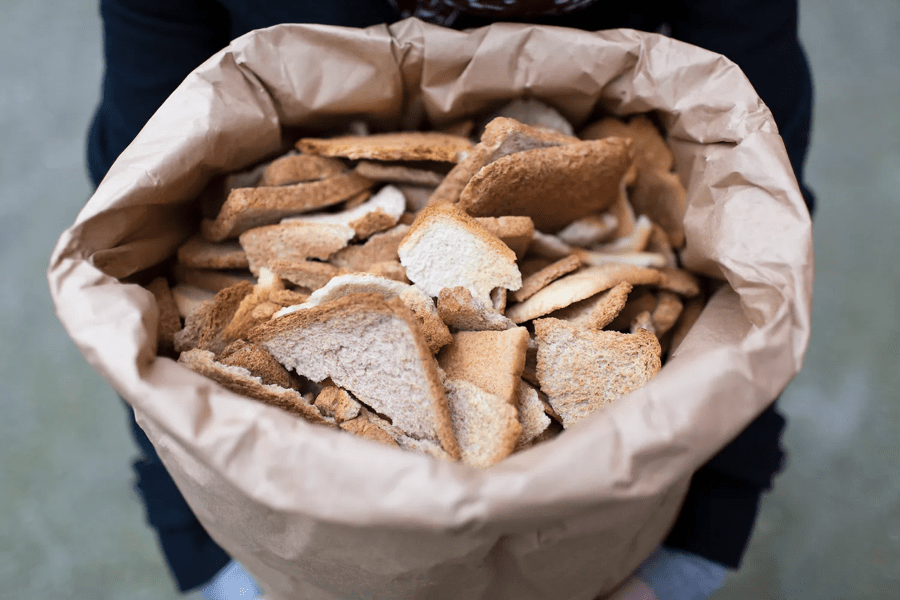 Why do you think people are searching more and more for low-carbon, low-waste products? 
It's pretty straightforward. The impact we're having on the planet is now so pronounced we can't ignore it anymore. People know something has to change.
 
Stopping food waste is one of the simplest and most impactful things that we can do. And many brands are offering people an attractive proposition. Zero waste apps Too Good To Go, Karma and Olio offer discounted food, whilst products like Rubies in the Rubble, ChicP and Flawsome prove that using surplus food doesn't compromise on taste. For us, giving people a delicious, simple way of taking positive steps, is key to educating and inspiring day-to-day action.
 
These innovative approaches are being replicated across other environmental issues, from sustainable packaging to palm oil, shaping people's demand for more sustainable products and practices.
How does Toast reduce its carbon footprint?
We directly reduce the emissions of the food industry by using unused fresh bread in our brewing process. This prevents bread from being wasted, and reduces the demand for barley (and associated land and water requirements, and carbon emissions). We also collaborate with breweries all over the world, leading a movement for a more circular economy.
The problems of food waste are more complex than just saving bread, so we donate all our profits (or 1% of revenue - whichever is higher) to charities that are fixing the food system. And we use our voice to educate and inspire. We're uniquely placed as a product that brings people together, and everything we do is an invite for the sustainability conversation.
In 2018, we became the first UK brewery to certify as a B Corp brewery, meaning we meet the highest standards for environmental and social responsibility, accountability and transparency.
What's been the impact of the Toast community so far?
We've upcycled 1.9 million slices of surplus fresh bread, avoided releasing 43 tCO2e (that's the equivalent of carbon absorbed by 76.2 acres of forest in a year).
We've also inspired and partnered with over 57 breweries across 9 countries to start brewing with unused bread. Our homebrew recipe has been downloaded more than 80,000 times – and we've donated £30,000 to charities fixing the food system. Plus, we use refillable growlers from reusable kegs, making for the first zero-packaging supermarket beer.
We want to redefine what it means to be sustainable by making it an accessible option for everyone – even if that starts with something as simple as a cheeky pint.
Any tips on how people can reduce their food waste and carbon footprint?
Today we live with an abundance and food has become a commodity. The biggest issue with food waste is to do with producing it in the first place, but often it's difficult to appreciate where this food actually comes from. We need to reduce overproduction and produce using sustainable methods, but it can feel like we don't have the power to influence this. One of the most important things you can do is to ask questions of the retailers and restaurants where you spend your money, and ask them to do better.
 
To reduce your own food waste, the simplest thing to do is to only buy what you need and then to eat what you buy. We can also look back in time for tips on how to eat more sustainably.
For thousands of years, industrially produced meals didn't exist, and shops didn't stock produce from every corner of the Earth. You can try shopping at your local markets and eating seasonally to reduce the impact of the food you buy. Do it just on the weekends, for starters.
People also developed recipes to preserve the caloric content of surplus or seasonal food, whether that was by reimaging stale bread into desserts, preserving and pickling fruit and veg, or fermenting grains. It's now simple to find recipes for every ingredient you have.
Reducing waste is about being creative. So have some fun, use your imagination, and raise a cheeky planet-saving glass of beer to your successes.
Psst. Want to give Toast Ale a try? You'll find them in the UK's main supermarkets, plus some cool pubs and restaurants. Cheers!  
1 -  Making food is responsible for;
80% of deforestation: https://assets.publishing.service.gov.uk/government/uploads/system/uploads/attachment_data/file/65505/6316-drivers-deforestation-report.pdf
70% of freshwater use: http://www.fao.org/3/a-i7959e.pdf 
30% of the world's carbon emissions: https://foodsource.org.uk/31-what-food-system%E2%80%99s-contribution-global-ghg-emissions-total 
View more from these categories