blog
Book Lovers Day: OVO's top 10 books on sustainable living, the environment and climate change
10 August 2020 | OVO Energy
It's British summer time. It's a gorgeous, balmy afternoon. The barbecue's being fired up. The paddling pool is out… Bliss. 
But whether you're a sun worshipper or you prefer [to stay cool indoors]https://www.ovoenergy.com/blog/lifestyle/how-to-keep-your-house-cool-this-summer, we can all agree that there's no better way to top off your summer vibe than with a real page-turner of a book you can't put down on those lovely long summer days.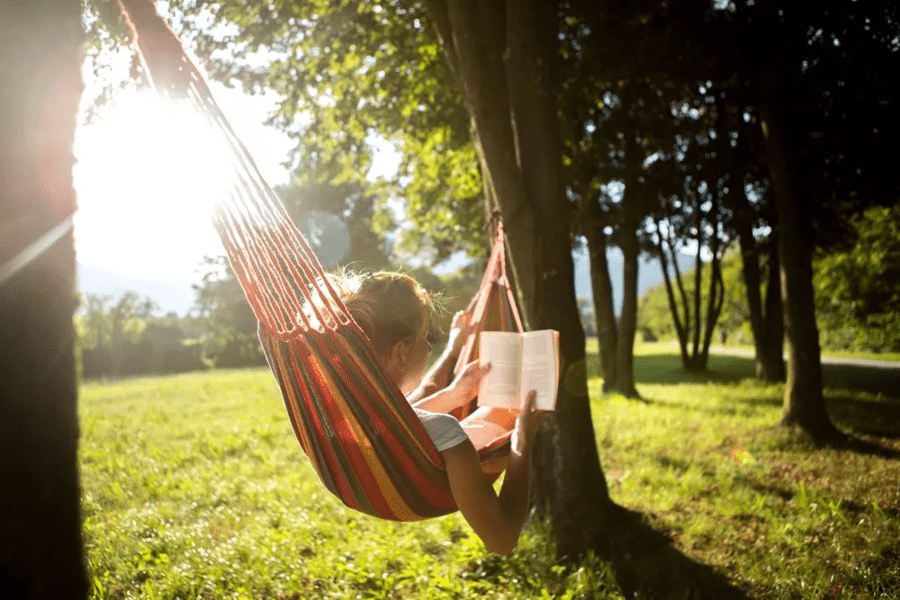 Speaking of books, every year on the 9th of August, book-lovers the world over celebrate Book Lovers Day. Sure, OVO's main passion is fighting climate change and working towards a zero carbon future. But it turns out that our OVO team are also avid readers, particularly when it comes to books about sustainability and the environment. So to celebrate Book Lovers Day, we thought we'd share our team's favourite reads with you. 
You'll find a nice varied list below, with something for everyone. Some are fiction, some are non-fiction. Some are old, others are new. But all of them help you think about your role in living a sustainable life and looking after our planet. Happy days. 
So whatever your taste - grab the sunscreen and a cold drink, head out into the sunshine (fingers crossed!) and check out our list of recommended reads1 below. (Not got time for a book? Check out our list of the best documentaries about climate change.)
Happy reading!
How Bad Are Bananas?: The carbon footprint of everything by Mike Berners-Lee
Given our commitment to building a zero carbon community, it's no surprise that this corker is top of our list. As entertaining as it is informative, Mike Berners-Lee reveals all we need to know about the carbon footprint of everything we do with a view to us lessening our impact on the planet. And it happens to be a particular favourite of Sophie, our Head of Brand, who's become a real advocate of buying food locally and in season since reading it!
Where The Crawdads Sing by Delia Owens
Delia Owens' brilliant debut tells the story of a community in a coastal town in North Carolina during the 1950s and 60s. It's a thriller based all around an intriguing murder mystery- but at its core, it's a coming-of-age tale that explores important themes such an environmental pressures and social isolation. Fran, a Senior Brand Marketer here at OVO, is a real fan of this one and loves its focus on the natural environment around us.
Don't Even Think About It: Why Our Brains Are Wired to Ignore Climate Change by George Marshall
A really important look at how bad the global response to climate change has been up to yet. Marshall explores how and why people make active choices to act or ignore the issue and what we need to do to effectively mobilise action on a global scale. This is our Brand Marketer, Charlie's number one; he loves the interesting way in which it goes beyond the science to explore the behavioural and emotional reasons for climate inaction.
How To Give Up Plastic: Simple steps to living consciously on our blue planet by Will McCallum
We all know the seriousness of the plastic issue: at the rate we're going, by 2050, there could be more plastic in the ocean than fish by weight at the rate. But what Amelia, our social media manager, loves about this timely book is how proactive and optimistic it is in presenting accessible ways to make a big difference to confronting this huge environmental problem.
The History of Bees by Maja Lunde
Kate, OVO Group's Sustainability Director, was absolutely buzzing about this spellbinding book that tells the stories of three beekeepers from the past, present and future. It reminds us of the hugely important role that bees play in sustaining humanity and nature and is haunting and uplifting in equal measure. 
Cradle to Cradle: Remaking the Way We Make Things by Michael Braungart and William McDonough
This book presents a fascinating and enlightening vision for the future of industry, design and recycling. It thought-provokingly discourages downcycling and encourages us to make products with upcycling in mind and is a favourite of Linnea Hopkins, who works in the Smart Meter team at OVO. 
The Overstory by Richard Powers
Inspired by the Californian Redwoods, this epic tale interweaves the lives of nine American's life experiences centred on the destruction of forests - a favourite of Hannah's, from the OVO Foundation team. Trees are something we care passionately about at OVO, in fact we recently planted our 1 millionth as part of the I Dig Trees programme.
Small Is Beautiful: A Study of Economics as if People Mattered by E. F. Schumacher
This collection of essays was first published in 1973 and is a favourite of our very own Director of EVs, Tom. Written in the wake of an energy crisis and ever-growing globalisation, we think it's aged wonderfully. Its critique of excessive consumption in western democracies and their focus on the 'bigger is better' philosophy feels as relevant today as it did in the 70s.
Drawdown: The Most Comprehensive Plan Ever Proposed to Roll Back Global Warming by Paul Hawken
Our Senior Brand Marketer, Kayley, loves how this book does exactly what it says on the tin. Leading researchers, scientists and policymakers come together to offer bold ideas to not only slow climate change but also to work towards 'Drawdown': the point at which our planet's greenhouse gases start to decline. Sounds good to us. 
The Lorax by Dr. Seuss
An oldie but a real goodie. Adored by both young and grown-up children across the globe, we couldn't leave out this classic which got votes across OVO. What's not to love about a fable warning of the dangers of environmental destruction? Complete with magical characters, beautiful rhymes and colourful illustrations- we'll take that too!
If this list has inspired you to read more about sustainability and fighting the climate crisis, you're in the right place. Why not check out some expert tips in our Energy Guides? Or head to the OVO Blog for all you need to know in the world of green energy, smart tech and zero carbon living.
1All of the books in this list are personal favourites of OVO team members and do not represent the views or opinions of OVO. No monetary compensation has been received in connection with this blog post and none of the books are being promoted by us for marketing purposes
View more from these categories