blog
Good for kids, good for the planet: the power of trees
15 October 2020 | Rebecca Goodman
To celebrate our tree-planting news, we commissioned research into the link between kids' wellbeing and nature. Here, our writer-in-residence, Rebecca Goodman, shares the findings – and reflects on what nature and trees mean for her and her daughter.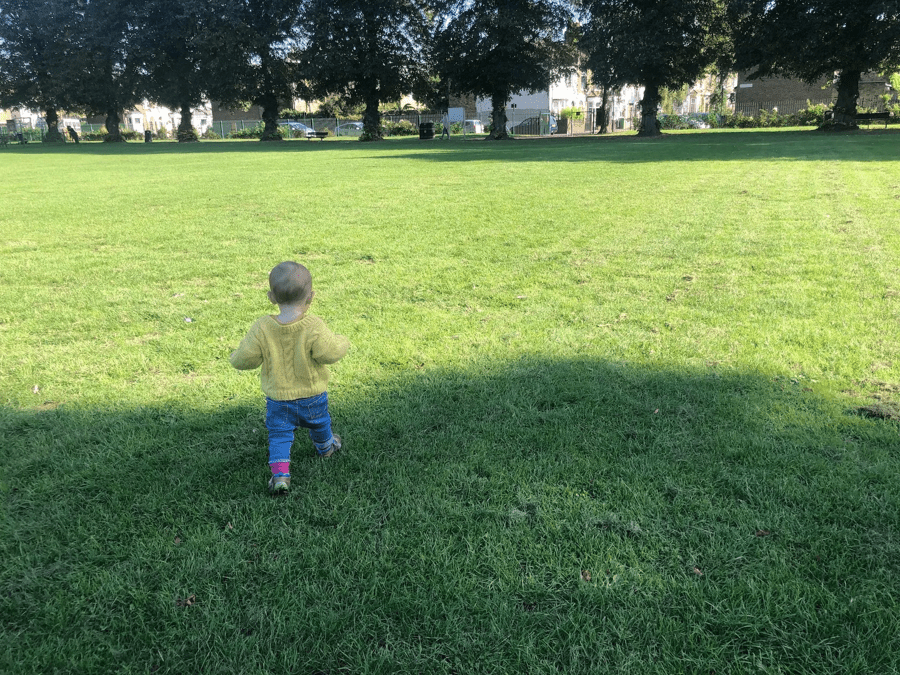 There's no getting away from it, the past 6 months have been a strange and testing time for most of us, wherever we live in the UK.
Living in London with a child who learnt to walk in lockdown, I've spent a lot of it trying to find green spaces for exercise, and to help improve our mental health and wellbeing during these uncertain times. 
Despite living in a city, we're lucky to have a large nature reserve nearby which has been the perfect place to get out of the house for long walks and picnics.
Our favourite activity is finding somewhere to stretch our legs and research from OVO shows we're not alone! In fact, when asked what their kids did when they're outdoors, 52% of parents said they spent it running around, 51% said cycling, and 46% went for woodland walks.
While I've always loved the way long walks make me feel better physically and mentally, I've also really noticed the overwhelming benefits to my daughter of getting out of the house.
Why our children need to get outside and engage with nature
It's clear to see why 75% of parents in OVO's study said they wished their kids would spend more time outside in nature. Of those 80% said they noticed a positive change in their child's mood after being outside, 65% said their child was happier, 56% said they had more energy, and 28% said they were more curious after a trip outdoors. 
The impact on kids is clear. 87% of parents said having trees and green spaces nearby was positive for their child's mental health, while 82% said it helped their physical wellbeing. 
So it's more important than ever to make sure there are green spaces available for all children – wherever they live in the UK.
Planting trees: what OVO can do
OVO has recently promised to plant one tree for every member, for each year they stay with them. That's 900,000 trees over the next year and each of those will absorb around 60kg of carbon as they grow. The planting will absorb around 54,000 tonnes of carbon from the atmosphere as the trees grow.
There are also signs being outside more and children spending time outdoors can provide educational benefits as they learn about the environment around them.
Three quarters of parents said they took their children to outdoor green spaces to get them thinking about the environment and 84% agreed that living closer to nature helps their children  care more about it.  
So, not only are the benefits to humans clear, having more green spaces and trees is also a huge benefit to the environment and helps to fight against the climate crisis. 
You don't have to look very far these days for reminders of why we need to act now to save the planet. From the warnings of Greta Thunberg and David Attenborough to the devastating images of Californian and Australian fires – it's easy to feel pretty hopeless and overwhelmed about it all.
But the overarching message is that even the small things can make a big difference when we do them together. 
Companies like OVO have the ability to make significant changes. It now offers 100% renewable electricity as part of its commitment to eliminate the household emissions of customers by 2030, saving 466,706 tonnes of carbon emissions per year. 
But we as individuals also have a responsibility to make changes and these are crucial too.
Everyone can play their part 
I was pleasantly surprised by part of OVO's research which showed that 45% of parents said their child had a very good knowledge of environmental issues.
When asked what their children did regularly to help save the planet, 64% recycled, 50% turned off lights not being used, 45% didn't leave water running, and 42% were using less plastic.  
The message is clearer than ever today that we're all in it together. 
While OVO is planting more trees and working on eliminating household emissions, there are hundreds of small ways we can reduce our carbon footprint which will collectively help protect the planet for our children and future generations. 
And it's only by doing this that one day Florence will be able to show her children the same beautiful green spaces and trees we've spent so much time enjoying together.
You can read more articles about how we can all help fight the climate crisis and live more sustainably on the OVO blog.
View more from these categories