blog
UK weather: the windiest, coldest and sunniest places revealed
20 July 2021 | Celia Topping
To celebrate OVO's sponsorship of Channel 4 Weather, we're honouring the Great British weather's role in powering Great British homes with regular blogs on the UK's favourite subject!
One thing we know for certain on this little island of ours is that the weather is a fickle mistress. One moment we're blissfully sunning ourselves, BBQ on, beer in hand – and the next we're running for cover as the rain hurls down, extinguishing the BBQ along with any hopes of a sun tan. 
So here's a guide to where you can find the warmest, sunniest spots if you're a sun worshipper. And where to go if you fancy skiing without the fuss of flying (not to mention the carbon cost of travelling by plane of course!)
What causes the weather in the UK?
We love talking about the weather in the UK. Probably because we get pretty much all the extremes at some point or other – sometimes all in one day! So what causes so much change? 
The reason we have such unpredictable weather in Britain is because we're an island located between the vast Atlantic ocean and the large landmass of continental Europe. 
We're positioned (lucky for us!) in an area where 5 main air masses meet, bringing 5 different types of weather – such as the tropical maritime air mass which is warm and moist, bringing cloud and rain from the Atlantic. And the polar continental air mass brings snow in winter and heat in summer from Central Europe. 
Is the UK's weather getting more extreme?
Evidence suggests that it is. Our temperatures seem to be slowly and continuously rising in line with the global pattern. For example, we've had the 10 hottest years on record since 20021. Experts put this down to climate change. 
The extreme weather events over the last 20 years are all thought to be results of climate change too. Such as record rainfall causing flooding, and freezing temperatures with record snowfall as well as droughts and major heatwaves2. 
The following diagram shows some of the drivers of climate change and the impacts they could have on the climate system.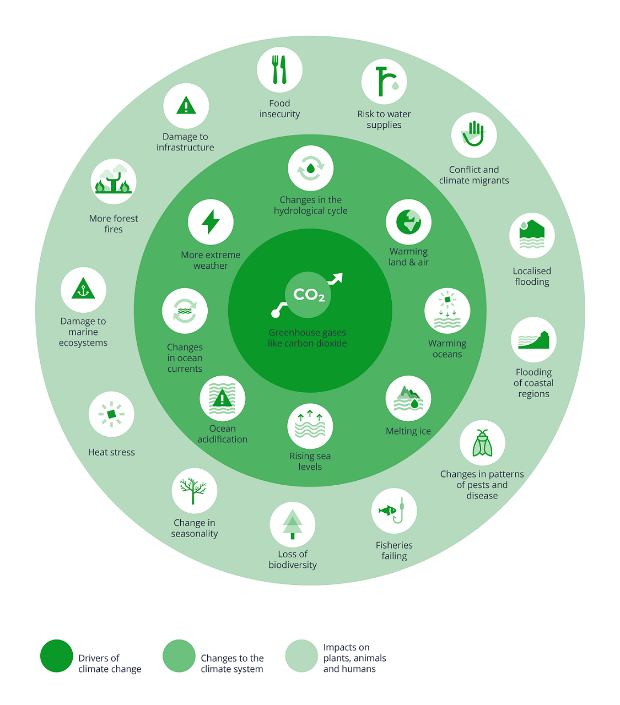 Met Office UK
Which part of the UK is sunniest, and where is warmest?
We all love the sunshine, so which part of the UK should we head to for our serotonin fix? And for those who can't bear the cold, we'll show you the place to warm your cockles. 
Where in the UK gets the most sunshine?
Britain's south coast is the place to be if you want sunshine. Hastings, Folkestone and Eastbourne are in the running, but winning the sun stakes is Bognor Regis. With almost 2,000 hours of sun per year, this small seaside resort is the one to book if you want a suntan. 
Where is the warmest place in the UK?
The warmest place in the UK is not actually on the main island at all, it's on the Isles of Scilly. Although not necessarily the hottest place during the summer months, the islands maintain an average mean annual temperature of around 11.5°C. And rarely drop below 5°C in the winter3. Go to the Isles of Scilly? You'd be daft not to. 
Where in the UK has the worst weather?
Looking for where to go this summer for your staycation? Here are a few places you may want to cross off your list. 
Where is the wettest place in the UK?
If you're thinking of heading to Snowdonia, the Lake District or the Scottish Highlands, you may want to pack a brolly. The Met Office's observation points in these areas report they have more than 4 metres of rain a year! Crib Goch in Snowdonia received 6185mm (nearly 6.2m) during the whole of 2015 with 1396mm in December alone4! And Cardiff in Wales is the wettest city with 12.4 days of rain per month. 
Where is the coldest place in the UK?
You may want to wear something under your kilt if you're heading to Scotland this year. Temperatures as low as -27.2°C have been recorded 3 times in Braemar and Altnaharra. And the city of Perth (the Scottish one, not the Australian one!) is the coldest all year round, with an average annual temperature of 1.9°C5. And not far behind with an average temperature of 2.1°C are the Yorkshire cities of Leeds and Bradford. Brrrr… 
But even Scotland can't compete with Oymyakon in Russia, the coldest place on Earth, with temperatures reaching a frigid -62°C!  To give this some perspective,  the average fridge freezer is -18°C! 
Where is the windiest place in the UK?
You might have guessed it, but Scotland tops the list again. The Shetland Islands is the windiest place in the UK, with an average wind speed of 14.7 knots6 (that's around 17mph). The other islands around Scotland aren't far behind, with Orkney reaching an average 14.3 knots and the Outer Hebrides 12.6 knots. 
Unsurprisingly, it's the western side of the country that gets the gustiest, with wind coming off the Atlantic. And generally speaking, higher mountain regions are windier than low-lying valleys, so Dartmoor National Park is one of the windiest places in England. Let's go fly a kite!
And finally, Britain's snowiest place is...
Get your mittens on and start strategising your snowball fight manoeuvres if you're heading to the Cairngorm mountains in Scotland this winter. This beautiful part of the country expects 76 snowy days a year on average. And nearby Aviemore has 66. Other islands in the Scottish archipelagos also rank highly for snowmen building, with Baltasound, Lerwick and Fair Isle having 65, 64 and 63 snowy days a year respectively7. 
And if you're looking for a ski resort in England, look no further than Copley in County Durham. Just south of the North Pennines AONB, this pretty spot sees 53 days of snow on average a year8.
To have the best chances of staying snow free, you'd better head to Cornwall for only 7.4 days of snowfall per year on average. 
How the UK's weather is driving renewable energy
At OVO, we supply only green electricity to our members. Fortunately for us, the UK's wet and windy weather (as well as occasional sunshine!) provides the perfect conditions for renewable energy generators. 
It's amazing to think that blustery Britain is the 6th largest global producer of wind energy, after China, the US, Germany, India and Spain. And with £160 million investment9 from the government last October, our little island could soon create enough electricity for every single home. Go us! 
As part of our mission to supply the UK with green electricity, we've recently signed 2 Power Purchase Agreements (PPA). One with Ørsted where we've been buying 100% of the power generated by Barrow Offshore Wind Farm since February 2021. And the other with Eneco where we've been buying 100% of the electricity generated by the Crystal Rig Wind Farm in Scotland (operated by Fred. Olsen Renewables) since March 2021. 
Thanks to these offshore wind farms, and the other thousands of turbines spinning around the British Isles, the UK could give us as much as a third of our electricity by 203010.
To find out more about how the Great British weather is powering our renewable energy system, head over to our guide. 
Choose OVO to power your home the green way
Want to power your home with 100% renewable electricity11, support tree-planting around the UK, and join the fight against  the climate crisis?
Choose OVO as your energy supplier and you'll get:
A tree planted in your name every single year you're with us12
Access to

OVO Greenlight

for free energy-saving tips
An award-winning smart meter experience (Uswitch 2020)
A £50 gift card every time you

introduce a friend
Check our range of plans, and see how much you could save.
Sources and references:
1.  https://www.metoffice.gov.uk/about-us/press-office/news/weather-and-climate/2019/state-of-the-uk-climate-2018
2.  https://www.metoffice.gov.uk/research/climate/understanding-climate/attributing-extreme-weather-to-climate-change
3.   https://www.currentresults.com/Weather-Extremes/UK/hottest-place-inuk.php#:~:text=Hottest%20place%20in%20the%20United,water%20off%20the%20UK%20coast.
4.  http://www.ecn.ac.uk/news/snowdon-december-2015-rainfall-record
5.   https://www.flogas.co.uk/news/winter-in-brrrritain-the-coldest-cities-revealed
6. https://www.windcrane.com/blog/windcrane-general/windiest-places-on-earth-and-uk#:~:text=The%20Shetland%20Islands%20%2D%20The%20UK's%20Windiest%20Place&text=The%20average%20wind%20speed%20here,Shetland%20Islands%20in%20this%20respect.
7 and 8.  tps://www.metoffice.gov.uk/weather/learn-about/weather/types-of-weather/snow/snowiest-places
9.  https://www.gov.uk/government/news/new-plans-to-make-uk-world-leader-in-green-energy
10.  https://www.gov.uk/government/news/offshore-wind-energy-revolution-to-provide-a-third-of-all-uk-electricity-by-2030
100% of the renewable electricity we sell is backed by renewable certificates (Renewable Energy Guarantee of Origin certificates (REGOs)). See

here

for details on Renewable Energy Guarantee of Origin certificates and how these work. A proportion of the electricity we sell is also purchased directly from renewable generators in the UK.
12.  Each year, OVO plants 1 tree for every member in partnership with the Woodland Trust. Trees absorb carbon dioxide from the atmosphere, so tree-planting helps to slow down climate change
View more from these categories