blog
The best trees to plant at home
30 November 2020 | Aimee Tweedale
Here in the UK, it's National Tree Week – so what better time to celebrate all things arboreal?
Together with I Dig Trees and the Woodland Trust, we're on a mission to plant around 900,000 carbon-busting trees over the next year. By planting one tree a year for every OVO member – and 5 extra for OVO Beyond members – we'll be absorbing around 54,000 tonnes of carbon dioxide back out of the atmosphere over the next decade!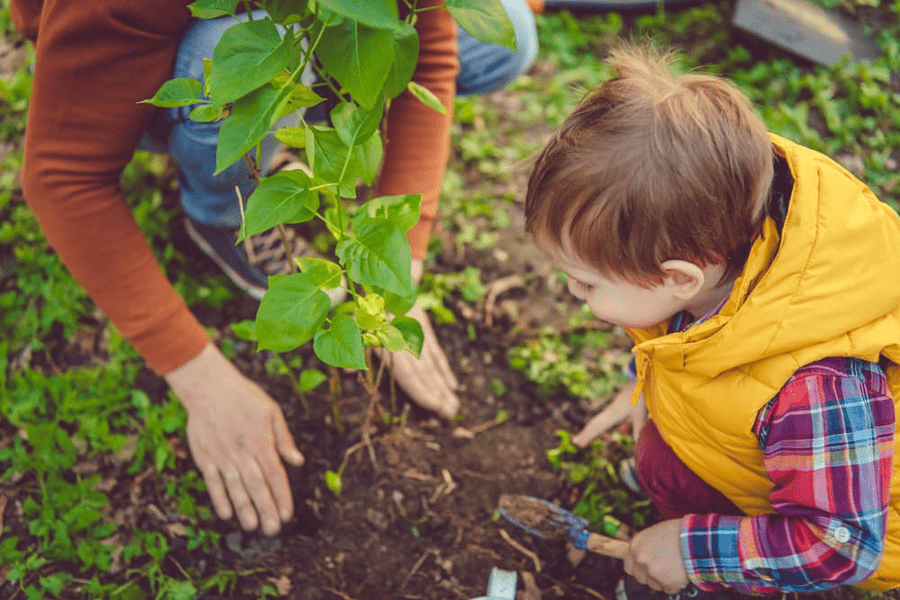 There are so many great reasons to grow trees of your own. Not only are trees good for air quality, they also lower temperatures, create habitats for wildlife, and studies suggest they can even make you happier. More on that below.
If you're thinking about getting your hands dirty and planting a tree yourself, you've come to the right place. Whether you want something small and ornamental for the garden, or you're trying to attract the birds and bees, here are our top tips on the best types of tree for you.
Find out more about how and why OVO plants trees.
The best trees for small gardens
Research has shown that chemicals released by trees can literally make us feel happier and less stressed. Why wouldn't you want that in your life? Even if you've only got a tiny city garden, there may be a tree out there for you. 
Before settling on which one to plant in your garden, it's important to do your own research. Ask questions like: how big will this tree ultimately grow? And how many years will it take to get that big? Check out the Royal Horticultural Society for more on the different things to consider when you're picking a tree.
Here's our top 5 recommendations for trees that you could plant in your little corner of the world, inspired in part by the Woodland Trust.
Rowan or mountain ash: these slim, fast-growing trees will thrive in most types of soil
Japanese maple: with their beautiful leaves, these ornamental trees are a sight to behold in autumn
Magnolia: there are a few shorter varieties of magnolia to choose from, including Magnolia wilsonii and Magnolia stellata
Ornamental cherry: growing to a maximum of 8m, 'Pink shell' cherry trees are stunning when they're in full bloom
Blackthorn: at 6-7m, not only will Blackthorn trees make a great hedge, but they also give you sloes for your

seasonal sloe gin
The best trees to grow in pots
If you've only got a very small space, and don't want to risk your tree getting too big, think about planting one in a pot. Slow-growing and dwarf varieties of tree tend to work best for this. 
Here are 5 mini-trees that could thrive in a pot on your patio or balcony. 
Japanese maple: once again leading the pack, this pretty tree is also perfect for growing in a container
Conifer: get yourself a hardy dwarf conifer and you'll be guaranteed lush green scenery all year round
Olive: olive trees have naturally shallow roots, and while they can grow very big, they're easily kept in a pot if you prune them regularly
Apple: if you want fruit and flowers,

Gardeners' World

recommends getting a dwarf Malus domestica
Magnolia: they also suggest Magnolia stellata, which is ideal for pots and small gardens, given its petite build and gorgeous flowers
The best fruit trees to grow in the UK
It's always important to consider a tree's size, and the type of soil it needs. But when you're choosing a fruit tree, it's also a good idea to ask yourself what you want to do with the fruit – eat it, cook with it, or attract wildlife?
Here we've summed up some of the UK's most popular fruit trees – and they're also types that will happily bear fruit in spite of our changeable weather! 
Apple: an old classic, there are so many varieties of apple tree to choose from. If you've got the space, you could even plant two varieties that pollinate each other
Apricot: the

'Goldcot' variety

grows fruit that's great for cooking – but if you want one that's hardier, try a 'Tomcot'
Plum: 'Victoria' is the type of plum most widely grown in the UK. Its only real issue is that it can sometimes produce so much fruit that it weighs down the branches. Not a bad problem to have!
Bird cherry:

this variety of cherry tree

not only produces fruit (which, as the name suggests, birds love) but also pretty white flowers
Wild cherry: like the bird cherry, the wild cherry tree is native to the UK, and will give your garden a burst of colour
The best indoor trees
Though planting a tree in your garden or the wild is best for the environment, growing one indoors can definitely brighten up the place. In fact, studies have shown that indoor plants can reduce stress as much as those outdoors.
Here are five indoor trees that can add a splash of greenery to your home.
Orange: Calamondin orange trees can thrive indoors all year long, being happy in a warmer climate
Ficus: there are several varieties of Ficus that make for really popular indoor plants. Weeping Figs, in particular, are great because they can handle lower light
Yukka: these eye-catching trees do need to be placed in direct sunlight, but the good news is they can handle infrequent watering
Money tree: often sold with several trees braided together in one pot, this is a really attractive and unusual option
Bonsai: bonsai trees are notoriously a bit fussy to care for – but they make up for it by being stunning little centrepieces for any room
The best trees for carbon absorption
Planting trees is a great way to lighten your carbon footprint because they act as 'carbon sinks'. Unlike other plants, trees are made up of dense wood, which is really good at holding onto carbon. 
Old trees have absorbed carbon for many years. So it's really important that we protect old trees, so that all that carbon stays locked away in their wood for many years to come. But young, fast-growing trees can actually suck up carbon at a quicker rate than older trees. That's because they need carbon dioxide when they're going through a growth spurt. Variety is the spice of life: we need to both protect old trees and plant new ones in the fight against climate change.
All trees will absorb carbon, but if you'd like to do even more good in the world, here are our top 5 picks of other trees that can help reduce your carbon footprint.
Conifers: evergreen conifers – especially pines – are speedy growers that absorb carbon quickly (and they also add some festive cheer around Christmas!)
Oaks: their large canopies and thick wood make oak trees brilliant at holding onto carbon
Maple: like oaks, maples are recommended by the Woodland Trust because they're long-living and native to the UK – which means they'll lock away carbon for a long time to come
Elder: if you're looking for a more slender option, go for an elder, which has the added benefit of cheerful flowers – making it one of the most elegant carbon absorbers around
Hazel: another

smaller option for carbon storage

, hazel trees are also well-loved by moths, bees, birds, and mice – and that fact alone makes this carbon-absorber a real wildlife warrior!
The best trees for wildlife habitats
If you're looking to lure the birds and bees into your garden, here are 5 suggestions for trees they'll love.
These trees are all native to the UK. That's important because native species create food and shelter for our local wildlife. Young trees may attract fewer critters than older trees – but as yours grows, you'll experience  the joy of seeing more and more  of our wildlife favourites flock to it.
Oak: once again, the humble oak tree comes out on top, as their sturdy trunks make them a great host for caterpillars – 532 species, to be precise!
Willow: after winter, willows are among the first trees to flower, which makes them ideal for bees
Beech: these trees produce nuts that are well-loved by birds and mammals – particularly squirrels!
Goat willow: this variety of willow comes in dwarf form – perfect if you're lacking space – and also attracts bees with its pollen
Rowan or mountain ash: another great choice for slightly smaller gardens, rowan trees produce eye-catching red or pink berries. Fun fact: their wood was also used to make bows in the Middle Ages! 
Enticing birds, bugs, bees and butterflies into your garden is a great first step towards creating an eco-friendly and sustainable garden. Find out the next steps in our green-fingered guide. 
When is the best time to plant a tree?
As the old Chinese proverb goes, "the best time to plant a tree was 20 years ago. The second best time is now". It's a great mantra to live by – and not just when it comes to gardening!
Proverbs aside, some times of year are better to plant trees than others. 
Tree-planting season in the UK usually runs from November to March. This is when trees are dormant – so planting them during this time is less likely to damage them. 
It's also when the soil is fairly warm, because it's stored up all the sunlight from summer. 
Some trees (especially ones grown in pots) can be planted all year round. But plant them during winter and they'll enjoy perfect growing conditions in spring.
Find out more about what you can plant in your garden during the winter months.
Join us and help give the world more trees
Ours is one of the largest corporate tree-planting initiatives in the UK. We've planted more than 1,078,000 trees so far – and right now, we're planting one on behalf of each and every OVO member. Plus when you sign up to one of our home-energy plans, you'll also get 100% renewable electricity as standard. 
If you sign up to OVO Beyond – our green upgrade – we'll plant an extra 5 trees for you each year in the UK, which will absorb 300kg of carbon as they grow! 
Find out more about the many benefits of planting trees, and switch to OVO today to help give the world more of them!
Our website offers information about energy-efficiency solutions, but not personal advice. It is intended to provide information and guidance only. You assume responsibility for any decisions made or actions taken based on the information provided.
View more from these categories