blog
Top tips to green your Halloween
18 October 2016 | Rachel England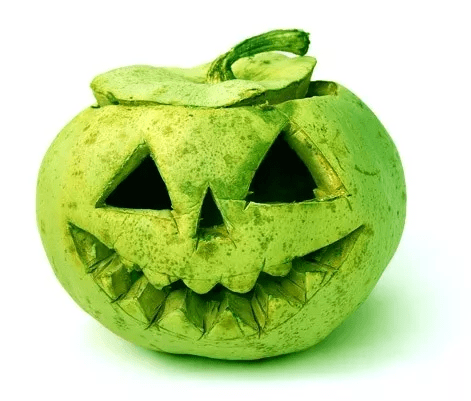 Halloween is a frightfully fun time of year – who doesn't love sweet treats and clever costumes? But it's also dreadfully wasteful; all those disposable accessories and paper decorations have a downright scary impact on the planet. Fear not, though! Reducing your environmental footprint doesn't mean scrimping on the scares. Here are our easy tips for turning your Halloween ghoulishly green.
Cool it on the costumes
Dressing up is the cornerstone of Halloween celebrations the world over, but how many of us rely on cheap and cheerful store-bought outfits and accessories to channel our inner ghoul? The textile industry is responsible for 10% of global carbon impact¹, and our penchant for polyester at this time of year does nothing to help matters. Instead of buying a cheap costume you'll probably only wear once, try:
Renting one from a costume shop – they're usually very well made and will help you stand out in the sea of usual humdrum Halloween outfits.
Assembling a costume from items you already own, or will wear again. You don't really need to buy a specific witch's dress if you already have a black number hanging in your wardrobe.
Swapping with friends. Don't want to wear last year's costume? Raid a friend's dressing-up box and let them do the same. 
Most Halloween costumes call for a healthy splash of fake blood, too. Bypass the little toxic tubes and whip up a batch of homemade gore in the kitchen (there are loads of recipes online) – get the whole family involved!
Rethink the trick-or-treat
Halloween isn't Halloween without candy – and lots of it – but cheap trick-or-treat sweets can generate a lot of rubbish, not to mention come from questionable sources. In an ideal world you'd hand out sustainable treats such as raisins (in their recyclable boxes!) or non-foodie snacks such as art supplies, but we know that's not going to make you the most popular house on the street. Instead, opt for ethically-sourced and packaged sweets, such as Rainforest Alliance certified chocolate or Fairtrade. Better yet, spend the afternoon baking your own creepy cookies or monstrous muffins to give out instead.
If your kids are doing the trick-or-treating, send them off with a pillowcase or reusable bucket to collect their bounty in, instead of cheap Halloween-themed plastic bags.
Rescue your pumpkin
No Halloween doorstep is complete without a creepy jack o'lantern, plus lantern carving is a fun family activity. But spare a thought for ol' jack once the holiday has passed – in the UK we needlessly throw away 18,000 tonnes of pumpkins every year, and 99% are sold for carving alone! Instead of simply binning your pumpkin's insides, bake a delicious pie or make a warming soup. And don't chuck your old lantern in the bin where it'll end up festering in landfill – put it on the compost heap instead.
Opt for devilish décor

Forget the tacky printed plastic bunting and faux cobwebs (which you'll find clumps of for months to come no matter how thorough your clean-up!), and decorate your home with sticks, branches, leaves and dead flowers, which are far more unnerving than a brightly-coloured novelty skeleton. Rely on a few lamps or (supervised) candles for mood-lighting, or invest in coloured lightbulbs (energy-saving, of course) to create a real atmosphere – these can be used again for future celebrations. Get the kids involved in decorating, too, with an afternoon of arts and crafts using materials found around the house – think hand-print spiders and cackling witch silhouettes cut out of card.
Reuse and recycle
Tempting as it may be to sweep everything into the bin once the festivities are over – don't! If costumes or decorations can be salvaged, pack them away for next year. Anything that can't be kept should be recycled (or composted) properly. It'll only take a few minutes to organise, and you can reward yourself with a leftover sweet treat afterwards.
View more from these categories