blog
Winter gardening: What to plant in your garden during the coldest months
25 February 2021 | Aimee Tweedale
Frost, storms, and the occasional snowfall can make UK winters a harsh time for gardens. But your little patch of Earth can still be a haven for plants and wildlife, even in the coldest months.
Gardening is the nation's second most popular lockdown hobby (after baking)1, and it's not just about being house-proud. Gardening has been shown to lower blood pressure, relieve stress, and lead to higher levels of vitamin D2. And growing your own vegetables is also not only healthier for you, but also for the planet – with fewer trips to the supermarket, and less plastic!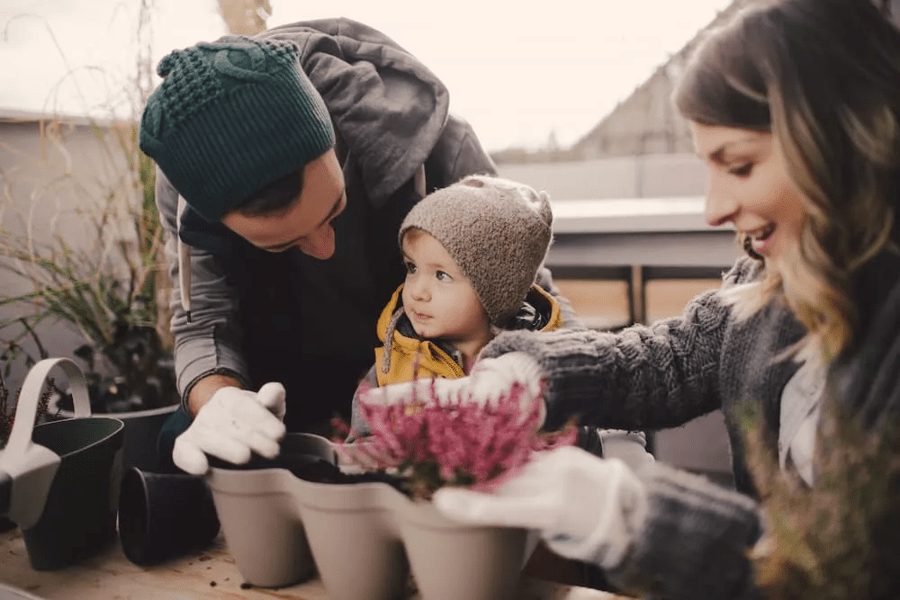 You don't have to stop reaping these benefits when the cold weather rolls in. If you're wondering how to help your garden thrive even in winter, this guide is for you. 
How to prepare your garden for winter
As the evenings get darker and a chill bites through the air, it's a good time to think about preparing your garden for the cold weather to come. Here are 3 jobs you might want to tackle before the first frost.
Cleaning up. Old, rotting plants can be a breeding ground for unwelcome insects and other nasties, so you'll want to make sure your garden is clear of them. Ahead of winter, it's also a good idea to put away any stray tools, and pull up as many weeds as possible, before it gets too cold to do those jobs.
Pruning. Perennial plants could often do with a prune in autumn, to keep them in rude health during the winter. Herb gardens could do with some pruning now, as could vegetables like asparagus and rhubarb. It's also an ideal time to tackle trees, shrubs, and roses. 
Prepping your soil. Get your soil ready for spring before the start of winter, and once the sun starts to shine again, you'll be ready to get planting straight away. Autumn can be a good time to add any manure, compost, or other soil additions to your flower beds. You could even seal it all in (along with warmth and moisture) by adding a layer of mulch to the top. Finally, you could protect it from harsh weather by adding a layer of sheet plastic.
Do you prefer to let nature do its own thing? Read more about rewilding, and how to rewild your garden.
Winter gardening ideas: 5 top tips
Looking for things to do in your winter garden? Here are 5 ideas for ways to make the most of your garden in winter.
Put away tools and outdoor furniture. If you can, it's best to clear the garden and put any tools into a shed or outhouse, so they don't get damaged in the cold and rain. 
Add compost or mulch to your flowerbeds. This will make them healthier come springtime!
Rake or mow the lawn. Keeping your lawn well-maintained will mean it stays ventilated and healthy through winter.
Give the birds a helping hand. Birds are in extra need of food and shelter in the winter; if you like seeing them bring some colour to your garden, why not put a house or bath out for them? Keep reading to learn more tips on helping out your local wildlife in winter.
Get planting. You can plant several types of veggies, and even bare-root trees and flowers in the winter months. Keep reading, for our top suggestions of what to plant in winter.

Want to know more about what trees to plant in your garden? Read our practical guide.
What to grow in your vegetable garden in winter
During the winter months, you'll be able to reap the benefits of that hard work in your vegetable garden in spring and summer. Winter veggies like parsnips, leeks, and Brussel sprouts can all be harvested during December and January. 
But what can you actually plant while it's cold outside? Here are some ideas.
The best flowering winter plants
If you're hoping for some winter colour in your garden, it's best to start thinking about what to plant during the warmer months. 
Here are 5 suggestions of hardy flowers you can plant in spring or summer, to reap the benefits during the coldest time of year.
Snowdrops
These tough little flowers have a reputation for being the first sign of Spring. If you plant them in your garden, you'll get to enjoy them for years to come, as they disappear over winter and sprout again year after year. You might even see them poking their little white heads through a layer of frost or snow – and when you do, they'll make you smile, as they remind you that warmer days are coming soon.
Snowdrops should be planted when they're "in the green", which means that they've flowered already, but their leaves are still poking out of the soil. You should be able to buy them this way in pots, from your local garden centre.
You'll usually find them in the green in spring, during March and April. That's the best time to get them in the ground. They're hardy plants, and will manage to thrive in flower beds or containers. Just make sure you water them as soon as you plant them out3.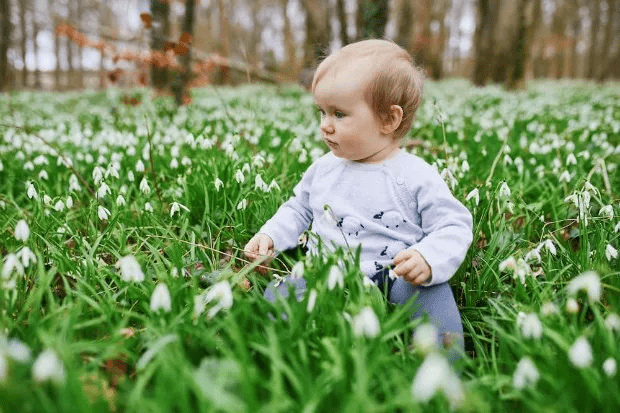 Heather
Strong, reliable heathers will re-flower in a burst of pink or purple, year after year. They can be planted any time, as long as the soil isn't frozen or waterlogged. Make sure you plant them in a sunny spot for best results.
Cyclamen
These sturdy little flowers will add a splash of red, pink, and white to your garden from autumn to spring. They do well in shady parts of the garden where other flowers might not thrive, and they're known for flowering during the thick of winter.
Pansies
Ever-colourful pansies will look brilliant in hanging baskets or containers throughout winter. Plant them as early as possible – preferably before September4 – to make sure they stay bushy, bright, and strong throughout the colder weather.
Get some more ideas for winter garden plants from Kew Gardens.
The best trees and flowers to plant in winter
Bare-root plants
Bare-root plants do well if planted in winter. They're called "bare-root" because they're transported without any soil – so their roots are literally bare!
All kinds of plants can be "bare-root", including trees, shrubs, and roses. They can be planted between November and March. 
You should soak the roots in water as soon as you get your new plants, and before planting them out into the garden. Find out more about types of bare-root plants over at Gardeners' World.
Read more about the best trees to plant at home, indoors or outdoors. 
Perennials 
"Perennial" means "happening repeatedly, or all the time"5. In the plant world, this means flowers that reappear every year. 
Perennials usually "die" away in winter, becoming invisible as they hide underground, before bursting into bloom in spring and summer. Snowdrops and cyclamen are types of perennial.
Some experts recommend getting your perennial plants in the ground in winter. Obviously, you'll want to make sure the soil isn't frozen, and conditions aren't too cold. But if you time it right, the plants will have time to settle into their new surroundings, so they can rise up beautifully in the sunnier months. They'll need less watering and care than they would if you planted them in summer, too. Find out more about how to plant perennials in winter over at The Guardian.
How to protect your plants during winter
Protect buds from frost. Plants that are just starting to flower, or that have fresh buds, could suffer real damage in a hard frost or heavy snowfall. To keep them protected, try using an old sheet, or pick up some frost cover from your garden centre.
Containers and pots need shelter. Bring any houseplants inside for the winter – and make sure other pots on the patio have some cover from the elements. You might want to bring them under your porch, or put frost cover over them, too. 
Keep them hydrated. Do keep watering your plants, especially when you know a blast of cold weather is coming. If the ground freezes up, your plants will stand a better chance of surviving if they've had a chance to drink up some water first.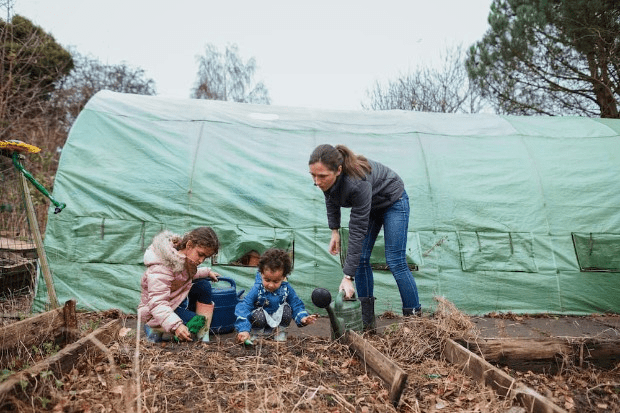 How to look out for the wildlife in your garden in winter
Are you a nature lover? Do you want your garden to not only look good, but also be a safe haven for the UK's native species of birds and creepy-crawlies? Follow these 3 simple steps.
Feed the birds. Keeping a bird-feeder topped up with fresh treats for the local sparrows and swallows will not only help them get through the winter, but it'll bring some joy to your garden, too. 
Get a bird-house, and/or a bug hotel. Small critters need shelter from the elements during the harshest days of winter. If you'd like your garden to be a thriving ecosystem of birds and bees, why not give them somewhere cosy to stay?
Break the ice on your pond or bird bath. Make sure wildlife have something to drink by keeping a water source in your back garden, on even the coldest of days.
For more info on how to create an eco-friendly and sustainable garden, check out our green-fingered guide. 
Are you looking for green home energy to match your green fingers?
If you're a lover of the natural world, you'll no doubt be concerned about climate change. Here at OVO Energy, we're on a path to net zero carbon, and we want to help our members get there, too. 
Switch to OVO Energy today and we'll give you 100% renewable electricity as standard6 – and that's not all. We'll also plant a tree in your name, every year you're with us7.
Ready to save money and cut carbon emissions at the same time? Get a quote in less than 2 minutes via the link below.
Sources and references:
1 https://www.kensingtonmums.co.uk/the-top-20-lockdown-hobbies-and-past-times/
2 https://www.goodhousekeeping.com/health/wellness/a22109/health-benefits-gardening/
3 https://www.nationaltrust.org.uk/features/winter-gardening-tips-from-our-garden-to-yours
4 https://ferndalegardencentre.co.uk/winter-pansies-early-planting-means-flowers/
5 https://dictionary.cambridge.org/dictionary/english/perennial
6 The renewable electricity we sell is backed by renewable certificates (Renewable Energy Guarantee of Origin certificates (REGOs)). See here for details on REGO certificates and how these work.  
7  Each year, OVO plants 1 tree for every member in partnership with the Woodland Trust. Trees absorb carbon dioxide from the atmosphere, so tree-planting helps to slow down climate change.
View more from these categories