blog
OVO and the London Design Festival
01 October 2021 | Celia Topping
With climate change conference COP26 just around the corner, this year's London Design Festival focused on innovative design solutions in response to climate change. 
What did this look like in practice? City-wide installations, projects, performances, and events exploring what a low-carbon future might look like. There was also a close look at eco house designs, and how we can make our own homes more sustainable. 
So of course, it felt like a natural fit for us to get involved. Helping our members cut their household emissions to zero by 2030 and fight the climate crisis is at the heart of everything we do. We were proud to bring zero carbon living to life by sponsoring the Global Design Forum, held at the Victoria and Albert Museum, during the festival.  
It was a privilege to contribute to one of the world's leading design festivals, and support a community that shares our belief that eco-friendly home design can be beautiful as well as sustainable. Plus, it was fascinating to take a closer look at the innovative ideas and materials that are making a sustainable future possible. 
In this article we'll give you an insider's view into the day, and highlight a few of our favourite picks from the festival. 
Placeholders: recycled stone benches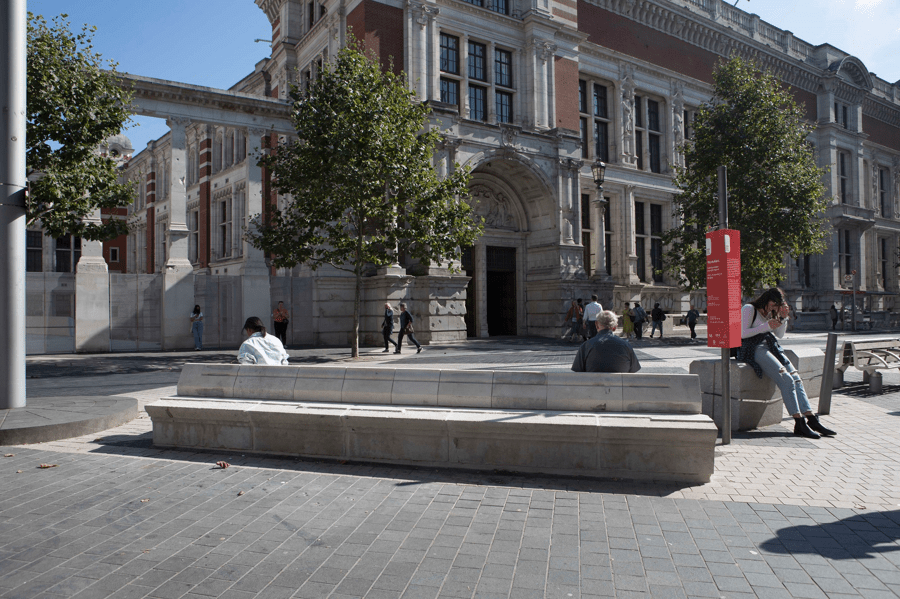 Even before entering the Victoria and Albert Museum – which was the hub of the festival this year – visitors could take a breather on this permanent outdoor installation by Aude-Line Duliere and Juliet Haysom. The architects have transformed these large, historic stones that had previously been used as part of the museum building into functional pieces of street furniture. 
Saving the stones from being crushed into aggregate, the duo made sure they could be reused in a practical way. It just goes to show we can rescue, reuse, and recycle pretty much anything if we put our minds to it!
Between Forests and Skies: a low-carbon aluminium pavilion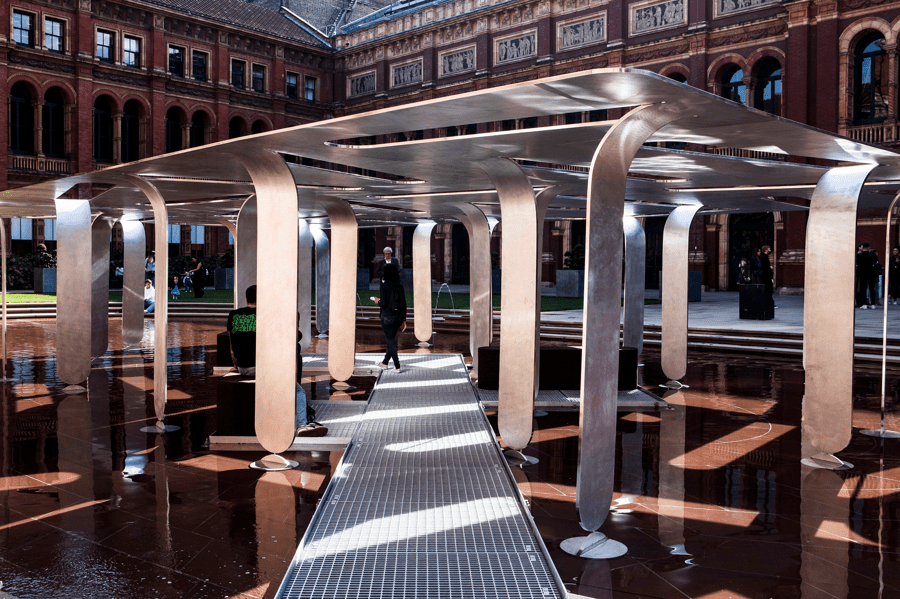 At the heart of the V&A, in the John Madejski Garden, emerging talent Nebbia Works built a temporary immersive, low-carbon aluminium pavilion. On entering the inner courtyard, the innovative structure seems to float on the central pond of the garden. 
Visitors can walk through the space, observing how the sun streams through the cut metal roof of the structure to reflect the water beneath. It creates an otherworldly drama of light and shadow, dancing between heaven and earth... or forests and skies!
So, how exactly is the aluminium low-carbon, you might ask? The recyclable metal used was produced using En+ Group's pioneering inert anode technology – which has a carbon footprint that's  85% lower than traditional production methods. They say, ""just one of our inert anode cells can generate the same volume of oxygen as 70 hectares of forest"1. Inspiring stuff! 
Shroom Shelters: biodegradable shelters for growing trees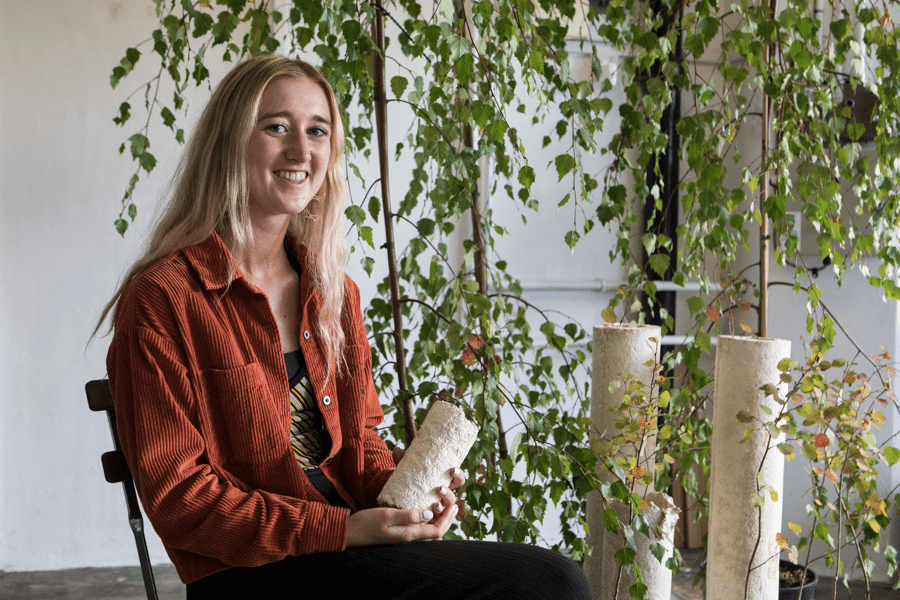 Design Exhibition Scotland (DES) filled a garage space in the festival's Brompton Design District with some of the best emerging design from Scotland. One of our favourite designs from the show came from a Glasgow School of Art Graduate, Catriona Brown. Her ingenious design shelters saplings while they grow, in a non-invasive, plastic-free way. Her low-carbon product challenges the ever-present problem of plastic pollution.
Catriona first had her idea for Shroom Shelters while out and about in the Scottish countryside, seeing Tubex tree supports dotted all over the landscape. The polypropylene shelters that currently house newly planted trees are supposed to be removed once the tree is big enough to grow unprotected. In reality, they're often abandoned, left to litter the landscape with shards of plastic.  
As Catriona puts it: "I thought it was perverse that the very protectors of young trees, planned to tackle the climate crisis, are themselves having a negative impact on our environment through plastic pollution."
So she decided to make it her mission, and her final year project, to come up with a sustainable alternative.
Catriona makes her shelters from a fascinating material called mycelium – made from the root-like fibres of fungi that grow beneath the ground. When she combines mycelium with substrate (agricultural waste), it can be put into a mould and left for a few days to form a solid, durable material. Pretty cool, eh? 
 Shroom Shelters guard their saplings while they grow. Once the tree is strong enough to grow without support, the bio-based coating on the mycelium will have worn off, and the shelter will break apart, releasing the tree. The pieces of mycelium will fall onto the soil, and decompose organically in around 60 days.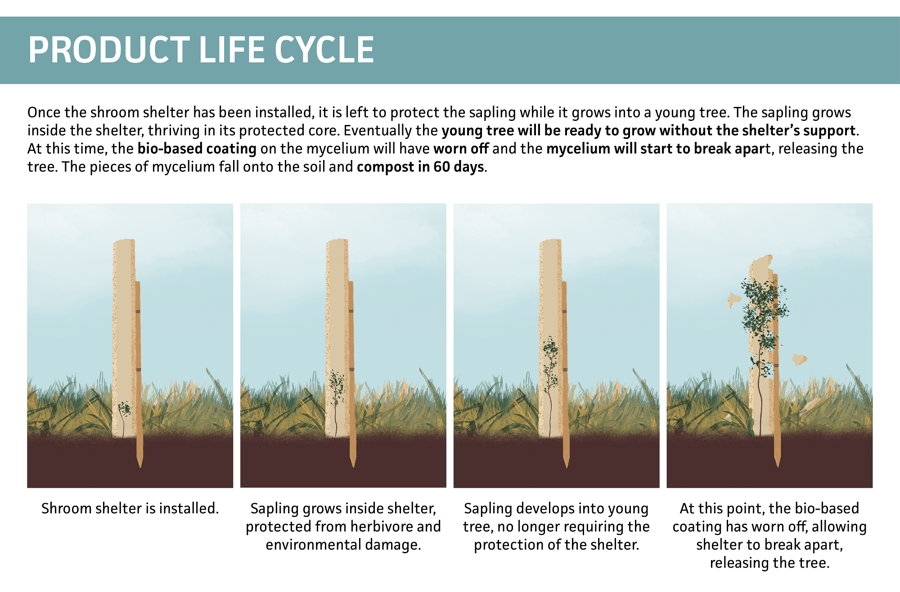 Learn 10 amazing facts about trees in our fascinating blog 
Open doors in South East London
A new addition to the London Design Festival this year was a South East London destination, in the form of the Peckham Design Trail. Art collectives and design studios all over Peckham opened their doors to the LDF crowd. Highlights included the Jan Hendzel Studio presenting their "Textural explorations in British timber", showcasing their sustainable design philosophy and process in a series of short films. 
Bespoke fabrication workshop Out of Order Design (OOOD) also opened their workshop doors to allow an inside glimpse of the vast array of makers and manufacturers working there. From metalwork to resin casting, visitors could drop in to learn more about the working process and even book a slot on their self-build courses. 
One of our favourites from the trail was the This is Copper series from Studio ThusThat. They said that their project aimed to propose potential uses for overlooked byproducts, such as slag.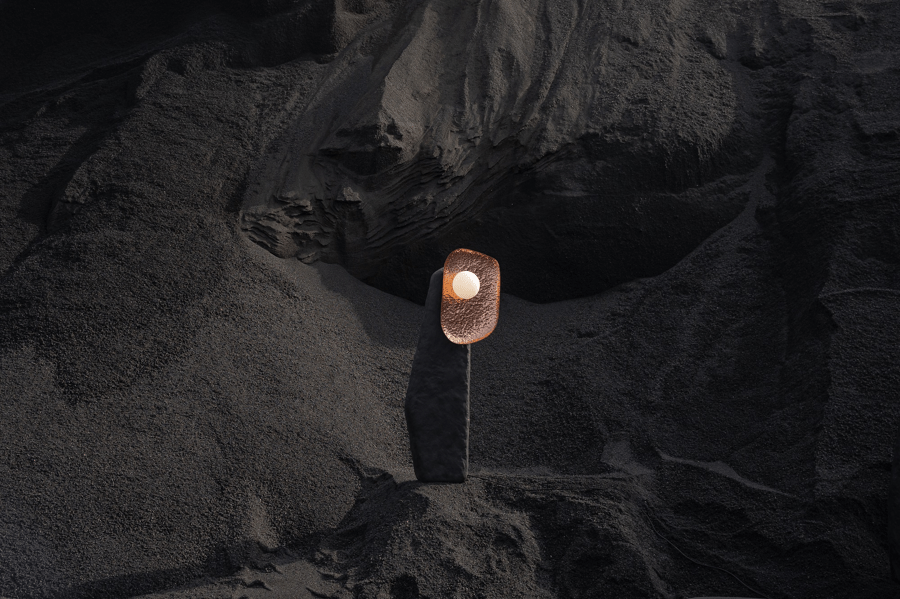 Their striking pieces of furniture are made from recycled copper (a metal that's been mined for 8,000 years, and is crucial to the future of renewable energy2). They also used the leftover impurities, or byproduct (slag), of the smelting process, where the copper is extracted from its ore by heating and melting. Using geopolymerisation technology, the slag creates a strong black material that's as strong as concrete, but with a 77% lower CO2 footprint3. Not only that, but it creates a fantastic contrast to the brightly burnished copper in these remarkable objects. 
The Global Design Forum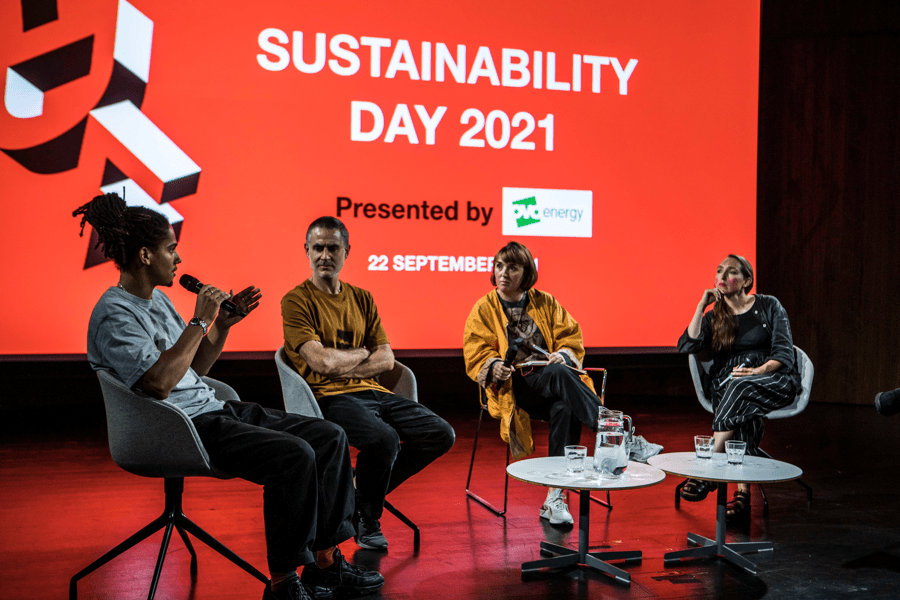 The Global Design Forum brought together inspiring international speakers to share their perspectives on how design is evolving in the face of the climate emergency.  
The Forum focused on how design can be more sustainable, accessible, and inclusive, while being at the forefront of much-needed change. It was presented through a mix of talks, debates, tours, and workshops. 
We were proud to sponsor a number of Sustainable Future talks, including one with our very own Michelle Little. She joined a panel discussion with other forward-thinkers discussing the future of powering the home.
In another talk, entitled, "Why Waste It?", we were inspired by a panel of designers and experts working with waste. They gave us fascinating insights into the inventive ways it's being used within design and the built environment – creating a more sustainable future for us all. 
Totomoxtle: a new material made from native Mexican corn
Fernando Laposse is a Mexican product and material designer, whose work focuses on creating refined design pieces out of natural materials that are often considered waste. He's concerned with sustainability, the loss of biodiversity, community disenfranchisement, and the politics of food. 
With this in mind, Fernando has recently created "Totomoxtle", a new veneer material made with husks of heirloom Mexican corn. 
When industrial agriculture arrived in Tonahuixtla, heirloom species of corn seed were thought to be lost forever, and many villagers lost their livelihoods. But, since 2016, Fernando has been working with the community and CIMMYT, the world's largest corn seed bank, to reintroduce native seeds to the village. It's from the husks of the corn that Fernando created the veneer, Totomoxtle. 
Totomoxtle showcases the diversity of the native corns, with colours ranging from deep purple to soft creamy whites. Local women are employed to work with the husks, transforming them into the versatile veneer.
Fernando and the community of Tonahuixtla also stress the importance of the corn because of the climate challenges that may lie ahead – it can offer food of nutritional value even in the most hot and dry conditions. 
Fernando's idea illustrates the power of design to transform waste into something beautiful as well as functional –  while offering practical solutions to humanitarian problems. 
The Unboxing Show: a new way to think about cardboard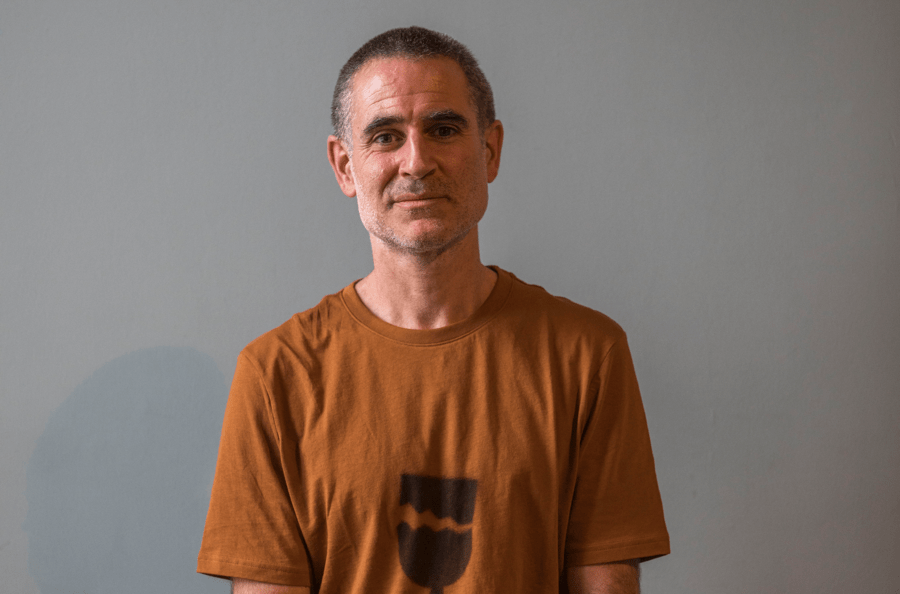 In one of the panel discussions we sponsored, "Material difference: from the humble to the radical", the rapt audience listened to 5 designers explain how they work with materials in unexpected ways. Such as the humble cardboard box.  
Peter Marigold, award-winning designer and London Metropolitan University Professor dropped in to share his projects and processes. Shortly afterwards, he dashed back to the "The Unboxing Show", his interactive installation in Kings Cross, working with the most menial of materials: cardboard. 
The workshop enabled festival go-ers to assemble flat-pack cardboard objects from waste packaging donated by Coal Drops Yard's shops. Each object had been designed by Peter's cohort of contemporary creatives, such as Tom Dixon, Faye Toogood, and the Campana Brothers – meaning attendees could take away their own bit of design treasure! 
How OVO is designing a sustainable future
We know reaching net zero isn't going to happen overnight. That's why we're working with like-minded businesses across the UK to build a better, more sustainable future for our members, and our planet, using only 100% renewable electricity4. 
We encourage our members to lead eco-friendly lifestyles, cut their carbon footprint, and reduce their bills. Plus, we're on a mission to net zero ourselves.
Simply by getting a smart meter installed, or using smart thermostats, you're already on your way to having an eco-house of your very own! But the fun doesn't stop there. We're working with our AI partner, Kaluza, on innovative technologies that will totally change the way we use energy in the future. Vehicle-to-Grid technology and home storage batteries are just 2 of the pioneering trials we're currently working on to help us reach net zero.  Keep your eyes peeled for more!  
Sources and references:
1 https://www.edie.net/news/8/EN--Group-turns-to-oxygen-producing-method-to-decarbonise-aluminium/
2 A wind turbine alone can contain up to 5 tonnes of copper, and 10 tonnes of the metal are needed per kilometre of high-speed railway. https://thusthat.com/Copper-Slag
3 https://thusthat.com/Copper-Slag
4 100% of the renewable electricity we sell is backed by renewable certificates (Renewable Energy Guarantee of Origin certificates (REGOs)). See here for details on Renewable Energy Guarantee of Origin certificates and how these work. A proportion of the electricity we sell is also purchased directly from renewable generators in the UK.
View more from these categories