blog
Building back greener as we recover from Covid-19
10 February 2021 | Sophie Thompson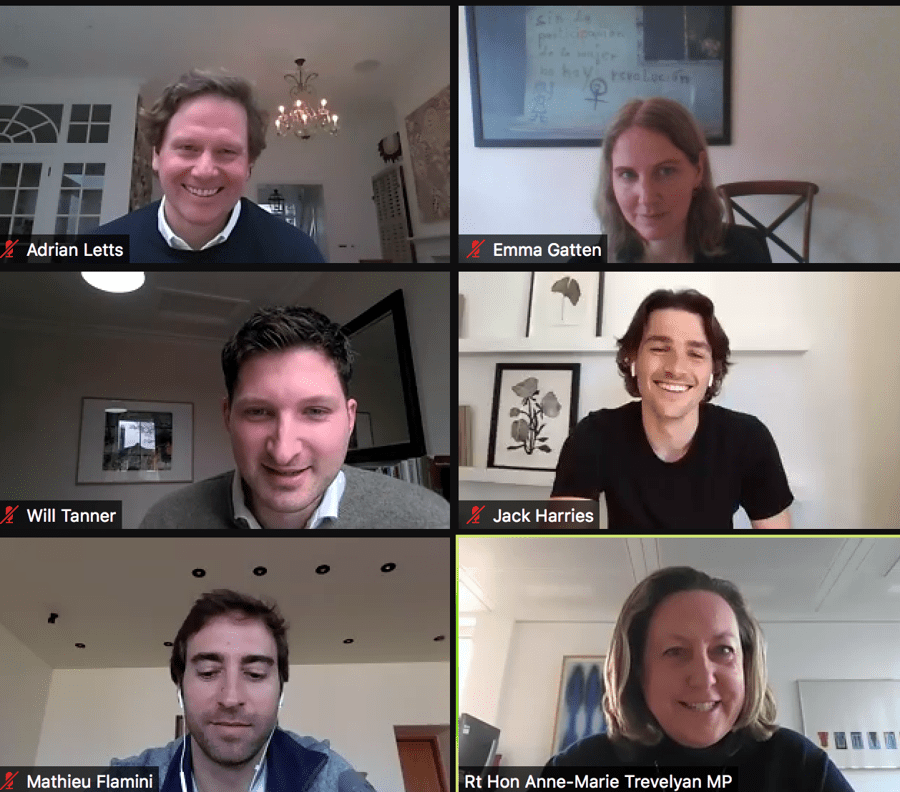 What are the challenges of tackling the climate crisis, as we emerge from Covid-19? By taking bold action now, could we also fast forward our economic recovery? These were some of the big questions debated at an event last week, jointly hosted by OVO Energy and Onward – a campaigning think-tank. 
The discussion brought together a mix of different voices on the environment, including: Anne Trevelyan MP, Minister for Business, Energy and Clean Growth; Jack Harries, Filmmaker and Founder of Earthrise Studios; Mathieu Flamini, footballer and green entrepreneur; Emma Gatten, Environment Editor at the Telegraph, and OVO Energy's CEO, Adrian Letts. 
The panellists were united in their view that Covid-19 has collided with the climate crisis. But they also agreed that this is a wake-up call and a huge opportunity for us to build back greener. 
Far from the pandemic delaying the push to reduce carbon emissions and the switch to clean energy, it's shown us we need to go further – faster. We must bring together solutions to both crises and propel our economy towards long-term green growth. Only then can we create a fairer society and protect our planet for future generations.
Here are 5 key themes that came out of the panel discussion. Watch the debate in full here. 
1.  We all need to take climate action 
While the government has a role to play by setting the framework for the green energy transition, the most impactful measures will not be top down. Instead, they'll be collective changes that are made when individuals and communities come together.
28% of our carbon footprint is caused by the energy we use at home. This means we need government policy that encourages people to decarbonise at a micro-level, accelerating the process and allowing everyone to take action.
Over the next 10 years, retrofitting gas boilers, rolling out insulation, ramping up the installation of smart meters, and installing electric vehicle infrastructure will be key – if all of us are to play our part in fighting the climate crisis. 
2. The time is now
There's never been a better moment to take action. With the UK hosting the international climate conference COP26 this year, all eyes are on us to set a global example.
By bringing together world leaders, business leaders, and citizens, COP26 gives the UK an incredible platform to show we're taking decisive steps. Global appetite to tackle the climate crisis has not waned because of COVID-19. In many ways, it's grown. The UK must build on the recently renewed green commitments of the EU, China, and the USA. 
3. The pandemic has brought us closer to nature
The last year has been difficult for so many different reasons. Having restrictions imposed on our daily lives that mean we must stay away from others has been incredibly tough. Yet it's also made many of us really appreciate the natural world on our doorsteps – be it our back gardens, local park, or nearest woodland.
Getting stuck into the great outdoors can show us how powerful the natural world is. It boosts our mood and makes us feel happier, all while countering some of the effects of climate change. 
4. Everyone has to join this zero carbon journey 
As we move away from polluting fossil fuels, we need to get better at talking about the many benefits a green recovery will bring, including cleaner air, healthier lifestyles, and the chance for a fairer society. This will keep up support for the change.
We also need to make sure the costs of action are spread fairly between households, businesses, and the taxpayer – so that those least able to pay are supported. The government's Lifetime Skills Guarantee and Green Jobs Taskforce helps industries most at risk of disruption from decarbonisation. The idea is that the economic benefits coming from green jobs and skills will reach us all.
5. We can't afford to do nothing
Reducing our carbon emissions to reach net zero needs all of us to take action. Doing nothing simply isn't an option. If we don't fight climate change, our planet will become more dangerous, more unstable, and less prosperous.
We can't risk losing precious habitats and biodiversity by destroying our world. If we invest now, we're not just investing in cleaner energy. We're also investing in safeguarding our planet for generations to come.
The OVO approach: what we can do
Our climate crisis strategy, Plan Zero, is built around the fact that individuals can take action and change things. By being responsible for whatever's in our control, we have the power to make a huge difference together.
From offering 100% renewable electricity as standard, to planting trees for every one of our members, and petitioning the government to set a legally-binding tree-planting target, we give people easy ways to help the planet. 
Keen to learn more? Check out our green energy plans and carbon-kicking upgrade OVO Beyond. You can kickstart your own journey to zero carbon, right here, right now.
View more from these categories