blog
A missed opportunity - OVO's response to the CMA investigation into the energy market
21 April 2016 | OVO Energy
When the UK's competition watchdog (the Competition and Markets Authority or CMA) began its investigation into the retail energy market in June 2014 we had high hopes it would deliver genuine reform for energy customers across Great Britain.
However, after almost two years, we were disappointed with the publication of the CMA's penultimate report on 10th March.  You may have seen our CEO [Stephen Fitzpatrick's remarks]https://company.ovo.com/ovo-statement-on-the-cmas-provisional-remedies/ calling the investigation "a complete waste of time and taxpayers' money".
In essence the CMA identified two problems in the market: over-pricing and low customer engagement.  In facts and figures, this equates to 70% of Big Six customers stuck on high cost standard variable tariffs (SVTS), who are collectively over-paying  by £1.7bn a year.¹
We had identified a similar problem in June last year (see [here]https://www.ovoenergy.com/ovo-newsroom/press-releases/2015/june/cma-response.html) which confirmed that the gap between the cheapest deals in the market and the average Big Six standard variable tariffs was widening.  In fact, the problem has worsened over the past year as illustrated by the graph below.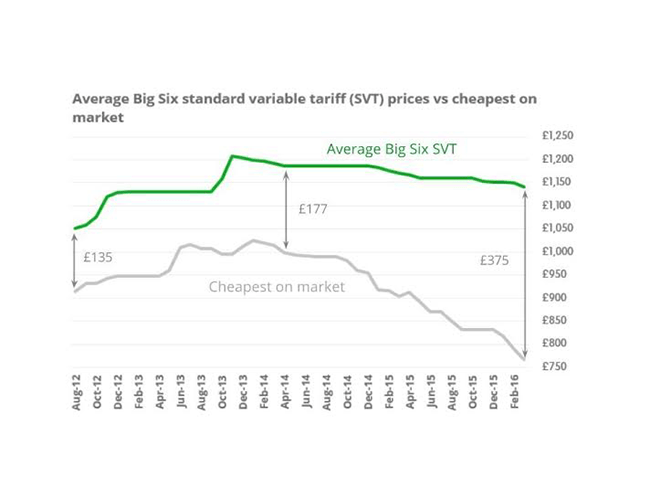 ###### Source: OVO analysis of tariff prices on Energylinx and uSwitch on 02/08/2012 and every subsequent Thursday to 17/03/2016.  Data uses Ofgem 2014 typical domestic consumption values for medium users standard consumption profile for dual fuel averaged across all regions.
So, the CMA spotted the problems, but what are its solutions? 
They've recommended a price cap for prepayment customers - which we're proud to say is calculated based on OVO's tariffs. We believe the cap is set at the right level and accurately reflects the costs suppliers faced at the time it was calculated. 
However, OVO has fought hard for all customers to be protected from unfair, exploitative pricing, not just prepayment customers. Indeed, last year the CMA considered a price cap for SVT customers.  But it seems the CMA has bowed to intense political pressure from the Big Six not to go down this route.
At the very least OVO believes there should be a social tariff cap that would protect all of the country's fuel poor customers - not just those on prepayment tariffs. While a price cap for prepayment customers is a start, it will account for only 16%² of all energy customers and roughly one third of fuel poor households.³ This means there will be no pricing protection for the remaining two thirds of fuel poor households. 
In addition to the price cap the CMA has also proposed removing the "whole of market" requirement from Ofgem's Confidence Code for switching sites.  This means that customers using switching sites will no longer be able to compare tariffs across all suppliers - instead they will see only those suppliers who have signed deals with the switching sites.
These are just two examples of how the CMA's solutions fail to address the core problems of over-charging and under-engagement. 
In summary, we cannot see how the CMA's proposals will work in the best interests of all energy customers - customers who have been overcharged and underserved for too long and deserve genuine reform.
Nevertheless, these unambitious and ineffective proposals will not deter OVO from continuing to provide our customers with fair prices, innovative products and award winning service.
If you're interested in finding out more, read our full response to the CMA here.
¹CMA's Summary of the Provisional Decision on Remedies dated 10th March 2016, paragraph 59. ²CMA's Summary of the Provisional Decision on Remedies dated 10th March 2016, paragraph 35. ³According to DECC Fuel Poverty Statistics for Electricity (2013), table 17, published 28 May 2015, approximately one third of all fuel poor households in England pay by prepayment.
View more from these categories