blog
Ready to think before you thank?
26 November 2019 | OVO Energy
It's not only the big actions we make that speed up climate change. It's the small ones too, from the clothes we buy, the coffee we drink to...the emails we send.
Incredibly, sending a single email creates 1g of carbon emissions. It may not seem much, but according to our research, Brits send over 64 million unnecessary emails every day1. This accounts for 23,475 tonnes of carbon being added to the global footprint each year2. One of the most common needless emails we send are those little 'thank you' emails. That's why we're encouraging the UK to 'think before you thank'.
If we all cut back on just one of these a day, we'd reduce our collective carbon footprint by over 16,433 tonnes a year3 (that's like 81,152 flights to Madrid4).
Not saying 'thanks' doesn't mean you don't mean it
Quite the contrary. It means you're doing your bit to save the planet – without compromising etiquette. We've even asked the experts;
Katherine Lewis, spokesperson at Debrett's, says "Courtesy might dictate that sending a 'thank you' or acknowledgement email is always best practice, but clogging up someone's inbox with unnecessary mail is inconsiderate. If you wish to thank a colleague in the same office, swap that hastily fired-off email for a verbal thanks. Face-to-face gratitude is more meaningful and alerts others to that person's good work."
There you have it. A win-win.
Sure, cutting back on unnecessary emails won't fix the climate crisis, but it'll make us think about all those small things we do that leave a carbon footprint.  Just like Mike Berners-Lee, researcher and author of How Bad are Bananas and There is no Planet B says: "Whilst the carbon footprint of an email isn't huge, it's a great illustration of the broader principle that cutting the waste out of our lives is good for our wellbeing and good for the environment. Every time we take a small step towards changing our behaviour, be that sending fewer emails or carrying a reusable coffee cup, we need to treat it as a reminder to ourselves and others that we care even more about the really big carbon decisions."
Sending the right message
We've created a handy Chrome extension to help you do that. It's called the Carbon Capper and has been designed to give you a planet-friendly nudge every time you might be about to send an unnecessary email. Smart stuff. Just add it to your Chrome. And if you still want to send your email? No problem – just click OK.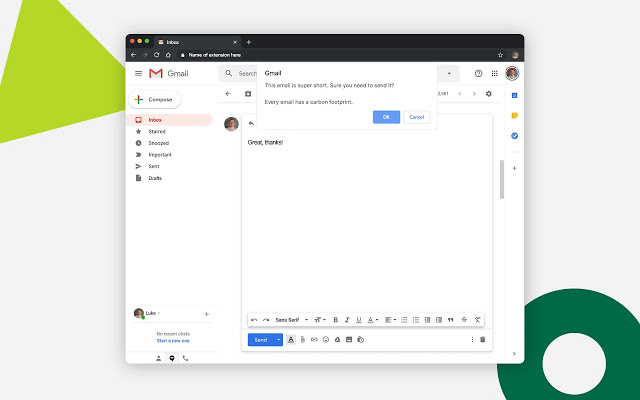 The green signature
We've also created an email signature that sends people a 'thanks' in advance, helping you to lighten your carbon emissions - politely. Smart carbon fighting.

To get it, just:
Go to your Gmail.
Head to Settings.
Scroll down to the Signature box.
Select Insert image and paste

this link

into the web address field.
Add this text into the Signature box: Please consider this a 'thanks' in advance. Every email has a carbon footprint. So if you don't hear back from me, it's not because of you, it's because of the planet. #WhatWeCanDo
Thanking you in advance. The OVO Team. 
View more from these categories