blog
What has Sir Bradley Wiggins got in common with OVO's staff? #OVOpedalpower!
23 September 2016 | OVO Energy
Saturday 10th September saw 155 OVO staff, friends, family and customers saddle up to join in the Tour of Britain – raising awareness, excitement and money for charity. 
Here at OVO, we love getting on our bikes. Despite the hilly terrain of our hometown Bristol, many of our people cycle to work, keeping lean and green as they commute. 
OVO's Cycling Club meets regularly to share their passion for pedalling, and have been known to pop over to Newport to fly around the track at Team GB's training camp. They're keen to register as an official cycling club, and have high hopes for future performance – one club cyclist even beat Lance Armstrong in a (junior) race*! 
So, with such a groundswell of enthusiasm for all things pedal-powered, it was time to make our enthusiasm official.
OVO sponsors Tour of Britain
This year, OVO Energy decided to officially step up our cycling game, sponsoring the Bristol stage of the Tour of Britain – an exciting national celebration of two-wheeled prowess. Chris Houghton, CFO here at OVO Energy, explains why we sponsored our home stage of this exciting event: 
"We chose to partner with the Tour of Britain as it felt like a natural fit with OVO's mission to be better for everyone – and we wanted to give something back and show support to our home city of Bristol. Cycling is an enjoyable and sustainable sport and I hope after Saturday even more people are inspired to hop on the saddle and enjoy exploring this great city on two wheels!"
The Bristol element of Tour of Britain was a challenging double stage for the competing cyclists, who took individual time trials in the morning, before speeding onwards for a circuit race round a 15.3-kilometre route in the afternoon – a real treat for cycling fans from Bristol and beyond.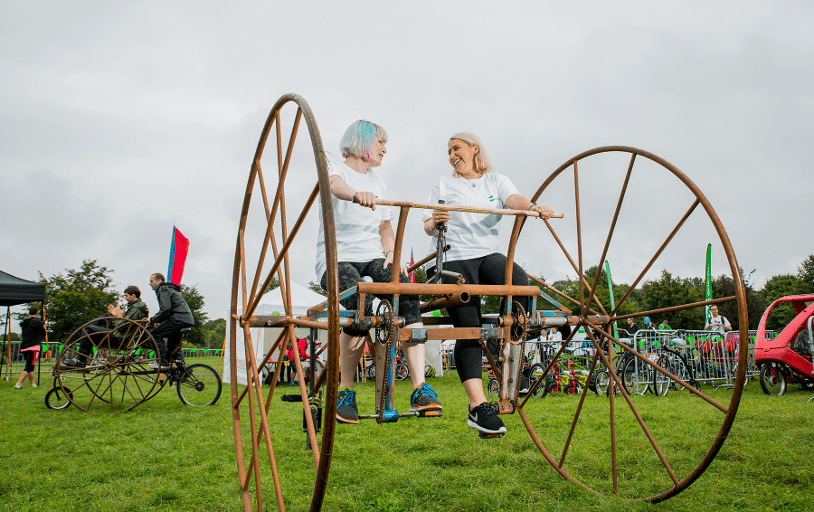 So who participated?
Our home town welcomed 21 teams and many top international cyclists, including national and former world champions. The first Brit to win Le Tour de France (and current Union Cycliste Internationale (UCI) Hour Record holder) Sir Bradley Wiggins took to the road, alongside the 'Manx Missile' and fastest man on two wheels, Mark Cavendish. Three-time world Time Trial champion and current German champion Tony Martin took to the road, plus lots of other exciting names from the world of cycling, including Alex Dowsett, Owain Doull. and the eventual Tour of Britain winner Steve Cummings. 
OVO in hot pursuit
Pro-cyclists weren't the only ones getting in the saddle on Saturday. 155 OVO team members, friends, family and customers jumped onto pedal powered curiosities of all shapes and sizes to collectively cycle the 835 miles. We beat our intended target of 807 miles – the length of the full tour.
It was a great day, and a brilliant opportunity to raise funds for OVO Foundation.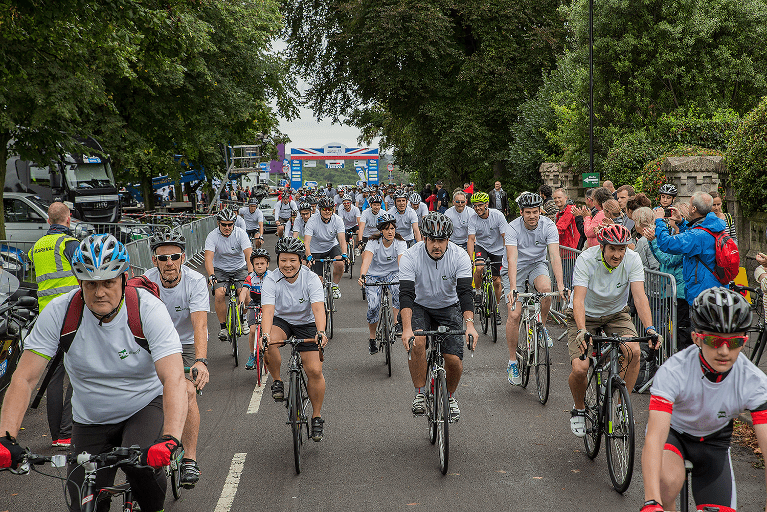 #OVOpedalpower is go
Our #OVOpedalpower takeover took place between the morning time trials and the full circuit road race in the afternoon of the stage. Thousands of spectators lined the route of the Tour cheering on the cyclists – quite an audience for our charity cycling team. Kate Randall, OVO employee and participant, explains: 
"The buzz as we all prepared to set off was infectious. Riding side by side with OVO colleagues and customers was so much fun and made even more special to be in support of a cause that is very important to us. I managed four laps, it was harder than it looks!". 
More than just a cycle race
Tour of Britain is about raising expectations and awareness, so we hope lots of Bristolians – and OVO people – are feeling inspired to get on their bikes. What's more – as every participant donated £5 to cycle in the tracks of giants on the day – we raised a grand total of £1000. 
This money will be used to fund a new OVO Foundation initiative to fight youth homelessness. Keep your eye on our blog for news due to launch in October!
Want to get involved? 
Though it's a little bit late to join in this year's #OVOpedalpower revolution, Better By Bike is a great place to start for cycling tips and info in and around Bristol. And if you're an OVO customer, you can donate OVO Foundation by adding 50p to your bill – OVO matches every penny. Find out more on the OVO Foundation page.
*This intrepid feat may have taken place some years ago at a junior cycling event in Belgium, but we say it still counts, 110%. 
View more from these categories