guide
How to cycle safely in the city: cycling tips for beginners
09 August 2021 | Aimee Tweedale
OVO's on a mission to zero carbon – which is why we're launching OVO Bikes in Glasgow, Cardiff, and the Vale of Glamorgan. We want to help more people get pedalling, to start a journey towards easier, greener living and net zero.
To celebrate the launch, we're giving everyone free rides for the first week! And we've also teamed up with local sustainable businesses, to create a special cycle route: the OVO Bikes Green Route. We'll be offering OVO members even more free rides later in the year – so keep your eyes peeled for updates on the Planet OVO blog.
Here's another in our trio of blogs about getting out and about on yer bike! The healthiest and greenest way to travel around town.   
After a surge of people bought bikes during the coronavirus lockdowns of 2020, we're living in a golden age of cycling. The UK government actually estimates that road cycling went up by 45.7% in 2020, compared to 2019. That takes cycling to its highest levels since the 1960s1!
This is news that puts a smile on our faces – because not only is cycling healthier and cheaper, it's also much better for the planet. In fact, if we could increase the number of cyclists in the UK by 6 times, we'd save about 7.7 million tonnes of carbon each year. That adds up to a whopping 6% of the UK's total emissions from transport2. 
Intrigued? Find out more about why cutting down on greenhouse gas emissions is so important, and what climate change means for our planet.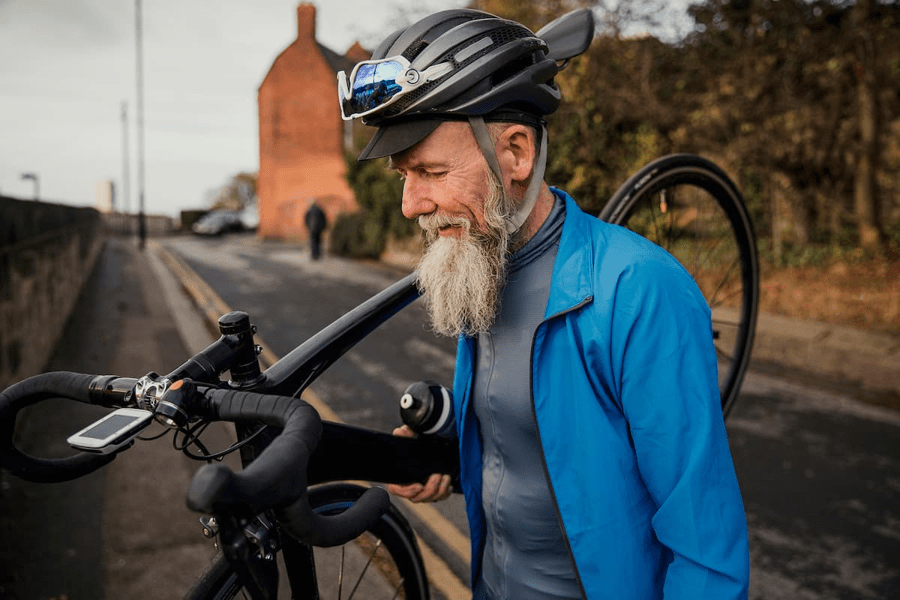 Even if you're fully on board with the idea of cycling, getting out there on busy roads can be intimidating – especially in a big city. 
Are you thinking of investing in a bike, or dusting off an old one, but feeling nervous about how to get started? You're not alone! Here are our best tips and advice for beginners to road cycling. 
Which bike is best for cycling in a city?
First things first: before you learn how to cycle on the roads, you need to get the right bike. Here's a quick guide to the main types on the market.
Road bikes are designed for cycling on (you guessed it!) roads or tarmac. They're built to go fast, with aerodynamic handlebars and a sleek frame. They're suited to both commuting and longer cycling trips – but if you're not an experienced rider, you might not find them comfortable.
Mountain bikes are suited to off-road cycling. They aren't designed for cycling in the city, but you might want to get one if you're planning long bike trips out in nature, or on rugged terrain. 
Hybrid bikes bring together the best of road bikes and mountain bikes. They generally have wide, sturdy frames, and a more comfortable seating position than road bikes. So if you think you'd like to cycle in both the city and the countryside, this could be the perfect all-rounder for you.
Fixed-gear/single-speed bikes are popular with lots of city-dwellers because they're simple: they only have one gear. They also don't have a "freewheel", which means you always have to pedal to keep them moving. Figuring out this technique can be fun, but it can also be a challenge for newbies.
Dutch bikes (or city bikes) are a common sight in cities, for good reason! They let you ride in a comfortable, upright position, while soaring easily over potholes or uneven surfaces. They might be a bit slower than a zippy fixed-gear, but they're excellent for beginners.
Folding bikes are the ultimate space-savers, for commuters who want to combine cycling with a train or bus journey. They're super convenient, but only really suitable for shorter distances.
Considering a futuristic electric bike? Check out our complete guide to e-bikes and how they work.
Cycling safely in the city: cycling proficiency tests
If you're planning to get on your bike but haven't ridden in a few years, you might need a refresher. The good news is that local authorities all over the UK offer training for free.
To find out how to learn cycling in your local area, Google the name of your local authority and "cycle training". In London, the Cycle Confident scheme is a free bike school for cyclists at different levels.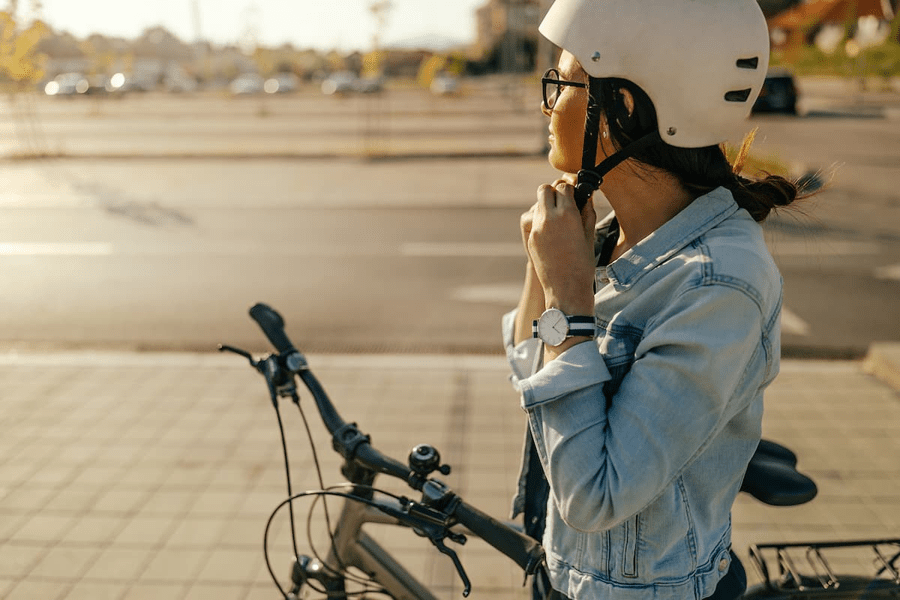 11 tips for road cycling for beginners
So you've done your research, you've got the bike, and you've had your free cycling lesson. Now what? 
Cycling in the city doesn't have to be complicated. Heck, you don't even have to wear lycra! All you need to do is follow these 11 vital tips for road cycling as a beginner. 
Before you get on your bike
1. Plan your route
Even if you know your city inside out, it's always a good idea to take a look at a map before setting out on a bike for the first time. 
This will help you to get familiar with the junctions and crossings along your way. Plus, it'll give you an opportunity to look for quieter streets or cycle paths that you might want to incorporate into your journey. If you're a brand new cyclist, you'll probably want to plan a route that takes you through parks or back streets, and away from traffic as much as possible. 
2. Pump your tyres and adjust your seat
Before you hit the road, you'll want to make sure your tyre pressure is just right. Find out more about how to do this from Cycling UK.
Take a look at your seat and handlebars, too. After all, you won't want to make any adjustments while you're out on the road. It's worth taking your 2-wheeler for a quick spin around the block, to check it's set up in the right way for your body. 
3. Invest in protective clothing
Safety first! The most important accessory you need to go with your new bike is a helmet. While it's not compulsory in the UK, multiple studies have shown that wearing a helmet can significantly lower your risk of head injury if you get into an accident on your bike3.
As for the rest of your outfit: if you're only doing a bit of everyday cycling on the road, you don't have to buy specialist clothes. Just wear comfortable, loose-fitting items, and layer up (so you can remove some if you get too hot). 
If you plan to ride your bike a lot, you could benefit from a pair of padded shorts, and cycling gloves. They'll make sure every ride is a comfortable one! Plus: don't forget a cap, to keep the sun's rays off your face.
What you'll need to take on your bike
4. Always carry water with you
It's important to stay hydrated. Especially in hot weather, you'll dehydrate faster than you would if you were walking. So consider getting a water bottle cage for the frame of your bike. 
5. Don't forget your lights
It's critical that you make sure other drivers can see you when you're cycling on the road.
In fact, road cycling without lights after dark is illegal in the UK. So make sure yours are always fitted to your bike: there should be a white light at the front, and a red one at the back. Find out more about the law around bike lights.
If you want to make sure everyone can see you, consider buying a hi-vis vest, too!

What to do on your bike ride
6. Be assertive!
Lots of nervous new cyclists make the mistake of cycling at the very edge of the road. But to be safe, the best thing to do is actually take up space. 
Cycling in the primary position – the middle of the lane – is actually best. This way, everyone can see you, including drivers. Plus, you avoid the risk of other road users trying to squeeze past you when there isn't enough room. And there's also less risk of getting caught by a car door opening on you after someone's parked.
7. Be extra careful around large vehicles 
Remember that lorries, vans, and other big vehicles on the road can have large blind spots. 
This means you should give them a wide berth, and never try to undertake them. Remember: if you can't see their mirrors, they can't see you. 
8. Use your eyes and hands to communicate with drivers
A golden rule of cycling is that you should make sure everyone around you can see you, and can reasonably predict what you're about to do. 
You can't always assume that drivers and other cyclists have seen you. To check, especially before turning, it's a good idea to make eye contact with them. 
You should also make clear hand signals when you're about to turn, especially if you're going to cross a lane of traffic. Glance over your right shoulder before you do. Not only will that help you see what's coming up behind you, it'll also send an extra signal of what you're planning to do. 
9. Keep a steady pace
Remember: this isn't the Tour de France! Of course, you don't want to hold up traffic, and you want to get a bit of a workout. But when it comes to speed, the aim is to be safe and consistent. 
Use your brakes to keep your speed under control. As you become more of a pro, you'll get to know the gears on your bike, and how those can help you manage your speed, too. Overall, make sure you're always moving steadily enough that you're in control and aware of what's happening around you.
10. Don't be afraid to stop and walk
If you're approaching a difficult junction, or you're simply getting tired, there's nothing wrong with hopping off your bike. Remember that it's fine to slow down, or even stop for a few moments, to walk on the pavement.
This gives you time to observe what other bikes and cars are doing, so you'll feel more confident next time. Or, it'll at least give you a chance to catch your breath.
There's no shame in taking it easy. You've already done a great thing by getting out there and cycling!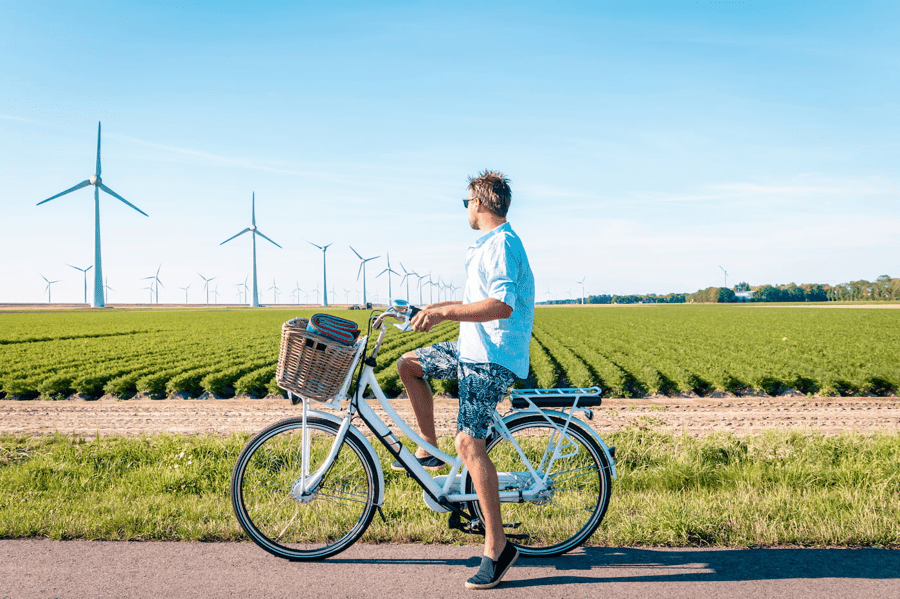 And when you get home, don't forget…
11. Lock that bike up!
Did you know that almost 400,000 bikes are stolen in the UK each year? London is the most-targeted city, with Bristol following close behind in 4th place4.
Never assume that your bike is safe, even if you live on a quiet street. Make sure it's locked up, preferably somewhere that's covered by CCTV. You could also look into secure on-street bike storage options, like Cycle Hoop, which are available in lots of cities to rent. And don't attach your bike to anything that could easily be lifted or broken, like a fence.
Many cyclists use at least 2 locks to keep their bikes secure. Your best bet is to combine 2 different types of lock, such as a chain lock and a D-lock, to make things as hard as possible for any potential thief. 
After all: now you've learned how to ride your bike around the city, you don't want to lose it!
Ready to go green at home, too?
Cycling is one brilliant way that you can help fight climate change. Did you know that switching energy suppliers is another?
Your home energy makes up a mighty 28% of your personal carbon footprint5. 
With OVO, you can rest easy knowing that you're getting 100% renewable electricity6. Plus: we'll plant 1 tree in your name every year7, and give you access to OVO Greenlight, our nifty energy-saving tool. 
Want to go even further? Our green upgrade, OVO Beyond, comes with 100% carbon-neutral energy (including 15% green gas – one of the best mixes you can get in the UK)8. We'll also plant 5 extra trees for you each year. 
Find out more about what we're doing to transform the energy sector and reach net zero carbon by 2030 
Interested in joining us on the journey? Get a quote in less time than it takes to boil the kettle. 
1 https://www.gov.uk/government/statistics/road-traffic-estimates-in-great-britain-2020
2 https://www.bikeradar.com/features/long-reads/cycling-environmental-impact/
3 https://www.rospa.com/media/documents/road-safety/cycle-helmets-factsheet.pdf
4 https://www.cyclist.co.uk/news/412/bicycle-crime-statistics
5 Based on analysis carried out by the Carbon Trust for OVO Group (2020), 28% of an average individual's carbon footprint in the UK comes from energy. In this analysis, the carbon footprint includes the following lifestyle categories: energy, transport, shopping, food and drink and holidays. See table below for each category. This carbon footprint data has been calculated using BEIS 2020 emission factors. This excludes emissions from things that the average person cannot directly control such as supporting the NHS, defence, government bodies, etc. Please note these figures are not reflective of potential changes to your habits during the coronavirus pandemic.
6 100% of the renewable electricity we sell is backed by renewable certificates (Renewable Energy Guarantee of Origin certificates (REGOs)). See here for details on Renewable Energy Guarantee of Origin certificates and how these work. A proportion of the electricity we sell is also purchased directly from renewable generators in the UK.
7 Each year, OVO plants 1 tree for every member in partnership with the Woodland Trust. Trees absorb carbon dioxide from the atmosphere, so tree-planting helps to slow down climate change.
8 Enjoy even greener energy with OVO Beyond in comparison with our standard OVO plans. In addition to 100% renewable electricity as available with our standard plans, OVO Beyond reduces your yearly carbon emissions from the energy used in your home that is supplied by OVO to net zero by providing 100% carbon-neutral gas (15% green gas and 85% offset) and offsetting all associated lifecycle carbon emissions involved in the production and consumption of your electricity & gas, you will also get 5 trees per year in UK schools and communities and other green benefits. The renewable electricity we sell is backed by renewable certificates (Renewable Energy Guarantee of Origin certificates (REGOs)). See here for details on Renewable Energy Guarantee of Origin certificates and how these work. The green gas we sell is backed via renewable certificates (Renewable Gas Guarantees of Origin (RGGOs)). See here for details on Renewable Gas Guarantees of Origin and how these work. A proportion of the electricity we sell is also purchased directly from renewable generators in the UK. We offset the remaining emissions by supporting UN REDD+ carbon reduction projects that are certified to the Verified Carbon Standard or the Gold Standard. See here for more information on how we restore nature and protect rainforests with our offsetting programmes.
View more from these categories