guide
A practical guide to your smart meter In-Home Display (IHD)
29 September 2021 | Celia Topping
Control your energy use at the tap of a button with your smart meter In-Home-Display (IHD). The easy-to-use screen helps you track your energy in real time, so you can keep your home cosy and your costs down. 
What is an In-Home Display?
So, you've already taken the first important step to reducing your carbon emissions by getting a next-generation smart meter. Basically, the In-Home-Display is the smart meter display. But instead of attaching it to the meter, stuck away in a hard-to-reach place, it's a handy, portable touch-screen unit you can access easily.
Here is a quick video explaining what an In-Home Display is, its benefits and how it can help you save energy.
To be able to see YouTube videos, we have to ask you to accept Targeting Cookies within your
Why do smart meters come with an In-Home Display?
According to the clever people at the Department of Business, Energy and Industrial Strategy (helpfully called BEIS for short), an IHD is the most effective way to track your energy use and reduce bills. As a result, IHDs now come as standard with every smart meter. Another positive step towards cutting your carbon footprint! 
IHDs are a quick, easy and practical way to visualise the cost of your home energy use. They keep you directly in control of how you use your energy and help you make changes where you want them. This way, you always know how much you'll be paying at the end of the month, instead of getting estimated bills. 
How does a smart meter connect to the IHD?
The 'smart' bit of the meter is the communication hub. This securely shares your energy info with us at OVO and with your IHD. It means you no longer have to bother with those tiresome monthly meter readings. 
The good news is you don't need a smartphone, laptop or even an internet connection to use your smart meter. It's connected to us through the WAN (wide area network) and to your IHD through the HAN (home area network). 
Plus, the IHD is mobile and can be used anywhere in the house. The battery lasts around 4 hours, but it's best to keep it plugged in when possible. Walls can weaken the signal, so ideally keep it in the same room, within 15 metres. 
How to get started with your In-Home Display
During your smart meter installation, the engineer will talk you through how to use your IHD. This is what the current IHD6 looks like (if you have an older version, it may be slightly different):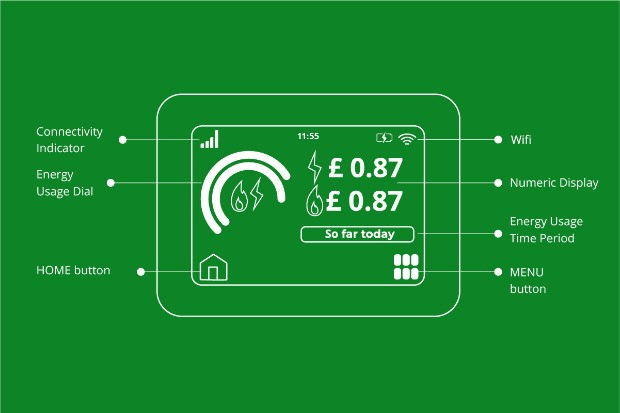 And here's a handy guide to what all those symbols mean:
Connectivity indicator - keep the IHD within 15m of the smart meter for best results
Energy usage dial - this rises throughout the day as you use energy. The flash symbol relates to electricity and the flame is gas. 
Home - this little house lets you see how much energy you've used today
Wifi (and Battery) - within 15m is the best distance for wifi connectivity. If you've been using the IHD around the house, remember to plug it back in to recharge the battery. It has a life of around 4 hours. 
Numeric display - see how much energy you've used in £ and p (inc. VAT). 
Energy usage time period - this indicates which time period is being shown above, you can scroll between so far today, daily, weekly, monthly and yearly
Menu button - allows you to scroll between settings, meter readings, energy budgets and checking your account info. It also confirms a selection.
You may have the older IHD3 version, which looks like this: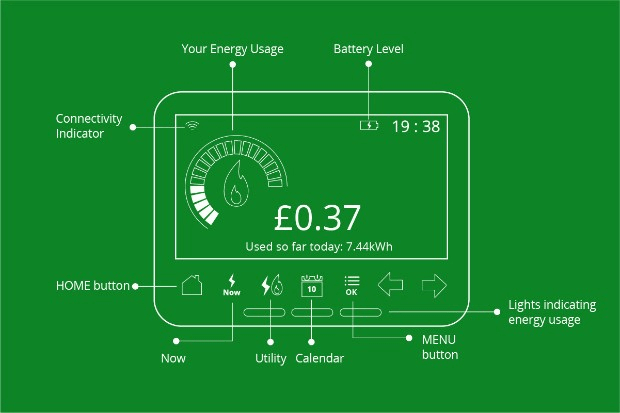 Most of the buttons have the same function as the IHD6, with some slight variations:
Wifi: The IHD3 doesn't connect to wifi, so there is no wifi button
Connectivity indicator -  keep the IHD within 15m of the smart meter for best results
Home - to see how much energy you've used today
Now - to see how much energy you're using in real time
Utility -  to switch between your electricity use, (flash) gas (flame) use and both
Calendar - to go through daily, weekly and monthly use (and the LEFT arrow to scroll back)
OK - this is the menu button and works as explained above
Lights - these indicate how much energy your home is using right now. Green (low), Amber (medium) and Red (high) - time to unplug, turn down and switch off?
How do I check my meter readings on my IHD3?
Tap OK
Press the right arrow three times
Tap OK
Use the UTILITY button to toggle between your electricity and gas readings
How do I check my meter readings on my IHD6?
Tap MENU
Press the right arrow to go to the next page
Tap METER INFO
Use the arrows to scroll through your old readings and your Meter Point Administration Number (MPAN)
How do I check my account info on my IHD6?
Go to MENU, then ACCOUNT. The arrows will guide you through all your account details. Like your unit rates and standing charges, account number, and payment method.
How will an In-Home Display help me manage my energy?
The IHD is a window into your energy use. By understanding how your home consumes energy (both gas and electricity), you can make changes and reduce bills. With it you can see:
How much energy you're using in kWh (the unit used to measure energy, like kg measures weight)
What the energy costs (in £ and p) daily, weekly or monthly
How to set budgets to reduce your energy use
You can save energy by following these helpful steps:
Check your IHD when only the most essential appliances are switched on, like your fridge or freezer. This shows you the most basic cost of running your home
One by one, switch other appliances on
Check your IHD again and see how these other appliances ramp up the cost
With this info, you can reduce use of the most energy-guzzling appliances
Set a realistic weekly or monthly budget to keep an eye on your energy use
Check your IHD before going out, to see if you've left too many appliances switched on
Your IHD can also help you see the impact of the following actions: 
Taking a shower instead of a bath
Washing your clothes at 30 degrees instead of 60 
Selecting the eco setting on your dishwasher
Heating a full or semi-full kettle
Using LED bulbs instead of regular incandescents
Once you're up and running, it's fascinating to see how much energy each appliance uses, or how much a bath costs to fill. Armed with this knowledge, you can make small changes in your daily home life to reduce waste and save money. 
After a few weeks of use, go to your online account for even more detailed information. Here you'll find easy-to-read graphs to help you spot patterns of energy use. Use these to find ways to cut your bills even more.
How do I set an energy budget on my IHD6?
Setting a budget allows you to keep tight control of your spending. Here's how:
Go to MENU
Click the BUDGET OPTION
Choose the fuel type (electricity use or gas use) you'd like to set a budget for
Click CHANGE
Use the arrows to increase or decrease your budget
Click TIME PERIOD to choose how long you want the budget set for 
Click SET if you're happy
Click OK to save everything
You can even use the IHD to set alerts if you're getting close to the daily amount of energy you want to use. 
How do I set an energy budget on my IHD3?
It's slightly different on the IHD3, but still helps put you in control of your spending:
Click OK
Press the right arrow
Click ADJUST SETTINGS
Click OK
Click SET BUDGET
Then OK again
Click CALENDAR – to choose how long you want to set the budget for (daily, weekly or monthly)
Use the arrows to increase or reduce your budget (after a while, you'll see here your energy use for the previous period too)
OK – if you're happy with your budget
Not yet with OVO? Get an award-winning experience! 
Forgive us for blowing our own trumpet, but we're pretty pleased that in the 2020 Uswitch Energy Awards we won Best Energy Supplier in 5 categories. One of those categories was Best Smart Meter Experience. So with an OVO smart meter, you don't only get the latest tech, but the best installation experience around. 
Here's what some of our members had to say:
"Operative was very friendly and helpful, provided good advice and information on the smart meter and how it operates. Satisfied with the quality of the visit today."
Jade D.
"The engineer went above and beyond today, as he noticed my gas cooker was dangerous. He disconnected and capped it off for me, also leaving me with a brand new hot plate to use whilst waiting for a new cooker."
Eve M.
Check out our Home Energy Plans that come with a SMETS2 smart meter and IHD. Two minutes is all it takes to book your smart meter installation. Switch today!
Get the most out of your smart meter In-Home Display
Your most asked questions answered
The IHD3 version doesn't connect to WiFi – and while the IHD6 can be connected, it doesn't need to be. Ask your engineer to pair it for you during installation. Or they can show you how to pair it yourself at a later date. 
Here are some of the benefits of having a WiFi connection for your IHD6:
If the IHD has issues, OVO can understand the problem straight away
Real-time customer meter readings can be collected
It makes updating software on your IHD easier
Yes, some of it – up to around 20MB per day. That adds up to 600MB over a month. If you have a plan with unlimited broadband, this won't cause you any problems. However, if you don't, you should contact your provider to check your allowance, as we won't be able to cover the cost of data used for your IHD. 20MB is the same as the amount you'd use if you were doing 1 hour of web browsing or downloading 4 average-length music tracks.
For the best connection, keep your IHD within around 15 metres of your smart meter. (If you're connecting it through your Wi-Fi router, it also needs to be within a similar range.) Thick walls could weaken the signal, so keeping it in the same room makes most sense. 
Yes – all the prices and unit rates shown on your IHD screen include VAT.
If you renew with us on a new OVO contract at a different rate, or your rates change for any other reason, we'll update your IHD remotely to show your new rates.
 An IHD won't cost you a thing, as it comes with your smart meter. If it's faulty we'll replace it for free, but it's £33 for a lost or damaged IHD. 
Yes. It will cover both fuels – or just electricity if you only have a smart electricity meter with us.
The new IHDs are very energy efficient, costing you less than 70p a year to run.
IHDs run on mains power. But you can charge up the battery and it'll last for around 4 hours if you need to unplug or there's a power cut. No other batteries are necessary. 
There may be times when your IHD misbehaves. Don't worry, we have a troubleshooting  page to get you back on track. 
View more from these categories