guide
Renovating a house: the complete beginner's guide
29 April 2021 | Matt Mostyn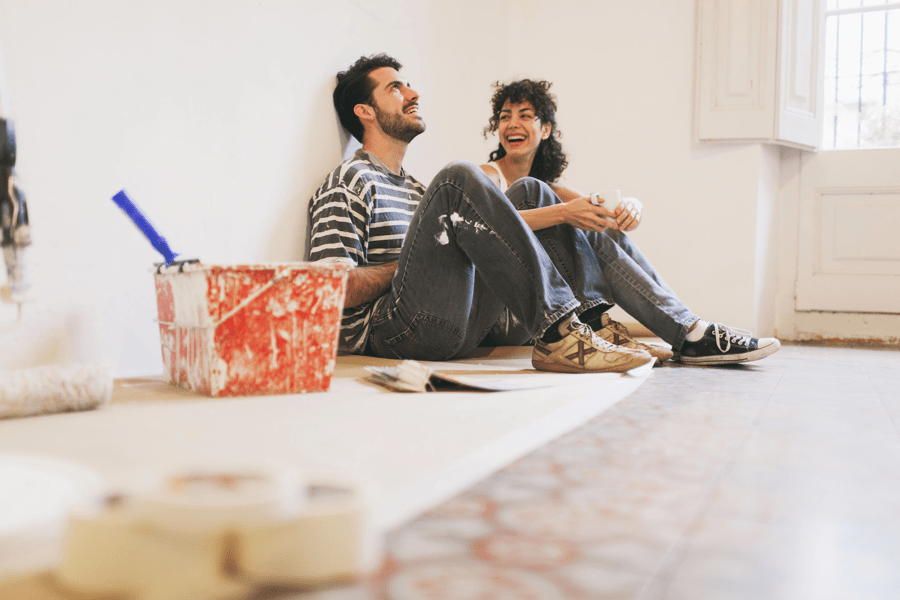 Renovating a home can feel like an overwhelming prospect. And if you're up for the challenge – not to mention the upheaval – there are a few key steps to success.
There's no getting away from it. Home renovations mean lots of planning and hard work. But breathing new life into an old home not only makes it your own. Done right, it can also add to the value when it comes time to sell.
Follow our complete beginner's guide to home renovation, with tips on everything from finding a project in the first place, to completing those all-important finishing touches. 
And if you're thinking about moving house, don't forget to read our house move checklist, to learn exactly what to do, and when to do it!
The advantages of renovating a house
There are more than a few good reasons to renovate a home. And the benefits go way beyond simply putting your own unique mark on your own little piece of paradise. Here are just a few good reasons to do a home renovation:  
Increase the resale value: renovating your home can definitely prove profitable. Just upgrading the kitchen alone will add 5.5% on the value of an average UK home – and doing either a kitchen extension or a loft conversion can add as much as nearly 11% to the value1.
Improve your home's energy efficiency: from insulation to

smart home tech

, improvements in this area can help you save energy, lower running costs,

reduce your carbon footprint

, and make home life easier. 
Create more space: if your family's growing, moving house may not be the best option. Instead, update your home to solve the space challenge, and avoid the stamp duty!
House renovation: step-by-step guide 
So you've learned why home renovation can be such a good idea. Now here it is – our complete guide to home renovation triumph, step by step. 
Step 1: Choose the right house to renovate
If you're on the hunt for a property to renovate, there are a few points to look out for along the way. Older houses can hide a lot, looking quaint or full of character at first glance, before revealing themselves to be a total horror show when you start work. So here's the key question to ask yourself:
Is it the right project for you? 
There's a key phrase to watch out for when you're scanning estate agent details for a prime home renovation candidate: "In need of modernisation"! That's a good indication that there's renovation potential. But remember, not all of them will offer value for money, some may be overpriced – and as anyone who's ever watched a home renovations show will know, a few could prove to be a total nightmare! 
When you're asking yourself whether a house you have your eye on is the right choice, it's a good idea to weigh up practical considerations. Could you live in it while renovations are done, what can you compromise on to cut costs, and what's the likely level of stress and upheaval involved?
It will also help to consider some of the following:
How to assess the potential of a house renovation project
Do your research: consider everything from the neighbourhood, street appeal, resident demographics, closeness to schools, shops and transport, council tax costs, and sale price for houses nearby. All of these will help give you an idea of the potential for profit after renovation.
Consider costs: cost is obviously the biggest factor when you're considering a renovation. So do some rough calculations, to figure out how much work you'll need to do – and whether that makes any future sale profitable.
Do a building survey: a standard homebuyers report isn't enough. A full structural building survey might be a bit more expensive, but for any house you're seriously considering, it's a better plan. That way you'll have a shopping list of potential repairs, to give you a better idea of how much everything is going to cost. Plus you'll have some extra bargaining power over the sale price. Key things to look at include the plumbing, electrics, and signs of damp.
Find a friendly builder: some might be reluctant, but if you can find a builder willing to quote on some of the bigger jobs pre-exchange of contracts, it's a great idea.
Step 2: Work out the cost of your house renovation
Of course, checking that the project is financially viable is key – so get a detailed financial schedule in place. Rule number one is make a budget and stick to it. Work out your costs for each room, including everything from structural work to finishing touches, then add it all up to see if you can afford it. 
It's also a good idea to have a contingency of around 10–20%, to allow for any unexpected expenses. And create a separate budget for decoration and furnishings, once your structural work is completed.
Do I need a warranty to renovate?
While not compulsory, structural warranty insurance can be a worthwhile investment. A structural warranty is an insurance policy designed to protect against building defects – normally for 10 years after completion. It's also necessary to help you sell your property after major works – as the vast majority of mortgage lenders and banks need one in place before agreeing to a mortgage.
Find out more about structural warranties
Am I eligible for a renovation grant?
Renovations grants offer a maximum of £20,000 for owner-occupiers, and £10,000 to £15,000 for landlords. They're given at the discretion of your local authority, and they're also means-tested – so the amount you could get depends on your income. The more you earn, the less the grant will be.
The property must have been built more than 10 years ago, can't be a second or holiday home, and for owner-occupier applications, it must've been occupied by you for at least 3 years before you make the request.
Find out more about renovations grants
Step 3: Check for renovation restrictions
It's illegal to carry out unauthorised work to a listed home – so be sure to check if your property's listed, via British Listed Buildings. And if your home's in a conservation area, there might be restrictions affecting any changes to its exterior, as well as to other work you could normally do without planning permission.
Step 4: Apply for planning consents
There's no getting around the hefty amount of planning permissions you'll need to consider when you're planning an extensive renovation. Here are some pointers:
Do I need planning permission when renovating a house?
Even if your property's not a listed building, or in a conservation area, you'll probably still need to comply with other building regulations. You might need a party wall agreement with neighbours, for instance.
Check with your local authority – and if it turns out that you do need statutory consents, factor in extra time. A full building regulations application can take 5 to 6 weeks, and planning decisions can take 8 weeks or more.
Do I need an architect for a house renovation?
While not strictly necessary, an architect can be a very handy resource to help guide you through the planning consent minefield, and find good solutions to specific problems. 
It's also worth remembering that renovation designs for existing houses can be even trickier than starting from scratch. And larger-scale renovations, properties in sensitive areas and listed buildings, will almost always need professional advice. 
Learn more about how to find a renovation architect
Should I contact building control when renovating a house? 
By law, many alterations to existing buildings must conform to building regulations. These are the legal minimum standards, covering everything from room size, to access, ventilation and so on. You or your builder will need sign-off from building control at the end of your project, to certify that it reaches minimum standards.
Find out more about building control
Step 5: Do a bat survey
No, this isn't an acronym! We're referring to those little critters that like to nest in your attic. Bats love dilapidated old homes – and it's a criminal offence to harm or disturb them when they're roosting. A bat survey will warn you of any issue – and while they can be pricey, they're a lot cheaper than the potential fines.
Step 6: Create a design for your house renovation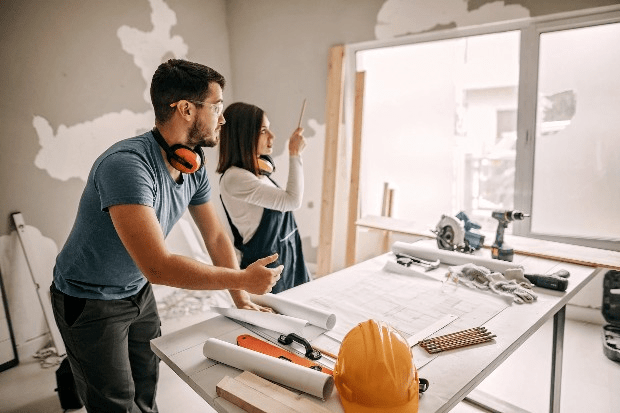 A good design is a given for any big renovation – so here are some key questions to ask yourself when you're mapping out what to do:
How will the changes work with the original building?
Should extensions blend in with the existing property? 
Do you want to restore the original appearance, or totally transform the exterior? 
How can you maximise use of natural light, the existing layout, and potential views?
Mood board your designs, appoint an architect or designer to help (or use an online resource like RoomSketcher), and confirm any design calculations with a structural engineer. Finally, submit your final drawings for planning permission (if applicable) and building approval.
How to renovate original features
Keeping some of your property's original features adds bags of character and charm – particularly when it comes to windows, floors, doors, roofs and timber beams. But you'll need to weigh up the costs of restoration against the benefits. Sometimes it just isn't viable to spend a fortune restoring features that, sadly, just aren't worth saving. But if not, you could at least try to recycle them with your local salvage yard.
Step 7: Write a schedule of works
It's really important to have a clear vision of what you need to do. So put together a schedule of works, listing the order of jobs in priority. That will help to make sure, for instance, that you've done the rewiring before you plaster the walls!  
Addressing major structural issues – like rotten rafters and damp issues – should be top of the list. And the house needs to be weathertight before you focus on any internal works. Find out more below about the best order in which to tackle things.
Step 8: Find the right contractors
If you're buying a renovation project, finding the right builders, contractors and building manager can make the difference between success and failure. It's always best to ask for recommendations from friends and family – and Checkatrade is another useful resource. You could also visit a contractor's Facebook page to read reviews. 
It's a good idea to put your feelers out early, as many good contractors are booked up months in advance. And call instead of emailing, for a faster response.
Step 9: Get the right insurance
Your home contents or buildings insurance may not cover you for extensive building work. A better plan is to take out specialist renovations insurance. Also check that your main contractor has site insurance. And if you're hiring subcontractors yourself, get site insurance, so you're covered for public liability, employer's liability, legal expenses and potential damage.
Find and compare renovation insurance options
Step 10: Secure and clear your site 
Making your site safe and secure is your next priority – followed by clearance or demolition work. Here are a few important things to consider:
Health and safety is your responsibility – so do a risk assessment, and have a plan in place for dealing with hazardous waste, for instance.
Make sure that your gas and electricity are safely capped off before work begins.
Try and avoid just throwing everything in a skip. It's an environmental nightmare, and you might be losing money on things you could sell, or even recycle. In order of priority, make your mantra "salvage, sell, charity, or tip!"
Protect against potential break-ins. Building sites are prime targets for thieves, so board up windows, and padlock the site as best you can.
Step 11: Brief your neighbours and builders
Living next door to a building site is no picnic – so get your neighbours on side by being considerate and transparent. And make sure your builders are aware of things like things like shared entryways and communal areas, so that they don't leave them messy or blocked. Plus tell them where best to park, and consider hiring a portaloo!
Step 12: Start work!
You'll likely kick off with groundworks, like foundations and drainage, followed by damp-proofing and insulation. This is also a good time to protect any parts of your building that could be easily damaged – especially for listed buildings. 
Step 13: Make the building weathertight
Fixing roofs, doors and windows is the next step forward. That's because plastering, electrics and joinery can only happen in a weathertight structure. Wrap the building in temporary protection as the work continues. And while your scaffolding's up, it's also a good idea to check chimney stacks and pots, and replace or repair lead flashings, guttering, fascias, render and cladding.
For more useful tips, read our handy guide on how to draught-proof your house on a budget.
Step 14 : The first fix
What does "first fix" mean? 
The first fix is the stage where you add everything from stud walls, to staircases, door linings, window reveals and sills, as well as pipes, cables, insulation and the boiler. 
This is also the stage when everything that will be concealed by plaster needs to be installed – such as:
Ventilation ducts
Hot water cylinder
Extract ducts
Wiring for central heating controls
Alarms
Line the ceilings and lay the floor 
Now's the time to board your ceilings, line walls with plasterboard, and lay floorboards or screed. Allow time for plaster and screed work to dry out. It can take 2 to 6 weeks, but the longer the better.
Choosing flooring for a renovation project
Once your screed is dry, you can lay your actual floors. It's a good idea to do this now – even if you might be tempted to wait until after your new kitchen's in, for example. That's because you'll get a more seamless finish, with no uneven edges.
You've plenty of options – from solid wood floors to flagstones, ceramic tiles and concrete. Space, design, practicality, budget and maintenance will likely all play a role in your decision!
Like the idea of toasty warm feet? Read more about underfloor heating, in case you'd like to install it in your new home
Step 15: The second fix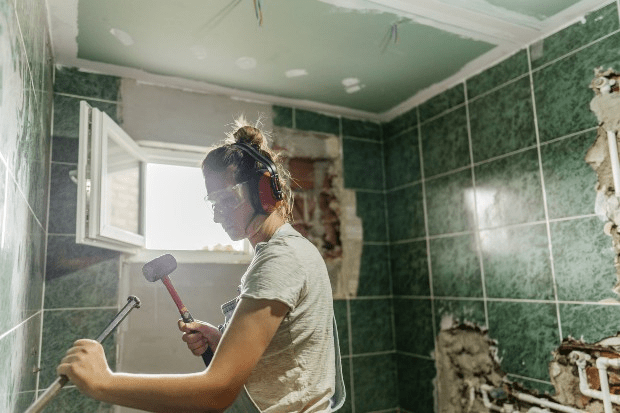 The second fix refers to everything that brings a house to life – but this can also be the most frustrating bit, as it can seem to take forever. But this is the point at which you'll begin to see everything coming together, and the fruits of your labour starting to pay off.
What are 'second fix jobs'?
Second fix jobs typically involve:
Major fit-outs for the kitchen and bathroom
Adding light fittings, sockets, switches, phone and TV points
Hanging doors, and fixing skirting, architraves, spindles and handrails
Fitting radiators
Activating the boiler and heating systems
Interested in smart lightning, and how it could make your home greener? Read our handy guide on smart light bulbs, and how they could add value to your home.
Step 16: Finishing and decorating
Now comes the really exciting part. Once all second fix work is complete, and the space is dust-free, you can finally begin on the painting and decorating. This is the part where you get to put your stamp on your home, and really make it your own. 
A good rule of thumb is to stick with a quality, classic design over any passing interior trends. Decorating fads can date quickly, and if you're wanting to maximise your profits when it comes time to sell, keep it simple and elegant. And remember, less is more!
Once the decorating is done, now's also the time to add soft floor coverings like vinyl and carpet. White goods like the oven, hob, fridge and washing machine can all be fitted at this point, too.
Tidying up
It's important to make sure the site's spick and span at the end of each day. If you have a project manager, they'll be able to manage your subcontractors to do this – but otherwise, you'll need to take charge here! 
Inevitably, there will be some shared mess that nobody takes responsibility for. So sweep up regularly, and have a quick tidy, so that the tradespeople coming in the next day aren't held up.
Is it worth renovating a house? 
There's a golden rule to remember when you're considering a renovation: Is the eventual return on investment likely to be greater than the amount you'll spend on transforming it? If that's the case, then it's definitely worth it. 
And if you're confident you know what you're doing – and you're up for the challenge – buying a do-er-up-er could also make it easier to get on the property ladder than mortgaging yourself to the hilt on the house of your dreams.
How can I make my renovations eco-friendly?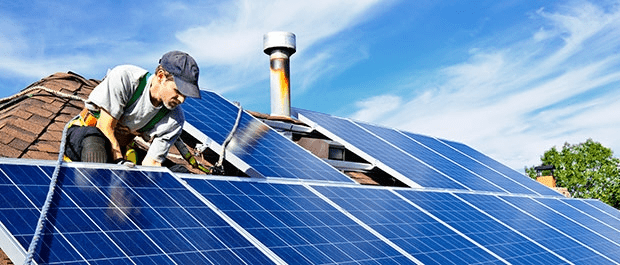 An eco-friendly renovation considers one major factor: improving your home's efficiency. Find out more about what home energy efficiency means in our blog – plus learn 120 ways to save energy at home. And here are a few more handy tips:
Insulation
As  much as 40% of a home's heat loss is down to poor insulation. So check out our user guides for ways you can improve your home's insulation for everything from your roof and loft, to your solid and cavity walls, windows and doors.
Solar
Solar is fast becoming the cheapest source of energy globally – and it's a major drawcard for any eco-friendly renovation. Read more about the major benefits, and find out how to install solar panels in your home renovation, in our ultimate beginner's guide to solar panels. 
Renewable heating systems
From ground source and air source heat pumps to biomass boilers, renewable heating systems are super-low carbon and low maintenance, and they could also drastically cut your home heating costs.
Reclaim and recycle
Wherever you can, use reclaimed building materials, and recycle existing materials from your original site. You can also source useful items from salvage yards, which sell anything from old bricks to high-end materials. It's great for the environment, and it can also help manage your budget!
Read our guide on recycling, to find out exactly what you can and can't recycle
Choose natural materials
From lime and clay plasters to recycled/sustainable wood floors, use natural materials for your walls and floors wherever possible. 
House renovation checklist
So there we have it – your roadmap to home renovation success, one step at a time. Here's a quick summary of the main points from this article, to help you see the process at-a-glance:
Find and assess your property

Work out the costs

Check for renovation restrictions

Apply for planning consents 

Do a bat survey

Create a design

Write a schedule of works

Find the right contractors

Get the right insurance

Secure and clear your site

Brief your neighbours and builders

Start building work

Get it weathertight

Do the first fix

Do the second fix

Finish and decorate
Get a greener home with OVO
Want an energy supplier that helps you cut your bills and live more sustainably? OVO offers members 100% renewable electricity as standard2, as well as clever tools to help you track your carbon footprint. Get a quote now, to see how much you could save going green.
100% renewable electricity as standard3
A tree planted in your name every single year you're with us4
3-5% Interest Rewards when your account has a positive balance5
An award-winning smart meter experience (Uswitch 2020)
A £50 gift card every time you

introduce a friend

A 5-star rating on Trustpilot by over 30,000 of our members
Sources and references
1.  https://www.housebeautiful.com/uk/renovate/finance/a30976865/house-renovation-cost/
2. & 3.100% of the renewable electricity we sell is backed by renewable certificates (Renewable Energy Guarantee of Origin certificates (REGOs)). See here for details on Renewable Energy Guarantee of Origin certificates and how these work. A proportion of the electricity we sell is also purchased directly from renewable generators in the UK.
4.  Each year, OVO plants 1 tree for every member in partnership with the Woodland Trust. Trees absorb carbon dioxide from the atmosphere, so tree-planting helps to slow down climate change.
5. Interest Rewards are paid on positive balances of customers paying by monthly Direct Debit. It is calculated at 3% in your first year, 4% in your second year and 5% in your third year (and every year thereafter) if you pay by Direct Debit.
View more from these categories