guide
Loft conversion ideas: how to maximise your living space (the sustainable way!)
14 April 2021 | Aimee Tweedale
Want some extra space in your home, without having to move house? 
Perhaps you're tired of waiting ages to shower in the shared bathroom. Or maybe you're even thinking about expanding your brood! It's common to feel like you've outgrown your family home – but moving is expensive, and means uprooting your life. That's why lots of homeowners opt for loft conversions. 
If you're looking for loft conversion ideas, costs, and types, you've come to the right place! Read on to find out how to transform your attic space – and do it the energy-saving, eco-friendly way.
What is a loft conversion?
Getting a loft conversion (sometimes called an attic conversion, or loft extension) is all about transforming the space at the top of your house. 
Most people simply use their attic or loft as storage space, if they use it at all. But with the help of professionals, you could turn your loft into an extra bedroom, bathroom, or office space. 
As long as your attic has enough room and the right kind of layout, the possibilities are endless. But how do you know if a loft conversion could work for you?
Is my loft suitable for conversion?
When deciding whether to press ahead with a loft conversion, you may want to get a professional to come and take a look at the space. 
There are 3 key factors you'll need to consider.
How much space do you have in the loft?
The most obvious starting point when thinking about converting your loft is how much space you're actually working with. Can you imagine putting furniture in there, and still having room to work, move around, or relax?
Of course, the answer to this question is pretty subjective. Architectural designers Resi suggest that you should ideally have 7.5 metres by 5.5 metres of floor space – but smaller spaces can still work, too.
Some people might have chimneys or water tanks in their roof, which could be tricky to move. This could have a big impact on how easy it is to convert the loft. 
Remember: you also need to look at whether you've got space to put a staircase on the floor below your loft. After all, you'll need to get up there!
What kind of roof do you have?
There are 2 main types of roof in the UK:
Traditional roof: usually built before 1965, these have rafters that form an M shape, leaving hollow space below.
Trussed roof: most houses built after 1965 have this type of roof. Here, the trusses (or beams) that support the roof form a W shape, taking up space in the loft itself.
Modern trussed roofs are harder to convert than the traditional kind. This is because the trusses have to be removed, and structural reinforcement has to be added to the roof to replace them. But it can still be done – it's just more expensive!
As a general rule of thumb, you want to have 2.2 metres of head height in your loft, to convert it. If the ceiling is any lower than 2.2 metres at its highest point, it won't be a usable room.
The good news is, you do have options if your roof is lower! You could look at removing and rebuilding the roof of your house. Or, you could arrange to have the ceiling of the room below lowered. As you can imagine, both of these are pretty involved jobs, and they could mean that your conversion takes longer, and costs more. 
It's best to get a professional to come and survey your space, to tell you exactly how your loft could be transformed. 
Do you need planning permission for a loft conversion?
You can usually convert your loft without getting planning permission from the council. But to be extra sure, check the rules with your local authority. 
You may need planning permission if you're:
Changing the height of your roof 
Enlarging the loft so it overhangs the house
Adding a raised platform or balcony
Some other restrictions will apply in different parts of the UK, such as Areas of Outstanding Natural Beauty. You can get a more in-depth overview of the rules at Planning Portal. 
While planning permission isn't always needed, you should always have building regulations approval. This makes sure that the new room you're building is safe, by checking things like the stability of the floor, and fire safety. It's usually handled by your local authority, and it's a good idea to get your design approved before you go ahead with building. 
Find out more about building regulations approval here, and submit an application here. 
Can I do a loft conversion myself?
Converting your loft into a liveable space is a big job with lots of elements. If you're doing anything more complicated than adding some lighting or a new fixture to the loft, then it's best to call in a professional. 
As we noted above, you need to make sure your loft has building regulations approval from the council. 
Does the council give any help for loft conversions?
No, sadly – local authorities don't offer any financial help for loft conversions. 
But you do need to let them know you're converting your attic. You'll need to get a Lawful Development Certificate (to prove you don't need planning permission), and building regulations approval. Find out how to get in touch with your council. 
If you're a low income or vulnerable household, you might be able to get some money from your energy company to help insulate your loft. This is known as the Energy Company Obligation, and is set up to help you make your home more energy-efficient. Find out more about the ECO Scheme here.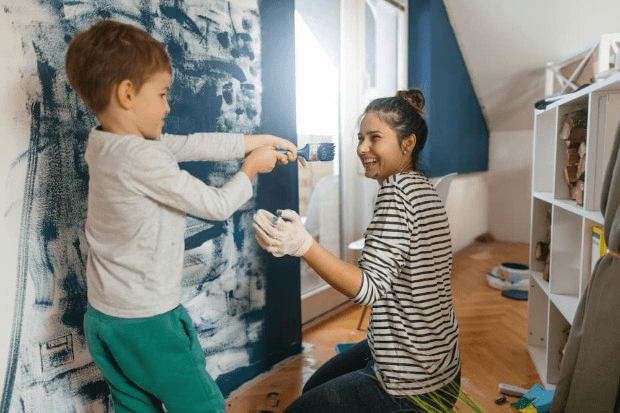 Types of loft conversion
There are 4 common types of loft conversion:
Roof light conversions: this is the easiest type of conversion, but it depends if there's enough space already in your attic, without having to extend it, or make changes to the floor or roof. It basically involves putting skylight windows and

insulation in the roof

, then adding a floor and staircase. Voila: you have a new room!
Dormer conversions: dormers are the most popular type of loft conversion. This is when you add an extension that sticks out from the side of your roof, giving you a little more headspace inside, and allowing for conventional windows.
Hip-to-gable conversions: this is where you change your sloping "hip" roof to an upright "gable" wall, creating lots more space inside. 
Mansard conversions: Mansard conversions create the most dramatic change to your roof space. They run along the length of your entire roof, changing it from sloped to vertical1. 
If you're interested in insulating your loft, read our handy guide, which will show you where to start, how much it costs, and all the benefits. 
Loft conversion costs: how much will it actually cost to convert my loft?
In truth, loft conversion costs depend on the choices you make. The price could go up or down, depending on the size of the space you want to convert, the roof style, the type of conversion you go for, and many other factors.
Basic roof light conversions are usually around £15,000 to £20,000.
Dormer conversions tend to be more expensive, with £20,000 being the starting point. Real Homes estimates that an average dormer conversion, including an en suite bathroom, would come to around £35,000.
For a hip-to-gable or Mansard conversion, expect to pay over £30,000. Mansards are the most pricey option, because they involve altering the angle of the roof. They often cost more than £45,000.
Benefits of loft conversions
So, that's all the practical stuff out of the way. Now, let's talk about the exciting pros that come with converting your loft into a brand new space.
You could add value to your property: research by Nationwide found that converting a loft into a bedroom and bathroom could add as much as 22% to the value of your house2. But make sure you also do your own sums, to work out if this will prove profitable. As you can see above, loft conversions aren't cheap!
Improve the efficiency of your home: converting your loft can be a great opportunity to

make your home more energy-efficient

, by adding lots of roof insulation, to stop heat escaping. Find out more about how to make your conversion eco-friendly below.
Get more space without having to move: most people choose to convert their loft because they need the extra room. And let's face it, moving house can be much more hassle!
Loft conversion ideas: what can I transform my loft into?
This is the fun part of any loft conversion: deciding how to use all that extra space. Here are some loft conversion design ideas to get you started.
Add a master bedroom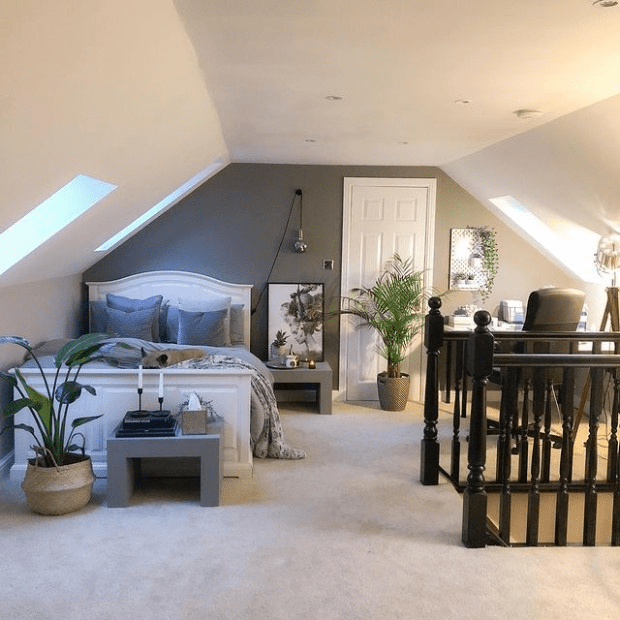 Image credit: https://www.instagram.com/the_house_on_sea_view/
As your family outgrows your house, adding another bedroom in the attic is the best way to give everybody more space. Not to mention, it's also the best way to add value to your house! Even better if you have space for an en-suite, too. 
Work from home in style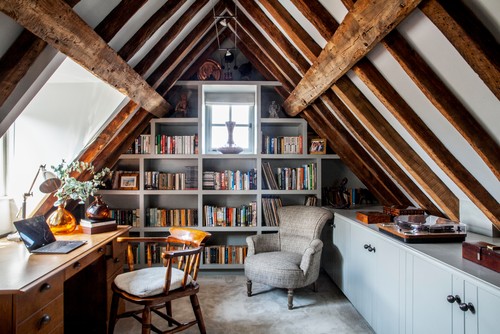 Why not put your home office at the top of the house?
Not only does it give you excellent views and lots of light while you're working, but it'll also create a separation between your work space and your living space. 
Create a spacious bathroom or wet room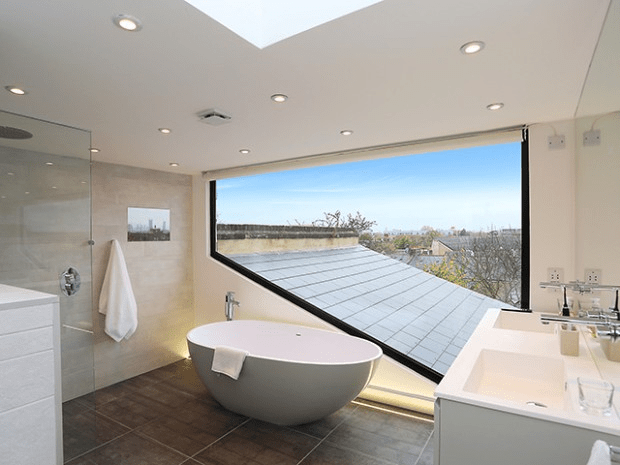 Image credit: Plus Rooms / https://www.granddesignsmagazine.com/conversions/712-loft-conversion-bathroom-guide 
Building a bathroom in the loft can be tricky, because of the water pressure. You might need to get a pump fitted, or perhaps look at installing an efficient electric shower3. But the results can be so worth it – and can also cut the time you spend queueing for the family shower in half!
Get some extra space to relax in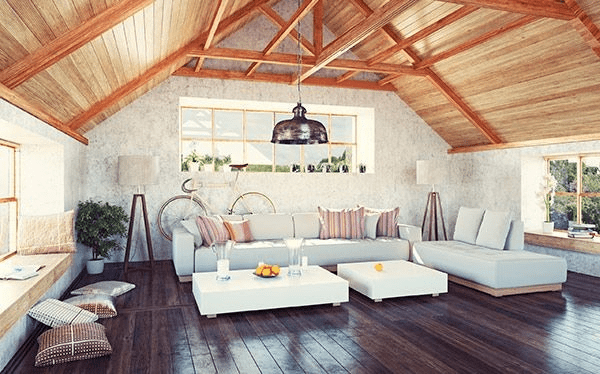 Image credit: https://www.which.co.uk/reviews/loft-conversions/article/loft-conversions/loft-conversion-ideas-aRcNF6d54RUY
It's unusual, but you might opt to turn your loft into extra living space. This way, the whole family gets to reap the benefits of your light-filled new room.
How to create an eco-friendly loft conversion
Use sustainable materials: this is one of the golden rules when it comes to eco-friendly home improvements! Timber is often the best option for a sustainable loft conversion, and its breathability gives you good air quality.
Use reclaimed and recycled materials: to go one better, you could refurbish your loft using materials recycled from elsewhere. For example, when changing your roof structure, it's a great idea to re-use the same roof tiles, if you can. This is the best way to ensure you're

lowering the carbon footprint

of your loft conversion. 
Install energy-saving windows: as well as your building materials, when converting your loft, think about the long-term sustainability of your home. Getting energy-efficient windows fitted in your new room will help to insulate your home and keep your energy use down.

Read more about energy-efficient windows. 

Add lots of roof insulation – then add more: thick loft insulation won't just keep your home cosy – it'll also improve

the energy-efficiency of your house

. Reduced heat loss means a lower

carbon footprint

, and – bonus! – lower heating bills. 
Take care of draught-proofing: just like every other room in the house, you should take steps to make sure there are no pesky leaks letting heat escape.

Find out more about draught-proofing your home.

Furnish the room with recycled and upcycled furniture: it's tempting to kit out your new loft room with all-new items, but remember that everything you buy comes with a price tag for our planet. Shopping vintage or secondhand furniture, or repurposing things from other rooms in the house, is more eco-friendly. 
Make sure your new bathroom saves water: if you're installing a new sink or shower, ask your plumber what steps you can take to make sure you're not wasting water – such as water-saving eco-shower heads.

Find out more about how saving water helps to fight climate change.

Light it up the efficient way: when you're choosing your new lighting, opt for

energy-saving

or

smart light bulbs

.
While you're up there – could you install solar panels?: as loft conversions often involve re-structuring your roof, it's a good time to think about whether you want to add solar panels, to power your home in a greener way.

Find out more about home solar panels and how they work, in our complete guide.
Get greener home energy with OVO
Want an energy supplier that helps you cut your bills and kick carbon, too?
OVO offers our members the ability to track their own carbon footprint, as well as tailored energy insights and advice to help you save even more money on your energy bills. 
We supply 100% renewable electricity as standard4. And that's not all. We'll also plant a tree in your name, for every year you're with us5. 
If you're eligible, we'll make sure you get kitted out with a smart meter for free, to give you even more control over your energy use. Plus, you could save up to 31% on your energy bills6 by getting a tadoº Smart Thermostat, for £120 (exclusive price for OVO members)7. 
Get a quote now, to see how you could save money while going green.

---
Sources and references:
1 https://www.which.co.uk/reviews/loft-conversions/article/loft-conversions/loft-conversions-step-by-step-guide-aXRe24q7i8Y5
2 https://www.propertypriceadvice.co.uk/home-improvements/loft-conversions-beginners-guide
3  https://www.granddesignsmagazine.com/conversions/712-loft-conversion-bathroom-guide
4 100% of the renewable electricity we sell is backed by renewable certificates (Renewable Energy Guarantee of Origin certificates (REGOs)). See here for details on Renewable Energy Guarantee of Origin certificates and how these work. What's more, 20% of the electricity we sell is purchased direct from UK renewable generators.
5 Each year, OVO plants 1 tree for every member in partnership with the Woodland Trust. Trees absorb carbon dioxide from the atmosphere, so tree-planting helps to slow down climate change.
6 An independent study has shown that installing and correctly using a tadoº smart thermostat can reduce your energy use from heating by up to 31%. The study found that the tadoº device can reduce heating energy requirements by 14-26% through controlling the heat source (e.g. boiler or heat pump). You could also save another 7% by turning down the heating based on the weather forecast, depending on the window sizes. If the window surfaces are relatively large, the energy saving will increase. 
7 Pricing: if you install your tadoº yourself the price will be £120. If you opt for an engineer to install for you, there will be an additional £60 fee for the installation bringing the price to £180. You can pay upfront and if you're eligible you will have the option to pay monthly (the price will be spread across 12 months and added to your monthly bill.) See terms and conditions for more information on eligibility and pricing.
View more from these categories