guide
Storage heaters explained: costs, benefits and types
02 December 2021 | Matt Mostyn
Once upon a time, storage heaters were clunky and inefficient – but advancements in technology mean nowadays they're far more desirable. Mainly  because they can help you save energy and lower your bills.
Here's our in-depth guide to teach you everything you need to know about this smart, efficient way to heat your home. Read on to find out more about:
What storage heaters are and how they work
Storage heater advantages and disadvantages
How to use your storage heater
How to make the most of your storage heater
Storage heaters and solar panels
Are storage heaters worth getting?
Are storage heaters right for my home?
What are storage heaters and how do they work?
Storage heaters use off-peak energy to store heat. How do they do that? By warming internal ceramic bricks during the night, when there's less pressure on the National Grid. Like magic, they then release heat gradually throughout the following day.
Storage heaters are highly insulated – which means they can hold onto stored heat for quite a long time! And because they use off-peak energy, which is cheaper than standard rate electricity, you'll likely pay less for your energy and lower your bills. This makes them particularly ideal when you use them with a money-saving, off-peak Economy 7 tariff.
Not only that, but storage heaters help fight the climate crisis. They don't charge up during the day, when there's higher demand for carbon-heavy gas-powered electricity on the grid. Instead, by charging at night when the grid is more likely to be powered by renewables, storage heaters are a lower-carbon form of heating – helping to support a greener, more flexible grid.
Storage heater advantages
The main benefits of modern storage heaters are:
They're cheaper to run than other forms of peak-hour electrical heating systems
Modern storage heaters have some clever built-in features such as programmable timers, fans, and built-in thermostats
They're exceptionally quiet, even the ones with a fan
They're simple to install, as they can be mounted onto any wall
It's easy to choose a heater that works in your home because they come a range of sizes
They only use electricity, so they can be placed anywhere that electricity can be wired
Read our practical guide on smart thermostats and how they can help you control your heating from everywhere and reduce your energy bills. 
Storage heater features
Some common storage heater features include: 
A boost function, to give you extra warmth when you need it 
A silent fan (in auto-combination models) to circulate heat more efficiently
Programmable heating schedules, to let you set customised heating patterns for different days and times – just as you can with gas central heating 
Thermostatic controls, so your room's heated to the perfect temperature 
Remote controls, so you can even operate them from your smartphone over Wi-Fi
Storage heater disadvantages
There's lots to get excited about when it comes to storage heaters – but it's not all sunshine and roses. There are one or 2 other things to consider before you decide that they're right for you. Here's our rundown of the main drawbacks:
Storage heaters use electricity, which can be more expensive than gas
With some of the more basic models, excess stored heat can sometimes make a room actually feel a little too warm (if there is such a thing over winter!)
Sometimes, your stored heat might be sometimes used up by evening – which is often the exact time you want to crank up the temperature!
Read our guide to energy-efficient heaters to find out about other ways to heat your home
Types of storage heaters
Nowadays, storage heaters come with a range of features, including digital programmers, open window sensors, electronic room temperature controls, and WiFi controls. Most modern models also have built-in thermostats, and many are fan-assisted to help circulate the heat. All these features make them pretty nifty performers!
In general, the more you spend, the more features your model will have. Check out some of the major brands, such as Creda, Dimplex, Elnur, Heatstore, Stiebel Eltron, and Vent Axia. 
Dimplex's Quantum storage heaters are some of the most advanced and economical around. You can programme them with daily and weekly schedules and set the room temperature. And for the tech fans out there, an iQ controller monitors the room and learns your heating habits! They also have a fan, a thermostat, a child-lock, and a boost function to give you instant heat when you need it.
In general, there are 3 main types of storage heater – automatic models, combination models and high heat retention models. Find out about each of them below.
Automatic models
These have replaced the old storage heaters, where you had to manually select how much heat to store. These newer models are designed to detect the room temperature and set themselves, so they're much more efficient.
Combination models
These work the same way as automatic models, but they can also add extra heat during peak hours if necessary. They also have more advanced controls, for a bit of added flexibility.
High heat retention models
These use the latest in storage heater technology, and feature highly-insulated cores and quiet fans. They're ideal for releasing heat exactly when it's needed – and they can also bring you instant heat during the day if you want it.
Storage heater costs: how much do storage heaters cost?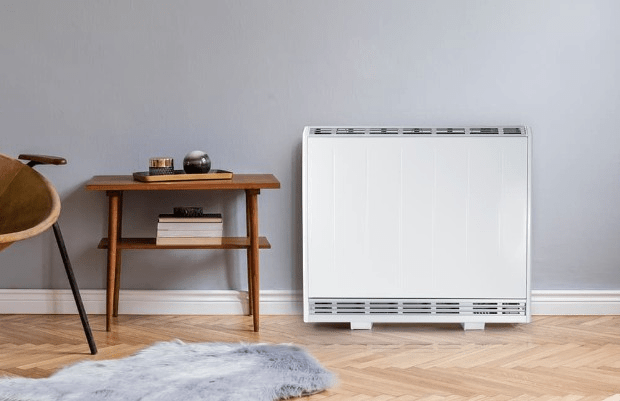 Storage heaters can vary dramatically in price. It all depends which type you go for, and which brand you choose. 
Basic models can cost as little as £150. You can expect to pay around £700 for a high heat retention storage heater. 
It's worth bearing in mind that more expensive storage heaters are better insulated and more controllable – making them more efficient and cheaper to run. 
Storage heater installation costs
Storage heaters need to be installed by a qualified electrician, and prices can vary – so it's a good idea to get at least 3 quotes.
Installing a replacement storage heater usually starts at around £70 if there's existing wiring (excluding the cost of the new heater, and depending on your location). 
New installations will cost more, as wiring in will need to be included as part of the job. 
How to use your storage heater
You'll usually find your storage heater controls on the top of the heater itself. Once you've found the perfect heat setting, you shouldn't need to fiddle much with the controls unless there's a cold snap! 
For most storage heaters, the following 2 settings are the main ones you'll use:
Input – this controls the amount of heat stored during off-peak hours, and it plays the biggest role in working out your running costs. As a general rule of thumb, in mild weather set the input to low, and in cold weather, set it to a higher setting to store more heat.

Output – this is the amount of heat that the heater lets out into the room. To avoid wasting heat, make sure the output switch is turned down/off at night, or when you're out.
How can I make the most of my storage heater?
Be sure to use off-peak electricity when using your storage heater

Check the timings of your Economy 7/off-peak tariff with your energy supplier, as this could vary depending on where you live

Check that your heaters are storing the right amount of heat. Most modern storage heaters can do this automatically, but on older models you may need to set it yourself

Set the amount of heat you'd like to be released, and when
Storage heaters and solar panels
If you have solar panels, it's worth using the electricity your panels generate to charge up storage heaters during the day and release the heat in the evening. 
In fact, using solar panels to charge storage heaters is an excellent way to kick carbon and cut your running costs. And with solar technology evolving fast, and the cost of solar energy plummeting in recent years, the benefits just keep stacking up!
Find out more about home energy storage, and how it can make your home greener
Are storage heaters worth getting?
For efficiency reasons alone, you can't beat storage heaters. All the electricity they use is converted directly into heat, making them 100% efficient.
Plus, with a storage heater you're better able to precisely control your heating, so you waste less energy. Making better use of cheaper, greener off-peak energy is a key part of reducing our carbon footprint. When you consider that 15% of the UK's carbon emissions come from heating our homes1, it's clear why we need alternatives that use renewable energy sources. 
Because, as we all know, with the world  in a climate emergency, we need to reach net zero as soon as we can. 
Of course, electricity costs more than gas, so electric heaters can be expensive to run. That's why having an off-peak tariff like Economy 7 can make storage heaters even more cost-effective.
So, are storage heaters worth getting? If you want to save money while helping to save the planet, we'd reply with a resounding, yes! 
Are storage heaters right for my home?
Storage heaters used to be thought of as a plan B if you weren't connected to the mains gas supply. But times have changed, and modern storage heaters are being favoured even if there is access to the mains. So find out if storage heaters could be the right choice for your home with this quick summary:
Easy installation
Low maintenance
Long service life (up to 30 years warranty in some cases!)
Storage heaters are good for listed properties where central heating is difficult to install
Storage heaters are a low-carbon option
FAQs about storage heaters
If the heater's still under warranty, then call the brand's customer service number, and they'll be able to give you some advice and hopefully arrange a repair. If it's out of warranty, call the manufacturer's helpline, as they may have a list of approved electricians to suggest. 
Happily, electric storage heaters have a pretty simple set-up, with no valves, pumps, or burners to go wrong. And, if they do have a hiccup, there are a few things you can do to troubleshoot issues with one heater, without calling an engineer.
Check that you've set the controls correctly. 
Check the windows. If one's been opened, your storage heater can automatically turn off.
Dig out the instruction manual – there'll be more advice specific to the make and model of your heater. 
A problem with the heating consumer unit could be the culprit if none of your heaters are working. Check first for a tripped circuit breaker. If you can tick that box and they're still faulty, it's best to call a professional to take a look.
View more from these categories