guide
Smart thermostats: what they do, how they work, and reasons to get one
30 October 2020 | Matt Mostyn
In our technological age, it seems like there's a "smart" version of everything out there – and that's no less true for your heating. Yes, it's now possible to get a smart thermostat for your home! 
These are designed to help you control your heating at the touch of a button. Depending on your heating set-up and how you use them, they can help make your home more energy-efficient, and even save you money. 
Here's everything you need to know about the cleverest heating system around.
What do smart thermostats do?
Basically, smart thermostats help you control your heating on the go. They do that by allowing you to change the temperature – or even turn your heating completely on or off – from your phone, tablet, or other device. 
That could prove incredibly handy in lots of ways. For instance, if you're out and about and you forgot to turn the heating on, you can still come home to a warm and cosy house. Or if you're at home and don't feel like going over to the thermostat on your wall, you can adjust the temperature from the comfort of your bed or sofa!
It's worth remembering that smart thermostats aren't the same as smart meters (which we install for free). Put simply, smart meters help you to monitor your energy use – but smart thermostats allow you to control it. 
How does a smart thermostat work?
A basic smart thermostat works through your WiFi. While a regular room thermostat uses a dial or remote to control the temperature, a smart thermostat lets you do that via your smart device. You simply download an app, and use it to adjust the temperature whenever and wherever you are.
The more high-tech thermostats can also learn from your behaviour. You simply start off by turning the temperature up and down as needed for a few days. The thermostat will begin to 'learn' your ideal temperature, and how your home heats up and cools down, and will then start to programme itself. 
Your smart thermostat can also detect when you're on your way home, and dial up the temperature before you get there. When you leave home, it can do the reverse, turning the heating down or off so you're not wasting energy, or money. 
Smart thermostat features and functions
There are more than a few time- and hassle-saving functions offered by many smart thermostats. Here's our rundown of the main ones:
1. Smart thermostat zones
One useful feature of smart thermostats is being able to use them to set up different heating zones in your home. 
Most smart thermostats have multi-room or multi-zone control, so you can program different temperatures for different rooms. You probably don't need your kitchen to be as warm as your bedroom, for example.
It's also an ideal solution for larger homes, where there's not much point heating rooms that aren't used very often.
To make zoned heating work, you'll need to get a special smart thermostatic radiator valve, which replaces a radiator's existing thermostatic dial. Once that's done, you can control each radiator via the app. 
These valves do cost a bit – but by placing them in one or two lesser-used rooms, you'll easily set separate heating schedules in those zones.
2. Geofencing
This is another smart bit of tech – and it's the feature that helps your app know when to warm the house for your arrival home! 
If you want your thermostat to automatically lower the temperature when you leave home and crank it back up when you get back, look for a smart thermostat that supports geofencing technology. 
Geofencing uses your phone's location services to let the thermostat know when you cross a virtual perimeter around your home. Using the mobile app, you can set your Home and Away temperatures, and the thermostat will spring into action when you enter and leave the perimeter. Of course, you'll need to have your phone with you when you leave and arrive home for this to work!
3. Habit-learning
Smart thermostats also give you all kinds of data on how your home is heated. This helps you see everything from how long it takes to heat your home, to the times when you're using most energy and when it might help to cut down. For that reason, when it's used well, a smart thermostat can help you save money on your gas and electricity bills.
Depending on which smart thermostat you choose, you might find they also offer some of the following features:
Hot water controls: while this only works with certain water tanks, this feature gives you greater control over your hot water via your mobile app, or online.
Temperature notifications: these tell you if the temperature inside your home gets too high (so you don't waste energy), or too low (so you don't come home to an icebox).
Weather forecasts: with this feature, your thermostat also considers the current temperature and weather forecast when heating your home. 
Open window detection: here, the thermostat senses a sudden drop in temperature or humidity when a window's opened. Once that happens, it can either send you an alert or adjust the temperature.
Frost protection: this feature stops your pipes freezing by turning up the heat if the outside temperature plummets.
Holiday mode: this turns your heating down or off when you're away. You can also tell it when you'll be back, and set the ideal temperature for your return. 
Smart thermostat advantages
Here's your at-a-glance summary of all the key benefits of having a smart thermostat:
The comfort factor! Control your heating from anywhere, all via an

app on your phone, tablet, or other device

See all kinds of data to help you waste less energy and be more

energy-efficient

Thanks to all that energy-saving, smart thermostats can help cut your bills and save you money
Which is also better for the environment, as you reduce your carbon footprint
Smart thermostats vs. regular thermostats
Smart thermostats deliver all the same basics as your standard thermostat – but they also come with some rather clever extras. For instance, smart thermostats can "learn" your favourite temperature, or detect when there's an open window or unexpected draught. They can even adjust your heating to make sure your pipes don't freeze when you're away.
| Features | | Programmable Thermostat | Smart Thermostat |
| --- | --- | --- | --- |
| Comfort | Can be programmed to your preferred temperature settings | Yes | Yes |
| | Can sense when you enter a room and bring it to your preferred setting | No | Yes |
| Control and convenience | Automatically adjusts temperatures to your personalised schedule and preferences | No | Yes |
| | Can sense whether you're at home or not, optimising comfort when you're home and conserving energy when you're away | No | Yes |
| | Allows you to schedule events (such as a holiday) | No | Yes |
| | Gives you additional info such as monthly energy use, weather, system operation and maintenance reminders | No | Yes |
| | Uses weather and system performance data to bring your home to your preferred temperature | No | Yes |
| Communicates with other devices | WiFi enabled, allowing you to remotely adjust temperature via an app | No | Yes |
Do smart thermostats work with smart home devices?
Smart thermostats can also sync to work with voice-activated apps like Amazon Echo and Google Home. Once you've connected your thermostat, you should be able to ask Alexa (Amazon Echo), Cortana, or Google to set your heating to a certain temperature, turn it up or down, check your home's current temperature, and more.
Want to learn more about smart home tech? Read our guide to smart light bulbs and how they work.
Does a smart thermostat need WiFi?
In short, no, a smart thermostat will work without WiFi. If your internet goes down, it will generally work with your existing settings and schedules. 
Having said that, WiFi is vital for running a smart thermostat's fancier features. So you can expect it to be limited to basic heating and cooling controls until your internet's back up and running.
How do smart heating controls work?
Your smart thermostat's programmer lets you set up a plan for when your heating comes on and turns off – and it also sets the temperature. Plus, unlike with a traditional thermostat, you can make your heating schedule much more varied and detailed. 
That helps you to better program your heating temperature to suit warmer and colder times of the day. And, if you're regularly out at certain times of the day or evening, it can even help you program your heating to switch off completely for a while. 
This can really help not only reduce your bills, but also keep your carbon footprint as low as possible. All these heating controls can be accessed easily through a phone app. 
Will a smart thermostat work with my boiler?
Smart thermostats will work with most (but not all) boilers. If your system can be controlled by a standard thermostat or programmer, you'll likely be able to use a smart one.
If you have a communal heating system, a smart thermostat should still work if you have an individual thermostat. But alas, most don't work with storage heaters or heat pumps.
tado° Wireless Smart Thermostats pair with most models of boiler – so take a look at our tado° Wireless Smart Thermostat compatibility guide to check yours. tado° Wireless Smart Thermostats can reduce your heating bills by up to 28%,1 and OVO members can save £127.99 on the retail price. Pay £72 up front, or £6 a month, for 12 months.2
Do smart thermostats save money?
Potentially, they very much can. How much you save on bills really depends on your habits. If you come home a lot at different times of the day, or if you have a larger home that could benefit from different temperature zones, smart thermostats could be mighty handy. But if you have a pretty fixed routine and a smaller home, they'll probably be slightly less useful.
How much can a smart thermostat save me?
Manufacturers give estimates on the amount you can save, with some stating up to 28% a year. These estimates are often based on a home using the same heat setting all the time, or assuming that the heating is turned down only overnight – so that could be different when it comes to your own habits.
The best way to save energy is by making your home more energy-efficient. Read our ultimate guides to home insulation to find out more about how to do that.
Are smart thermostats easy to install?
Unlike with smart meters (which must be fitted by a professional), it's often possible to install your own smart thermostat yourself. Another bit of good news: you can have a smart thermostat no matter which supplier you're with, and having one doesn't affect your ability to change suppliers down the line.
Essentially, you'll be replacing your old thermostat with your new smart one. Many manufacturers have online compatibility tools/checklists to help you make sure that their models work easily with your wiring. In general, we recommend having a smart thermostat fitted professionally, unless you're a total DIY whizz.
Once fitted, you just connect it to your WIFI, download the companion smartphone app, and away you go.
How much does it cost to install a smart thermostat?
Most major manufacturers give you the option to buy one and install it yourself, or they can install it for you (for an extra cost). Some smart thermostats can be fairly straightforward to set up yourself, and most come with installation instructions.
The best smart thermostats
Second runner-up: Nest
In third place is the 3rd-gen Nest Learning Thermostat. It has features like habit learning, multi-zone controls, hot water control, geolocation, frost protection, and holiday mode.
Runner-up: Hive
In second place is the Hive Smart Heating system. Along with the usual functions, it also has a handy symbol that pops up when you hit an energy-efficient temperature.
WINNER: tado°
Our winner is the tado° V3 Starter Kit. It has a host of clever features, including open window detection as well as the usual smart functions.  
With its nifty heating algorithm, tado can save even more on your heating costs. Plus, an improved interface and Smart Schedules make controlling your heating a doddle.
Using a smart thermostat to improve your home's value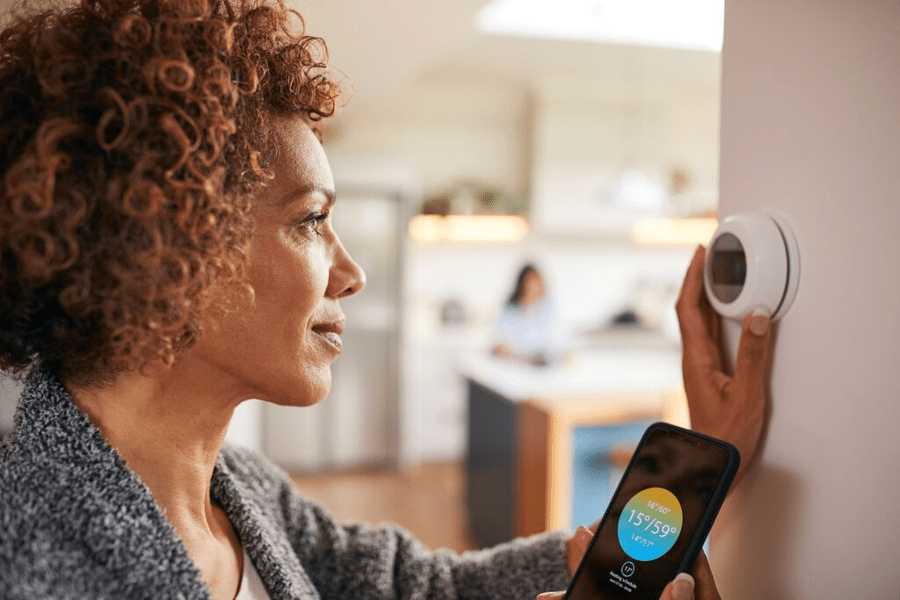 Having a smart thermostat can have a positive impact on your bills – and for that reason, it can also help you improve your home's value. That's because it can help make your home more energy efficient, which is great news for your home's EPC rating. 
Your Energy Performance Certificate is a rating that shows how energy-efficient your home is. The better your rating, the more attractive your home is to potential buyers. With a smart thermostat, you'll have greater control over your heating, which could lead to a better rating.
Find out more about other ways to make your home smarter with technology
Using a smart thermostat to help save the planet
It might come as a shock to learn that as much as 13 to 14% of the UK's total carbon emissions come from the energy we use to heat our homes3. That has a direct impact on the climate crisis we currently face.
Low-carbon heating solutions like storage heaters and air source heat pumps can make a big dent in that figure. Smart thermostats can also play a role in wasting less energy and reducing our carbon footprint. That's because the journey to zero carbon isn't just about renewable energy. It's also about changing the way we use that energy in our homes.
Here at OVO, we're also doing our bit. In September 2019 we launched Plan Zero, a direct response to the climate crisis. It's our 10 year strategy to drive progress to zero carbon living, become a carbon-free business, and help our members live more sustainably.
Find out more about Plan Zero here
OVO member? Check out how we've made smart thermostats even smarter!
If you're an OVO member with a smart meter, you can get your hands on a tado° smart thermostat directly through us! You'll be able to link your fancy piece of kit directly to your My OVO account. 
Plus: we'll connect your smart meter data to your heating – giving you personalised tips to help cut heat waste at home.
Other ways to save energy
It's not just smart thermostats that can help cut down on wasted energy around the home. Think about doing things like insulating your roof and walls, improving your heating system, and insulating or replacing your windows and doors. 
You could also look at:
Cavity wall insulation

, which could save you up to £160 a year in heating bills.
Replacing a boiler that's more than 15 years old with a new A-rated condensing boiler. Check out our guide on

how to improve your boiler efficiency

. 
Pop an insulating jacket on your hot water tank – you could save around £35 a year.
For even more ways to save, check out our full energy-saving guide to reducing your bills. Also check out 120 more quick wins to help you save energy around the home,.and our top 14 ways to save electricity and cut your bills. 
Sources and references
An

independent study

has shown that installing and correctly using a tado° smart thermostat can reduce your energy use from heating by up to 28%. The study found that the tado° device could save you up to 23% by turning the temperature down when nobody is at home. You could also save another 6% by turning down the heating based on the weather forecast, depending on the window sizes. If the window surfaces are relatively large, the energy saving will increase.
Pricing: the price for the tadoº will be £72. You can pay upfront and if you're eligible you will have the option to pay monthly (the price will be spread across 12 months and added to your monthly bill.) See

terms and conditions

for more information on eligibility and pricing.
Catapult Energy Systems,

A Guide to Decarbonisation of Heat

.
OVO
Get a smart meter installed and start saving energy and money!
By allowing you to track your energy use, smart meters encourage you to make small changes to waste less energy – cutting bills and carbon emissions too.
Book an installation
View more from these categories