guide
The ultimate guide to cavity wall insulation
27 August 2020 | OVO Energy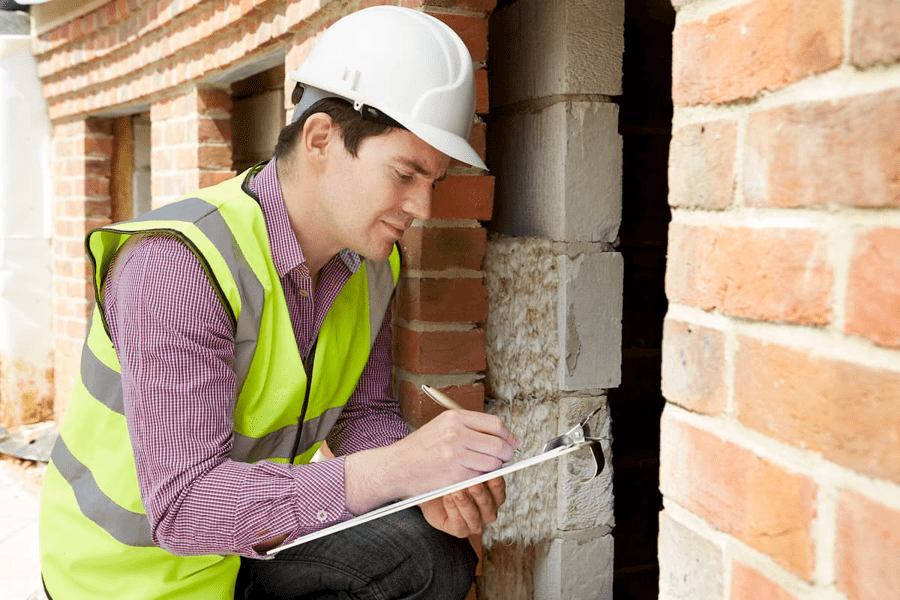 The figures included in this article were correct at the time of publication, August 2020, but may now be incorrect due to changes in the cost of energy. 
If your home was built after the 1920s, chances are it's got cavity walls. And unless it was built within the last 20 years, those cavities are probably empty. If so, filling them with wall insulation could be a very cost-effective way to retain heat in your home and save on your energy bills. 
Around one third of the heat loss from most homes is through the walls, so cavity insulation could save you up to £160 a year in heating bills1. In fact, according to figures from the Energy Saving Trust website, cavity wall insulation could pay for itself within less than 5 years.  
| | | | | | |
| --- | --- | --- | --- | --- | --- |
| Type of property | Detached | Semi detached | Mid terrace | Bungalow | Flat |
| Energy bill savings (£ pa) | £275 | £160 | £105 | £110 | £90 |
| Average payback period | 32 months | 36 months | 43 months | 47 months | 45 months |
| Average installation cost | £720 | £475 | £370 | £430 | £330 |
| CO2 savings per year | 1,100 kg | 650 kg | 430 kg | 450 kg | 360 kg |
These are estimated figures for England, Scotland and Wales, based on insulating a gas-heated home. The actual payback time will depend on the date when the insulation is installed, as the amount saved each month will vary between winter and summer. The average installation cost shown here is unsubsidised.
What is a cavity wall?
A cavity wall is made of two separate thin walls (usually built of brick, and known as 'skins' or 'leaves') with a gap (or cavity) between them. They're usually held together by metal wall ties.
How to tell if your walls have cavities
As we mentioned above, the age of your home is the first clue. However, if you're not sure how old it is, or you reckon it was built around 1930 so could be either a cavity or a solid wall, have a look at any exposed brickwork. If your home has cavity walls, the bricks will all look the same size, like this: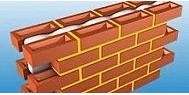 … but if the walls are solid, every other brick will probably have been placed end-on, like this: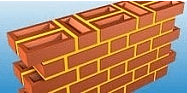 If all the brickwork in your home has been rendered or cladded so you can't see any actual bricks, you may be able to tell from the thickness of the outer walls. 
You can also check the windows and doorways. If a brick wall is more than 10 inches thick, it's probably a cavity wall – though solid stone walls can also be very thick.
How to check if your house already has cavity wall insulation
If your home was built in the last 20 years, the walls were probably insulated when it was built. If not, or if you want to make sure, you can:
Ask a registered installer to drill a small hole in the wall and let you know whether the wall is empty or insulated. This is called a borescope inspection.
Check with the building control department of your local authority. They should have records if your walls have already been insulated.
There are also a couple of clues to look out for that could save you the trouble of a borescope inspection:
Installers will have drilled 1-inch holes at regular intervals when inserting the wall cavity insulation. Although they'll have filled these in, you should still be able to see faint marks – but don't confuse them with the marks left by an injected damp proof course.
Check in your attic – the cavity insulation material may be spilling out at the top of the wall. This is not a good thing! If you see this, you should probably get a professional to clear it up and seal off the wall.
Your home doesn't have brick walls, can you insulate it?
If your house has stone walls, they're most likely solid, with no cavities to insulate. In that case, see our

ultimate guide to solid wall insulation

for alternative ideas.
If you live in a timber or steel-framed building, or your home is built of pre-fab concrete, they won't have cavity walls – but you may be able to insulate them in another way. To find a suitable local installer, get in touch with the National Insulation Association.
If a contractor suggests injecting wall cavity insulation between the outer brick leaf and the inner frame of your timber-framed home, don't do this, as it can cause serious damage.
Is cavity wall insulation right for your home?
You should only consider cavity wall insulation if:
Your home has unfilled cavity walls made of brick.
The cavities are at least 2 inches wide.
The brickwork or masonry is in good condition.
Your external walls are accessible. If some are joined to a neighbouring house, the installer will need to insert a cavity barrier, which could add to the costs. Installers may also be reluctant to work around garages, conservatories or extensions.
Your home is less than 12 metres (about 4 storeys) high.
Your internal walls are dry. Wet wall insulation is worse than no wall insulation, so if you have any damp patches, you'll need to get the cause sorted out before installing insulation. For the same reason, cavity insulation is not suitable if the walls are regularly exposed to driving rain.
There are no areas of steel or timber-framed construction.
Cavity wall insulation is only suitable for your home if you can answer 'yes' to all these points.
Some timber-framed homes look exactly as though they're built of brick – but of course they're not. These buildings are not suitable for cavity wall insulation, as they need the cavity to allow moisture to escape.
If you're not sure whether your home is built in this style, check up in the attic. If your party or gable walls are made of timber instead of brick, you've got a timber-framed house.
Costs and savings of cavity wall insulation
Installing cavity wall insulation can vary in cost, depending on the size of your home. But whether you live in a 1-bedroom flat or a large detached house, you'll likely recoup the installation costs in 5 years or less. That's purely down to the yearly energy bill savings you'll make by having a properly insulated home!
As an example in the graph above, for a semi-detached home in England, Scotland and Wales, insulation would typically cost around £475, and you'd save around £165 per year in heating costs – which means you'd make back your costs in less than 3 years2.
And in other good news, you'd also be lowering your carbon emissions by as much as 680kg per year! That's the equivalent to planting around 11 carbon-munching trees – and you won't even need to get muddy knees! 
You might be able to reduce the costs further by having the work done at the same time as other home improvements. Or consider doing your insulation bit by bit, rather than tackling the whole house at once.
Looking for other ways to save money on your energy? Check out our most affordable energy plan, Better Smart and start saving on your gas and electricity bills today.
Green Homes Grant: Government support to help cover insulation costs
The Green Homes Grant scheme helps homeowners and landlords in England to apply for some very useful money-saving and energy-saving vouchers. These can be put towards the cost of installing everything from insulation to heat pumps to solar thermal.
The vouchers are worth up to two-thirds of the cost of making your home more energy efficient  – up to a maximum of £5,000 per household. 
Find out more about the Government's Green Homes Grant scheme
How to install cavity wall insulation
Your installer should first check that the walls are suitable, in good condition and free from damp. They'll then drill a series of small holes, blow the insulation into the cavity using special equipment, and fill in the holes with mortar afterwards.
A professional installer should be able to complete the work in around 2 hours for an average-sized house with easy-to-access walls. They should also 'make good' when they've finished – ie. make sure you're not left with any mess!
They shouldn't need to enter your house to do any of the work (although they may of course need to use your loo!).
Soon after the work's done, you'll be sent a guarantee issued by the Cavity Insulation Guarantee Agency (CIGA), and your installer should give you written confirmation that the work complies with building regulations. Your local authority or CIGA may also come round to do a spot check, to make sure the work is of an acceptable standard.
What kind of cavity insulation will they install?
Cavity wall insulation can be mineral fibre wool, polystyrene granules (also known as beads) or polyurethane foam. They should all be manufactured to British standards. 
Mineral wool
Mineral wool is used most often. It's like the mineral 'quilt' insulation used in lofts, but broken up into small tufts so it can be blown into the walls. It must be kept absolutely dry or it loses its ability to insulate, and it may settle over time, creating air pockets at the top of the walls.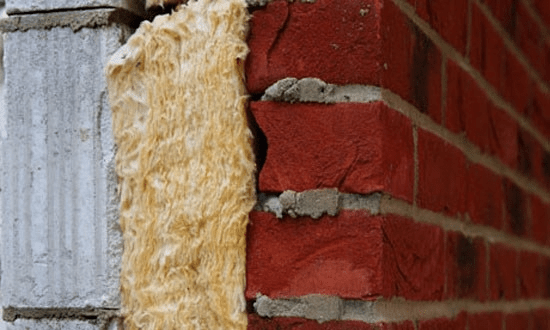 Beads and granules
Beads and granules are also popular, as they trap heat very efficiently and create gap-free wall insulation. However, loose granules have been known to escape through airbricks – and if you ever need to have work done that involves drilling or cutting into the wall, they can sometimes gush out.
Foam
Foam offers the best thermal cavity wall insulation, but installation is tricky and needs expert attention, and some foams have been known to degrade in the long term.
Can I install wall cavity insulation myself?
This is only a good idea if you're a trained and qualified wall insulation installer!
How to find a good cavity wall insulation installer 
To find a reputable tradesperson, your first port of call should be one of these websites:
The British Board of Agrement (BBA) – click on 'installer search'.
The Cavity Insulation Guarantee Agency (CIGA) – click on 'find an installer'.
The National Insulation Association (NIA) – click on 'find your nearest installer'.
Remember, this work only qualifies for a guarantee if it's carried out by a fully-qualified professional who's signed up to appropriate codes of practice. So before you confirm the booking, bear in mind that:
A careless installer could block flues or airbricks.
They might blow insulation materials out of the top of the walls into your loft, or even into next door.
If they don't distribute the material evenly, it could create air pockets. These can lead to cold areas on your internal walls, causing patches of condensation and mould.
The cavity insulation might cause the wall ties holding your walls together to rust. But this could only happen if damp gets in, if your brickwork is crumbling or if it's exposed to regular torrential rain. In this case, cavity wall insulation is best avoided in the first place.
Other ways to insulate your home
Browse our handy user guides to discover some of the many ways you can improve your home's insulation levels for roof, loft, walls, windows and doors.
Roof and loft insulation
In just the same way as we lose much of our body heat through our heads, as much as a quarter of the heat in uninsulated homes wafts out through the roof. Filling your loft space with insulation could be a very cost-effective way to retain heat in your home and save on your energy bills.
Find out more in our guide to roof and loft insulation
Solid wall insulation
Did you know that solid walls let twice as much heat escape as cavity walls? For a detached house, insulating solid walls could save you as much as £455 a year.
Read more in our guide to solid wall insulation
Draught-proofing windows and doors
Draught-proofing your home's windows and doors could actually save you between £25 and £50 on your heating bills each year – not to mention the environmental benefits.
Find out more in our guide to draught-proofing windows and doors
Looking for other ways to save energy and reduce your carbon footprint? Check out these easy and practical ways to cut your carbon and start making an impact to the planet today!
1Source: http://www.energysavingtrust.org.uk/domestic/cavity-wall
2Estimates based on a gas-heated home. The average install cost is unsubsidised. Figures are based on fuel prices as of April 2019.
http://www.energysavingtrust.org.uk/domestic/cavity-wall
http://www.thisismoney.co.uk/money/experts/article-2071705/How-I-know-I-cavity-wall-insulation-I-save-money-getting-done.html
View more from these categories