guide
Energy Performance Certificates explained: how to get an EPC
23 November 2021 | Matt Mostyn
You're likely already familiar with those colour-coded energy labels we see nowadays on electrical appliances like fridges and washing machines. As you probably know, they give you a good idea of how efficient your appliance is. An Energy Performance Certificate (or EPC) does exactly the same thing for your property.
In this article, we'll cover everything you need to know about getting an EPC, and how to improve your EPC rating. 
What's an Energy Performance Certificate (EPC)?
Essentially, an EPC shows how energy-efficient your property is. That's a handy thing to know when you're hoping to reduce your energy waste, lower your carbon emissions, and cut your bills! 
So what exactly does it cover? Energy Performance Certificates show:
How much energy your property uses
Its carbon dioxide emissions
The energy-efficiency of your property
Ways to reduce its energy use and save money
Whether your property is green enough to qualify for certain benefits
EPC ratings
Your EPC also includes an overall rating for your property, from A to G. A is the most efficient, which usually means cheaper fuel bills. G, on the other hand, is the least efficient.
When do I need to get an EPC?
Any building that's newly built, being put up for sale, or being advertised for rent will need an EPC if it uses any kind of heating or air-conditioning.
Energy Performance Certificates aren't just essential for private homes. They apply to most buildings – so you'll also need a commercial Energy Performance Certificate if you're building, letting, or selling business premises. 
What is on your EPC?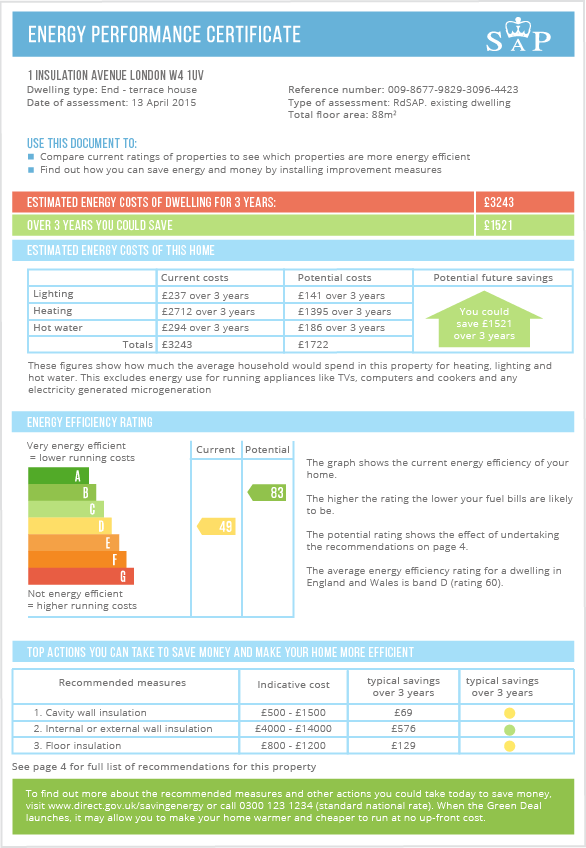 So what exactly does an EPC cover? Energy Performance Certificates are split into 4 main sections:
Current and potential energy costs: how much energy your property uses, and how much it's costing you. These costs cover heating, hot water, and lighting – not any extra costs you might have from appliances like your TV or computer. In this section, you'll also see your EPC rating.
Performance: this section gives a detailed breakdown of the energy-efficiency of different parts of your property. It shows where you might need extra measures, such as insulation. 
Recommendations: what you can do to improve your EPC rating. The recommendations are shown in order of importance, and each one tells you how much money you could save if you make the change. 
About this data: the final section has some general information about your EPC, including who assessed your property and the date. 
What is a good EPC rating?
The highest EPC rating you can get is an A. Each rating is represented by a different colour.
A is dark green. An A rating of between 92 and 100 points means the property is extremely

energy-efficient

and will have lower running costs.
G is red. It represents a rating of 1-20 points, suggesting the property is not energy-efficient, and so has higher running costs. 
Most homes fall somewhere in between. Only brand-new eco-homes are likely to achieve a dark green A rating. Homes in the UK are often rated D or E. 
Why is it important to have an Energy Performance Certificate?
EPCs help you maximise the energy-efficiency of your home, which is better for your energy bills, and for living more sustainably. It's also crucial to have one if you're planning to sell or rent your property. Many would-be buyers and renters use EPC ratings to see how much their energy bills could cost in their new home. 
Once issued, your EPC is valid for 10 years, and stored on the national EPC register. That lets any potential buyers/renters do quick checks on properties they're interested in. Clearly, the better your rating, the more attractive your home!
What's the EPC register?
The EPC register is the government's online database. It lists every EPC in the UK – making it easy to search for any home's Energy Performance Certificate. 
All you have to do is enter the postcode to view a detailed report. Handy, eh?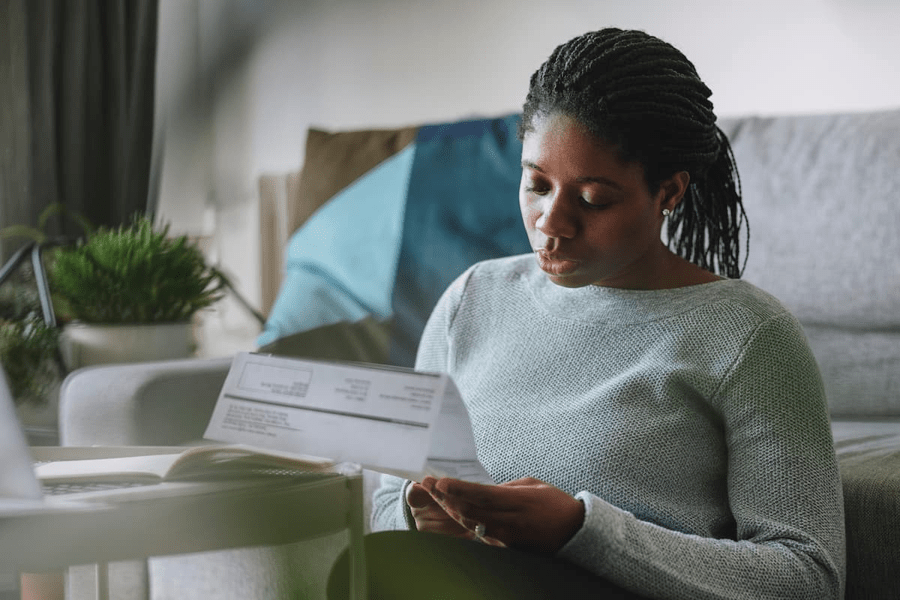 How to get an Energy Performance Certificate
If your property doesn't have an EPC, and you'd like to get one, start by making a booking with a qualified domestic energy assessor. They'll come and check your property, and then give you an Energy Performance Certificate. 
If you're using an estate agent or property management company, they might recommend an assessor. If not, to find an assessor near you, visit:
During the visit, your domestic energy assessor will:
Measure your home
Look at how it's built
Check how it's heated
Check whether/how it's insulated
Take photographs of everything related to this 
They'll use this data, along with building regulations, to create the report. Any photos they take will only be used for the report, and won't be available to the public. 
Don't worry about any lasting impact from the visit. The assessor won't need to do any tests such as drilling into your walls etc. If they need to check that you have cavity wall insulation, they'll simply look for the drill holes, or ask to see your certificate or guarantee for the work.
Most EPC surveys take between 30 and 45 minutes.
Can you get an Energy Performance Certificate online?
If you need a new Energy Performance Certificate, you can book an EPC assessment online. You'll need to have an in-person survey of your home done by an accredited domestic energy assessor. 
To check if your property already has an EPC, you can look online at the EPC postcode checker. 
How long is an EPC valid for?
EPCs are valid for 10 years. They can be re-used multiple times during this period, even if they were originally done by a previous owner. If you're not sure whether you have one – or if it's still valid – you can use the EPC register's postcode checker to find out.
How much does an EPC cost?
Energy Performance Certificates can cost anywhere up to £120 (though the price can be much lower). Shop around to get the best deal – which you'll often find by going direct to a domestic energy assessor, rather than via an estate agent.
Do I need an EPC to sell my house?
Yes. It's been the law since 2008 that a property must have an EPC if it's being advertised to buy or let. Under the current law, you can't sell or rent your home unless you can give potential buyers and tenants an up-to-date Energy Performance Certificate. 
Landlords take note: it's illegal to rent a property with an EPC rating lower than E. An Energy Performance Certificate is needed to show that the property meets this minimum threshold. 
How to improve your EPC rating
If your EPC rating leaves a little to be desired, don't worry! There are all kinds of ways you can improve it. Doing so will make your home more cosy, your bills cheaper, and your carbon emissions lower. You might even improve the value of your property, too. 
Here are some of the best ways you can improve your score:
On top of all that, there are smaller, everyday measures you can take to save energy and lower your bills. Find out more in our guides to being more efficient with heating and hot water, 120 easy energy-saving tips, and how to be more energy-efficient.
Other things to consider when getting an Energy Performance Certificate
You'll generally need a Commercial EPC if you're selling, renting or building commercial property. You might need multiple EPCs if your building is split into separate areas – for instance, if they're set up for multiple tenancies.
There are a few, such as:
Places of worship
Temporary buildings that will be used for less than 2 years
Some listed buildings
Holiday homes that are let for less than 4 months each year
There's no pass or fail with an EPC. Instead, it ranks your property on a scale of A to G. Having said that, if you're a landlord, your rental property must have a minimum rating of E.
EPCs are valid for 10 years, and they can be re-used multiple times during this period – even if they were done by a previous owner.
No. There's no obligation to carry out the changes suggested in the report. However, if you did make the improvements, you would probably improve your home's EPC rating, making it cheaper to run, and greener. This could make it more attractive to potential buyers!
Yes! It's an excellent way to check up on your home's energy efficiency, and find out how you could improve it. You can then carry out the suggestions, to make your home not only more cosy to live in, but also cheaper to run.
View more from these categories