guide
The ultimate guide to solid wall insulation
18 November 2021 | Matt Mostyn
You might have thought about insulating your cavity walls to save some money on your heating bills. But did you know that solid walls can be insulated too?
In case you didn't realise, solid walls leak as much as 45% of the heat from your home1 – so insulating them makes a good deal of sense. It's possible to insulate either the inside or the outside of your walls, and each option has its pros and cons.
In this guide, we'll take you through all the basics of solid wall insulation: what it is, how to do it (or pay a professional to do it!), and how much it could save you.
First of all: what is a solid wall? 
Solid walls are exactly what they sound like: walls that are solid all the way through. They're a bit trickier to insulate than cavity walls (which have space inside), but it can be done!
It's estimated that over 8 million homes in the UK have solid walls2.
How can I tell if my home has solid walls?
If your home was built before 1920, it probably has solid external walls rather than cavity walls, which only came into widespread use in the 1920s.
For brick-built homes, you can also tell by checking the thickness of your external walls. Do this by measuring them in an external doorway or window. If a wall is less than 10 inches thick, it's probably solid.
Stone-built houses can have much thicker walls, but these are very rarely cavity walls. If you live in a timber or steel-framed home, these will be different again, and the insulation advice in this article probably won't be relevant to you. Instead, read our guide to cavity wall insulation to find out everything you need to know.
What is solid wall insulation? 
Solid wall insulation is all about adding an extra layer to your wall, so that it's harder for heat to pass through it. This traps warmth inside, meaning you don't have to turn your heating up as high, or have it on for as long. Before you know it, you'll be saving on your energy bills!
Solid wall insulation is usually done either by attaching a rigid insulation board, or creating a stud wall, which can then be filled with mineral wool or something similar. Find out more about how it all works below. 
While cavity walls can be insulated quickly and cheaply, solid wall insulation is a bit more expensive. But it's worth remembering that while the initial costs are greater, the savings on your heating bills will be bigger, too!
Just so you know: when we talk about solid wall insulation in this article, we're only talking about insulating the external walls of your house. This means walls that face inside on one side, and outside on the other (letting air in from the outside world). When we talk about internal solid wall insulation, this means insulating the inside of your external walls. Likewise, when we mention external solid wall insulation, we mean insulating the outside of your external walls.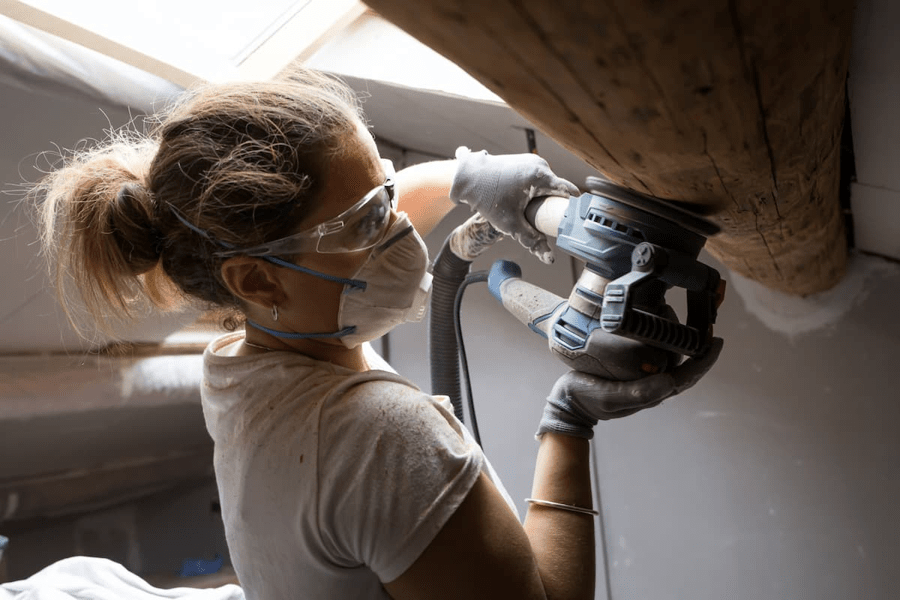 Internal solid wall insulation
Solid walls can be insulated internally in a couple of different ways. You could fit rigid boards to the wall, or build a separate stud wall and fill the gap with insulating material (such as mineral wool).
Solid wall insulation types
Rigid insulation boards
Rigid insulation boards are around 2½ to 4 inches thick, and made of plasterboard backed with insulation material, usually foamed plastic. They're normally fixed to the wall with ribbons of plastic or adhesive, or fitted to battens if the walls are lumpy and uneven. 
The installer will add extra fixings to hold the boards firm, and seal the joints between the boards.
Stud walls
Stud walls are made of metal or wooden frames, which are attached to the solid wall. Once the insulation material has been inserted into the gap between the studwork frame and the wall, the new wall is plastered. It can then be painted or wallpapered, to look however you like!
Alternatively, it could be covered with rigid insulation boards, making your insulation even more effective and your running costs lower. But remember, this could also have an impact on the size of your room. 
Benefits of internal solid wall insulation
It's usually less expensive than external insulation
It's easier to install, and there's no need for scaffolding
It won't change the outer appearance or character of your home, so it's more suitable for visually attractive buildings and period properties
It's also more suitable for flats and maisonettes – as you can hardly use external insulation for just one unit in a block!
It can also be acceptable for buildings in conservation areas, where there are often strict rules about the kind of changes you can make to the outside appearance of your home
What are the disadvantages of internal solid wall insulation?
Before you start, you'll need to sort out any damp problems, as rising or penetrating damp can ruin the effects of your insulation
It will reduce the size of the room, as it will bring the wall in by about 4 inches
It's quite disruptive, as the installers will be working in your house
You'll need to prep your room by moving furniture, pulling away carpet laid up to the wall, and removing skirting boards, door frames, wall light fittings, radiators, pipework, coving, and cornices
Afterwards, you'll have to re-lay the carpet after cutting 4 inches or so from the edge, and replace all the fixtures and fittings you removed.
If the wall's surface is lumpy and uneven (this is often the case in older buildings, particularly in rural areas), it'll need to be levelled off with plaster or render before fitting rigid insulation boards
If you use rigid boards, it might mean your walls are no longer suitable to support heavy items like wash basins, kitchen units or radiators. But you can get special fixings, and stud wall insulation should be strong enough to support these fixtures
It could damage or cover up period features
External solid wall insulation
If you decide to insulate your home on the outside, your installer will fix a layer of insulating material to the wall using mechanical fixings and adhesive. They'll then cover it with protective layers of render or cladding. Render is generally cheaper than cladding, but doesn't offer you as much choice.
If the surface of your wall is strong enough to support the insulating material, your installer will go ahead and fit it. But if the existing render is old and cracked, it will need to be removed. This could make the whole process a bit more complicated.
If you live in a historic building, or you're interested in making improvements to the look of your home, you might consider a bespoke insulation service from an architect or installer. They can use a variety of finishes, such as oak weatherboarding, stone, glass, or terracotta tiles.
Before work starts, it's vital to make sure you have no rising or penetrating damp in the walls. External wall insulation will cover up damp patches temporarily, but the actual problems will unfortunately get worse.
Benefits of external solid wall insulation
It's less disruptive, because the work takes place outside your home – but your gas, electricity, or water may have to be cut off for a while, and your garden could take a bit of a battering!
It won't shrink the size of any of your rooms
It can improve the appearance of your home's outside walls, as you can choose whatever finish you want
It can make your home more soundproof and weather-resistant
It fills cracks and gaps in brickwork, which can reduce draughts
There's less risk of "cold spots" causing condensation and mould on the inside of the walls, because the insulating material is applied continuously, without leaving any gaps
What are the disadvantages of external insulation?
It's expensive – so it's probably best to arrange for it to be done at the same time as other external work on your home, to help cut down the cost
You can't do it yourself, you'll need to hire a professional
You might need to get planning permission, so check with your local council
The installers need to be able to easily access the outer walls of your home, so if you live in a terrace, they might need to carry scaffolding through your house
It's not suitable for you if the exterior walls of your home are dilapidated and can't be repaired before installing the insulation
It's not suitable for period or character properties
All external pipework and other fittings, such as satellite dishes or security lights, will need to be removed and replaced
You might have to extend windowsills or roof eaves, to make room for the extra thickness of your exterior wall
It could prevent old walls in a period property from breathing
Solid wall insulation costs
How much does external solid wall insulation cost?
The cost of insulating solid walls externally is around £100 per square meter. It can range from £8,000 for a small flat, up to £22,000 for a large detached house3. 
With that in mind, it could take a fair few years to earn back your investment. But costs can vary a lot, depending on how much work you're having done, how easy it is for installers to access, and so on.
How much does internal solid wall insulation cost?
For internal walls, the average cost is around £7,400 for an average semi-detached house in the UK4. That's obviously considerably less than the cost of external wall insulation – but it'd still take a while to earn your money back.
How could I reduce the costs of solid wall insulation without compromising on quality?
If you're hoping to spend less, think about insulating a wall when you're having other building or decorating work done. Internal insulation is a good add-on when you're planning to redecorate, or to fit a new kitchen or bathroom. 
You could also spread the cost by tackling one room at a time. External insulation will also cost less if you do it when you're having other work done outside. For instance, if you're having a new roof, painting windows, or getting solar PV panels fitted, you'll probably already have scaffolding up. That could save you a bit on costs. 
Whatever work you're doing, it's worth getting a quote that includes insulation – as it'll probably work out cheaper than doing the 2 things separately.
Solid wall insulation savings
These figures are from the Energy Saving Trust's website.
| Type of property | Detached | Semi-detached | Mid-terrace | Bungalow | Mid-floor flat |
| --- | --- | --- | --- | --- | --- |
| Energy bill savings per year | £350 | £210 | £130 | £140 | £105 |
| Carbon dioxide savings per year | 1,490kg | 890kg | 560kg | 600kg | 440kg |
Figures based on insulating an average gas-heated home in England, Scotland, and Wales. Prices based on fuel prices as of June 2021.
Help and grants towards solid wall insulation
The Green Homes Grant was a government-run scheme that gave out grants for insulating homes. Unfortunately, it closed to new applicants in March 2021.
The ECO (Energy Company Obligation) Scheme helps low-income and vulnerable households make home improvements to lower their energy bills. This is most commonly used to install cavity wall insulation or loft insulation. Find out more about the ECO Scheme here. 
If you're in Scotland, there are various other grants and loans set up to help you with insulation costs. Contact your local authority to see if there's any in your area, and read more about financial support to improve your home.
Check out our complete guide to heating and home energy grants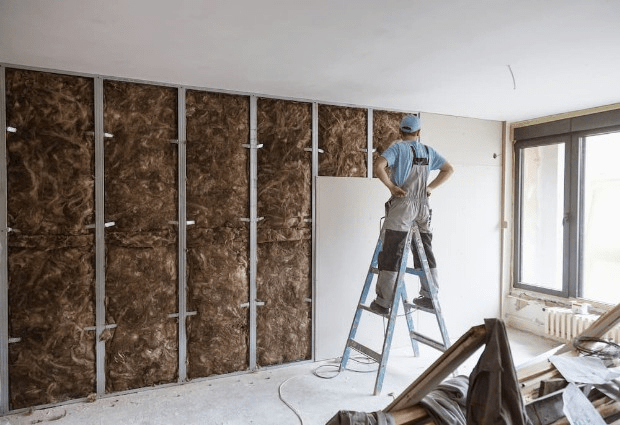 Solid wall insulation installation
DIY solid wall insulation
If you're an expert DIY-er, you might be able to do internal wall insulation yourself. But external solid wall insulation should only be fitted by a specialist trained installer.
If you do attempt internal insulation yourself, be sure you keep all your receipts for the materials, and take photographs of the installation at each stage. You'll need these for an Energy Performance Certificate if you ever want to sell or let your home.
Before you start, make absolutely sure there's no damp in the walls you're about to insulate. Lining them with insulation could actually make the damp problem worse.
How do I choose an insulation installer?
As with most building work, it's probably best to get a range of quotes from professional installers before you make a decision.
You can search for specialist companies through the main trade association websites. These include the National Insulation Association (NIA) (for either internal or external work), or the Insulated Render & Cladding Association (INCA) (for external insulation).
Before you pick an installer, ask them:
To show you before and after photos of similar work they've done
The 'U-value' of your insulation once the work is completed (this is the rate at which heat passes through the insulated wall – it shouldn't be more than 0.30 watts per square metre kelvin)
Which materials they recommend, and why
Whether there's likely to be any build-up of moisture in the rooms once they've been insulated, and what you can do to combat this
What sort of guarantee can I expect?
Before you give your installer the go-ahead to start work, ask whether they offer a guarantee from SWIGA (the Solid Wall Insulation Guarantee Agency). This will give you 25 years' cover for defective materials, design, or workmanship. You should also make sure the products and materials they're using are BBA (British Board of Agrement) certified.
There are other appropriate guarantees, such as a Kinnell ECO Guarantee (which covers a range of natural building technologies).
Will I need to get planning permission, or comply with any building regulations?
You shouldn't need planning permission, but you might need a building warrant. Your installer should arrange approval from the local Building Control Office. Check that they're going to do this – if they're not, make sure you contact the Building Control Office before any work starts.
Ask your local council whether there are any special regulations or permissions that affect your property. For example, if your home is a listed building, you might need listed building consent. If it's in a conservation or world heritage area, there are probably restrictions on what you can do to change its external appearance.
If you live in a flat in a building with several owners, and you want to arrange external insulation, you'll need to get permission from each of the owners.
Thinking about expanding your home? Read our guide to eco-friendly loft conversions.
Is it okay to use "non-breathable" insulation materials in my home?
In traditional solid-wall buildings, it's usually best to use "breathable" or "vapour permeable" insulation materials. These let air move around and stop moisture from building up.
If for some reason you want to use non-breathable (or vapour impermeable) materials, ask your installer what steps you should take to keep your rooms fresh and dry.
More ideas to help you insulate your home
Our user guides give you lots of ideas for ways you can improve your home's insulation levels for your roof, loft, walls, windows, and doors. And for some inspiring energy efficient design, see our guide to the amazing "super-insulated" Passive Houses.
Cavity wall insulation
Insulating your cavity walls could be a very cost-effective way to retain heat in your home and save money on your bills. Find out more in our guide to cavity wall insulation.
Roof and loft insulation
We lose much of our body heat through our heads – and the same goes for your roof! As much as a quarter of the heat in uninsulated homes wafts out through the roof5. 
Filling your loft space with insulation could be a very cost-effective way to keep warm and save on your energy bills. Find out more in our guide to roof and loft insulation.
Draught-proofing windows and doors
Draught-proofing your home's windows and doors could save you between £25 and £50 on your heating bills each year – not to mention the environmental benefits. Find out more in our guide to draught-proofing windows and doors.
Ready to make your home heating even greener?
Once your home is well-insulated, you might want to consider installing a low-carbon heating system, too. After all, did you know that the energy we use to heat our homes makes up around 13% of the UK's total carbon emissions6?
That's why we believe air source heat pumps and ground source heat pumps are the future of home heating. And good news: the government has recently announced that there will be grants available to help with the cost of installation from April 2022.
Interested in being a heat pump pioneer?
Sign up below and you'll be the first to hear about our current trials or any other cool heating tech.
Register interest
View more from these categories