guide
The world's best low-carbon heating solutions explained
21 July 2020 | Matt Mostyn
It might come as a surprise to learn that as much as 15% of the UK's total carbon emissions come from the energy we use to heat our homes. That's because – apart from when we're sweltering in a summer heatwave – most of the energy used by a typical household is for heating.
The good news is that low-carbon heating can make a big dent in that figure. What's low-carbon heating, you might ask? Here's your chance to find out about the latest heating technologies to help reduce the impact of your carbon footprint on our planet.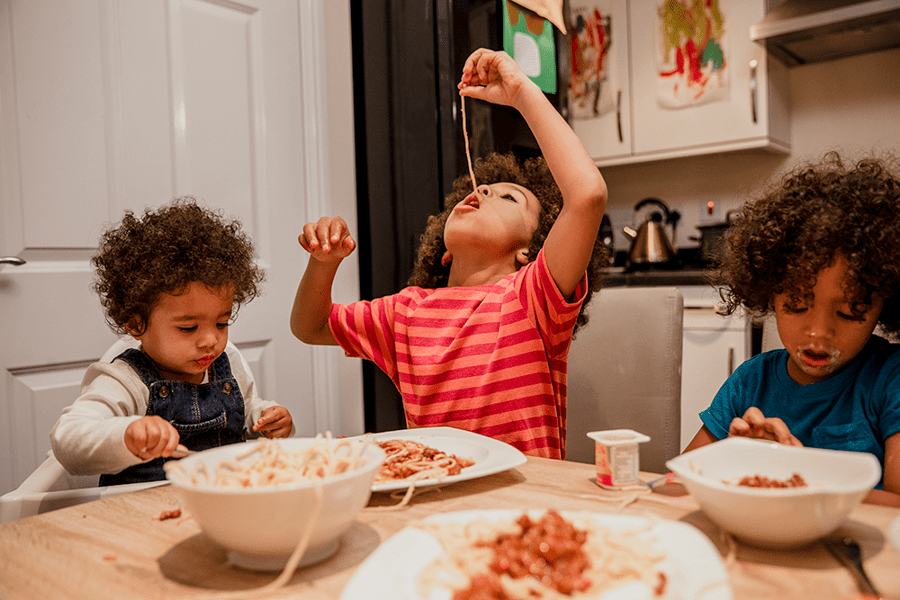 Bring your carbon footprint down
Right now is a pivotal moment in our efforts to tackle the climate crisis. Here at OVO we're all over it, with the green energy and technology you need to kick carbon. 
The journey to zero carbon isn't just about renewable energy. It's also about changing the way we use that energy in our homes. When it comes to carbon emissions, gas central heating is a major culprit. According to a recent report, heating accounts for as much as 64% of energy bills – with another 10% going on hot water. 
It doesn't take an Albert Einstein to figure out any system that reduces the amount of gas your household chews through to power your heating and hot water is going to be much more sustainable for our planet.
Here are 5 low carbon heating systems you can use in your home:
Storage heaters
Once upon a time, storage heaters were old, clunky, and inefficient – but not any more! Nowadays, they're nifty little performers, saving energy while lowering your bills.
These electric-powered heaters store thermal energy by using off-peak (ie. cheaper) energy to heat up internal ceramic bricks during the night. Heat is then released to keep your home toasty warm during the following day. 
Incidentally, night-time is when the grid is most likely to be powered by renewables, making these heaters a brilliant (and simple) way to reduce your home's carbon emissions. That's especially true if you're on a time-of-use electricity tariff, such as Economy 7,  which means you pay a cheaper rate for energy overnight (usually 12pm-7am).
How storage heaters work
Storage heaters circulate convection heat naturally through your home – and the heating system is easily adjusted to suit your changing needs. If there's a cold snap, setting it to maximum charge will keep your heating going for longer. And on warmer days you can save money by charging your heater less and releasing heat at a lower level.
Advanced technology of storage heaters
These days, storage heaters use advanced technology to give us greater efficiency, comfort, and control – compared to older versions. Many also feature a thermostat and timer or programmer, so you can set heat to be released whenever it suits you. And some models even allow you to set the programmer and monitor heating remotely via a mobile app.
Models like the Dimplex Quantum let you control them when you're out, via a special Dimplex Hub. This clever gadget connects all your heaters through your wifi connection, so you can turn heating off or reduce the temperature from anywhere, to cut down on unnecessary carbon emissions. If only it could also check whether you've left the oven on!
Storage heater benefits
Cheaper than standard electrical heaters
Wake up to a warm house – perfect for winter 
Potentially cheaper to install than a new central heating system
Cheaper to maintain and run
Easy to install, with no expensive or messy plumbing 
Highly efficient, responsive, and controllable.
Find out more about our storage heaters
Air source heat pumps
Air source heat pumps are another low-carbon way to heat your home. They replace a fossil fuel boiler with an electrically-driven alternative, absorbing heat from the air outside to heat your home and give you hot water.
Because the main component used to create heat is air – a natural, renewable resource – air source heat pumps are generally more environmentally friendly than the system they're replacing. Especially if it's a conventional or older system.
Newsflash: In October 2021, the UK government announced that grants of £5,000 will be available for homeowners to install air source heat pumps from April 2022. The Boiler Upgrade Scheme will also offer £6,000 grants for the installation of ground source heat pumps!
Let's see at how air source heat pumps work: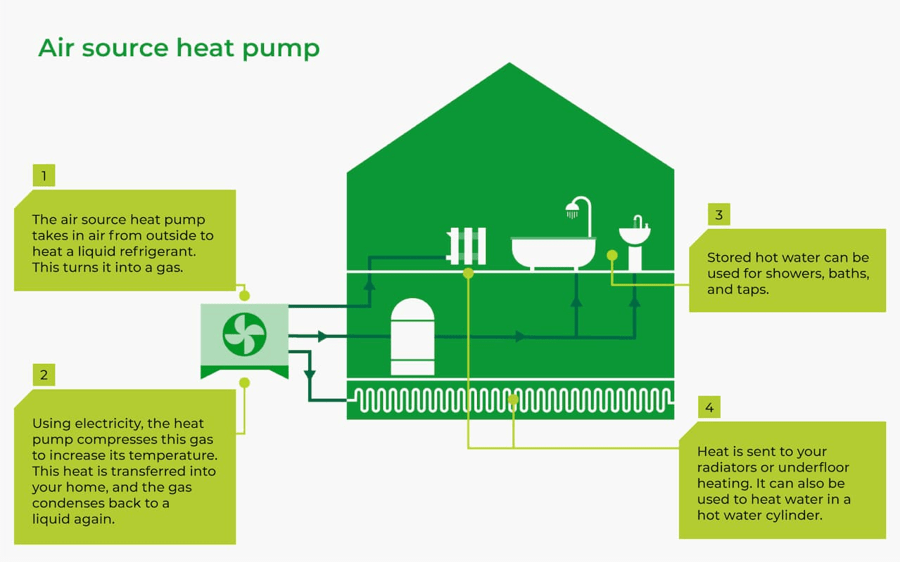 Producing fewer carbon emissions than most boiler systems, air source heat pumps are very efficient, wasting little energy and making a big difference to your carbon footprint.
There are two main types to choose from: air-to-water and air-to-air: 
Air-to-water systems distribute heat by pumping liquid through pipes and radiators, or through

underfloor heating

pipes
Air-to-air systems produce warm air, which is circulated around your home by a network of fans
Air-to-water systems are most common, as they can be used for both heating and hot water
Read more about air source heat pumps and how they work.
Hybrid systems
Hybrid heating systems use more than one kind of technology to heat the home. And for homes looking for a more energy efficient and greener solution, a hybrid system ticks all the boxes. 
Energy efficiency is one big advantage with a hybrid system, as you're harnessing the best aspects of two different technologies. Plus, you're supporting the main heat source – that's your boiler – with a second technology, which helps to take some of the strain. This means your boiler's lifespan should be considerably longer than normal.
Hybrid heat pumps
By combining a traditional boiler with the renewable energy of an air source heat pump, a hybrid heat pump system automatically switches between the two to give you the best energy efficiency.
As the government tries to end our reliance on fossil fuels (like oil, coal, LPG, and gas) hybrid heating systems are the natural next step. While heat pumps do run on electricity (meaning there's some impact on the environment), the heat they extract from the ground or air is 'free' energy, being constantly and naturally renewed.
Solar thermal heating 
Another hybrid option is to use solar energy side by side with a traditional boiler. Doing so means that some of the UK's heating and hot water can be supplied by solar in the warmer months, and topped up by a traditional boiler or immersion heating during the colder winter months.
Solar thermal panels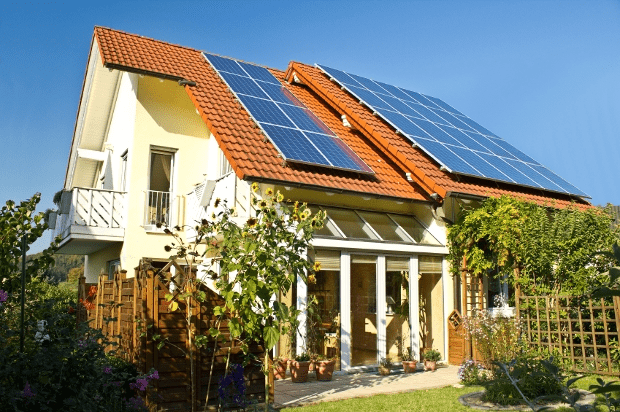 It's no secret that solar panels can turn solar energy into electricity. But solar thermal technology can, in fact, also turn sunlight into heat instead.
Solar thermal systems use free heat from the sun to warm hot water. Rooftop solar panels, called collectors do exactly as the name suggests, collecting heat from the sun to heat up water stored in a hot water cylinder. A back-up boiler or immersion heater helps to heat the water further, if needed.
Solar thermal systems are actually even more efficient than traditional solar panels. Because heat waves carry more energy than sunlight. Plus, there's no transformation process needed to turn that energy into electricity.
Even more impressively, solar thermal systems can provide enough heat to cover all your needs during the summer months – and they can also make a pretty big difference even in the winter months. On average, a solar thermal system provides as much as 60% of your hot water, and can help you save up to 600 kg of carbon dioxide emissions in a year!
The UK Government's Renewable Heat Incentive (RHI) scheme currently offers quarterly cash payments, just for installing a carbon-kicking green heating system at home. Find out more on our blog.
Other ways to reduce your home's carbon footprint 
Insulation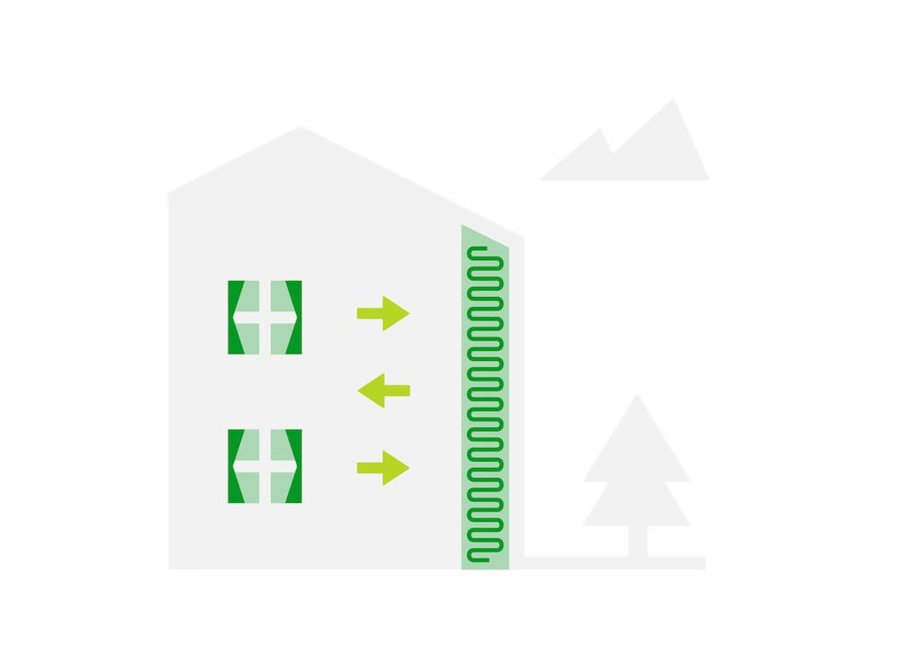 Low-carbon heating options don't end there! Good insulation is another great step towards reducing your carbon output. That's because the better insulated your home is, the more efficient your heating system will be – reducing emissions as well as saving you money on bills.
Did you know that over a quarter of the heat lost in homes escapes out through the roof? For that reason, fitting insulation in your loft, attic, or roof space is a great way to reduce your carbon footprint and bring down those bills. With the cost of loft insulation being comparatively cheap, taking this step should pay for itself in energy savings – many times over.
If you want to make your home more energy-efficient on a budget, why not try draught-proofing? See our complete guide to DIY draught-proofing to find out how.
And whether your home has solid or cavity walls, taking steps to insulate your walls will also help things. Cavity insulation could save you up to £160 a year in heating bills, for instance – and according to figures from the Energy Saving Trust website, it could pay for itself within less than 5 years.
For around £50, you can book an energy performance assessor to find the best insulation options for your home (here's a list of accredited assessors). 
Smart thermostats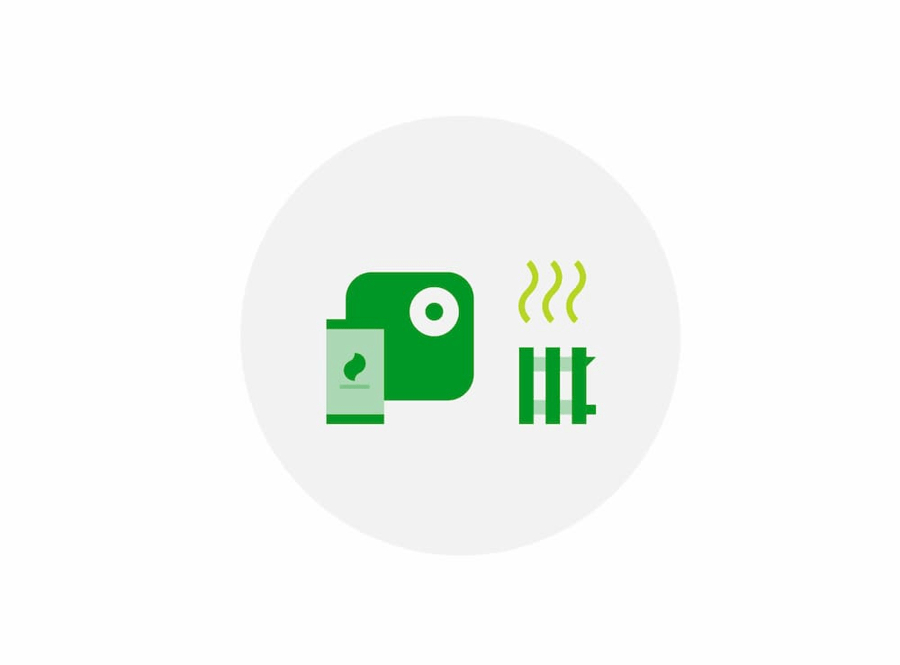 A smart thermostat is another great energy saving device – and as the name suggests, it's a stroke of genius! Smart thermostats let you control your heating and hot water with your smart-phone, tablet or computer. Anytime, anywhere. 
In particular, the tado° Smart Thermostat automatically controls your heating by using your location. Clever! It also thinks about other things, like the weather forecast. This device alone can save up to 31% of a household's energy use. 
Read our practical guide on smart thermostats and how they can help you control your heating from everywhere and reduce your energy bills. 
Invest in and install a more sustainable eco boiler
Inefficient boilers are a major source of pricey home energy bills. And when they use more energy than they need to run, that's yet another unnecessary source of excess carbon sneaking its way into the world. 
Boilers are improving and becoming more energy efficient all the time – so if you haven't had a new boiler within the last 10 years, consider replacing it with a newer model.
The Energy Saving Trust helps people save energy and money, by offering lots of information on boiler and home efficiency. It can even calculate how much money you could save, depending on your boiler's age and efficiency rating. Believe it or not, you could save up to £315 each year!
Even if you're not in a position to replace your old boiler just yet, there are a few other nifty tricks you can try, to make your current one work better. Check out our handy hints and tips, or see if you're able to get a grant to help with the cost.
If you've got oil boiler or LPG heating, you could reduce your costs by upgrading to a more sustainable heating option. Considering buying a more sustainable boiler? Here are our great options for boiler replacement, and our guide to the cost of repairing or replacing your boiler.
View more from these categories