guide
Loft insulation: the complete guide
08 November 2021 | OVO Energy
Up to a quarter of a home's heat can be lost through an uninsulated loft1. Loft insulation is an easy way to stop that heat loss, cutting your carbon footprint and making savings on your bills in the process!
This guide will take you through everything you need to know about:
Why is loft insulation needed?
How much loft insulation do I need?
Loft insulation costs and savings
DIY loft insulation – is it possible?
What is loft insulation?
Loft insulation is a barrier of material in your roof space that traps heat. It can either be laid between the joists (the horizontal beams along the floor of your attic) or the rafters (the angled beams that support the roof).
Either way, it's like a big cosy blanket that slows down the transfer of heat between your living space and the outside world. Insulation not only warms your home in winter, but keeps it cool in summer. 
Insulation between the joists keeps warmth in your living space below, and creates a cold loft. Insulation in the rafters allows you to keep warmth in the roof space as well.
Other benefits of loft insulation include:
Loft insulation for an average 3-bedroom, semi-detached house with gas central heating can start at about £50 for DIY installation2. This means it could take less than a year to pay for itself, thanks to lower energy bills.
Why is loft insulation needed?
Fitting insulation in your loft, attic or roof space is a great way to improve your home's cosiness factor. And there's even more good news: it lasts for more than 40 years! This means it should pay for itself many times over in energy bill savings, as the cost of loft insulation is comparatively low.
In terms of the environmental benefits, having good loft insulation also helps you reduce your home's carbon footprint. That's because the better insulated your home is, the more efficient your heating system will be – reducing emissions as well as saving you money on bills.
Types of Loft Insulation
There are many types of insulation on the market today, including cork and foil, but the following are the most common. Remember to look for the R-value, which is the measurement of how well an insulating material resists heat flow. The higher the R-value, the better the insulation. 
Mineral wool
Mineral wool is made up of yarn, spun from glass wool (melted wool) or rock wool (melted stone). The yarn is formed into a fibrous matting which commonly comes in large rolls, or "batts", before it's rolled into the space between loft joists. The loose yarn can also be blown into hollow spaces.
Pros:
Good at conducting heat
Good for soundproofing
Cheaper than other types of insulation
Not flammable
Long-term solution
Immune to mould because it doesn't absorb moisture
100% recyclable
Minimal carbon footprint
Can be used in lots of different ways
Cons:
Can be irritating – make sure you wear gloves when you install it!
Mineral wool has a lower heat storage capacity than natural materials like sheep's wool, meaning it won't keep your house so cool in summer
Sheep's wool
For insulation that's 100% natural, you can't beat sheep's wool. The wool is usually formed into rolls, but can also be bought as large tiles, and makes a very popular insulation method.
Pros:
Good for insulating from both heat and sound
Good at holding onto heat
Safe and easy to process
Doesn't cause irritation
100% sustainable material
100% recyclable
Not flammable
Doesn't absorb moisture, so immune to mould
Good air-purifying properties
Cons:
Can be vulnerable to insects such as moths – needs to be treated with chemicals, or a biocide-free process called "Ionic protect"
More expensive: you can expect to pay £18 to £25/m2 at 100mm thick for 100% sheep wool, whereas mineral wool is around £133.
Spray loft insulation
Spray foam can only be installed by a professional, who'll mix the product once on site at your home. When mixed, a chemical reaction results in a thick liquid foam which is sprayed out with a special applicator. The foam expands quickly to fill gaps and hardens into a dense blanket. 
Pros: 
Good heat and sound insulation
Immune to mould, mildew, and bacteria
Creates an airtight seal
A very long lifespan
Quick to install
Some spray foams are eco-friendly, with no toxic emissions – make sure you ask your installer about the contents and avoid formaldehyde, HCFC, CFC and HFA. 
Cons:
Must be fitted by a professional, which will add to installation cost

In locations with extreme changes in temperature, it can shrink (this shouldn't be a concern in the UK)

There's a slight chance that the toxic gas that's emitted when some foam is "curing" could remain if the foam isn't mixed by a professional 

There are many types of spray foam, and some contain nasty chemicals – avoid those containing formaldehyde, HCFC, CFC or HFA
How much loft insulation do I need? 
If you're installing insulation yourself, you'll need to know how much insulating material you're going to need. 
Most insulation comes in rolls, or batts. The table below gives an idea of how many rolls you'll need for the area in square metres. The table is based on a standard roll size of 1.14 metres wide by 5.68 metres long, and with a thickness of 170 mm. But not all rolls are exactly the same size, so check before you buy8. 
| Total area in square metres | Number of rolls required |
| --- | --- |
| 50 | 80 |
| 60 | 10 |
| 70 | 11 |
| 80 | 13 |
| 90 | 14 |
| 100 | 16 |
| 110 | 17 |
| 120 | 19 |
Loft insulation costs and savings
These figures are from the Energy Saving Trust website, and show the benefits of installing roof insulation of up to 270mm.
How much could I save by insulating my loft?
This table shows the benefits of increasing your loft insulation thickness from 0mm up to 270mm.
| | | | | |
| --- | --- | --- | --- | --- |
| Type of residence | Detached | Semi detached | Mid terrace | Bungalow |
| Fuel bill savings per year | £240 | £140 | £135 | £200 |
| Typical cost of loft insulation installation | £395 | £300 | £285 | £375 |
| Carbon dioxide savings per year | 990 kg | 580 kg | 550 kg | 820 kg |
This table shows the benefits of increasing your loft insulation thickness from 120mm up to 270mm.
| | | | | |
| --- | --- | --- | --- | --- |
| Type of residence | Detached | Semi detached | Mid terrace | Bungalow |
| Fuel bill savings per year | £25 | £15 | £15 | £20 |
| Typical cost of loft insulation installation | £310 | £250 | £240 | £295 |
| Carbon dioxide savings per year | 95 kg | 55 kg | 50 kg | 80 kg |
Both tables are based on insulating a gas-heated home. The installation costs are unsubsidised averages and will vary.
If you employ a professional to do the work for you, you'll be adding around £300 to your bill9
How much is loft insulation?
This varies massively between different brands and manufacturers. This is a rough guide only.
Fibreglass insulation: £4 to £6 per square metre

Cellulose insulation: £4 to £7 per square metre

Mineral wool insulation: £10 to £13 per square metre

Sheep's wool insulation: £18 to £25 per square metre

Spray foam insulation: £27 to £30 per square metre
Loft insulation grants
Unfortunately, the Green Homes Grant scheme is no longer available. But anyone who had their applications for vouchers under the scheme accepted will still receive any money owed.  
To find out about other government schemes for green homes and help through the winter, read our complete guide to heating and energy grants.
Loft insulation for pensioners
There are grants and schemes available to support pensioners in getting loft insulation. These include:
Energy Company Obligation Scheme (ECO)
This scheme involves the UK's bigger energy suppliers contributing to energy-efficiency measures for households that meet the criteria. This includes loft insulation, whether you're a homeowner or a renter. 
Read more about it in our guide to the Energy Company Obligation Scheme.
Nest and Warmer Homes Scotland
There are also free energy-efficiency improvements available for those living in Wales, with the Nest scheme, and Warmer Homes Scotland offers something similar to those in Scotland. 
For further information about grants and schemes that can help pensioners keep warm through the winter, check our heating and energy grants guide. And for more advice about keeping your home warm during the winter, head over to our guide to the most efficient way to heat your home. 
DIY loft insulation – is it possible? 
If you're thinking of insulating your loft yourself, the good news is that it's entirely possible, and quite simple! As long as:
It's easy to get into your roof space
There are no damp or condensation problems
Your loft joists are regularly spaced
You're not trying to insulate a flat roof
For anything more complicated than this, it's best to bring in a professional installer who knows how to insulate a loft in the most effective way.
Flat roofs should always be insulated by a professional, and if the space is damp you'll need to sort that out before starting any loft insulation work.
If you live in a period home, or one that was built using local traditional stone or other materials, make sure you use the right loft insulation materials and methods. Otherwise, your home might not be able to hold onto heat, or stay dry, in the way it was meant to. In fact, it might be best to hire someone local who's trained in working with this type of period building.
Thinking of transforming your loft into another bedroom or bathroom? For that, you'll need professional help. Have a read of our complete guide to loft conversions and how to do them.
How to insulate a loft
If you do have a dry attic with easy access and evenly-spaced joists, the cheapest and simplest way to insulate it is between the joists, with rolls of blanket roof insulation. This can be made of mineral wool, glass fibre, or recycled materials.
Here's how to do it yourself. 
First, clear your loft of any old boxes and anything else that might have been left up there.
Lag (add insulation to) any pipes and water tanks in the roof space. This stops them from freezing, as the attic will become much colder once it's insulated from the living space below.
Check whether there's any electrical wiring up there. If there is, it'll need to be above the insulation material, but it mustn't be stretched to achieve this. If you're not sure what to do, consult a professional electrician.
Measure your loft and buy enough blanket insulation product to fill it to a depth of at least 270mm.
Unroll the insulation and lay it along between the joists. Most joists are around 100mm high (but measure yours first to confirm this), so you'll need 100mm thick wool for this first layer. Loft insulation rolls are usually 1140mm wide, so you'll probably need to cut it to fit. Use scissors, as tearing or stretching the material could make it less effective.
Create a second layer at right angles to the first. If your first layer is 100mm deep, you'll need 200mm of wool for the second layer.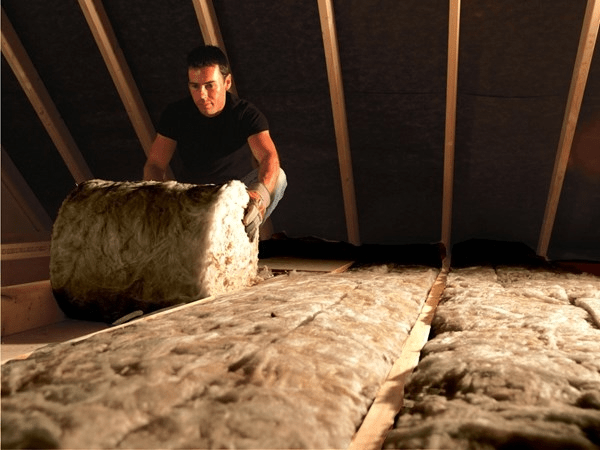 How to insulate loft hatch and ladder
Make sure the hatch fits snugly. If it doesn't, you might need to replace it. If it seems to fit more snugly in the winter than in summer, you could have damp in your loft. You'll need to tackle this before thinking about insulation.
Once you've got a close-fitting hatch, apply draught-stripping between the hatch and the frame.
Check there aren't any other holes going up into the roof – above the airing cupboard, for instance, or around pipes. If there are, you should seal these before you insulate your attic.
More ideas to help you insulate your home
We've put together a range of user guides to give you ideas for ways you can improve your home's insulation for roof, loft, walls, windows, and doors.
Roof insulation
If you want to keep your attic or loft area warm, then you'll need to insulate in the roof rafters, rather than the floor.
Read all about how to do this in our guide to roof insulation.
Cavity wall insulation
Insulating your cavity walls could be a very cost-effective way to retain heat in your home and save money on your bills. It's estimated that cavity insulation could save you up to £16010 a year in heating bills.
Find out more in our guide to cavity wall insulation
Solid wall insulation
Fact: solid walls let twice as much heat escape as cavity walls. For a detached house, insulating solid walls could save you as much as £45511 a year.
Read more in our guide to solid wall insulation
Draught-proofing windows and doors
Draught-proofing your home's windows and doors could save you between £2512 on your heating bills each year. Not to mention the environmental benefits!
Find out more in our guide to draught-proofing windows and doors
*Source and notes for graphs and table: https://energysavingtrust.org.uk/
Take control of your heating with a smart thermostat
Now your home's insulated, wouldn't it be great to make your home even more energy-efficient, and save more money? With a smart thermostat you can control your heating from wherever you are. You can change the temperature, or even turn your heating on or off – all from your phone, tablet, or other device. 
To find out even more about smart thermostats, read our comprehensive guide. And remember, all OVO members get £79.9913 off a wireless tadoº Smart Thermostat, which can help you reduce your heating bills by up to 31%14.
Loft Insulation FAQs
If you want to store bits and pieces safely in your attic you'll need to fit boards over the joists. But if you simply fill the spaces between the joists with insulation and then board over the top, you won't have room for enough insulation.
To make your loft insulation thicker, you can:
Lay mineral wool between the joists and then fit rigid insulation boards across the joists, with floorboards on top. You could even buy insulation and floor boards that are already bonded together, which makes the job much faster and easier.
Or use your carpentry skills (or someone else's) to create a higher floor level, so you can fit in the required 270mm of loft insulation.
Whichever you decide to do, don't put in 270mm of mineral wool and then just squash it down, as this will reduce its efficiency. You might as well have used a smaller amount!
Remember, insulating between the joists will create a cold roof space, so if you're keeping anything up there that needs to stay warm, it's better to insulate between the rafters rather than the joists.
If you're using the loft as a bedroom, games room, or study, you'll want to keep it as warm as the rest of the house – so there's no point in insulating the attic floor. Instead, you need to insulate the roof. You can read all about how to do this in our roof insulation guide. 
You'll have to use a professional installer, who can blow granules of insulation into your loft with specialist equipment. They'll likely use cellulose fibre or mineral wool, treated to make sure it's fire retardant. This should take just a few hours, depending on the size of your loft.
If you've got a flat roof you can still insulate it, but it's better to insulate it on the outside rather than the inside. Insulating it from below can cause condensation problems.You can read more about this in our roof insulation guide. 
Insulating between the joists means your attic or loft will become colder, and so it's possible it could cause damp. It's also important if fitting the insulation yourself, that you allow for air flow. 
We recommend getting professional advice from a builder or damp expert before you start insulating.
Yes. If you're laying insulation between the joists, the roof space will become extremely cold in winter. So you need to insulate ( or "lag") your tank and pipes individually to make sure they don't freeze and burst. If they do, the repairs will cost far more than the savings you make from loft insulation.
If you insulate between the rafters rather than the joists of your attic, the space will be warm and your pipes should be fine.
If you're installing your own insulation, it's important to be aware of the building regulations surrounding the process. The regulations state what's necessary when providing, replacing, or increasing the thickness of loft insulation. 
These regulations apply if you're working on more than 50% of the ceiling space:
If you're starting from scratch, you'll need to install insulation with the U-value15 of at least 0.16W/m2K16. That's around 250mm of mineral wool loft insulation, for example. 
If you're improving loft insulation of a U-value worse than 0.35W/m2K, you'll need to add sufficient insulation to the U-value of 0.16W/m2K.
You don't need to notify the local authority about the insulation, but if you sell your home, it could come under scrutiny as part of the building survey.
View more from these categories