guide
How to set up or switch energy supplier if you're renting
07 May 2021 | Celia Topping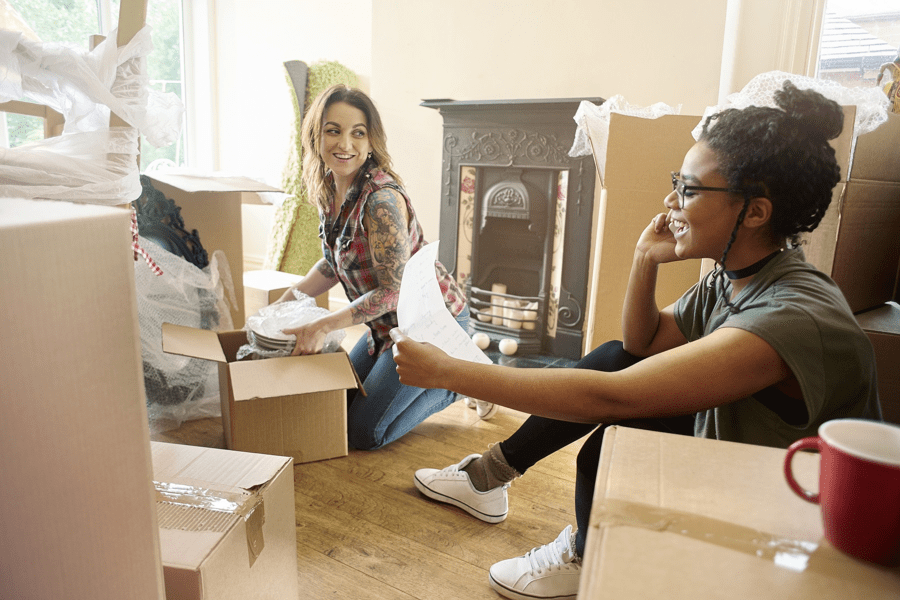 There are some common misconceptions when it comes to renting and switching energy suppliers. So we're here to clear up any confusion. If you're renting, this guide could save you hundreds of pounds! 
First of all, can I switch energy supplier if I'm renting? 
The short answer is, "probably, yes." If you're paying your own bills, you have every right to compare energy suppliers, and switch if you find a cheaper deal. Ofgem's consumer protection law makes sure of that. And if you're paying by Direct Debit, you could be saving £180-£2591 a year on average – so it's definitely worth shopping around. 
What if my landlord pays my energy bills?
If your landlord's directly responsible for paying the energy bills at the property you're renting, you don't have the right to switch yourself. This is the case if:
Your landlord pays the electricity and gas bills, then reclaims the money from you as the tenant
You're paying a rental fee which includes the cost of the electricity and gas bills
Your tenancy agreement should contain details about who's responsible for paying these bills. Your landlord can't just charge you what they want for energy though. There's a set maximum resale price. If you feel your landlord is overcharging you for energy, check out the guidance from the Citizen's Advice Bureau. 
What if there's a clause in my tenancy agreement about energy suppliers?
If you're paying the bills directly, it's still a good idea to let your landlord know that you've decided to change supplier. It's an open gesture which will be appreciated, and keep you on good terms with your landlord. 
If your landlord pays the bills as part of your contract, they may not have changed supplier for a while, and might actually benefit from switching. If you're keen to switch to a

different energy supplier like OVO

(for example!) and find a good deal, they might agree to switch – although they're not obliged to do so. 
It's worth bearing in mind that if your landlord has a number of properties, they may have an agreement with a certain supplier – so would be less likely to switch. But you don't know unless you ask! 
Can my landlord choose my gas or electricity supplier? 
Your landlord has the right to choose your supplier if they're paying for the energy directly. But there's no reason why you can't make a suggestion. They may be happy to switch if there are savings to be made!
Can I get a smart meter as a tenant? 
Landlords are currently being encouraged to help their tenants benefit from smart meters. This is all part of the national drive to get smart meters installed into every home by 2030. So if you pay your bills yourself, now would be a perfect time to get one installed. We'd recommend you let your landlord know your intentions because:
There may be a section in your tenancy agreement about the type of meter that can be installed in the property. This is particularly relevant if your meter is in a communal part of the building. 
It forges a good relationship between you and your landlord.
If your landlord pays for your energy bills, it's their decision whether or not they get a smart meter installed. But it's definitely worth telling them if you'd like one. Because of the current focus on reducing the nation's carbon emissions, your landlord would have to have a good reason for not wanting one. For more help and advice on your rights with smart meters, check out the Ofgem guidelines. 
How long does it take to swap energy suppliers? 
Would you believe us if we told you that you could switch energy supplier in less time than it takes to boil a kettle? Well it's true! 
It's a super-easy process, and there'll be no gap in supply or blackouts. You could've found a way to save money before your cuppa's brewed! Read on to find out how. 
Get a quote with OVO and you could save hundreds of pounds a year. For the lowdown on switching suppliers, check out our comprehensive guide. 
How to set up the gas and electricity supply in your rented home
So you've found the supplier and tariff you want to switch to. Here's the information you'll need to share:
• Your address
• How many bedrooms you have
• Whether you need gas and electricity, or electricity only
• How you pay for your energy bills
• A recent energy bill (for a more accurate quote2). If you don't have this to hand, Ofgem's handy service can help you find your supplier. 
At sign-up, your new supplier will need your bank account details to set up your Direct Debit. 
Then, around 21 days or so later, you'll be switched over, with no gap in supply. Your new supplier will let your old supplier know And if you're switching to OVO, we'll look after everything, so you don't have to think twice about the switching process. 
Can I switch energy suppliers if I'm in debt?  
If you've been in debt for less than 28 days, you can switch supplier without any issue. But if you've owed money for longer than that, you'd have to pay it off first. 
The only exception is if you have a prepayment meter. If this is the case, you can switch so long as your debt is less than £500 for gas, and/or £500 for electricity. 
If you're concerned about energy debt, help is at hand. Read our useful guide, and find out what to do if you're struggling to pay your bills. 
Can I change energy suppliers if I have a smart meter?
Smart meters aren't an obstacle to switching supplier. Most smart meters automatically update to the new supplier when you switch. But some are being remotely updated, and may not work immediately. Also, not all tariffs work with smart meters, so you'd have to check with your new supplier if this is the case. 
Find out everything you need to know about changing energy suppliers if you have a smart meter in our helpful guide. 
Can I change energy suppliers if I have a prepayment meter?
There's no problem switching supplier if you have a prepayment meter. But you'll have to switch to either a cheaper plan, or change to a traditional meter. 
Changing to a traditional meter could mean initial charges. But as prepayment tariffs are generally more expensive, switching could end up being cheaper overall. 
Energy tips for tenants 
It can be a little confusing knowing exactly what to do about your energy supply when you're moving house. So let's make it easy for you: 
Before you move in 
It's good to be prepared, so use our handy checklist:
Ask your landlord who the current supplier is in your new home. Or

you can find out yourself

.
Check your contract to see if you have to let your landlord know, should you want to switch.
Look out for a "default supplier" clause. This means your landlord intends to keep using a specific supplier. If you're going to be responsible for paying the energy bills, you have every right to switch, or ask the landlord to remove this clause. 
Start doing your research, and find out

how much you could save by switching

.
Thinking about moving, or moving soon? Check out our ultimate home move checklist, to make sure you don't miss any vital steps on the way.
When you move in 
Welcome home! First things first, take a meter reading. This can be sent to the current supplier if you're paying the bills, and to your landlord if not. 
If you're on a prepayment meter, let the supplier know as soon as you've moved in. This makes sure you won't be charged for any debt built up by the previous tenant. 
Read more about how to take a meter reading for the first time in our step-by-step guide.
Now's the time to make the switch to your new supplier. Get a quote today.
When you move out
Just like when you moved in, you'll need to take a final meter reading when you move out, and send it to your supplier. This is particularly important, or you could end up paying for energy you didn't use. 
If you're in debt to your supplier, the best thing to do is contact them. You'll be able to discuss an achievable repayment plan that allows you to clear your debt over time. 
Ready to switch to OVO?
Switching to OVO is easy. Take a look at our range of energy plans, then go to our 'Get a quote' page and enter your postcode. We'll come back with a quote based on the average energy use of households in your area.
Sources and references:
1.  https://www.energyscanner.com/how-much-can-i-save-by-switching-my-energy-supply/
2.To find out how much you could save, it will help to have a recent energy bill to hand, so you can compare costs. We can give you an even more specific quote if you know how many kWhs (kilowatt hours) of electricity you usually use per month.
View more from these categories