guide
What is a smart meter and how it all works to help you save money?
09 December 2021 | Matt Mostyn
Now more than ever, we're all looking for ways to reduce the amount of energy we waste. The most effective way to track and cut down your energy use – and lower your bill – is by using a smart meter.
But what is a smart meter? And how exactly can you benefit from using one? 
This guide will tell you everything you need to know.
Are smart meters more accurate?
How can smart meters help save money?
Other benefits of smart meters
What does a smart meter look like?
Smart meters and switching suppliers
What is a smart meter?
A smart meter is a digital gas or electricity meter that automatically sends your meter readings to your energy supplier. That means you'll never need to submit a meter reading again.
How do smart meters work?
Smart meters communicate through two wireless networks: the HAN (home area network) and WAN (wide area network). 
All about HAN
The HAN is a secure network that works in much the same way as the wireless systems that link the devices in our homes (for instance, how computers link with printers). 
A smart gas meter uses HAN to send information to its paired electricity meter. Essentially, HAN lets smart meters communicate with any other devices or computers they've been linked to, so long as they're within range.
All about WAN
The WAN (wide area network) is like the networks used by mobile phones. In a nutshell, smart meters use WAN to send the data your energy company needs to create those much-favoured fully accurate (as opposed to estimated) bills.
Some suppliers use the WAN to let you see your energy use in your online account. If you share half-hourly data with your supplier, you'll be able to see exactly what you've used and when. That's incredibly useful for helping you to understand and be more in control of your energy use at home.
Are smart meters more accurate?
Most definitely! Having a smart meter that automatically sends regular meter readings means your supplier knows exactly how much energy you're using, making your bills more accurate.
Read more about the benefits of smart meters and how to get one for no extra cost. 
Do smart meters need WiFi? 
No they don't need WiFi to work. The first, IHD3, model wasn't designed to connect to WiFi, but the later version, IHD6, can be connected, but it doesn't need to be. Your engineer can pair it for you during installation if you want, or they can show you how to pair it yourself at a later date.
Here are some of the benefits of having a WiFi connection for your IHD6:
If the IHD has issues, OVO can understand the problem straight away

Real-time customer meter readings can be collected

It makes updating software on your IHD easier
How can smart meters help save money?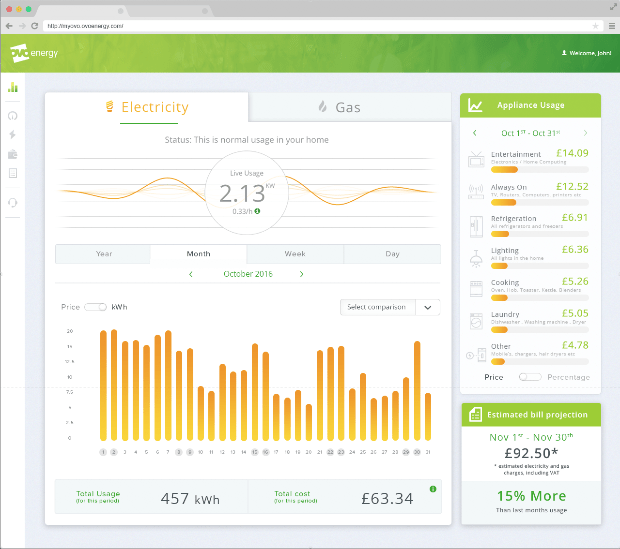 A smart meter helps you to keep an eye on your energy use. It lets you see where you could be wasting energy (and money), so you can use that information to make tweaks in your energy use. That in turn helps you to cut your costs, which should help lead to lower bills. 
The In-Home Display (IHD) is a small mobile screen that  gives you information directly from your smart meter. This means you can see how much energy you use whenever you switch on a hairdryer or boil the kettle for a cuppa.
Smart meter costs
There's no charge for getting a smart meter installed. Another great reason to get one! 
That's because the cost of the nationwide smart meter rollout is covered within every supplier's energy bills. Just like part of your bills goes towards the upkeep and replacement of meters and infrastructure, another small part goes towards the cost of smart meter installations. 
What are some of the other benefits of smart meters for our energy supply?
Our nation is moving away from burning fossil fuels, and the demand for electricity is increasing. For example, we're starting to use eco-friendly electric cars and hybrid vehicles. We're also gradually shifting over to more low-carbon alternatives to our dirty gas boilers, which means more central heating systems powered by electricity. 
All that increased demand means we're having to make changes to the way the National Grid works. 
What is the smart grid?
A smart grid uses digital technology to better predict how much electricity we need at any one time. By having data from smart meters:
We can do a better job of matching supply with demand
The grid can better identify any power cuts or performance issues
The grid can be more responsive to power generated by

renewables

 
We can move towards a future of net zero living
Smart meters are one positive step towards upgrading our energy system so it's better suited for the future. But smart network benefits depend on a critical mass of SMETS2 meters being installed. The more of us that have a smart meter, the greater the benefits, says both Ofgem (the UK's energy regulator) and the government.
If you have any other questions around smart meters, read our comprehensive smart meter FAQs page to find all the answers you need.
What are the disadvantages of smart meters? 
There aren't really any disadvantages of having a smart meter, unless you consider cutting your carbon footprint or your bills a disadvantage – then we wouldn't recommend it! 
But, as with any new technology, there have been some hiccups in installing them across the nation. We'll tell you all about these, along with some common "smart meter myths" a bit further down. 
Should I get a smart meter?
We might be a little biased here – being an energy company that cares about the environment – but we can only give smart meters a great big thumbs up! 
From helping you waste less energy to helping you fight the climate crisis, here's a little reminder of the main reasons for getting yourself a smart meter. 
Find out more about the differences between smart meters and energy monitors
How to get a smart meter today
If you're already an OVO member, getting a smart meter installed is very straightforward. Simply book an appointment, and we'll start the ball rolling. 
Not yet sure of the many reasons why it's worth joining us? Allow us to convince you!
Book a free smart meter appointment
Are smart meters compulsory in the UK?
The government wants all homes to have smart meters by 2024. Although energy suppliers are obliged to offer smart meters to all their customers, you don't have to accept an installation.
If you have a query, whether it's about the technology or the installation process, check out our helpful energy guides. Simply type in what you want to find out in the search bar, and all the content we have on that subject will pop up. 
And if you haven't checked out the OVO Forum yet, it's a great place to find answers on thousands of topics, including smart meters. 
What does a smart meter look like?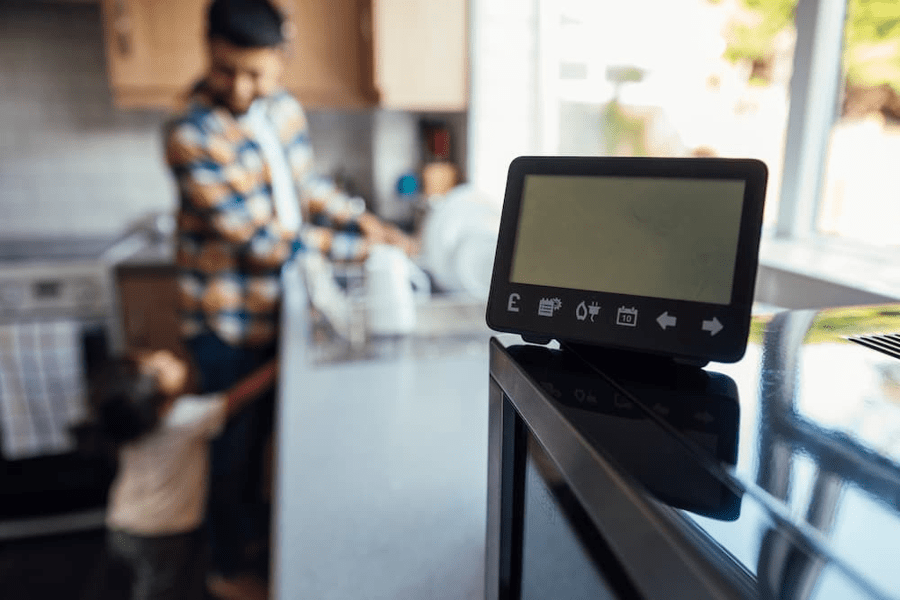 There are several different kinds of smart meter, and they all look a little bit different. One of the most common smart meters to be installed in the UK is the Landis+Gyr (L+G). You can see some images of them in our guide. And there are images of Aclara and Flonidan S2 smart meters on the OVO Forum. There are makes and models, but they are very similar.
Usually, you shouldn't need to have much interaction with your smart meter. But you may have more contact with your In-Home Display (IHD), which looks like the one in the image above. You'll be offered an IHD when your smart meter is installed. It's optional, but it can be really handy to see your energy use. 
You'll need to make sure you have enough space near your existing meters for a smart meter to fit. Here are the dimensions, to help you check:
Electricity SMETS2 smart meter: W 127mm H 160mm D 65mm
Gas SMETS2 smart meter: W 235mm H 262mm D 167mm
Smart meters and solar panels
In our ever-evolving modern world, with new technology becoming increasingly available, it's sometimes hard to keep track. Smart meters and solar panels are both great ways you can save money and cut carbon emissions. But do they work together?
You can have both a smart meter and solar panels installed. But not all energy suppliers have their current smart meters set up to read the panels' exported energy. 
Smart meters and switching suppliers
There have been some complaints about smart meters losing their smart features, or "turning dumb" if a customer switched supplier. But that all depends on what kind of smart meter you have. 
What happens with my smart meter if I change supplier?
Smart meters were first introduced into people's homes in 2013. This first generation, or SMETS1 smart meter, was fitted with the same kind of 3G sim card that you could find in a mobile phone. That way, they could update the supplier at set intervals. 
The only problem was, if you changed supplier, many of this type of meter lost their smart features, and stopped sending automatic readings.
The next generation, SMETS2, were designed in such a way that meant suppliers could be switched, without loss of any smart features. Suppliers started installing this type of smart meter in 2018. 
For help with switching suppliers with your smart meter, check out our handy guide.
Smart meter myths
Let's look at some of the mysterious (and misguided) myths about smart meters.
OVO smart meters: an award-winning experience
With an OVO smart meter, you're getting the latest technology to help you fight the climate crisis. But you'll also get the best installation experience, as voted in the 2020 Uswitch Energy Awards. 
Ready to get your smart meter?
If you're not yet with OVO Energy, check out our home energy plans. They all come with 100% renewable electricity if you have a smart meter1 and every year we plant 1 million trees in the UK2. 
Already an OVO member and ready to jump in? Book an appointment to get your smart meter fitted.
Finally, find out everything you need to know about the Landis+Gyr (L+G) smart meter. It's one of the UK's most popular – and some might say confusing to identify – smart meters!
Sources and references:
1 From 1 October 2022, 100% renewable electricity is only available to customers who currently have an electricity smart meter or who have a smart meter installed. Learn all about the benefits of a smart meter or if you're ready, why not book a smart meter appointment today? Not all customers may be able to have a smart meter installed. Terms and eligibility criteria apply. If you have a fixed contract you will continue to receive 100% renewable electricity until the end of your contract. 100% of the renewable electricity we sell is backed by renewable certificates (Renewable Energy Guarantee of Origin certificates, also known as REGOs). See the latest information on our REGOs webpage. A proportion of the electricity we sell is also purchased directly from renewable power generators in the UK.
2 OVO Energy plants 1 million trees across the UK each year with its tree planting partners, The Conservation Volunteers and the Woodland Trust. Trees absorb carbon dioxide from the atmosphere, so planting trees helps to slow down climate change.
View more from these categories