guide
Roof insulation: costs, benefits and savings
12 November 2021 | Celia Topping
Up to 25% of your home's heat can be lost through an uninsulated roof1. So insulating your roof is one of the most effective ways to save energy in your home. And making these improvements needn't be expensive. 
This guide will take you through everything you need to know:
How much roof insulation do I need?
Roof insulation costs and savings
How to find a good insulation installer
More ideas to help you insulate your home
More ideas to help you save energy at home
What is roof insulation?
Roof insulation is a barrier of material that's placed in your roof space to make it harder for heat to travel in or out. It comes in various types (more of that below), and is installed between the rafters. 
This barrier slows down the transfer of heat between your living space and the outside world, creating a warmer home in winter and a cooler one in summer. Roof insulation is usually installed when the homeowner wants to keep their attic warm too. 
If you insulate the floor of the attic, it's known as loft insulation. This is laid between the joists on the floor and keeps warmth in your living space below, and creates a cold loft. If you want this type of insulation, head over to our ultimate guide to loft insulation. 
Benefits of roof insulation 
Lower heating bills
Improving your home's

energy efficiency

rating
Increasing your home's value
Roof insulation doesn't only cut your energy bills and up your cosiness factor. There's even more good news: it lasts for more than 40 years, and should pay for itself many times over in energy bill savings.
In terms of the environmental benefits, having good roof insulation also helps you reduce your home's carbon footprint. That's because the better insulated your home is, the more efficient your heating system will be – reducing emissions as well as saving you money on bills.
Roof insulation types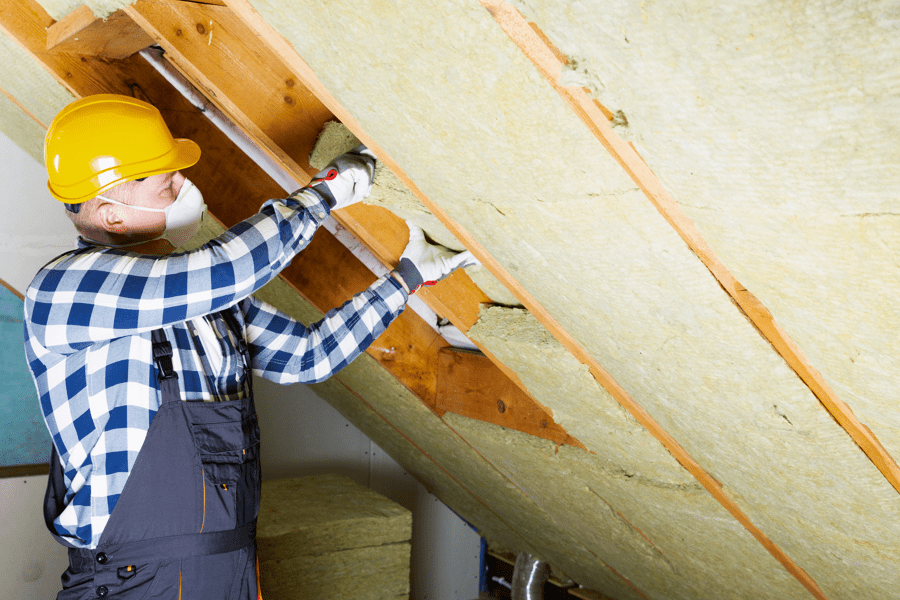 There are various kinds of insulation – some are suitable for DIYers, and others must be installed by a professional. Here's a quick rundown of the most common types. 
Spray foam roof insulation
Although this is one of the most popular, spray foam can only be installed by a professional, who'll mix the product at your home. When mixed, a chemical reaction results in a thick liquid foam, which the installer will spray with a special applicator. The foam expands quickly to fill gaps and hardens into a dense blanket. 
Pros: 
Good heat insulation
Good sound insulation
Immune to mould, mildew and bacteria
Creates an airtight seal
A very long lifespan
Quick to install
Some spray foams are eco-friendly, with no toxic emissions –  ask your installer about the contents, and avoid formaldehyde, HCFC, CFC, and HFA 
Cons:
Must be fitted by a professional, which will add to installation cost
In locations with extreme changes in temperature, it can shrink (this shouldn't be a concern in the UK)
Slight chance of toxic gas emissions if the foam isn't mixed by a professional 
Some types of spray foam contain nasty chemicals such as formaldehyde, HCFC, CFC, or HFA.
Insulated roof sheets or panels
These are large flat panels, containing high-density foam, sandwiched between 2 layers of sheeting.  
Polyiso foam boards usually come with a foil cover, which also stops light from getting through. It's the most expensive, but also has the highest R-value (which means it's the best at blocking heat)2.
Pros:
Good heat insulation
Good sound insulation
Affordable
Long lifespan
Not affected by mould, bacteria, or fungi
CFC-free and non-toxic
Can be installed by a DIYer
Cons:
Easily damaged
Some boards are treated with a flame retardant chemical that can cause serious health concerns 
Fibreglass roof insulation
Fibreglass is probably one of the most common materials for insulation. It's made of recycled glass particles and sand.  It can be bought in batts (like rolled-up sheets), boards, or can be blown in. 
Pros:
Easy to install if you're doing it yourself
Good heat insulation
Good sound insulation
Not flammable 
Well suited to seal uneven surfaces
Relatively cheap
Recyclable 
Doesn't hold moisture, so immune to mould
Cons:
Can cause irritation when installing (always wear goggles and gloves if installing yourself)
Some fibreglass is known to contain carcinogens, such as formaldehyde3 (always check the label)
Fibreglass isn't particularly eco-friendly, as it takes a lot of energy to produce
It can settle over time, meaning the R-value (which measures how well it blocks heat) can drop, making it less effective
Mineral wool insulation
Mineral wool, made of yarn spun from glass or rock wool, is a common insulation material because it's so cheap and relatively easy to install. A whole roof on an average home could cost as little as £200 to install by a DIYer. 
Pros:
Good at conducting heat
Good sound insulation
Relatively cheap
Not flammable
Immune to mould because it doesn't absorb moisture
100% recyclable
Minimal carbon footprint
Can be used in a lot of different ways
Cons:
Mineral wool can be an irritant – wear gloves and a mask while installing!
It has a lower heat storage capacity than natural insulation materials such as sheep's wool, meaning in summer your home wouldn't keep so cool
Do I need ventilation with roof insulation?
Absolutely, yes you do. Ventilation needs to be put in directly below the roof tiles. 
You need to have air flow parallel to the rafters and under the tiles, from the eaves to the apex of the roof. Without this, condensation can build up and the roof can begin to rot. 
How much roof insulation do I need? 
If you're installing insulation yourself, you'll need to know how much insulating material you're going to need. 
Most insulation comes in rolls, or batts. The table below gives an idea of how many rolls you'll need for the area in square metres. The table is based on a standard roll size of 1.14 metres wide by 5.68 metres long, and with a thickness of 170 mm. But not all rolls are exactly the same size, so check before you buy4.
| Total area in square metres | Number of rolls needed |
| --- | --- |
| 50 | 8 |
| 60 | 10 |
| 70 | 11 |
| 80 | 13 |
| 90 | 14 |
| 100 | 16 |
| 110 | 17 |
| 120 | 19 |
Roof insulation costs and savings
These figures are from the Energy Saving Trust website, and show the benefits of installing roof insulation of up to 270mm.
How much could I save by insulating my roof?
This table shows the benefits of increasing your roof insulation thickness from 0mm up to 270mm.
| Type of home | Detached | Semi-detached | Mid-terrace | Bungalow |
| --- | --- | --- | --- | --- |
| Fuel bill savings per year | £240 | £140 | £135 | £200 |
| Typical cost of roof insulation installation | £395 | £300 | £285 | £375 |
| Carbon savings per year | 900kg | 580kg | 550kg | 820kg |
The following table shows the benefits of increasing your roof insulation thickness from 120mm to 270mm:
| Type of home | Detached | Semi-detached | Mid-terrace | Bungalow |
| --- | --- | --- | --- | --- |
| Fuel bill savings per year | £25 | £15 | £15 | £20 |
| Typical cost of roof insulation installation | £310 | £250 | £240 | £295 |
| Carbon savings per year | 95kg | 55kg | 50kg | 80kg |
Both tables are based on insulating a gas-heated home. Installation costs may vary.
How much is roof insulation?
This varies massively between different brands and manufacturers. This is a rough guide only
Fibreglass insulation: £4 to £6 per square metre

Mineral wool insulation: £10 to £13 per square metre

Insulation panels or sheets: £5 to £15 per square metre

Spray foam insulation: £27 to £30 per square metre
Roof insulation grants
Unfortunately, the Green Homes Grant scheme, which offered some financial help towards insulation, is no longer available. But anyone who had their  voucher applications accepted under the scheme before it closed in 2021 will still receive any money owed.  
To find out about other government schemes for green homes and help through the winter, read our complete guide to heating and energy grants.
Roof insulation for pensioners
There are grants and schemes available to support roof insulation for pensioners. These include:
Energy Company Obligation Scheme (ECO)
This scheme involves the UK's bigger energy suppliers contributing to energy-efficiency measures for households that meet the criteria. This includes roof insulation, whether you're a homeowner or a renter. 
Read more about it in our guide to the Energy Company Obligation Scheme.
Nest and Warmer Homes Scotland
There are also free energy-efficiency improvements available for those living in Wales, with the Nest scheme. Warmer Homes Scotland offers something similar to those in Scotland. 
For further information about grants and schemes that can help pensioners keep warm through the winter, check our heating and energy grants guide. And for more advice about keeping your home warm during the winter, head over to our guide to the most efficient way to heat your home. 
What are the building regulations around roof insulation?
If you're installing your own insulation, it's important to be aware of the building regulations surrounding the process. The regulations will tell you what you can and can't do when installing, replacing, or increasing the thickness of roof insulation.
How to insulate a roof
If you're a keen DIYer and want to insulate your home in the cheapest way possible, then doing it yourself is the best option. Here are some tips:
How to insulate a pitched roof 
If your roof is pitched (sloped), you'll need to install insulation immediately below the sloping roof, between the rafters. It can be done without too much trouble by competent DIYers.
Here are some handy guidelines to help you prepare your loft space for the installation:
Clear all objects from the loft space. The whole area needs to be clutter-free to work efficiently. 
Use a vacuum cleaner to clean the space between the rafters.
Be aware of any cracks, dry rot, or damage to the rafters and roof. These need to be repaired by a professional before you can continue. 
Check the wiring is all okay.
If your loft isn't already lit, it might be a good idea to invest in a work light, and run the cable up through the hatch. Work lights

can be bought fairly cheaply

, and it's important to be able to see what you're doing.
Fix boards to the floor joists before you start, or you could fall through the ceiling! 
For all types of insulation, it's a good idea to wear overalls, protective gloves, a mask, goggles, and preferably, a helmet. 
Measuring your roof insulation area
Measuring the roof space is extremely important, to make sure you have the correct amount of insulation. Here are some tips on how to get this vital task right.
Use a tape measure or laser measure to measure the rafter area. You can do this by measuring from the apex (top) of the roof, down to where the roof meets the horizontal joists.
Measure the width of your rafters. This is important whether you're measuring between the rafters or below the rafters.
Write down the measurements and take them to your DIY store. 
Before you start installing the insulation, be sure to leave a space of about 50mm between the roof and your insulating material so air can flow freely. This should stop condensation and damp. 
Remember, the recommended depth of insulation is 270mm. So if your rafters are not very deep, you can attach a wooden extension to fit in deeper insulation. The more insulation, the warmer you'll be! 
DIY rafter insulation with mineral wool
One of the easiest ways to insulate your roof is with mineral or fibreglass wool. Here are some guidelines:
Roll out the material and start stapling the wool to the sides of the rafters on each side. Continue until the whole space is covered. 
Be sure the insulation is installed 50mm below the actual roof. Attaching pieces of wood of the right length to the inside of the rafters can help with this.
You can fit 2 or more layers of insulation, depending on the depth of your rafters. 
You can attach netting to make sure the material won't fall down.
If you might use the loft space in future and are concerned about how it looks, you can fit a thin layer of plasterboard to the bottom of the rafters. This can be wallpapered or painted to your taste. 
DIY rafter installation with rigid boards
Another fairly straightforward DIY solution is using insulation boards. They're not quite as easy as wool, as you need to cut them very precisely. If you're in doubt, get a professional to help. 
Here's how to do it:
You'll need to cut the boards to fit the gaps between your rafters. There needs to be a tight fit between the edges so it can be stapled to the rafters. 
Remember to leave a 50mm gap between the boards and the roof. This allows ventilation, to avoid damp or rot. Attaching dowel batons of the right length to the inside of the rafters can help keep the insulation at the correct distance. 
DIY installation of rigid boards below the rafters
If you don't mind so much about losing headroom in the loft, then fixing rigid boards under the rafters is a much easier option. You don't have to be so precise with the cutting, nor worry about leaving that 50mm gap – the rafters do it for you. 
Here's what to do:
The boards come in a variety of sizes, so measure up your roof space and the spacing of the rafters, and figure out a plan to attach the boards.
You can nail the boards to the underside of the rafters by using a hammer or a more efficient nail gun. 
You'd benefit by having someone with you to hold the boards while you nail them in. 
After installation, you can cover the boards with plasterboards and paint or wallpaper. 
Flat roof insulation
It's not really advised to insulate flat roofs yourself. They should always be insulated by a professional. This is because it's better to insulate them on the outside rather than the inside. Insulating from below can cause condensation problems.
When your roof is next due for replacement, you'll have to insulate it anyway, to comply with government regulations. If that date's coming up soon, it makes sense to do both jobs together. You can add a layer of insulation between the timber roof surface and the outer waterproof layer.
But if your flat roof isn't due for replacement for a few years, you can add the insulation board directly on top of the weatherproofing. 
How do I find an insulation installer?
Visit the National Insulation Association (NIA) website to find NIA members in your area. Installers listed on the site have agreed to follow a code of professional practice. 
If you're in Scotland, call Home Energy Scotland on 0808 808 2282. You can also visit Historic Scotland's Technical Conservation knowledge base for information on how to insulate traditionally constructed buildings.
More ideas to help you insulate your home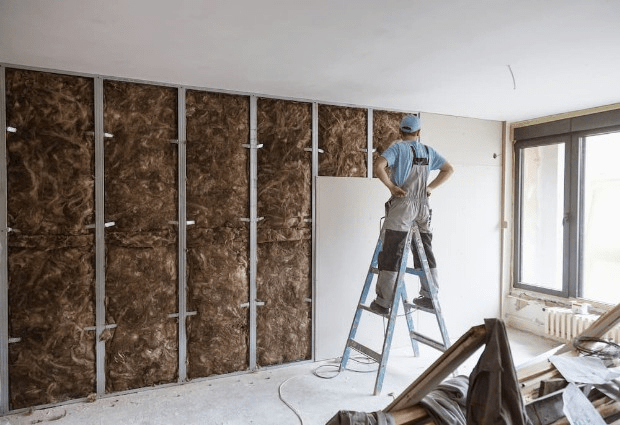 We've put together a range of user guides to give you ideas for ways you can improve your home's insulation levels for roof, loft, walls, windows and doors.
Loft insulation
If you don't need to keep your attic/loft space warm, then loft insulation is a relatively cheap and very effective solution.
Find out more in our guide to loft insulation
Cavity wall insulation
Insulating your cavity walls could be a very cost-effective way to retain heat in your home and save money on your bills. It's estimated that cavity insulation could save you up to £160 a year in heating bills5.
Find out more in our guide to cavity wall insulation
Solid wall insulation
Fact: solid walls let twice as much heat escape as cavity walls. For a detached house, insulating solid walls could save you as much as £455 a year6.
Read more in our guide to solid wall insulation
Draught-proofing windows and doors
Draught-proofing your home's windows and doors could save you around £25 a year – not to mention the environmental benefits!
Find out more in our guide to draught-proofing windows and doors
Save more energy with OVO
By insulating your roof, you'll put a warm hat on your home, but what about the rest of the house? OVO Greenlight is our money-saving tool that helps you reduce your bills by offering carbon-cutting, energy-saving tips. 
OVO Greenlight is included for free on most OVO plans7, and helps you do loads of cool stuff:
Get an even greener home: see where in your home you use the most electricity or gas, and spot ways you can cut waste. With our simple breakdown and tailored tips, you'll save cash – and cut carbon. 
Shrink those energy bills: use the tips and advice waiting for you, and you could take a good chunk out of your bills. 
Power up at greener times: our handy tool shows you when the energy grid is greenest. So you can do those 10 loads of washing when it's kinder for planet Earth. Help the UK ditch coal – for good! 
Keep tabs on your home's carbon footprint: OVO Greenlight can show you how green your home really is. It can even compare its footprint with other homes like yours.
Got a smart meter? Then you can enjoy even more benefits of OVO Greenlight. We'll use its regular readings to show you exactly where your energy goes – and bring you personalised energy-saving tips too! Good times.
Book a smart meter appointment, and start finding out how you can cut energy use in your home, with just a few simple tweaks. 
Sources and references:
1 https://energysavingtrust.org.uk/advice/roof-and-loft-insulation/
2 How good a material is at resisting the flow of heat. The higher the R value, the better the insulation properties
3 https://homesteady.com/12507504/the-disadvantages-of-fiberglass-insulation
4 https://www.viessmann.co.uk/heating-advice/how-much-loft-insulation-do-you-need#anchor-how-to-calculate-how-much-insulation-you-need-for-a-loft
5 https://www.utilitysavingexpert.com/energy/guides/cavity-wall-insulation/
6 https://www.thermorend.com/much-save-insulating-solid-walls/
7 OVO Greenlight is available for free for the majority of OVO members, and we're working to make it available to everyone soon.
View more from these categories