blog
7 amazing green technology inventions for 2022 and beyond
28 September 2021 | Aimee Tweedale
Solving a problem like the climate crisis will take sustainable innovation and imagination on a massive scale. 
While there are doom and gloom headlines on a daily basis, the good news is that inventors around the world are having breakthroughs every day. Their sustainable technology could change the way we interact with the world as we know it. 
Here are 7 amazing tech innovations that we're excited about right now. Some, like electric planes, might seem like sky-high ideas – but these are all real developments, and closer to home than you might think. 
1. Indoor vertical farms: a new way to save land
Did you know that 12% of the UK's greenhouse gas emissions come from how we use our land – including farming, forestry, and peatland1? 
It's not as huge an amount as the emissions created by transport and energy, but it's still a big piece of the puzzle. This means that, in order to get to net zero, we're going to need a serious rethink of how farming works.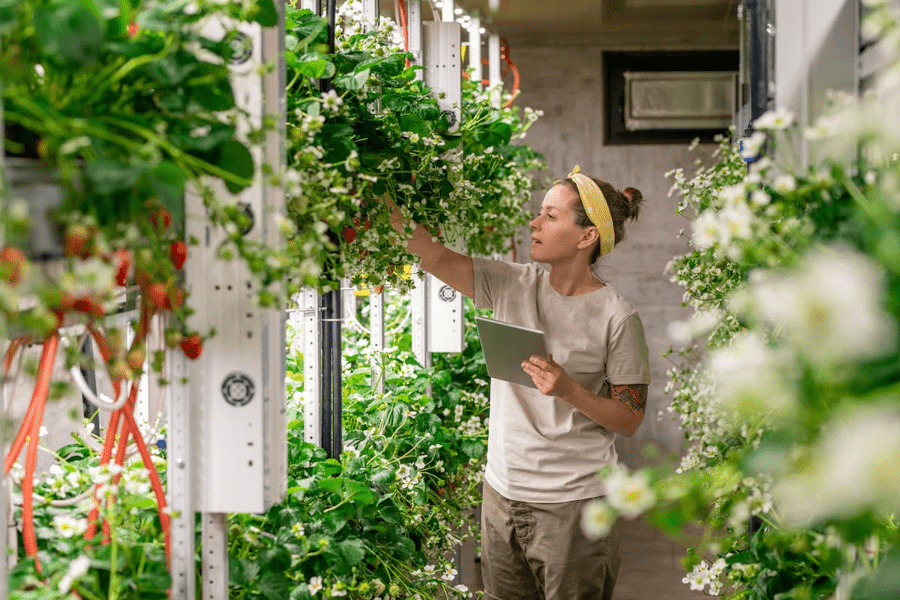 One solution that's being trialled is vertical farms. These are indoor structures that stack plants on top of each other so that lots can be grown in a relatively small space. 
Take a look at tech start-up Plenty, in California. Their 2-acre farm can produce 720 acres' worth of food! It even uses machine learning and AI to make sure the plants are getting all the light and water they need. This way, any type of fruit or veg can be grown all year round2.
2. Food packaging you can actually eat
Plastic packaging is a huge problem for our planet. It can take decades, or sometimes even centuries to decompose. And yet, shockingly, 40% of the plastic ever created is used once, and then thrown away3.
When it comes to single-use plastic, food packaging is a big culprit. Enter: Boston-based start-up Mori. 
The brains at Mori have created a plastic-like food wrap made from natural silk protein. Applied in place of a thin plastic film or packaging, it keeps your grub fresh as it's shipped to stores. Best of all, it's totally natural, so unlike plastic, it will biodegrade. You can even eat it!
Find out more about plastic pollution and what you can do to reduce plastic waste.
3. Electric planes: almost ready for take-off?
Electric cars are definitely on the rise, with more and more appearing on our roads in 2021. But what about planes? After all, aviation contributes 2.4% of the world's greenhouse gas emissions4.
The answer is that electric planes are trickier to get working – but they're not as far off in the distance as you might think. The technology has actually been around since the 1970s. But so far it's been limited to very short, experimental flights (so nothing like your average family trip to Spain)5. 
At the moment, there are around 170 different projects worldwide, all working on developing viable electric aircraft6. That figure is up by 50% since 20187 and it includes Vertical Aerospace, a British company owned by OVO founder Stephen Fitzpatrick. Just this month, Rolls Royce successfully pulled off a 15-minute maiden flight in their first 100%-electric aircraft, here in the UK. 
So, could commercial electric planes be just around the corner? Watch this space!
4. An EV battery that can fully charge in just 10 minutes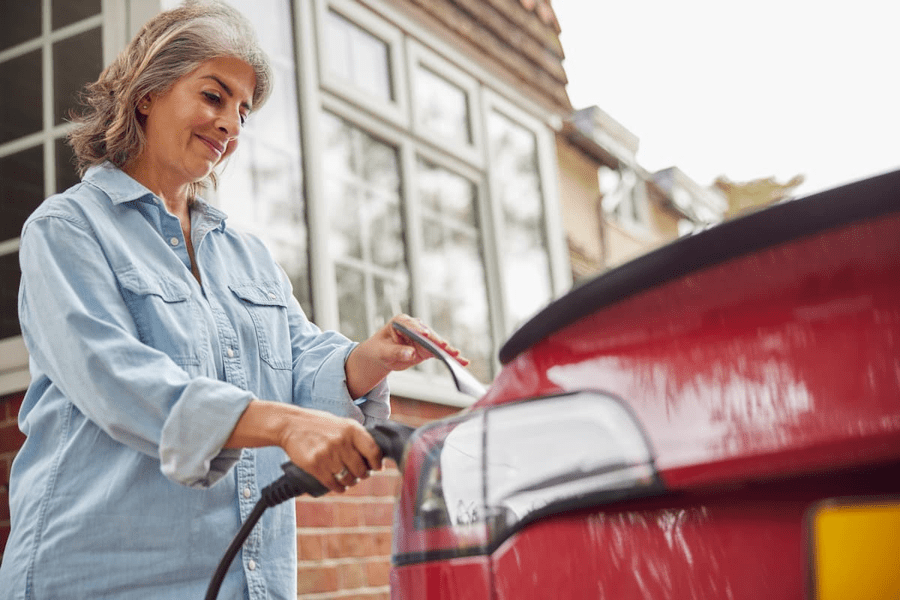 One of the biggest worries people have about buying electric cars is how long they might take to refuel. After all, it takes a matter of minutes to fill a tank with petrol. 
Even high-end EVs from Tesla and Porsche, which can be plugged into rapid chargers, can take 30 minutes at minimum to charge. Not to mention the damage that rapid charging can do to batteries in the long term. 
But battery technology is coming on in leaps and bounds. In fact, Israeli company StoreDot has invented a battery that can be charged to 100% in just 10 minutes, with no damage to the battery cells8. It's a sign of speedier charging to come!
Learn more about electric car batteries and how they work
5. Sleek and stylish bladeless wind turbines
We've all seen the beautiful wind turbines dotted around the British countryside, gently spinning away. But did you know that some clever turbines can capture the wind's energy without spinning at all?
Danish innovators at Vortex have invented a 3m tall bladeless wind turbine. Instead of spinning blades, it sways slightly in the breeze, and generates energy from the vibrations this creates. Pretty cool!
6. Solar panels that float on the surface of water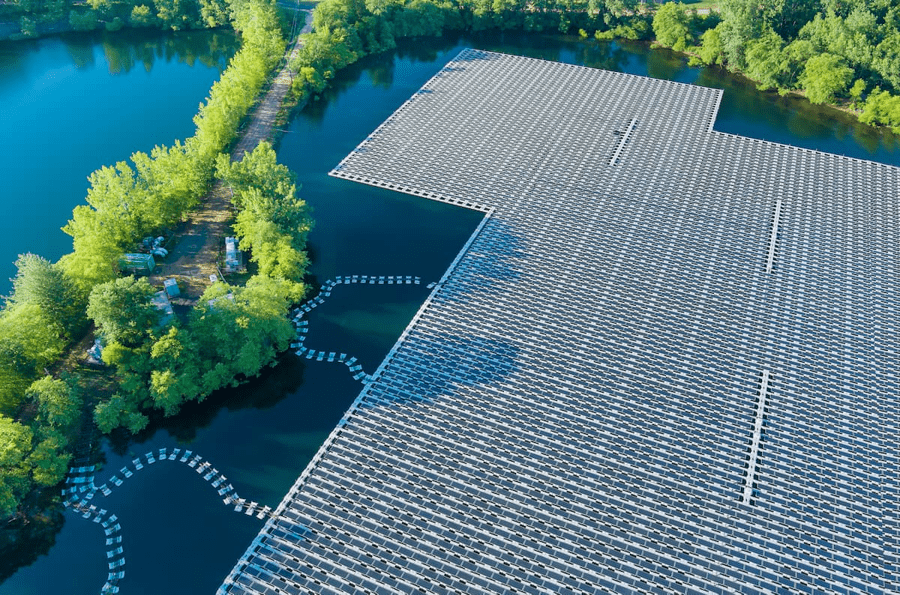 Solar energy is one of the cheapest (if not the cheapest!) and most abundant types of energy we have. There's just one problem: solar panels take up a lot of space. 
There's a lot of debate about how much land should be given up to solar farms. For example, in Kent, the UK's largest solar farm (covering 890 acres) was approved to be built last year. But some campaigners and groups like the Kent Wildlife Trust fought the decision, saying this would be damaging for the land and local wildlife.
A potential solution is floating solar panels. These panels sit on the surface of lakes or reservoirs, where they can absorb energy even more efficiently than usual thanks to the cooling effect of the water. 
Even better: the panels have been found to help protect lakes from some of the harmful effects of climate change9. Who knew electricity and water could go so well together!
7. Heat pumps that harness warmth from the air and the ground
This list wouldn't be complete without listing one of our favourite eco-tech innovations. It's one that you're bound to hear more and more about in 2022. 
As the UK gears up to reach net zero, finding new, low-carbon ways to heat our homes is going to be a big part of the process. That means replacing our old gas boilers with something that's going to keep us warm without warming the planet. 
Air source heat pumps and ground source heat pumps are the future of central heating. Through a mind-blowing feat of technology, they take warmth from the air or the ground, and turn it into warmth in your radiators. They can even cool your house down in summer, too!
Find out more about how air source heat pumps work
Join OVO on our mission to make heating greener
Here at OVO, we're on a mission to cut the carbon out of home energy. If you want to join us, then think about switching today. We power all our members' homes with 100% renewable electricity10, and we plant a tree for every member, every year11.
Plus, we're rated "Excellent" by over 30,000 of our members on Trustpilot!
Want to go even further? OVO Beyond is our even greener add-on. It comes with 100% carbon-neutral energy12, and 5 extra trees planted for you each year!
Sources and references:
1 https://www.theccc.org.uk/2020/01/23/major-shift-in-uk-land-use-needed-to-deliver-net-zero-emissions/
2 https://www.intelligentliving.co/vertical-farm-out-produces-flat-farm/
3 https://www.nationalgeographic.com/environment/slideshow/plastic-facts#10-shocking-facts-about-plastic
4 https://theicct.org/publications/co2-emissions-commercial-aviation-2018
5 https://www.bbc.com/future/article/20200211-the-electric-plane-leading-a-revolution
6 https://www.bbc.com/future/article/20200211-the-electric-plane-leading-a-revolution
7  https://www.rolandberger.com/en/Insights/Publications/Electric-propulsion-is-finally-on-the-map.html
8  https://www.forbes.com/sites/jamesmorris/2021/09/04/this-company-has-the-battery-technology-to-beat-tesla/?sh=72849f6a48f3
9  https://theconversation.com/floating-solar-farms-could-cool-down-lakes-threatened-by-climate-change-157987
10 100% of the renewable electricity we sell is backed by renewable certificates (Renewable Energy Guarantee of Origin certificates (REGOs)). See here for details on Renewable Energy Guarantee of Origin certificates and how these work. A proportion of the electricity we sell is also purchased directly from renewable generators in the UK.
11 Each year, OVO plants 1 tree for every member in partnership with the Woodland Trust. Trees absorb carbon dioxide from the atmosphere, so tree-planting helps to slow down climate change.
12 Enjoy even greener energy with OVO Beyond in comparison with our standard OVO plans. In addition to 100% renewable electricity as available with our standard plans, OVO Beyond reduces your yearly carbon emissions from the energy used in your home that is supplied by OVO to net zero by providing 100% carbon-neutral gas (15% green gas and 85% offset) and offsetting all associated lifecycle carbon emissions involved in the production and consumption of your electricity & gas, you will also get 5 trees per year in UK schools and communities and other green benefits. The renewable electricity we sell is backed by renewable certificates (Renewable Energy Guarantee of Origin certificates (REGOs)). See here for details on Renewable Energy Guarantee of Origin certificates and how these work. The green gas we sell is backed via renewable certificates (Renewable Gas Guarantees of Origin (RGGOs)). See here for details on Renewable Gas Guarantees of Origin and how these work. We offset the remaining emissions by supporting UN REDD+ carbon reduction projects that are certified to the Verified Carbon Standard or the Gold Standard. See here for more information on how we restore nature and protect rainforests with our offsetting programmes.
View more from these categories