blog
How smart home tech can add value to your home
04 August 2020 | OVO Energy
Smart tech that adds value to your home is great. But smart tech that also has a positive impact on the environment? Now that's what we're talking about! 
When we think about home improvements, we tend to lean towards the most obvious things: renovating, redecorating – and even adding an extension! But investing in smart technology to improve your energy efficiency rating could actually be one of your most profitable moves yet.
Every house that goes on the market has to have an EPC (Energy Performance Certificate). And investing in smart home tech can really help you improve that EPC rating, and the value of your house in general. Here's how it works...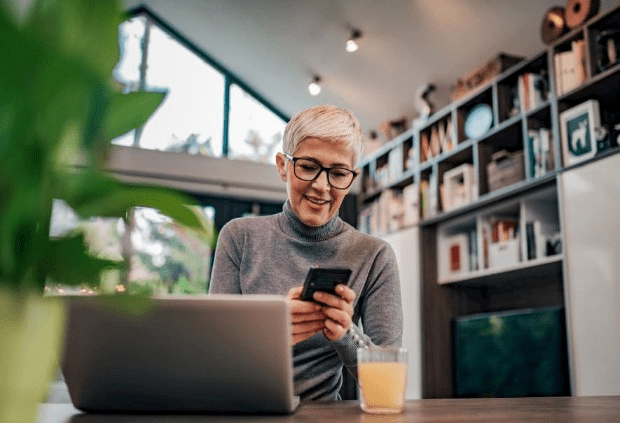 How energy efficiency improves your house price 
A good EPC can make your home super attractive to potential buyers. Because good energy efficiency means lower bills. And there's even more great news – improving your EPC isn't difficult. With smart home tech, so much is possible.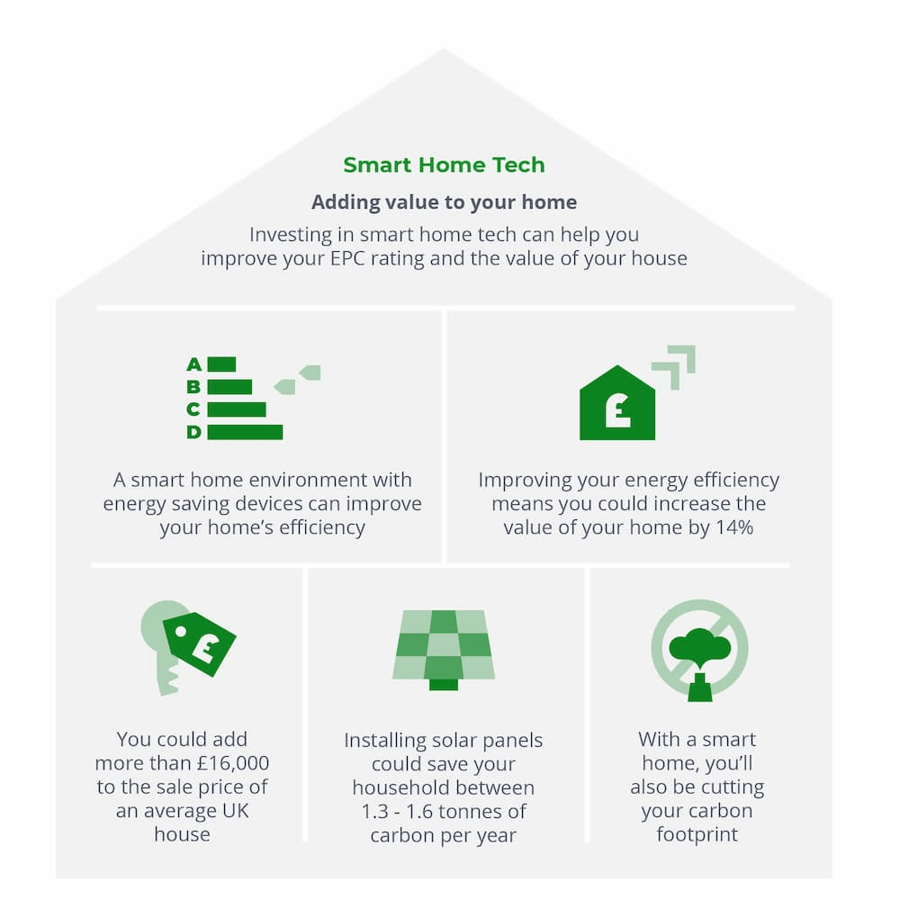 Let's take a look at the benefits of making energy-saving improvements to your home:
Increasing your property's value by an average of 14%, and up to 38% in some parts of England – according to the

Department of Energy and Climate Change

.
Adding more than £16,000 to the sale price of the average UK house, if you improve your EPC from band G to E, or from band D to B.
Adding over £25,000 of value in areas like the North East, if you go from a band G to E, according to the government's publication.
A lower carbon footprint – the more energy efficient your home is, the less energy you'll be wasting.
When buyers compare your home with similar ones in the area, the appeal of lower bills will definitely give it the edge. Check out the reasons why energy efficiency is so important.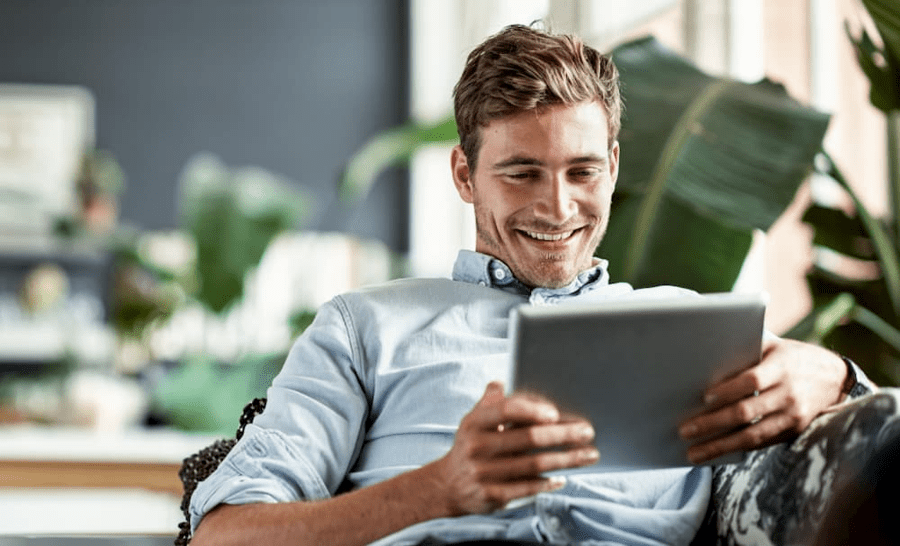 Which tech can I use to make my home more energy efficient?
Nothing beats the little things you can do on a daily basis to make your home more energy efficient and save energy. Once those boxes are ticked, your next savvy move is to focus on smart technology, and energy-saving devices. Here's a guide to some of the best smart home tech that's out there right now.
Air source heat pumps
Air source heat pumps (ASHPs) are pretty nifty. They absorb heat from the air outside, to heat your home and give you hot water. And they don't just work in warmer weather. They can still extract heat when air temperatures are as low as -15C (brrr!).
This renewable energy source ends your reliance on the grid – and also helps cut your carbon footprint.
And ASHP's should mean lower fuel bills – especially if you're replacing conventional electric heating. Which is a win for your bank balance!
One thing worth knowing: unlike gas and oil boilers, heat pumps give you heat at lower temperatures over much longer periods. So, if you're installing an ASHP to replace a gas or oil boiler, you should think about whether you can also upgrade your insulation. This'll get the most out of your ASHP, to make sure it's super efficient.
Find out more about air source heat pumps.
Thermal energy storage
Here's a fairly new technology you might not know about yet. Thermal energy storage (also known as heat storage) holds on to thermal energy by either heating or cooling a storage system. Then the energy can be used later.
Sunamp Heat Batteries are the most compact thermal storage technology out there. These batteries store the energy generated, and give you heating and hot water when you need it – without the need for a hot water cylinder or immersion heater. You'll get heat even in a power cut! 
They're really versatile too. They can replace a standard hot water tank, work with normal boilers or mains electricity, and with all sorts of renewable energy sources too – helping you find new ways to save energy and money. 
And they're superbly efficient. Curious? Find out more about Sunamp.
Solar panels
We're all familiar with solar panels, these days. And the way they work is simple: harnessing the sun's energy to generate a flow of electricity that can power your home.
Sunlight is free! So once you've paid for the installation, your electricity costs will go way down. Plus, solar electricity is a green renewable energy and doesn't release any nasty carbon dioxide or other pollutants. 
A typical home solar system captures energy from the sun, and converts it into electricity via groups of photovoltaic (PV) cells. It's an amazing system that could save around 1.3 to 1.6 tonnes of carbon per year (depending where you are within the UK). Which means great savings on bills – and on carbon too!
Read more about how solar energy works, in our solar energy guide, and find out how to store the energy captured by your panels in our guide to battery energy storage.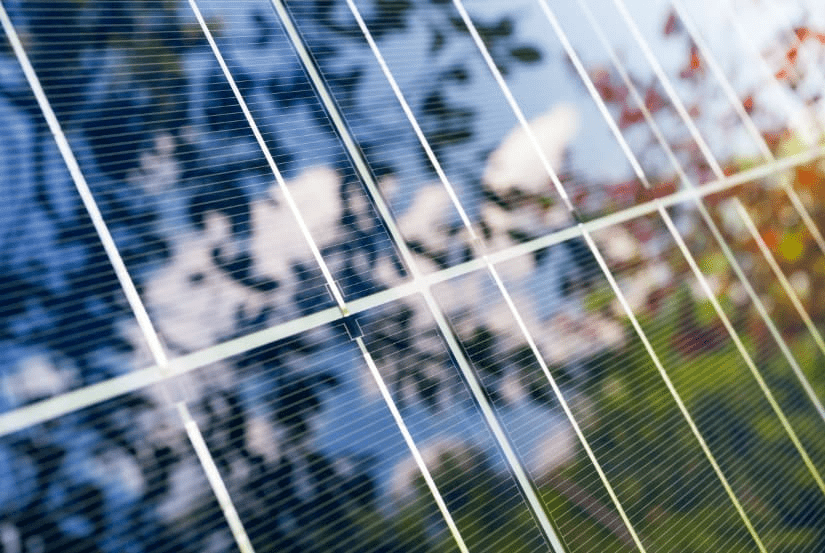 Upgrading to smart storage heaters
If you've got old storage heaters in your home, it's a good idea to upgrade to smarter ones.
Older storage heaters are known for releasing heat when it's not needed, making them rather inefficient. Modern storage heaters, however, have some clever built-in features that make them pretty nifty performers! Think things like programmable timers, fans and built-in thermostats.
Not only that, but storage heaters help fight the climate crisis. They don't charge up during the day, when there's higher demand for carbon-heavy gas-powered electricity on the grid. Instead, by charging at night when the grid is more likely to be powered by renewables, storage heaters are a lower-carbon form of heating – helping to support a greener, more flexible grid.
If you're interested in upgrading your heaters to the most energy-efficient ones around, check out our handy guide to smart storage heaters.
Why smart homes are the future 
If your place is integrated with smart features, it's going to really appeal to buyers. Smart homes are a growing trend. And they're going to make a positive difference when it comes to the climate crisis. That's why smart home tech plays a part in Plan Zero – our strategy to drive progress towards zero-carbon living.
Here at OVO, we believe in this new kind of tech so much, we've set out to prove how well it works in real homes – starting with our Zero Carbon Heating trial. 
We're looking for homeowners to take part. We'll replace your old heating system with a low-carbon one worth up to £15,000 (including plenty of smart tech). For free! Exciting, right? To find out if you're eligible, hop over to our sign-up page here.
1Annual savings based on a 90m2 3 Bed Semi-detached Home, built to 1990s Building Regulations, on a "UK Average" electricity tariff (See here: www.bre.co.uk/filelibrary/SAP/2012/RdSAP-fuel-prices-from-January-2018.xlsx). Electricity kWh usage for Dimplex Quantum and equivalent manual static storage systems are from an independent report, commissioned by Dimplex in 2014 (www.dimplex.co.uk/sites/default/files/Running_Cost_Report_2014.pdf).
View more from these categories