blog
Top 10 smart home devices to help make your home greener
16 June 2021 | Celia Topping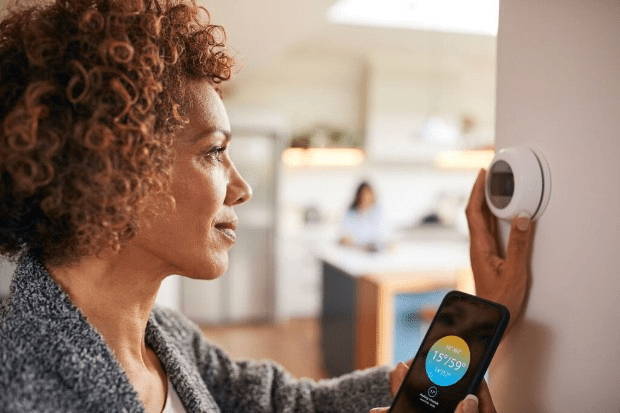 It seems the future has landed – and it's ringing your (smart) doorbell. It's time, if you haven't already, to boost the brainpower of your home! How? By setting up an interconnected network of smart home devices, to make your life easier and safer.
These days, more and more devices are capable of being connected and controlled through a central point, such as your phone. Lights, locks, music, heating, security cameras, even your lawn mower can be instructed remotely, at the touch of a smartphone button, or verbal command. 
But it's not all about convenience. Smart home devices can help you save on heating, be more energy-efficient, and even reduce your carbon footprint. 
How can you make your house smarter?
It may seem like a daunting task – as the market is overflowing with smart devices, from water heaters to window blinds . But chances are, you already have at least one smart device, like your phone, TV, watch, or speaker. So where do we go from here?
Smart homes, or smart home automation, relies on all the smart components being able to communicate with a central hub. So before you begin building your smart home, it's practical to decide which smart assistant platform you're going to frame it around. Amazon's Alexa is the leader of the pack, but there's also Google Assistant, Apple's Homekit, IFTTT, Samsung SmartThings, ZigBee and Z-Wave.  
Smart thermostats are an excellent entry point to the smart home world. You can check and adjust your home's temperature and energy use in real-time, and use the app to crank up your heating before you get home, or turn it off if you're staying out – meaning you're saving energy and money. 
In some cases, you don't even need a smart device – just a smart plug. This plugs into your normal sockets, and you can plug non-smart appliances like lamps or fans into it. Connect the smart plug to your WiFi, and hey presto, you can control your lamps and fans from wherever you are. If you connect them to your smart hub too, you could switch them on just by asking!
5 best smart home devices
Raise your home's IQ with a few of these smart home gadgets, and you may start to feel like your home's even smarter than you! 
1. Best smart lightbulb, the

Phillips Hue
Benefits: As a smart home beginner, a smart bulb is the smart choice. Easy to install and set up, the Phillips Hue bulbs can be controlled through an app, or a voice-enabled smart speaker. Functionality includes dimming the lights, changing bulb colour, and timing lights to turn on or off while you're away from home
Compatible with: Amazon Alexa, Apple HomeKit, or Google Assistant. 
Price: Around £130 for a starter kit with 4 bulbs
Read our practical guide tohelp you to choose the right bulbs for your home. 
Benefits: with HD video direct to your mobile, night-vision, 180 degree viewing angle and 2-way audio, this doorbell offers you convenience and security. It's also a super-easy to install wireless device, needing no electrical expertise.
Compatible with: Amazon Alexa. 
Price: £175.
Benefits: fed up of fumbling with your keys on the doorstep? The August WiFi Smart Lock will unlock the door for you as you arrive home. And you can send secure keys to your friends and family too. Easy to install and with various uses, this is one smart device you'll wonder how you ever lived without. 
Compatible with: Amazon Alexa, Google Assistant, and Apple HomeKit.
Price: £415 for 2. 
Benefits: all the powerful Dyson suction, with none of the manual labour. This nickel blue mini-robot learns its way around your home, cleaning as it goes. The only thing it doesn't do is climb the stairs. 
Compatible with: Dyson app via Bluetooth. 
Price: £799.99
Benefits: this fridge could become your new BFF. It'll check if you've got enough milk while you're in the supermarket, play music, show you photos, and even tell you what meals you can make from the ingredients in your fridge. 
Compatible with: Amazon Alexa. 
Price: around £2500.
Read more about energy efficient fridges and freezers in our practical guide.
What smart home devices should I get if I'm on a budget?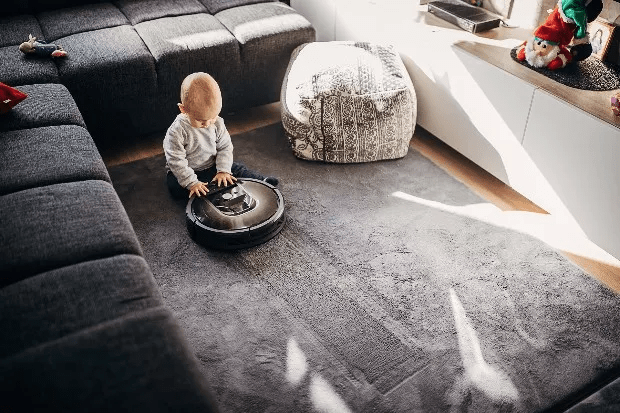 Connecting a fully smart home is not cheap. But you don't have to go the whole hog straightaway. Of course, the best smart device is a free smart device – and you could order yours today! 
In order to hit the net carbon zero target of 2050, the UK government is pushing for all homes to have a smart meter by the end of 2021. So all energy suppliers, including OVO, are installing smart meters to help their customers save energy, reduce their carbon footprint, and cut their bills. Smart meters come with a handy portable device called an In-Home Display (IHD) that gives you real-time insights into your energy use. 
Once  you have your smart meter and IHD in place, you may have saved enough money to buy one of these smart home devices. All these devices are well under £100, and are just as good as some at twice the price. 
How OVO is innovating in the smart home space
On our journey to net zero, OVO are ahead of the game when it comes to innovative smart homes. Here are a few of the products we offer:
Join OVO Energy on our journey to net zero carbon
OVO is not just an energy supplier. We're on the path to net zero, by not only cutting our carbon footprint across operations and supply, but also by encouraging our members to reduce their carbon emissions too. If you'd like to join us, we can offer you:
A 5-Star TrustPilot rating by 30,000 members
Sources and references:
1.  Pricing: if you install your tadoº yourself the price will be £120. If you opt for an engineer to install for you, there will be an additional £60 fee for the installation bringing the price to £180. You can pay upfront and if you're eligible you will have the option to pay monthly (the price will be spread across 12 months and added to your monthly bill.) See terms and conditions for more information on eligibility and pricing.
2.  Based on a survey of 196 OVO members using OVO Greenlight during May 2021
100% of the renewable electricity we sell is backed by renewable certificates (Renewable Energy Guarantee of Origin certificates (REGOs)). See here for details on Renewable Energy Guarantee of Origin certificates and how these work. A proportion of the electricity we sell is also purchased directly from renewable generators in the UK.

Each year, OVO plants 1 tree for every member in partnership with the Woodland Trust. Trees absorb carbon dioxide from the atmosphere, so tree-planting helps to slow down climate change.
View more from these categories