blog
8 fascinating facts about smart home technology
21 July 2021 | Aimee Tweedale
Not so long ago, smart homes felt like an idea from a sci-fi movie. After all, everything from The Jetsons to _Blade Runner _has shown us what the future of automated living could look like.
But these days, the future isn't so far away. Smart home technology is already here, in the form of light bulbs, speakers, thermostats, and more. 
It does a lot more than look cool, too. Smart home tech is soaring in popularity, as it offers people ways to be more secure, more energy-efficient, and save money on their bills. 
Intrigued? Read on to find out about the history and future of smart homes – and why they're here to stay. 
1. The first smart home device was invented way back in 1966
When you think of the 1960s, you might picture the Beatles, peace signs, and mini skirts. But did you know it was also the decade that gave us the world's very first smart home device?
The ECHO IV was built by an engineer named Jim Sutherland, in Pittsburgh, US. He wanted a device that could help his family around the home, with tasks like composing shopping lists and adjusting the heating. 
The ECHO – an acronym for Electronic Computing Home Operator – was nothing like the compact gadgets of today. It was made up of four large cabinets, each one 6 feet tall and 800lbs heavy. Keypads and consoles were installed around the house to control it. 
Still, it had a glowing review from Jim's wife Ruth, who mused: "At this point, I cannot say or even comprehend all the things that a computer someday will be doing for our homes, but wouldn't it be wonderful if they could provide more time for parents to spend with their children, therefore, making every home a happier one1?"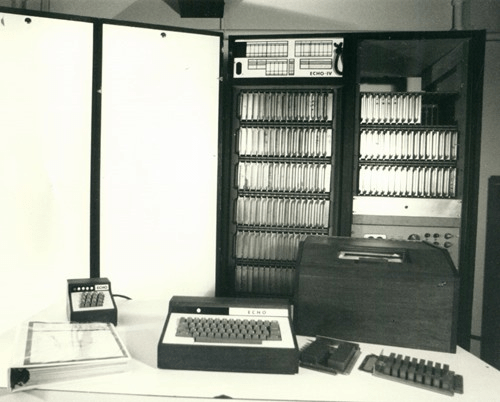 The ECHO IV / Photo credit: https://www.computerhistory.org/collections/catalog/102630687
2. Home automation is soaring during the pandemic
Ruth Sutherland would be amazed by the array of smart tech on offer today. And her prediction that people everywhere would someday be embracing the help of home automation is coming true. 
In 2021, the smart home market is booming. Europeans have invested 25% more in smart home gadgets than they did during this period last year2.
And over in the US, one survey found that more than half of consumers have bought a smart home device during the Covid-19 pandemic3. It seems like spending more time indoors has naturally led more of us to think about how we can make the most of our homes.
3. Smart plugs can be a shortcut to making every appliance smarter
Interested in smart tech, but not got the budget to invest in lots of new gadgets?
Your new best friend could be a smart plug. Giving you the opportunity to control your power outlets from your phone, smart plugs can turn anything that's plugged into them into a "smart" device. 
Do you ever get worried about leaving your hair straighteners or radio on when you leave the house? If they were plugged into a smart plug, you'd be able to flick them off from your smartphone. Problem solved!
Read more about the top 10 smart home devices we'd recommend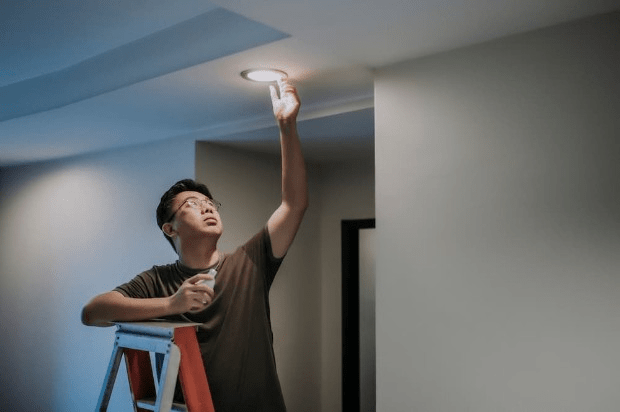 4. A smart house doesn't have to use more electricity
One common myth about smart home gadgets is that they'll drive up your electricity bills. It makes sense that this can be a worry for many. After all, a lot of smart tech needs to be constantly switched on, or on standby, to function. 
But the truth is that smart tech can actually be greener and more energy-efficient than older devices.
Take smart light bulbs, for example. LED bulbs save more energy than traditional incandescent bulbs, which waste 90% of theirs as heat4! Plus, the ability to easily control your lighting remotely can help you use it more efficiently. 
Lots of smart tech innovations, like smart meters, are actually designed to help you use less energy overall, saving you money and cutting carbon. In fact...
5. Getting a smart thermostat could save you almost a third on your heating bills
You read that right. According to an independent study, getting a tadoº smart thermostat could help slash your heating bills by as much as 31%5. We're big fans of saving energy with a tadoº. That's why we've teamed up with the brand to give OVO members a deal:  you can get one of these smart thermostats for the exclusive price of £1206 (that's £79.99 off7!). 
These clever thermostats  help you control your heating and save energy in all sorts of ways. You can schedule your heating to match the weather forecast, and make sure you're only warming the house when and where you need to. 
And smart thermostats like the tadoº aren't just a great idea for your wallet. They're also one of the best ways to make your home more climate-friendly. Using less energy means a smaller carbon footprint – and that's a win for everyone. 
Find out more about smart thermostats and how to use them
6. Smart technology could protect you from annoying boiler breakdowns
According to the co-founder and Chief Product Officer at tadoº, Christian Deilmann, smart thermostats are just the tip of the iceberg when it comes to the future of home heating. 
Boiler breakdowns that last for days could soon be a thing of the past, thanks to remote diagnostics via your central heating system. In the near future, your boiler (or another low-carbon heating system) will be able to send data about its condition to your energy supplier – or to your boiler repairs service. 
This would mean that issues could be spotted long before they lead to a full breakdown. Plus, your boiler engineer could assess the situation without needing to visit your home, so they'll only need to make one trip. Result!
7. Accessible smart tech could transform homes for disabled people
A huge potential benefit of smart home systems is the impact they could have on the lives of disabled people. For anyone with limited mobility, having smart tech that lets you control your home appliances with your voice or phone could be really useful. 
For more on how smart home technology could make life easier, check out this guide from disability charity Scope. And to get free support setting up your home tech, speak to AbilityNet.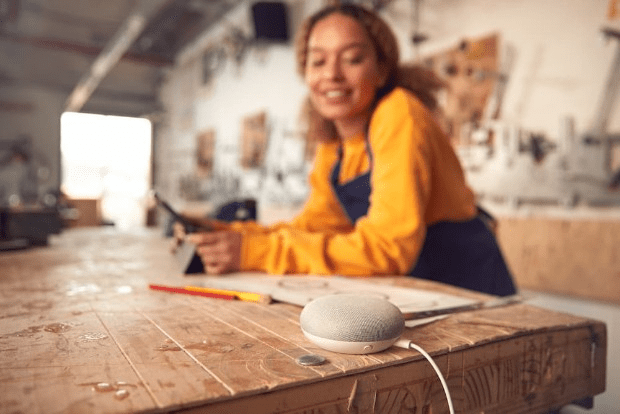 8. By 2050, almost half of UK households will use V2G charging
Ever heard of V2G?
V2G (or Vehicle-to-Grid) technology is all about making our energy system greener. It works by taking extra, unused electricity from electric cars when they're plugged in, and sending it back to the National Grid. It's similar to regular smart EV charging, but with a twist: you could earn hundreds of pounds, simply by plugging in your car, and letting the tech do the rest!
According to a report from the National Grid in 2020, in 30 years' time, up to 45% of UK households will use V2G. That'll create a greener electricity grid for us all, in a key step towards reaching net zero. 
Get your free smart meter with OVO
Not yet joined the smart tech revolution? We've got good news for you!
We'll install a smart meter at OVO members' homes for free, if you're eligible. With a smart meter, you can always keep track of your energy use, bringing down those bills as well as your carbon footprint. 
Smart meters aren't just more convenient for you as an individual. The more smart meters feed data into our energy grid, the smarter the grid can get – which means cleaner, greener energy for all. 
That's not the only way you'll be contributing to a greener future. With OVO, you can rest easy knowing that you're getting 100% renewable electricity8. Plus: we'll plant 1 tree in your name every year9, and give you access to OVO Greenlight, our nifty energy-saving tool. 
Get a quote in under 2 minutes, and find out how much you could save.
Sources and references:
1 https://computerhistory.org/blog/the-echo-iv-home-computer-50-years-later/
2 https://advanced-television.com/2021/07/06/analysis-strong-growth-for-european-smart-home-market/
3 https://techcrunch.com/sponsor/xiaomi/new-xiaomi-survey-explores-how-covid-19-is-driving-the-new-smart-home-and-what-it-means-for-2021-and-beyond/?guccounter=1
4 https://www.mrsec.psu.edu/content/light-bulb-efficiency#:~:text=Only%2010%25%20of%20the%20energy,90%25%20is%20lost%20as%20heat.
5 An independent study has shown that installing and correctly using a tadoº smart thermostat can reduce your energy use from heating by up to 31%. The study found that the tadoº device can reduce heating energy requirements by 14-26% through controlling the heat source (e.g. boiler or heat pump). You could also save another 7% by turning down the heating based on the weather forecast, depending on the window sizes. If the window surfaces are relatively large, the energy saving will increase.
6 Pricing: if you install your tadoº yourself the price will be £120. If you opt for an engineer to install for you, there will be an additional £60 fee for the installation bringing the price to £180. You can pay upfront and if you're eligible you will have the option to pay monthly (the price will be spread across 12 months and added to your monthly bill.) See terms and conditions for more information on eligibility and pricing.
7 Saving based on manufacturer's recommended retail price of £199.99.
8 100% of the renewable electricity we sell is backed by renewable certificates (Renewable Energy Guarantee of Origin certificates (REGOs)). See here for details on Renewable Energy Guarantee of Origin certificates and how these work. A proportion of the electricity we sell is also purchased directly from renewable generators in the UK.
9 Each year, OVO plants 1 tree for every member in partnership with the Woodland Trust. Trees absorb carbon dioxide from the atmosphere, so tree-planting helps to slow down climate change.
View more from these categories