guide
Smart speakers: what they are and which ones to buy in 2021
18 October 2021 | Aimee Tweedale
When we think of a futuristic, fully automated smart home, we often imagine being able to talk to our devices. Perhaps you want to command the lights to come on in your living room, or ask your virtual assistant to make appointments for you as you walk around the house. To achieve this kind of voice activation, you'll need a smart speaker. 
Smart speakers have become more and more popular in recent years, with a huge number entering the market. They can help you control your smart lighting, thermostats, and even fridge-freezers – to make your dream energy-efficient smart home.
Here's our complete guide to how these clever audio gadgets work, and which ones are the best to buy in 2021. Plus: find out how smart home technology could add value to your home!
What is a smart speaker?
A smart speaker, like any other smart device, is a speaker that's internet-enabled. It can connect to other devices in your home, access information online, and respond to your commands using AI. 
Lots of smart speakers make use of a "virtual assistant", which can speak back to you. For example, Amazon devices use Alexa and Apple uses Siri. 
What can smart speakers do?
All sorts! You can use your smart speaker to control other smart gadgets around your home. Like asking Alexa to turn on the lights for you, or to turn down the thermostat. 
You can even ask your digital assistant to look up the answer to a question that's been bothering you, set a timer, or add something to your calendar. 
And of course: you can also use it just like a regular speaker, blasting out the tunes that you love.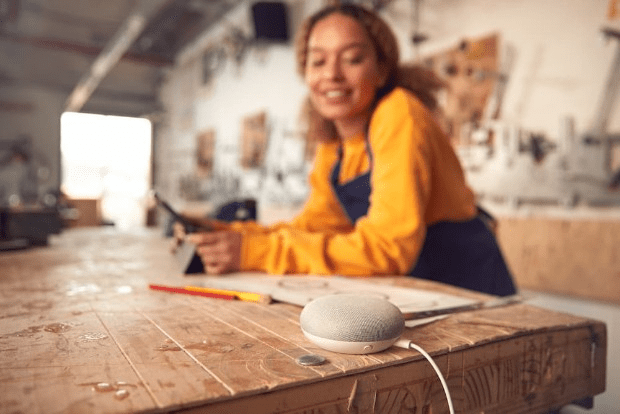 How do smart speakers work?
Smart speakers take a little bit more set-up than a regular speaker – but thankfully, it's nothing too tricky! 
All you usually have to do is download an app to your phone or tablet, and make sure the speaker is connected to it. (For example, if you're setting up a Google smart speaker, you'll need the Google Home app.) You can also add more smart devices to the app, such as smart plugs or bulbs, so that the speaker can communicate with them. 
Once you're ready to use your smart speaker, you'll need to speak to the virtual assistant. The assistant can be "woken up" when it hears you say a command word, like "Hey Siri" for Apple devices. You can then command your speaker to complete tasks for you. 
How do voice assistants work?
Once it hears the command word or phrase, the speaker will listen to what you say. Using voice recognition software, it processes what you're asking it to do. Then it uses the internet or its connection to other devices in the house to make your wish come true. 
Over time, the voice recognition technology even learns how you talk, and gets used to your accent and inflections so that it can respond better. Pretty smart!
Some brands have their own bespoke virtual assistant. For example, if you buy an Amazon speaker, you'll be getting to know Alexa. But other speaker brands, like Bose and JBL, have their own smart speakers that can work with various assistants and networks. 
Confused about all this talk of choosing a smart network? Find out more about how to set up a smart home from scratch. 
What smart speakers are available? 7 of the best smart speakers in 2021
Ready to plug in and hit play? In no particular order, here are some of the top-rated smart speakers available in October 2021.
Amazon Echo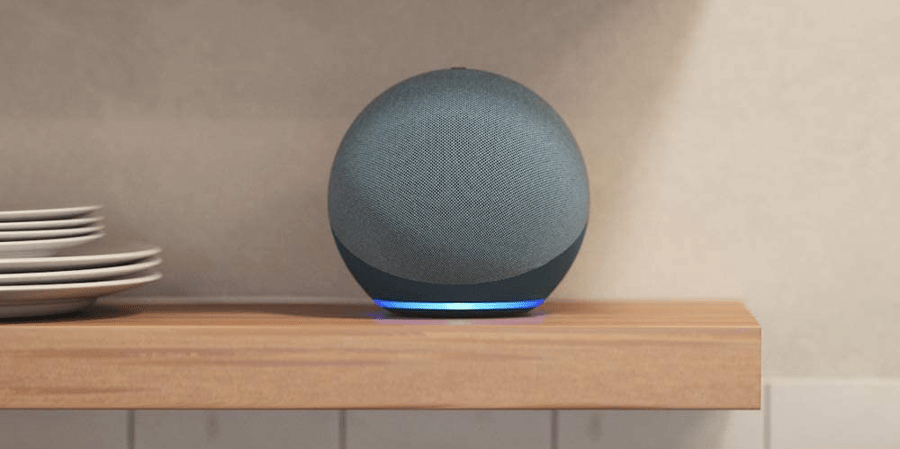 Photo credit: Amazon
Alexa is one of the most well-known virtual assistants on the market, and the Amazon Echo (£89.99) is the trustiest Alexa speaker. Not only does it make it simple to set timers and control smart devices around your home, but it'll also fill your room with rich, full sound thanks to its spherical shape. 
Pros: 
Tonnes of smart features
Powerful sound, including great bass notes
Cons: 
The latest 4th gen version of the Echo is bigger than its predecessor, so if you're looking for something more svelte, it might not be for you
Apple HomePod Mini
When Apple says "mini", they're not kidding. This petite smart speaker comes in at just 8.4cm tall (and £99). But don't let its looks fool you: it can go loud enough to fill a room.
Plus, reviewers rave about its music discovery abilities. Just ask Siri to play you something you'll like, and based on your previous music choices, it'll share brand new tracks especially curated for you!
Pros: 
It's tiny yet mighty – this speaker fits an almighty sound into its small frame!
Great music discovery feature
Cons: 
Unlike many other smart speakers, Apple's offering doesn't work well with non-Apple smart devices – if you choose this speaker, you'll need to commit to Apple for

your smart home
Amazon Echo Dot
A smaller version of the flagship Amazon Echo, this little speaker is the best option for most people who want to try their first smart speaker. It's all the power of Alexa in a lower-cost, gateway option, at just £49.99. 
Pros: 
An affordable entry point to smart speakers
Tonnes of smart features for the price
Cons: 
The sound isn't as powerful or rich as other speakers can provide
Sonos One
This is generally considered the smart speaker for music-lovers. As Sonos are known for creating multi-room sound systems, the Sonos One (£199) will fit right into your collection. It's also compatible with Apple products, if you want to make it "talk" to your Apple HomePod, and use it to control other smart devices.  
If you'd prefer a speaker you can carry from room to room, check out the Sonos Roam or Sonos Move.
Pros:
Impressive design
Even more impressive sound
Cons: 
At £199, this speaker will set you back a bit more cash than others on this list
Bose Home Speaker 500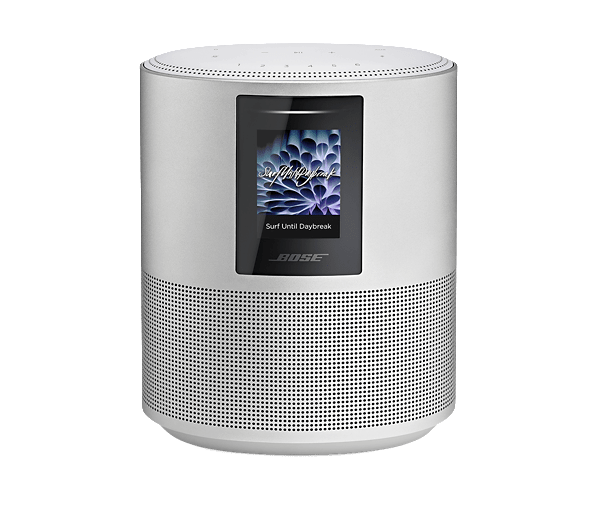 Photo credit: Bose
This Alexa speaker comes with the audiophile sound that Bose is known for. Plus, as well as all its smart features, it comes with an auxiliary port cord (so you can connect it to your phone or another device, the old-fashioned way), Bluetooth, and a small display screen.
Pros: 
One for the music-lovers, this speaker's sound will knock your socks off
Cons: 
It's on the pricier end of the spectrum, at £329.95
JBL Link Portable
Looking for all the smart features you could need, at a lower price? JBL has this decent budget option at £129.99. Plus, as the name suggests, it can be thrown in your bag and taken anywhere!
Pros: 
Portable and durable 
Very reasonable price tag
Cons: 
The audio quality isn't as good as you'll get with more expensive models
Google Nest Hub Max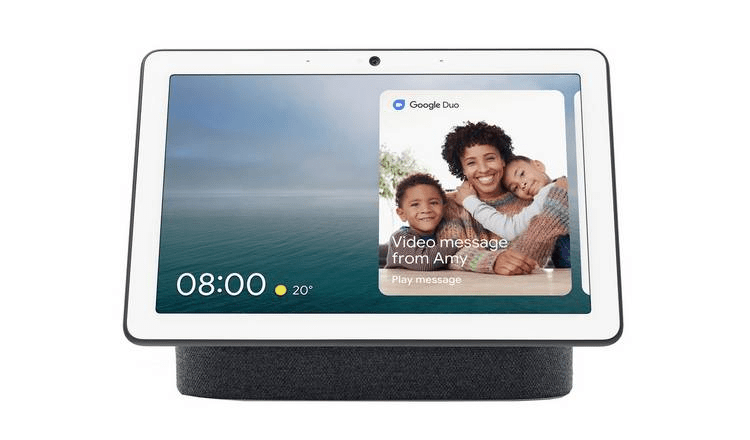 Photo credit: Google
Last but not least: the Google Nest Hub Max (£219) is actually much more than a speaker. 
With a large smart screen, the virtual assistant here can communicate in images as well as words. And with the Nest connection, you'll be able to control your smart thermostats, too!
Pros: 
Lots of smart features
Camera for facial recognition and video calling
Great for streaming video content as well as audio
Con: 
The integration with Nest, while handy, is a little bit clunky
What's the best smart speaker for music?
When it comes to smart speakers, Amazon, Google, and Apple are known for their technological innovation in terms of features. But if it's sound quality you're looking for, it's a good idea to stick with a brand that's been making audio equipment for a long time. 
With that in mind, the Sonos One is roundly considered an excellent smart speaker for those who want all the tech capabilities without sacrificing sound. The Bose Home Speaker 500 is also a top pick for audiophiles. 
What's the best smart speaker for someone on a budget?
It's Amazon's bestseller for a reason: the Amazon Echo Dot is hugely popular among those who want to try out smart technology on a budget. 
The most recent version, the 4th Gen, is available now for £49.99, while you can nab yourself a 3rd Gen Dot for as little as £39.99.
Complete your smart home with a smart meter
Want to know more about your energy use and cut down on your bills?
Smart meters can save you money and help cut your carbon footprint in the process. If you're an OVO member and you're eligible, you can get one installed for free.
Even better: with a smart thermostat, you can have ultimate control over your heating, and save as much as 31% on your energy bills1. 
Find out how to get a tadoº smart thermostat for less with OVO. 
Sources and references:
1 An independent study has shown that installing and correctly using a tadoº smart thermostat can reduce your energy use from heating by up to 31%. The study found that the tadoº device can reduce heating energy requirements by 14-26% through controlling the heat source (e.g. boiler or heat pump). You could also save another 7% by turning down the heating based on the weather forecast, depending on the window sizes. If the window surfaces are relatively large, the energy saving will increase.
View more from these categories