guide
Boiler installation: how long does it take to fit a boiler?
29 January 2021 | Stephen Marcus
Getting a new boiler fitted can involve some tricky decisions. There are lots of things to consider: the type of boiler, the cost of installation, and how long it will take. The idea of finding a reliable gas boiler installer – and knowing the right questions to ask them – can seem daunting. But fear not: with the right information, you'll soon be ready to tackle your boiler installation!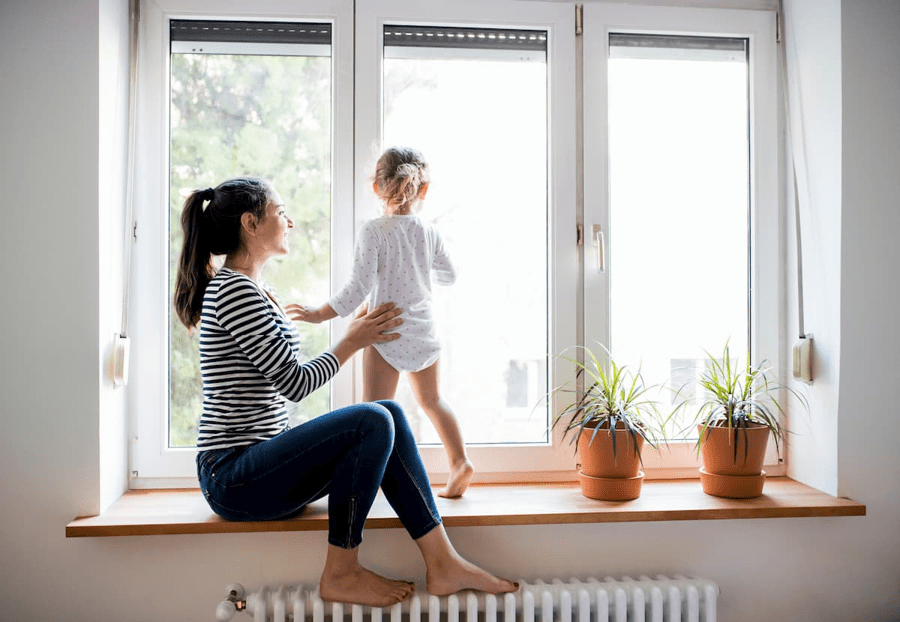 Read on to find out all you need to know about the boiler installation process. Here's where you'll learn all the tips and tricks to help you get set up with a brand new boiler for your home.
What you need to know to get the best boiler installation
There are a few key things to bear in mind when getting a new boiler fitted. Here are some questions to ask yourself, ahead of speaking to your boiler installer. These are also great talking points to discuss with your engineer beforehand.
By the way, we'd also recommend making sure that your engineer is on the Gas-Safe register. This means they're on the list of engineers legally allowed to work on gas equipment. To find out more about Gas-Safe, check out our guide to gas safety certificates, and getting a gas safety check.
1. Do multiple people use the hot water at once? 
For example, does your home have more than one bath or shower? Or do you need the hot tap in the kitchen at the same time as the shower or bath?
2. Do you have a pumped power shower, or have plans for one in the future?
If you have a power shower, or plan to get one, then you shouldn't opt for a combi boiler. While they're great for saving space and well-suited to smaller households, they're not usually compatible with showers that have an electric pump. 
For more information on boiler types, check out our complete guide to different types of boilers, and how to choose which is right for you, and our explainer on combi boiler prices and savings.
3. Do your hot water needs change through the year?
Do you often have lots of extra guests staying during the holidays? Or do some members of your household spend part of the year somewhere else? If so, this is worth highlighting to your installer.
4. What home improvements are you planning?
It's worth telling your installer about any improvements you're planning. Whether that's solar panels, underfloor heating, or a new loft conversion, this could affect their suggestion for what's best-suited.
5. Are you having any problems with your system?
If there have been any issues with your boiler or heating and hot water system, it's really important to let your installer know. This should help them make sure those issues don't return with your new boiler.
What to expect during a boiler installation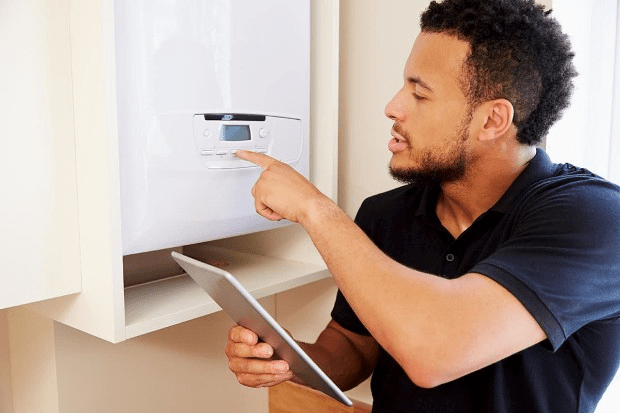 Your installer should bring all the things they need with them to do the job – including tools and dust sheets, to cover carpets and surfaces. 
Here are a few things to expect during installation.
Before the installation
Before they get started, your engineer will want to run through a few basics. They'll ask about:
Water pressure
The number of bathrooms
How many radiators you have
Where your current boiler is positioned
On the day 
When it comes to the day you're having your new boiler fitted, the approach very much depends on whether you're having a like-for-like swap, or a new type of system installed:
If it's a like-for-like swap – this should be a straightforward job, and should take around a day. Simple!
If you're changing systems – this will be more complicated, as extra pipework will be needed. And If you're switching from a combi to a system boiler, you'll also need to install a cold water tank, and a hot water cylinder.
Before they get started, the engineer should explain everything, so you know what to prepare for – for instance,  moving furniture, or making space for new water tanks. And don't forget, once the job is done, they should demo the controls for your new boiler, and talk you through how it all works.
What to ask the heating engineer, to get the best boiler installation
On top of your hot water needs, your engineer should discuss a few other key things with you. And if they don't, we'd recommend that you bring them up. There's no harm in asking!
Here are a few questions to help them understand the needs of your heating system, and whether your home's layout might affect the installation. 
Your installer might also make a couple of other suggestions to help to keep your boiler system healthy, and extend its lifespan. These questions should help you work out what's needed, and what's merely an unnecessary add-on. 
How will condensate be disposed of?
Condensate is the water produced by the boiler, and it's important to check how it will be disposed of. Ideally, it should be through pipes inside the house. But if this isn't possible, make sure any external pipes will be protected from freezing temperatures.
How will the system be cleaned? 
Over time, heating systems start to get dirty. They build up deposits of sludge, which clog up the radiators and pipes, and stop them working properly. Charming, we know! Here are some signs that your pipes are in need of a good scrub!
Your radiators have cold patches 
There are noises from your pipes or radiators 
It takes a long time for the radiators to warm up 
When they install your boiler, your installer should clean out your heating system before starting up the new one. This service should include:
Flushing out and cleaning your heating system
Adding a chemical inhibitor to prevent the build-up of sludge
Do I need system filters / scale reducers?
A scale reducer – as you probably guessed! – is for reducing the limescale in your system. If you live in an area with hard water,  you're especially likely to get a build-up of limescale. It's now standard for a filter to be fitted as part of an installation, and the cost (between £75 and £1201) will be included in the job. 
You're within your rights to ask for the filter – and the cost – not to be included, but it might invalidate your boiler's warranty. Plus, in many cases, it's worth paying for the add-on, to stop your system getting clogged up later.
How will the plume be managed?
The "plume" is a term for the waste gases released from the boiler. These go through the boiler flue – the pipe which releases the gases from the boiler to the air outside your house. 
It's important to consider where the plume is released, because it includes carbon and other gases which can be harmful. Neighbours are likely to complain if the plume is released too close to their property. If it looks like being an issue, it's possible to take the plume away using an extra pipe, called a plume management kit. 
Do your radiators need replacing?
Sometimes, radiators may stop working properly due to issues such as corrosion. If you've had problems with yours, ask your installer to see if they think it's worth getting new ones.
Which energy-saving measures will you choose?
For every new boiler installed, by law you must include at least one of these 4 energy-saving measures:
Flue gas heat recovery – this is a system that captures heat in the gases leaving the boiler, using them to heat the cold water going in. This lowers the amount of energy needed to power the boiler.
Load-compensating thermostats – this is a new type of thermostat that monitors your home's internal temperature more precisely than a normal thermostat. This makes the boiler even better at warming your home to the temperature you'd like.
Weather-compensating thermostats – this is similar to a load-compensating thermostat, but it monitors the temperature outside the house. This means your boiler can account for changes in the weather, to be even more efficient.
Smart heating controls – using a

smart thermostat

, you can adjust the temperature of your home remotely. This gives you more control, and can help you cut down on heating when you don't need it.
Looking for more ways to bring down your heating bills? Check out our helpful guides:
How long does it take to fit a boiler?
This depends on what you're having done. Here are some things to consider:
If it's a like-for-like swap – i.e if you're adding the same type of boiler, in the same location – for instance,

replacing your combi boiler

with another combi. This should take a day or less.
If you're changing boiler type – i.e if you're changing from one boiler type to another – such as from a combi to a conventional boiler. This should take 1 - 2 days – as you'll likely need extra pipework and new water tanks.
If you're changing the boiler location – this should take 1 - 2 days,  as it's more complicated than a straight swap. New pipework will need to be installed, and there might be other complications, depending on the layout of your home, and the new location.
What documentation do you need to ask for?
After they're done, you should ask your engineer for:
A Building Regulations certificate – this proves that the engineer has notified the local authority that they've installed a new gas appliance. Find out more on the

Gas-Safe

website.
Benchmark checklist – this proves they've installed the boiler properly. You need this so your warranty is valid, in case anything goes wrong. Find out more on the

Heating Industry and Hot Water Council

site.
What happens after the installation?
Once your shiny new boiler is in place, your engineer should run some safety and performance checks. They should log the results in the back of the instruction manual. 
This is part of the benchmark checklist we mentioned above – which is important for validating your warranty. It's also worth making sure they've registered the installation with your manufacturer, as this activates the warranty.
If you have any safety worries about how your boiler was fitted, make sure to follow up right away. It's the engineer's responsibility to fix any installation issues – and there should be no extra cost to you.
For more help with problem boilers, check out our guide to common boiler problems and how to fix them.
How much will a boiler installation cost?
Just like with the time it takes to install a boiler, the cost of fitting a boiler depends on the type of installation. Generally, the more complicated it is, the more it'll cost! Here are the options:
Replacing like-for-like (e.g. a combi for a combi) – this usually takes around a day to install, and can cost upwards of £1,6952.
If you're opting for the same

type of boiler

, but you want to move its position, this can add more time – around a half a day – and also raise the cost. Moving the boiler, in addition to any other charges, can cost between £300 and £8003.
Switching boiler types means extra work fitting new pipes – and if you're switching from a combi to system boiler, you'll need new water tanks, too. If you're switching from a system boiler to a combi, this can cost between £2,500 and £4,5004.
For more information, check out our guide on boiler costs and ways to pay.
How to choose the right boiler
There are 3 basic types of boiler: a combination (or combi) boiler, a system boiler and a conventional boiler. What's best suited to your home depends on a few things – such as the size of your home, how many people live in it, and how many bathrooms and radiators you have.
To help you work out what's best, we've put together a guide to the different types of boiler.
4 ways to improve the efficiency of your boiler
Whether you're upgrading to a new model, or just want to improve the efficiency of your current boiler, there are lots of ways to boost the energy-efficiency of your heating system. 
These 4 tips are easy fixes for anyone who wants to cut their energy bills, and their carbon footprint, too.
1. Take control with a smart thermostat
A smart thermostat allows you to adjust your heating remotely from your phone. Having more control means you can manage your energy use more efficiently, and cut down on heating when you don't need it – making your home smarter and greener. Read all about the benefits of smart thermostats and how they work, in our handy guide.
2. Top up the pressure
Tweaking your boiler pressure is an easy fix that can make a big difference. Low pressure will make your boiler less efficient, while high pressure will stop it working properly. Ideally, you want it to be between 1 and 1.5 bars on the boiler's pressure gauge.
For more help doing this, use our easy-to-follow guide on how to repressurise your boiler.
3. Bleed your radiators
If your radiators are taking a while to warm up, it might be time to bleed them. Simply put, this is about releasing air that gets trapped in your heating system. It will help you warm up the house more quickly, and also cut your energy bills.
Read our guide on how to bleed your radiator in 7 easy and quick steps.
4. Fit thermostatic valves to your radiators
Replace your radiators' manual valves with thermostatic radiator valves (TRVs) and you'll more easily control the individual temperature of each of them. If one room gets warm more quickly, for example, you'll be able to turn down just that radiator, to help you save on heating where it's not needed so much.
For more advice on getting the best out of your boiler, check out our guide to boiler efficiency.
Find a trusted engineer
Book an appointment with one of our heating advisers today, to find the boiler that's right for you. Here are a few reasons why you can trust OVO to fit your brand new boiler:
We work with some of the most trusted brands, including Worcester, Bosch, Vaillant and Glow-worm
Our expert engineers are Gas-Safe-registered, so you know your installation will meet current industry guidelines
Every boiler we fit comes with a minimum 5-year warranty (going up to 12 years on some models), and includes a 24-hour helpline in case of problems.
In your first year we'll also cover repairs to any issues with your controls and central heating that result from the installation 
We've got a range of payment options, including affordable monthly payments and 2 years' interest free credit (take a look at the How to Pay section below).
You'll pay a fixed price that's agreed before we start the job. It includes all parts and labour, so there are no nasty surprises or unexpected costs.
There are 2 different ways to get a quote from us:
Sources and references:
1  https://www.theheatinghub.co.uk/boiler-magnetic-filter-costs-brands-comparison 
2  https://heatable.co.uk/boiler-advice/how-much-do-new-boilers-cost
3   https://www.boilerguide.co.uk/articles/moving-a-boiler-cost
4   https://heatable.co.uk/boiler-advice/how-much-do-new-boilers-cost
View more from these categories