guide
Boiler installation: everything you need to know
25 September 2023 | Stephen Marcus
Getting a new boiler fitted can come with some tricky decisions. There are lots of things to consider: the type of boiler, the cost of installation, and how long it will take. Finding a reliable gas boiler installer – and knowing the right questions to ask them – can seem difficult too. But with the right information, you'll be ready in no time.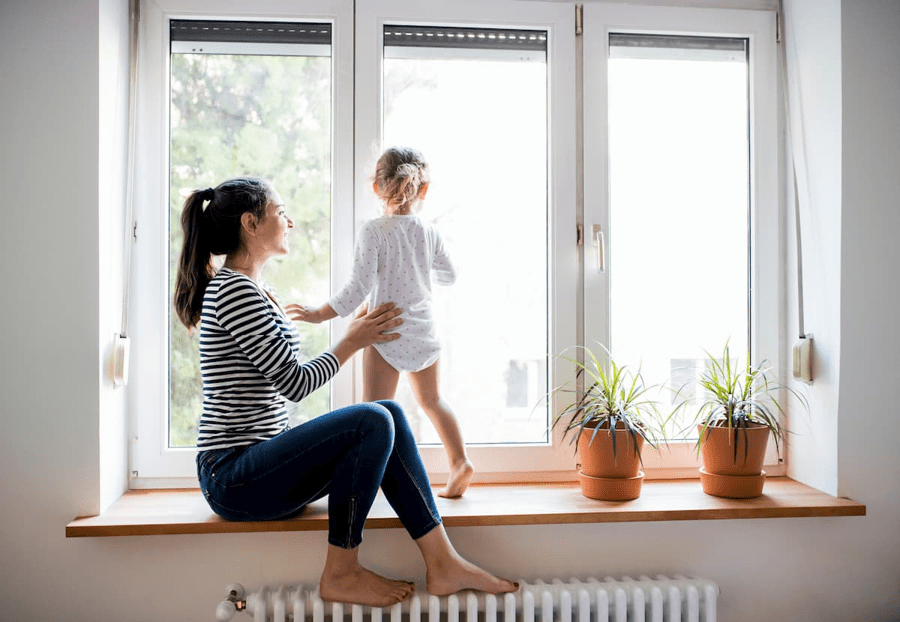 What you need to know to get the best boiler installation
Here are some questions to ask yourself before you speak to your installer. They're also great talking points to raise with your engineer beforehand.
But first, we'd recommend making sure that your engineer is on the Gas-Safe register. This means they're on the list of engineers legally allowed to work on gas equipment.
1. Does more than 1 person use the hot water at once?
For example, does your home have more than one bath or shower? Or do you need the hot tap in the kitchen at the same time as the shower or bath?
2. Do you have a pumped power shower, or have plans for one in the future?
If you have a power shower, or plan to get one, then you shouldn't opt for a combi boiler. While they're great for saving space and for smaller homes, they don't usually work with showers that have an electric pump.
For more information on boiler types, check out our guide to different types of boilers.
3. Does the way you use hot water change throughout the year?
Do you often have guests staying? Or do you spend part of the year somewhere else? If so, it's worth highlighting to your installer.
4. What home improvements are you planning?
It's also a good idea to let your installer know about any improvements you have in mind. Whether it's solar panels, underfloor heating, or a new loft conversion – it could change which boiler is right for your home.
5. Are you having any problems with your system?
If you've had any issues with your boiler, heating, or hot water system, it's important you tell your installer. They can help make sure those problems don't come back in future.
What to expect during a boiler installation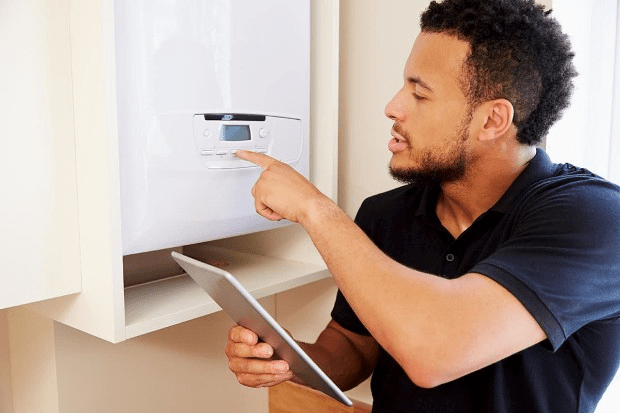 Before the installation
Before they get started, your engineer will want to run through a few basics. They'll ask about:
Water pressure
The number of bathrooms
How many radiators you have
Where your current boiler is
On the day 
Your installer should bring everything they need with them, like tools and dust sheets. How they do the installation depends on whether it's a like-for-like swap or a new system.
If it's a like-for-like swap, it should be a fairly straightforward job and take around a day. If you're changing systems, it might be more complicated – you might need extra pipework. And if you're switching from a combi to a system boiler, you'll need additional pipework and a hot water cylinder installed.
Your engineer should explain everything before they get started, so you know what to prepare for. You might need to move furniture or make space for new water tanks. And once the job is done, they should show you how to use your new boiler, and explain how it all works.
What to ask your heating engineer
You'll talk about how your household uses hot water, but there are other key things your engineer should discuss with you too. And if they don't, we recommend you bring them up. Here are a few questions to ask.
How will condensate be disposed of?
Condensate is the water produced by the boiler, and it's important to check how it will be disposed of. Ideally, it should be through pipes inside the house. But if this isn't possible, make sure any external pipes will be protected from freezing temperatures.
How will the system be cleaned? 
Over time, heating systems start to get dirty. They build up deposits of sludge, which can clog up the radiators and pipes and stop them from working properly. Here are some signs that your pipes are in need of a good clean.
Your radiators have cold patches 
There are noises from your pipes or radiators 
It takes a long time for the radiators to warm up 
Your installer should flush out and clean your heating system before starting up the new one. They should also add a chemical inhibitor to prevent the build-up of sludge.
Do I need system filters or scale reducers?
A scale reducer prevents limescale in your system. If you live in an area with hard water, you're more likely to get a build-up of limescale. It's now standard for a filter to be fitted as part of an installation, and the cost (between £75 and £1201) will be included in the job.
You're within your rights to ask for the filter – and the cost – not to be included, but it might invalidate your boiler's warranty. In most cases, it's worth getting one to stop your system from clogging up later on.
How will the plume be managed?
The "plume" is a term for the waste gases that come from the boiler. These go through the boiler flue – the pipe that releases the gases from the boiler to the air outside your home.
It's important to consider where the plume will be released because it includes carbon and other gases which can be harmful. For example, your neighbours might complain if the plume is released close to their home. If you think something like this might be an issue, it's possible to take the plume away using an extra pipe, called a plume management kit.
Do your radiators need replacing?
Sometimes, radiators can stop working properly. If you've had problems with yours, ask your installer if they think it's worth getting new ones.
Which energy-saving measures will you choose?
For every new boiler installed, by law, you need to include at least 1 of these 4 energy-saving measures:
Flue gas heat recovery – a system that captures heat in the gases leaving the boiler, and uses them to heat the cold water going in. This lowers the amount of energy needed to power the boiler.
Load-compensating thermostats – a new type of thermostat that monitors the temperature in your home more exactly. This makes the boiler even better at warming your home to the right temperature.
Weather-compensating thermostats – similar to a load-compensating thermostat, but it monitors the temperature outside the house. This means your boiler can account for changes in the weather, to be even more efficient.
Smart heating controls – using a

smart thermostat

, you can adjust the temperature of your home remotely. This gives you more control and can help you cut down on energy.
For more tips on lowering your heating bills, read our guide on how much energy you use to heat your home.
How long does it take to fit a boiler?
This really depends on what you're having done. Here are some rough timelines to consider:
If you're getting the same type of boiler, in the same place, it should take a day or less.
If you're changing to a different type of boiler, it should take 1–2 days. It's likely you'll need extra pipework and new water tanks.
If you're changing the boiler's location, it should take 1–2 days. This is more complicated than a straight swap. You'll need new pipework, and there might be other complications, depending on the layout of your home and where the boiler will be moving to.
What documents do you need?
After they've finished, you should ask your engineer for:
A Building Regulations certificate. This proves that your engineer has told the local authority that they've installed a new gas appliance. Find out more on the

Gas Safe

website.
Benchmark checklist. This proves they've installed the boiler properly. You need this to validate your warranty, just in case anything goes wrong. Find out more from the

Heating Industry and Hot Water Council

.
What happens after the installation?
Once your new boiler is in, your engineer should run some safety and performance checks. And they should log the results in the back of the instruction manual.
This is part of the benchmark checklist we mentioned above – which is important for validating your warranty. It's also worth making sure they've registered the installation with your manufacturer, as this starts the warranty.
If you have any safety worries about how your boiler was fitted, make sure you follow up right away. It's the engineer's responsibility to fix any installation issues, and there shouldn't be any extra cost to you.
Once your boiler is up and running, you could think about getting cover – just in case anything goes wrong. We have 3 plans to choose from, and all of them come with a yearly service, a 24/7 emergency helpline, and access to our Gas Safe engineers. All you have to do is pick the plan that works for you².
How much will a boiler installation cost?
Again, the cost of fitting a boiler depends on the type of installation. Generally, the more complicated it is, the more it'll cost. This should give you a rough idea:
A like-for-like replacement can start at £1,6953.
If you're going for the same

type of boiler

, but you want to move its position, it can cost an extra £300–£8004.
Switching boiler types usually means a lot of extra work, like fitting new pipes or water tanks. This can cost between £2,500 and £4,5005.
How to choose the right boiler
Combis and system boilers are the most popular type of appliance when considering the installation of a new central heating unit. Choosing the right one for your home usually depends on its size, how many people live in it, and how many bathrooms and radiators you have.
To help you work out what's best, we've put together a guide to the different types of boiler.
4 ways to improve the efficiency of your boiler
You might be upgrading to a new boiler, or just want to improve the one you've got. Either way, there are lots of ways to boost the energy efficiency of your heating system. 
These 4 tips are easy fixes for anyone who wants to cut their energy bills, and their carbon footprint, too.
1. Take control with a smart thermostat
A smart thermostat lets you adjust your heating from your phone. Having more control means you can manage your energy use, and spot ways to save. So your home can be greener and cheaper to run. Read all about the benefits of smart thermostats and how they work in our handy guide.
2. Top up the pressure
Tweaking your boiler pressure is an easy fix that can make a big difference. Low pressure will make your boiler less efficient, while high pressure might stop it from working properly. Ideally, you want to be somewhere in the middle – between 1 and 1.5 bar on the boiler's pressure gauge.
For more help, use our easy-to-follow guide on how to repressurise your boiler.
3. Bleed your radiators
If your radiators are taking a while to warm up, it might be time to bleed them. This means releasing air that gets trapped in your heating system. It'll help you warm up your home more quickly, and could cut your energy bills.
Read our guide on how to bleed your radiator.
4. Fit thermostatic valves to your radiators
Replace your radiators' manual valves with thermostatic radiator valves (TRVs). So you can control the individual temperature of each one, and save on heating where you don't need it.
For more advice on getting the best out of your boiler, check out our guide to boiler efficiency.
Find a trusted engineer
Book an appointment with one of our heating advisers today, and find the boiler that's right for you. Here are a few reasons why you can count on us to fit your new boiler:
We work with some of the most trusted brands, including Worcester, Bosch, Vaillant, and Glow-worm.
Our expert engineers are Gas Safe registered, so you know your installation will meet safety guidelines.
Every boiler we fit comes with a minimum 5-year warranty (with up to 12 years on some models) and includes a 24-hour helpline.
In the first year, we'll repair any problems with your controls and central heating caused by the installation.  
There are a range of payment options available6.
Get your quote for a boiler replacement from the experts.
Get boiler, plumbing, heating, or electrics repair with Home Recover
At OVO, we want to be there for you in an emergency – whether you've got cover or not.
If something goes wrong with your boiler, plumbing, or electrics, we've got you. With Home Recover, we'll fix it for free for OVO customers (or £79 if you get your energy elsewhere) when you take out our Complete cover plan⁷.
Our experienced, independent network of engineers is already trusted by over 200,000 UK homes8. And with our 24/7 emergency helpline, we'll help you get up and running again as soon as possible.
Sources and references:
1  https://www.theheatinghub.co.uk/boiler-magnetic-filter-costs-brands-comparison 
2  Exclusions, eligibility criteria, cancellation fees, and terms and conditions apply.
3 https://heatable.co.uk/boiler-advice/how-much-do-new-boilers-cost
4   https://www.boilerguide.co.uk/articles/moving-a-boiler-cost
5   https://heatable.co.uk/boiler-advice/how-much-do-new-boilers-cost
6 OVO (S) Gas Limited, trading as OVO Energy, is authorised and regulated by the Financial Conduct Authority under firm reference number 957641 as a credit broker not a lender. OVO Energy will only introduce borrowers to HSBC Finance Limited. OVO (S) Gas Limited is registered in England and Wales (Company No. 02716495) at 1 Rivergate, Temple Quay, Bristol, BS1 6ED. OVO (S) Gas Limited is part of OVO Group Ltd.
7 Exclusions, eligibility criteria, cancellation fees, and terms and conditions apply.
8 OVO Energy and CORGI HomePlan are part of the OVO family, and as a group serviced 215,927 boilers in 2022.
View more from these categories