guide
Government electric car grants and incentives
10 January 2022 | Stephen Marcus
If you're thinking of buying an electric vehicle, or you're already a proud owner, we have good news: you could get some help from the government with the costs of the vehicle and charging points. 
The Office for Low Emission Vehicles, aka OLEV, is supporting EV and plug-in hybrid drivers with schemes and grants – making it cheaper to get on the road with an ultra-low or zero-emission car.
It's worth knowing what types of grants are available, so you can take full advantage. Along with developments like vehicle to grid technology, EVs are now even more enticing – and that's on top of their already stellar green credentials. And, of course, the government's recent announcement banning the sale of new petrol and diesel cars from 2030 will no doubt also boost the popularity of electric vehicles.
Here, we'll look at the schemes making EVs more affordable, as well as how to claim, and what all those confusing acronyms actually stand for! 
Thinking of buying an electric car? Read our article on "Things to consider when buying an electric car" by OVO's resident EV expert, owner and enthusiast, Chris Britton. 
Plug-in grant
The first grant on offer is the plug-in grant, which is a discount on the cost of buying a new low-emission vehicle. The grant covers low or zero-carbon vehicles such as cars, motorbikes, and vans. Here are the key things you need to know:
You don't need to do anything to get the discount, as the grant is given directly to vehicle dealerships and manufacturers.
Not all low-emission vehicles are eligible. It's only for those which meet the criteria for that particular type of vehicle, and which are approved by the government.
How much is the plug-in grant worth?
How much you can save depends on the type of vehicle you're buying. You can save:
Electric cars with a Recommended Retail Price (RRP) of £32,000 or under – £1500 off the purchase price
Electric vans of 2.5 tonnes gross vehicle weight (GVW) or less – £2,500 off the purchase price
Electric vans of 2-3.5 tonnes GVW –£5000 off the purchase price
Electric vans over 3.5 tonnes GVW – £20,000 off the purchase price
Electric motorbikes and mopeds with an RRP of £10,000 or under –£500 and £150 off the purchase price respectively
Are there extra incentives for buying EVs in Scotland? 
If you're in Scotland, you could be eligible for extra support. The Scottish government offers interest-free loans to help pay for the cost of buying an electric vehicle, in addition to the plug-in grant available across the UK. If you're based in Scotland, here's what you could receive with the Low Carbon Transport Loan (LCTL):
For a new pure electric / plug-in hybrid vehicle – a loan of up to £35,000 
For a new electric motorcycle or scooter – a loan of up to £10,000
For more information on the LCTL (also known as the Electric Vehicle loan), head to the Greener Scotland website.
How to claim the plug-in grant 
You don't need to do anything to claim the grant. It's given directly to car dealerships and manufacturers, and the discount is passed on to you.
Does the plug-in car grant make electric cars as cheap as a petrol or diesel models?
It depends on which electric car you're buying. It's certainly true that most electric cars are a lot more pricey than their petrol or diesel counterparts. The grant makes a big difference in bringing the price of eligible cars to a similar level.
Find out everything you need to know about how electric cars compare, in our handy electric cars vs hybrid vs petrol guide.
Electric car grant changes 
When the plug-in grant as first introduced, the maximum grant for cars was £4,500, but that's since been reduced to £3,000, then £2500 and now £1500. This is due to the ongoing surge in EV purchases. We'd recommend not waiting around if you're thinking of making buying an EV! You can see the full details on the government website.
How long is the electric car grant scheduled to last?
The government hasn't yet confirmed when the grant is due to end. The original idea was for the scheme to continue through 2020. Unless funding is increased, it will likely depend on how many new cars are sold – and how much money is left to fund the discounts.
Other common EV grant questions
Can I get an electric car grant for used cars or pre-registered cars?
Unfortunately, it's not possible to get an electric car grant for used cars. The grant is only for new cars, mopeds, motorbikes, vans and taxis.
Can I be paid the electric car grant in cash?
The grant is only available when buying a new car, and it's given directly to car dealers and manufacturers.
Has the electric car grant boosted sales of plug-in cars?
In short: it looks like it! According to the Society of Motor Manufacturers and Traders, 3,645 cars eligible for the plug-in grant were sold this past year. While this still only makes up a very small number of the new cars sold, it's a 47% rise compared to the same period last year. It's likely that the grant has made a big difference in alerting more people to the benefits of electric cars.
The electric vehicle homecharge scheme (EVHS)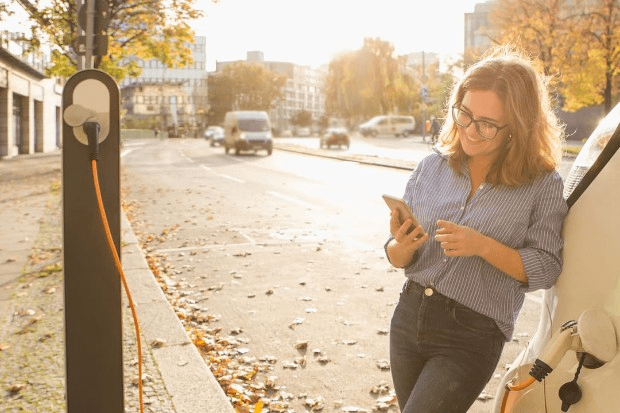 Charging your EV at home at home is convenient, but the kit isn't cheap! Luckily, the electric vehicle homecharge scheme (EVHS) is a grant helping drivers out with the upfront costs. Some key things to know: 
It's for electric and plug-in hybrid cars – old and new
You can claim one charge point per eligible vehicle – for up to two per household
It's also known as the OLEV grant
Do all electric car drivers qualify for a home charger grant? 
You'll need to have bought your eligible electric or plug-in hybrid car on or after the 1st October 2016, or leased one for at least six months before applying. Here are more details:
You need to have off-street parking
The chargepoint and installer must be OLEV-approved
The installation date can't be more than 4 months ahead of the chargepoint delivery, or the date you become the registered driver 
You can find loads more info through

OLEV
Which cars are eligible, and who can't claim an electric car home charger grant?
All battery-powered EVs are eligible. But plug-in hybrid vehicles only qualify if CO2 emissions are below 50g/km. 
Check out the up-to-date list of cars that qualify for the plug-in grant.
We'd like to warn our readers that this grant will be discontinued in April 2022
How do I find an eligible electric car charge point and installer? 
You can find an up-to-date list through OLEV. 
We've put together a complete guide on the process for installing an EV charger. We show you how it works, and how much it could cost to get an electric car charging station installed at home.
Can I get help to charge my electric car at home if I don't have my own off-street parking?
Maybe, depending on where you live! There are some areas where charging points are being installed inside lamp posts – in Coventry, Buckinghamshire and parts of London. If you haven't seen this rolled out near you, then it's worth getting in touch with your local authority to see if there are any plans for new charger points underway.
Is the EV home charge grant available upfront, or do I have to pay for installation and claim the money back?
The grant is available upfront. You'll need to hire an authorised electric car charge point installer, who will claim the 75% cost (capped at £500) on your behalf. All you have to do then is pay the rest.
Is there a limit to the number of EV chargers I can claim for?
It's possible to get the grant for a maximum of two eligible electric cars at a single home. 
How do I find further information about funding to install home car chargers?
Your local authorised charge point installer should be able to help with any questions. Or alternatively, you can try the OLEV site, or contact them directly ([email protected]).
Also, check out our guide on EV Smart charging, and find out why you should get a smart charger for your car.
And learn more about the various connector and plug options for charging your EV, with our how-to guide.
Workplace Charging Scheme (WCS) grant
More and more people are commuting the low-carbon way, using EVs. And the Workplace Charging Scheme (WCS) makes it easier for businesses to support staff and visitors who do. Here's what you need to know:
It's a voucher-based grant to help with the up-front costs of buying and fitting charge points
Workplaces make the application, rather than employees (but you can suggest it!)
They can apply for grants for up to 40 charge-point sockets 
The scheme covers up to 75% of the cost of buying and fitting the charging points, capped at £350 for each socket
Who can apply for the Workplace Charging Scheme?
Any business, charity, or public authority with off-street parking for employees can apply. Companies have to use an OLEV-approved installer to fit the charge points. You can find one on the government's official Workplace Charging Scheme site.
What sort of sort of electric car charger should I install at work?
The best way to find out is to ask an approved installer, or check out the information from the Energy Saving Trust.
There are a few things to bear in mind here:
It's important to pick a charger – or charging point, as they're also called – that will suit most people who visit your workplace.
Most likely, this will mean installing a wall-mounted Type 2 7kW charger. (Very catchy, we know!)
This type of charger is compatible with most of the best-selling vehicles, so will probably be your best bet. And in terms of cost, a wall-mounted unit (rather than a post) is usually cheaper to install.
If you plan to have the charger in a public area, it's important to think about how you manage access. This will usually mean using a key or RFID card so that only your employees can access it. 
Standard 3-pin sockets aren't eligible for funding, and the EV charge points can only be fitted by accredited OLEV installers. These must provide a minimum of 3 kW, with the supply not diminished by charging multiple vehicles simultaneously.
How do I find an eligible electric car charger and installer?
The best place to find information on approved electric chargers, and authorised EV charger installers, is through OLEV.
What's the process once I apply for a Workplace Charging Scheme (WCS) grant?
It's nice and simple. After you apply online, you'll get a voucher, which is then valid for 4 months. You can show this grant to your approved installer, who'll then complete the work on your electric car charger and claim back the cost of the grant.
How do I find further information about funding to install car chargers at work?
Ask your authorised charger supplier or installer. But if not, you can find information through OLEV.
Does my business or staff member have to have a plug-in vehicle to qualify for the WCS grant?
You'll be pleased to know: the answer is no. In fact, you can use it as a way to encourage your staff to start using electric cars. You'll need to declare a need for EV charging infrastructure, or the intention to encourage uptake in your workplace.
On-street Residential Chargepoint Scheme (ORCS)
Home charging usually happens, well, at home. It's more economical than using street charge points, but it's not always possible – especially in cities, where finding an urban charging point can be  a challenge. (If you're not clear on how exactly home charging works, check out our helpful explainer.)
Not everyone has a driveway or garage. This is where the On-street Residential Chargepoint Scheme (ORCS) comes in! OLEV came up with the scheme to improve local charging infrastructure and make it easier for EV drivers who can't get a charging point on their property. Here's the lowdown: 
This scheme is applied for by local authorities, not individual people.
Funding is first-come, first-served. But areas that haven't had help from the scheme before are prioritised.
The Energy Saving Trust runs this scheme, supported by OLEV. You can get all the details on

the OLEV site

.
Who can apply for the On-street Residential Chargepoint Scheme?
To qualify, local authorities apply for charge points in residential areas that don't have much off-street parking. They also have to get the support of their Highways Authority. 
How much funding is available?
OLEV can provide up to £6,500 for each charge point installation. You can apply for funding for multiple charge points in one application, but this shouldn't be more than £100k. They're reviewed case-by-case.
How is it claimed?
Local authorities can get the lowdown on how to apply on the OLEV site, and find application forms through the Energy Saving Trust.  
Want to crunch some numbers? Find out even more about prices and potential savings when buying and running an EV, in our handy rundown of electric car costs.
View more from these categories