guide
What is a Tariff Information Label (TIL) and how to use it?
29 September 2023 | Stephen Marcus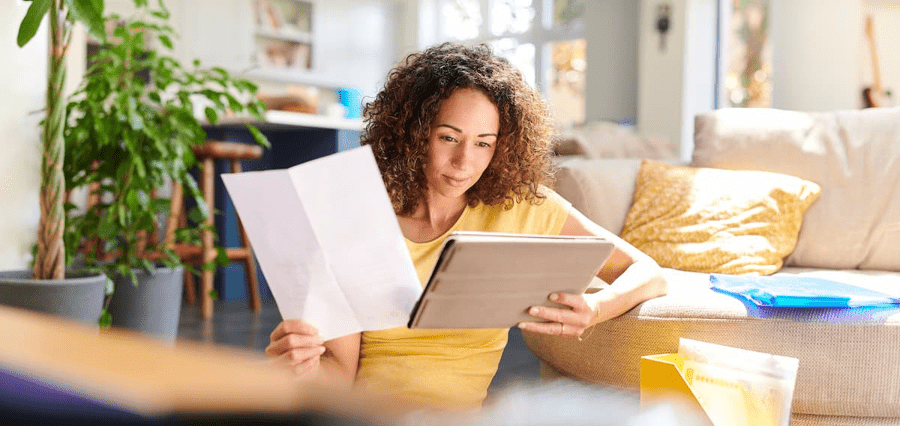 Unsure what a Tariff Information Label (TIL) is, or what it's for? Here, we'll explain what you can expect to find in a TIL, why they were introduced, and how they can help you see if you should switch energy supplier.
To find out more about OVO's energy plans, and to see how we could help you cut your bills, check out our easy comparison tool. And if you want to learn the basics on shopping for energy, our guide to different energy tariffs will show you the way.
What is a Tariff Information Label (TIL)?
A Tariff Information Label (TIL) is a breakdown of the tariff you pay for your energy. You'll usually find it in these places:
Annual statements
Monthly bills
Your energy supplier's website
The idea is to make it as simple as possible to see your energy tariff, and to understand how much you're paying.
Why were Tariff Information Labels (TILs) introduced? 
TILs were introduced so that you can easily see what you're paying for your energy. Brought in by the UK's energy regulator Ofgem, the idea is to make it as easy as possible to compare your current energy tariff to those offered by other suppliers – and see if you could get a better deal by switching.
What information is in a TIL? Key features of a TIL
A TIL will have all the basic information about your tariff. It can vary, depending on your supplier, but it'll usually include:
Your supplier's name
The name of your tariff
Type of tariff – e.g. whether it's fixed or standard variable.
Unit rate – this will show the price you pay for your gas and/or electricity, measured in

kWH

. If you have a time-based tariff, such as

Economy 7

or

Economy 10

, it will show the different rates for on- and off-peak.
Standing charge – a fixed monthly charge for maintenance and other costs. This stays the same, no matter how much energy you use.
End date of your tariff – if you chose a deal with an end date, it'll be shown here.
End date for price guarantee – if you have a guaranteed (or fixed) price, its end date will be shown here.
Exit fees – if there are extra charges for leaving your tariff early, they'll be shown here.
Estimated annual usage – as you've probably guessed, this is an estimate of how much you'll use over the year, and how much it'll cost.
Want to know more about how different tariffs work? Check out our guides to fixed energy tariffs,  variable energy tariffs and the benefits of dual fuel tariffs. And if you want to see how you could get a better deal on your energy, get a quote in 2 minutes to find out how much you could save with OVO.
TIL breakdown: what does a Tariff Information Label look like?
Below you can see what a typical TIL looks like: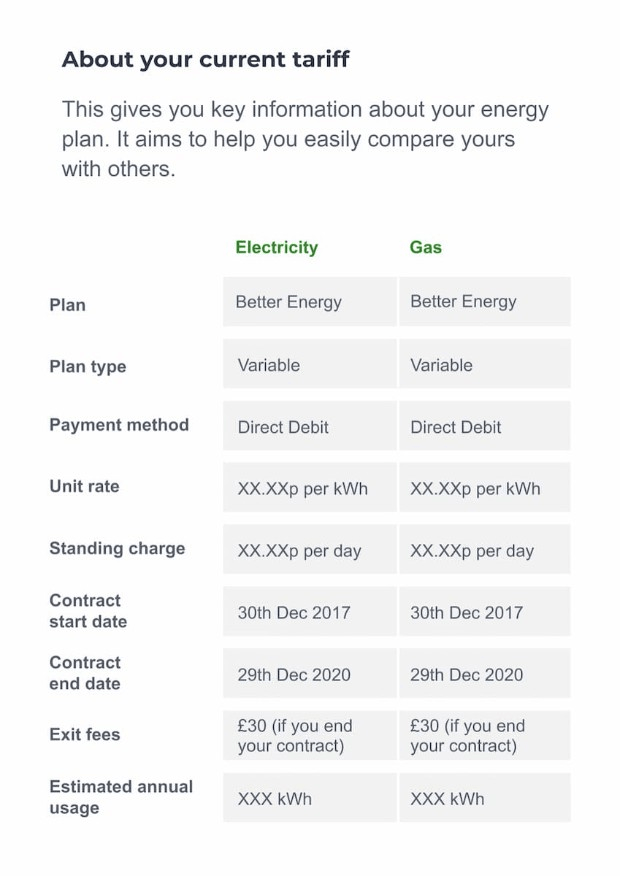 How to use your Tariff Information Label (TIL), and how they can be useful
As we've said, a TIL can be really handy for comparing your tariff to what's on offer elsewhere. When looking at your TIL, here are some things to remember:
1. Compare the unit rate
This is the basic price you pay for your energy, and is an important number to look at when comparing tariffs. If one is lower than the other, then you should think about switching. But remember, there are other costs to keep in mind, too – we'll go into those below.
You can also use the unit rate to predict how much you'll spend over a year. Using the typical energy use for UK households measured in Ofgem's typical domestic consumption values (TDCVs), you can get an idea of how much you could save between 2 different tariffs. You can work it out like this:
If the unit rate for gas is 0.07, multiply this by the typical gas consumption of 11,500 kWh – it would cost £805
If the unit rate for electricity is 0.29, multiply this by the typical electricity consumption of 2,700 kWh – it would cost £783
2. Watch out for hidden costs
A great thing about TILs is that everything is laid out, and clear to see. This means you can easily compare any extra charges, to see if they'd make one tariff more expensive than another. You should look out for:
Exit fees – these often won't be advertised when you're looking at different suppliers, so it's worth checking that this isn't higher than you'd like. This is especially important if you're planning to move home, or there's another reason you might need to leave the contract early.
Standing charge – while a tariff might have an appealingly cheap unit rate, the standing charge could be less competitive. And if you only spend part of the year at your home, then remember that this charge will be made no matter how much or how little energy you use.
3. Don't rely on estimated annual costs
A TIL will sometimes include an estimate of how much your tariff will cost you over the year – but remember, this is only an estimate, and is based on the average energy use. 
If you have lots of energy-hungry appliances, or your home is poorly insulated – to take just 2 examples – then the cost could be a lot higher. So bear in mind that your own energy use could be different to the average.
For more tips on spending less on gas and electricity, check out our guide to reducing your energy bills.
What's not included in a Tariff Information Label (TIL)?
A TIL is great for helping you see the basic facts about your energy bill, but there are some things that it doesn't include. You'll often get extra benefits from being with a particular supplier, which can help with things like lightening your carbon footprint.
You can also get extra rewards – if you're good at keeping on top of your bills, you might be able to get money back. It's worth taking a look to see what benefits you could get, as it could cut the cost of your bills overall. For example, at OVO we offer 3-5% interest for every year your account is in credit.
View more from these categories