blog
Create a foraged feast, throw a festival, and try wild swimming: How to make a staycation your best holiday yet
24 July 2020 | Rebecca Goodman, Writer in Residence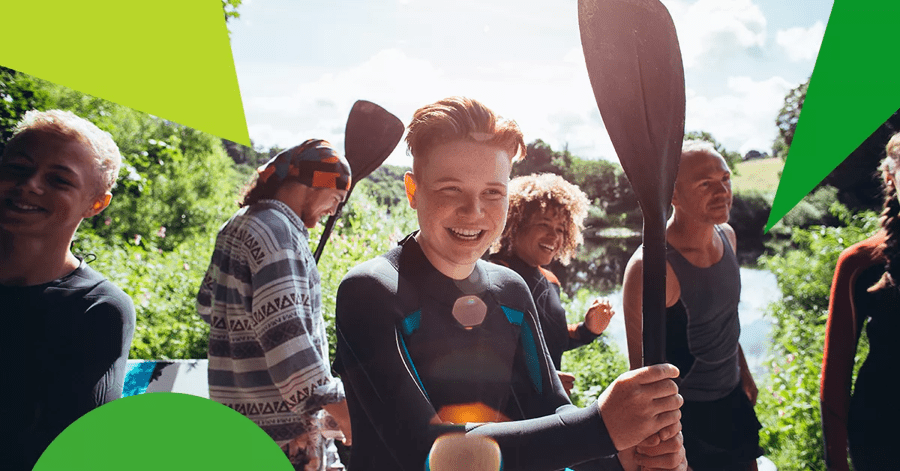 This year we're more likely to go on holiday in our back garden than the Algarve and it could be just the opportunity we've all been waiting for.
As a child we went to the Lake District every year for our summer holidays, and now with a one-year old I've reinstated this tradition.
Rain or shine, it's the perfect escape with all the fresh air you can muster, breathtaking views, and the peace and tranquility I spend a lot of my London life searching for.
But wherever you are in the country, there's adventure on your doorstep and staying home to go on holiday - or the great staycation as it's known - can provide just the break you're after. 
More of us than ever will be at home this year. In fact, 18 per cent of us said we prefer a staycation to jetting abroad while 25 per cent are opting for one until a vaccine for the coronavirus is found, according to a new study.  
It's also a great way to cut your carbon footprint and help the planet - which around a third of UK holidaymakers have said is a reason for considering a holiday at home, a way to give the planet a break until we find a way to fly more sustainably.  
Replacing a one-week family holiday abroad this year, for example, could save 2.5 tonnes of CO2, according to Trip Zero calculator. With 43 per cent, or 28 million, of us considering a staycation, that's a predicted saving of 70 million tonnes of CO2. If all 66 million of us in the UK were to do it, it could rise to 165 million tonnes saved.  
So, a staycation isn't just good for your soul, it also helps the planet, and can help tackle the most important issue of our time; the climate crisis (which OVO is achieving through its Plan Zero by committing to eliminate customers' household emissions and halve their total carbon footprint by 2030).  
Staying home doesn't have to be boring either and if you're looking for inspiration, here's six ideas you can do on your doorstep (if government guidelines allow) to get you started...
Throw a festival at home 
Glastonbury's off the cards this year but no one is stopping you getting out the glitter, putting up the fairy lights, and playing some of your favourite tunes while under the stars.
Dust the tent off, find your head torch, and get set up for a weekend in the wild, from your back garden if you have one. It's the perfect opportunity for getting back to nature, but with the comforts of a shower and your toilet close by.
Take a dip
When the heat rises and your handheld fan just isn't cutting it, wild swimming is the perfect way to cool down, while discovering new beauty spots. It's refreshing and invigorating and the Wild Swimming website has all the information you need on finding local spots and how to get started safely.
International nights
While you may not be able to visit Europe right now, you can still bring a little bit of it home by hosting themed nights for specific countries. Think dressing up as Coco Chanel or Eric Cantana, whipping up some onion soup to have with cheese and baguettes, and watching Amelie with homemade French patisseries to eat. 
Open-air movie screenings (at home)
We've all pretty much had our fill of Zoom chats, so while the weather's nice if you can get your hands on a projector you could attempt an at-home outdoor cinema experience. 
Host a local treasure trail
Set a treasure hunt in your local area and challenge your kids (or nearby friends) to find the items. This is a great way to discover your neighbourhood (Walking Britain has a list of free local walking routes) and a fun way to interact while keeping your distance from others. 
Create a foraged feast  
From wild garlic to blackberries, the UK countryside (or even just its green spaces) are loaded with edible food to feast on. Just make sure you check what you're picking is safe to eat. The Woodland Trust has a handy seasonal calendar. 
It's not too late to try growing your own fruit and veg either. It only takes a few weeks for veggies like lettuce, spinach, kale, and rocket to grow and they can all be done in pots if you don't have much outdoor space. There's lots of help, advice, and a seasonal calendar on the RHS website. 
If you would like to find out more about how you can play your part in reducing carbon emissions,  there are plenty of other carbon buston articles on the OVO Blog or check out Plan Zero.
Competition time
Feeling inspired? Enter our competition to win a £300 voucher for Canopy & Stars. Find unique stays that will get you connected to the great outdoors – from coastal glamping to woodland hideouts. 
To enter, check out our staycation ideas and vote for your favourite below.
Entry is free, 1 entry per person
You must be over 18 to enter
It's open to UK residents (excluding Northern Ireland) 
The winning entry will receive a £300 Canopy and Stars voucher 
The competition opens on 24th July and ends at 23.59 on 30th July 2020
Full Staycation Competition Terms:
The promoter of this competition is OVO Energy Limited  ("OVO"), which has its registered offices located at 1 Rivergate, Temple Quay, Bristol BS1 6ED and is a company registered in England and Wales under company number 06890795. 
This competition will open on 24th July 2020 and close at 23:59 on 30th July 2020.  
There will be one winner (the "Winner") of this competition. The Winner will win a £300 voucher to be redeemed towards a holiday with Canopy and Stars. Terms and conditions shall apply to the redemption of the voucher. These can be found here

https://www.canopyandstars.co.uk/gift-cards/terms

.
The Winner is responsible for all expenses and arrangements not specifically included in the prize, including travel to and from the site, insurance, food and spending money. 
This competition is free to enter and no purchase is necessary. You do not have to be a customer of OVO or any OVO group company to enter.
This competition is open to residents in the UK (excluding Northern Ireland) aged eighteen (18) or over with access to the internet, excluding employees and past employees of OVO or any of its group companies,  and anyone materially connected to the administration of this competition. Proof of eligibility must be provided upon request.  
This competition will run on the OVO blog on our website as well as OVO's social media channels. 
To enter this competition, you must vote on your favourite staycation idea from the selection provided in the staycation blog. You must also provide your contact details as per the instructions on the competition page. 
By entering this competition you agree to share your name, telephone and email. 
You can only enter this competition as described above. Entry made online using methods generated by a script, macro or the use of automated devices will be void. Use of a false name or address will result in disqualification. 
One one entry per person is permitted.
Entries must be made directly by the person entering this competition. By submitting an entry, you agree to be bound by these Competition Terms.
One winner will be chosen from a random draw of entries received in accordance with these Competition Terms.  The draw will be performed by a random computer process.  The draw will take place on 4th August 2020. 
The Winner of the voucher will be notified by email on 7th August 2020.  The voucher will be dispatched by email by 28th August 2020. 
Reasonable efforts will be made to contact the Winner by email and telephone (using the details provided at entry). If the Winner cannot be contacted or does not respond to OVO within 14 days of being notified by OVO, or if the Winner is unable to comply with these Competition Terms, OVO reserves the right to offer the prize to the next eligible entrant drawn at random. 
Failure to provide information requested, or failure to meet the eligibility requirements, may result in forfeiture of the prize.
Prizes are subject to availability and Canopy and Stars' terms and conditions. The prize is as stated, is not transferable to another individual and no cash or other alternatives will be offered. The prize cannot be used in conjunction with any other special offer. OVO accepts no responsibility whatsoever for elements of the prize being withdrawn. In the event of the prize being unavailable, OVO reserves the right to offer an alternative prize of equal or greater value.
OVO reserves the right to amend or alter the terms of competitions at any time and reject entries from entrants not entering into the spirit of this competition. This Competition may be modified or withdrawn at any time.
Insofar as is permitted by law, neither OVO or its affiliates will in any circumstances be responsible or liable to compensate the Winner(s) or accept any liability for any loss, damage, personal injury or death occurring as a result of taking up the prize except where it is caused by the negligence of OVO, its affiliates or that of their employees. Your statutory rights are not affected. 
If you are a winner of this competition, you agree that OVO may use your name and town or county of residence to announce the winner of this Competition and for any other reasonable and related promotional purposes, and you agree to co-operate with any other reasonable requests by OVO relating to any post-winning publicity. Your name and county of residence may also be made available to the public on request. However, you have the right to object to your details being shared or request to limit the information shared.  The surname and county of winners can be obtained by emailing  

[email protected]

unless the Winner(s) have objected to their details being shared. 
By entering this competition you agree that your personal information, your name, age, address (including postcode) and/or email address may be used by OVO to operate the competition which may include sharing such data with third parties as required for the administration of the competition. The administration of the prizes will include giving these details to Canopy and Stars who will fulfill the prizes. Any personal information, will only be used by OVO in accordance with its privacy policy available at

https://www.ovoenergy.com/privacy-policy

This promotion is in no way sponsored, endorsed, administered by or associated with Facebook/ Instagram. 
In the event of a discrepancy between these Competition Terms and the details in the promotional material, the details in the promotional material shall prevail.
These Competition Terms will be governed by English Law and you submit to the exclusive jurisdiction of the English courts.
View more from these categories