guide
Guide to changing energy companies
08 February 2016 | OVO Energy

This guide is intended to provide general guidance only. It is not intended to give you advice on your personal financial circumstances. You should seek independent professional advice if you're unsure about anything mentioned in this guide or what choices to make.
In the space of just 10 minutes, even while watching TV, you can check how much money you might save by changing energy companies. 
If you are one of the 60-70% of Big Six energy customers on a standard variable tariff, then the chances are you can cut your bills by around £160 a year – just by switching to a fixed tariff.  This strange situation is a legacy of how the UK energy market was privatised, and subsequently became segmented: between loyal customers who are overcharged, and active switchers who get the best deals.
In this article I'm going to explain three things:
Why it pays to change energy companies in the UK 
How you can choose a better energy provider
What you need to do to see how much you might save by switching 
Every couple of years I end up changing car insurance.  For the first year with the new company I get a really good deal.  Then the next year it goes up, and up again, until I finally get annoyed enough to switch.
As a customer, I am not rewarded for my loyalty: I am actively penalised.  Companies know they have to discount heavily to win new customers, so the way they fund these discounts is by overcharging the loyal ones.
The same thing happens with home insurance, bank accounts and mortgages.  In the energy market, the overcharging issue is so bad that the industry regulator referred the whole market to the Competition and Markets Authority. 
In their preliminary findings that the Big Six energy providers were overcharging customers by £1.2bn a year – and that the average savings for a customer switching from a Big Six standard variable tariff to any external tariff would be around £160 a year.  For people using a lot of energy and not on a direct debit, the savings can be manyfold that.
How did it come to this?  Each of the Big Six energy firms inherited large customer bases from privatisation beginning in 1996.  Over time, these customers became segmented into two types of customers: loyal customers who are overcharged, and switchers who are offered heavily discounted tariffs.
In the graph above, I've compared what the average loyal customer pays with the cheapest tariff available in the switching market.  This shows that the overcharging problem has become worse over the years, as competition for new customers has become even fiercer.
For the small minority that go ahead and switch, the CMA suggests the saving would be around £160 a year. Though from the graph above, it's clear that when switching to the cheapest option, this figure could be £260 for the typical user – and much more for heavy energy users.
But you shouldn't take estimates for granted. You simply won't know how much you could save until you get a quote.
Michael McIntyre does a hilarious bit in which he describes how silly the 'production' of choosing a bottle of wine at a restaurant is.  After demolishing how contrived and ridiculous the process is for most people, he settles on what most of us do: choose whether it's red or white, focus mostly on prices, and choose something cheap – just not the cheapest.
It's actually not a bad strategy for choosing an energy company either.  You want to go cheap to save money, but it's worth checking if the cheapest deal is actually offering you good value, or just a great rate for the first year with a questionable service history.
OVO Energy is fair on price by offering the market rate, but we're not necessarily always the cheapest.  We also pride ourselves on being fair and having great service. 
If you are purely interested in the cheapest deal, jump on a comparison website like uSwitch and find the company that is currently offering the most competitive price.  But if you go down this route, make sure you set a reminder to shop around for a new deal in a year's time – otherwise you might get stuck on a hefty standard variable tariff.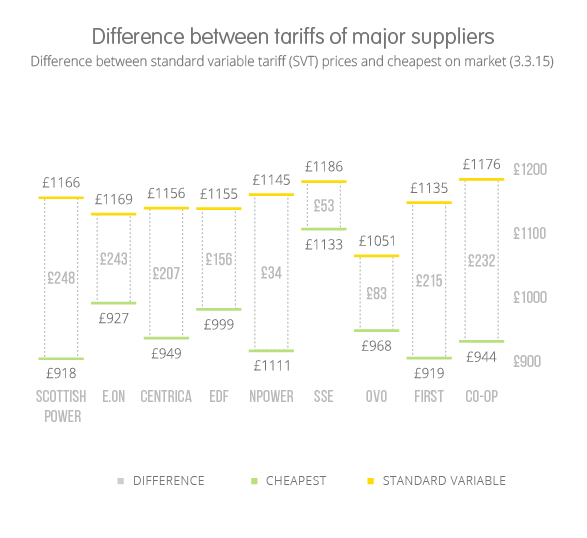 The graph above shows the difference between the standard variable tariff and the cheapest tariff that each of the nine energy suppliers provides.
If you look at the numbers in green you can see that during March, all of these companies – except EON and SSE – were offering competitive rates of less than £1,000 for dual fuel customers prepared to switch to their cheap deals, usually fixed for a year. The problem is that some of these deals are aimed at enticing new customers to switch, so you need to make sure you don't get defaulted to the higher standard tariff (in orange) after a year.
At OVO Energy, things are a little different.  Not only do we offer one of the cheapest variable tariffs on the market, but just 14% of our customers are on it.  Most OVO customers are on cheaper fixed rate deals.  The variable tariff is simply an option for those who prefer not to opt for a fixed contract.  When you compare this to the 60-70% of Big Six customers who are stuck on overpriced variable tariffs, it's clear that we're serious about our goal of fairer energy.
If you want to check if a company has good customer service, it's no good asking them. At OVO, we prefer to offer independent verification:
OVO were the first energy provider to be named Which? Recommended Energy Provider
OVO won 10 out of 12 of the recent uSwitch Awards including Supplier of the Year, Customer Service and Value for Money.
If you are interested in checking how much you might save, you'll need a quote.
Getting a quote for a new energy supplier will help you decide if switching is worth your while. Luckily, the competition for switching customers is so great these days that the whole process has become increasingly simple for the consumer.
1) Grab a current energy bill
You can get an accurate quote with just four pieces of information: your postcode, your current supplier, your current tariff and your energy use.  All of this information should be on a recent energy bill, or if you pay them separately, a recent gas and electric bill.
If you don't have a bill but know which provider you use, you can get an estimate based on house size – but be aware that this is only an estimate, so don't assume it's accurate.
Once you've gathered your information it's time to get online.
2) Get online and get a quote
Switching energy providers used to be a bit of a nightmare.  But thanks to all the competition in the switching market, user-friendly websites and regulator rules limiting providers to four tariffs, it really is simple.  You just pick an energy company or comparison site, fill in your information as best you can, and assess the results.
At OVO, we've worked hard to make sure the quick quote tool is super easy to use, starting with just a postcode and then working out a more detailed quote as you give more information.  It also gives you the option for saving money by managing your account online.
Here's what your quote process will look like:
If you want to use a different website there are loads to chose from.  A preferred option among the comparison sites is the Which? Switch site, as it also gives you a 'customer score' that can stop you opting for a company with terrible customer service.
3) Make a smart decision
Once you've got a quote, you're ready to decide if you want to switch providers. 
If you do decide to switch to a new plan, you will also need your bank details and to take some meter readings at the time you switch – to help sort out if you owe or are owed money by your existing supplier.  Also make sure you aren't subject to any exit fees from your existing supplier before leaving, as these could really eat into your savings.
If you're not sure about any aspect of your quote, research it a little more.  There is also a 14-day cooling off period, so you can always change your mind – although OVO don't have exit fees any more, so it's not so much of an issue. The whole process should take 3-5 weeks with no disruption to your energy supply.
Good luck with your switch!
DISCLOSURE: I have no material relationship to any brand mentioned in this post except for OVO Energy, who I've produced this article with.
OVO Energy rated 4.5/5 based on 1000+ customer reviews.
*Source and notes for graphs and table
The rising price of loyalty to the Big Six
Source: Energylinx.co.uk, accessed 02/08/12 and every subsequent Thursday to the 12/02/2015, Data uses Ofgem standard consumption (profile 1) 2 for dual fuel users, averaged across all regions.
Difference between tariffs of major suppliers
Source: Tariff data sourced from uSwitch Insight Portal, both accessed on the 3/3/15. Data uses prices for Ofgemstandard consumption (profile 1) 5 for dual fuel users. All figures averaged across all regions. All tarrif prices include online discounts but exclude paperless discounts where available. British Gas Figure includes their white label Sainsbury's tariff.
View more from these categories