OVO account
How your account balance works
Learn everything you need to know about how your account balance works, with info on charges, Direct Debits, and much more.
Your account balance: the basics
At OVO, we want everything to be as easy and accessible for our members as possible. And that includes understanding how your account balance works. Think of your energy account balance like a pot of money. Every month:
You put a set payment in 
We take out the amount you owe (and send you the bill)
Some months, we might take less than the set payments you put in, because you didn't use as much energy. This would result in you having a positive balance. Other months, we might take more from the pot, because you used more energy. This could lead to you having a negative balance. But don't worry – this usually all evens out over your 12-month billing period. 
The aim is for you to have a zero balance at the end of 12 months. That way, you won't have to pay us any extra.
It's worth noting that with OVO, for every month you have a positive balance, you'll get 3-5%1 Interest Rewards. 
What am I paying for?
Your account balance is made up of 4 main charges:
The cost of the amount of energy you've used, plus VAT – this is measured in pence per

kilowatt hour

(kWh)
The standing charges – this is a daily fixed amount that covers the cost of your connection to the grid, as well as general maintenance
The cost of any upgrades, such as

OVO Beyond

Any extra charges 
From this total, we take off any rewards you might have (such as Interest Rewards2), that add credit to your account. 
How do seasonal changes affect my account balance? 
Of course, it's generally darker and colder in winter, and lighter and warmer in summer. So it stands to reason that your bills are usually higher in winter, when you want to keep your home cosy and comfortable. 
Keep those bills down this winter with our useful guide to the cheapest way to heat your home. And if you want to understand more about how your energy bill works, read our useful guide. 
Your Direct Debit charge
This is the amount you'll pay by Direct Debit. It can be charged either monthly or quarterly, on the date you prefer. If you'd like to find out more about how Direct Debit payments work, check out our handy guide.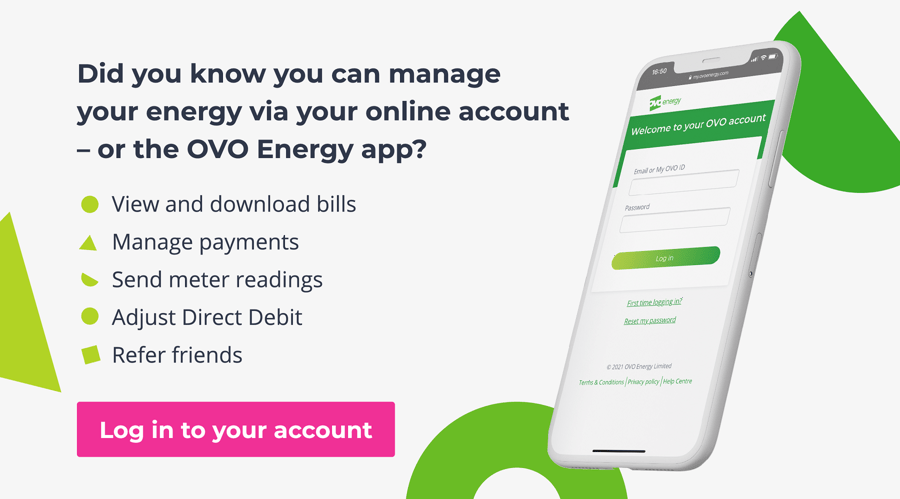 Did you know you can manage your bills online via your online account, or by using the OVO app? This way you can quickly:
View and download bills
Manage payments
Send meter readings (although if you have a smart meter, this isn't usually necessary)
Change Direct Debit amounts
How do I get a refund?
There are 3 situations in which you can get a refund when you have a positive balance. They include if you're:
Moving home – visit your

My OVO

account and let us know your final meter readings, and your new address. If your account is in credit, we'll get a refund to you within 14 working days of your final statement.
Switching supplier – once your new energy supplier has sent us your final meter readings, we'll send your final statement. You'll get the refund straight into your account within 14 working days from the final statement. 
Staying with OVO – you can ask for a refund if your balance is £25 or more. Otherwise your positive balance will roll over to the next month. 
To find out more about how to get a refund in each of these scenarios, take a look at our refunds help page, or check the OVO Forum.
A working example of a customer account balance
To make things even easier to understand, here's an example:
The Smith family pay £80 per month as a Direct Debit. Their account balance per month shows: 
£70 of electricity and gas each month
A standing charge of 20p per day = £6 a month
VAT at 5% = £3.80
So the total per month is £79.80.
Making their yearly total £957.60
This means that by the end of their 12-month billing cycle, their account is on track to have a positive balance of £2.40. 
Does that sound like a hefty bill to you? Or are you paying a lot more? Discover more about average UK energy bills, and why your bills might be too high. Then learn our top 14 ways to cut your electricity bills! 
Popular questions about account balances
Why does my account balance always change?
Your account balance works much the same as online banking. As you use gas and electricity, the balance will change. If you have a smart meter, you'll see your gas and electricity use change regularly as you use it – and your balance will change accordingly.
And if you've a traditional meter, you'll only be able to see your daily standing charges until you submit a reading. Once that's happened, you'll be able to  see your gas and electricity use – and your balance will then change accordingly.  
When will I see the Interest Reward added to my account balance?
We calculate the Interest Reward monthly on the qualifying credit held on your energy account balance between Direct Debit payments. We apply it to your account balance just before we get your Direct Debit each month. On the Billing screen, you'll also see any Interest Rewards you've earned during your current billing period. 
What should I do if I'm having difficulty paying my bill?
Don't worry – this happens to thousands of people across the nation at some point. The best thing to do is let us know as soon as possible, so we can work out a payment plan. Read all about the help available if you're having trouble with bills, in our guide.  
Upgrade to OVO Beyond
As an OVO member, you already get 100% guaranteed renewable electricity3, a tree planted every year4 in your name, plus 3-5% Interest Rewards. Are you ready to go one green step further? With OVO Beyond, our green upgrade, you get all that plus:
100% carbon-neutral gas, including 15% green gas5 (that's one of the best fuel mixes around!)
Not 1, but 5 carbon-busting trees planted in the UK on your behalf6
Personally customised Energy Spotlight tips that'll help you cut 10% off your bills7
Plus, you'll be supporting our carbon-offsetting projects that:
Save rainforests in Guatemala
Plant trees in Uganda
And you'll bring the UK's children a breath of fresh air in urban areas, by supporting our charity partner Earthwatch Europe, as they plant 8 Tiny Forests across our nation. That's like covering an area the size of 8 tennis courts with 600 trees each! 
Going "Beyond" means you can cut your carbon footprint by a further 28%8! All this for just £6 a month. 
Together we can make zero carbon possible. 
Any further questions?
We understand that learning about your account balance can sometimes be a little tricky – so if you need a hand, don't hesitate to get in touch. There's more help available in the OVO Forum. And if you don't find the answers you need, feel free to ask a question, and one of our forum users will be happy to help!
And remember, if you really can't find the answers you need, then give us a call. We know your time is precious – which is why we guarantee not to keep you hanging on. Our current call waiting time is under a minute9. 
Sources and References:
1 and 2   Interest Rewards are paid on credit balances of customers paying by monthly Direct Debit. It is calculated at 3% in your first year, 4% in your second year and 5% in your third year (and every year thereafter) if you pay by Direct Debit. Interest Rewards are paid monthly based on the number of days you have a positive balance and the amount left in your account after you've paid your bill. Full terms apply
3  The renewable electricity we sell is backed by renewable certificates (Renewable Energy Guarantee of Origin certificates (REGOs)). See here for details on REGO certificates and how these work.
4  Each year, OVO plants 1 tree for every member in partnership with the Woodland Trust. Trees absorb carbon dioxide from the atmosphere, so tree-planting helps to slow down climate change.
5  OVO Energy's Green Gas is made up of 15% green gas, with the remaining 85% offset to make your gas carbon-neutral. As of 31st July 2020, the proportion of biogas offered vs. the amount offset was higher than all other providers who share details of their green gas offering, except Green Energy UK - and that's something we're pretty proud of. The green gas we sell is backed by renewable certificates (Renewable Gas Guarantees of Origin (RGGOs)).  See here for details on Renewable Gas Guarantees of Origin and how these work. We offset the remaining emissions by supporting UN REDD+ carbon reduction projects that are certified to the Verified Carbon Standard.
6  OVO plants 5 trees for every OVO Beyond member through our  award-winning I Dig Trees programme with The Conservation Volunteers. Trees absorb carbon dioxide from the atmosphere, so tree-planting helps to slow down climate change. Since 2015 we have planted over 1 million trees.
7  Savings of up to 10% are based on an estimated reduction in energy use for a dual fuel medium user (3100 kWhs electricity and 12000 kWhs gas) who upgrades to OVO Beyond without having a smart meter or smart thermostat installed yet. Savings are (1) calculated on this estimated reduction in energy use in the first year of having OVO Beyond, and (2) based on reducing your energy use by using your smart meter In-Home Display (IHD) and the OVO app to make changes to your energy habits (like optimising heating settings, switching lights off). Savings are an estimate only and your actual savings will vary depending on your energy use and the changes you make to your energy habits.
8  Based on analysis carried out by the Carbon Trust for OVO Group (2020), 28% of an average individual's carbon footprint in the UK comes from energy. In this analysis, the carbon footprint includes the following lifestyle categories: energy, transport, shopping, food and drink and holidays. See table below for each category. This carbon footprint data has been calculated using BEIS 2020 emission factors. This excludes emissions from things that the average person cannot directly control such as supporting the NHS, defence, government bodies, etc. Please note these figures are not reflective of potential changes to your habits during the coronavirus pandemic.
9  Based on data from 25th November 2020 to 25th February 2021, where OVO answered calls within an average of 52 seconds