blog
OVO developing sustainable livelihoods in Peru
14 March 2016 | Cool Earth
Rainforest is safe when local people earn more from keeping the forest standing than they would from clearing it. With OVO's support, Cool Earth has developed livelihoods to do just that. This ensures every village partnership creates sustainability, not dependency.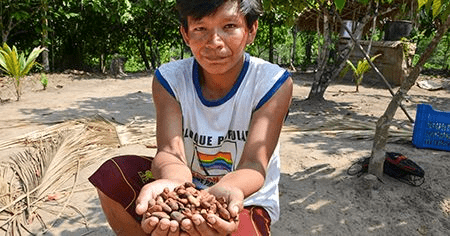 Developing sustainable income streams is key to the long-term success of all of Cool Earth's community partnerships.
Cool Earth has been working alongside the Asháninka to develop their cacao and coffee livelihoods. Sesame was added to the portfolio in 2014. Work so far has seen community income increase by 40%. OVO's support this year will see this income generation project completed and community income more than double.
Cacao
The focus last year was on community infrastructure with investments made by the villages to construct fermentation boxes, cacao stores and dryers throughout the project. The OVO team saw this work firsthand during their visit. This year, the focus will be on completing cultivation training with the growers and finishing cacao nurseries to boost quantity of cacao being produced.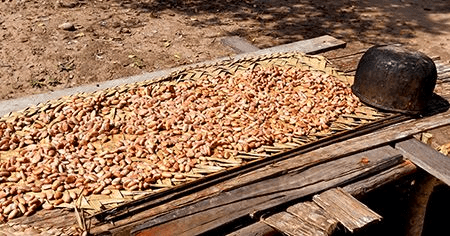 Sesame
Sesame is a top income source for 19% of partner households. The villages currently produce 10 tonnes of sesame seeds a year across three harvests. In 2016, the community is planning to install a cold-press mill in Cutivireni to produce sesame oil. This means a higher value product will be produced in the community.
Coffee
Coffee grows in the six higher altitude villages within the project: Parijaro, Tangoari, Alto Tinkareni, Alto Coveja, Taroveni and Manitiari. The natural remoteness of their locations makes them the most vulnerable villages within the project and the most challenging locations to boost income.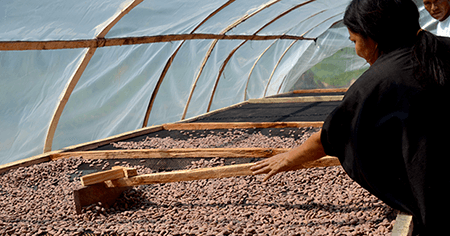 OVO's funding will help to complete the cultivation training and finish the coffee nurseries. This will ensure the most remote villages also become self-sufficient, so they can keep their forest safe.
"I didn't have an incentive to learn before. I think the new agroforesty techniques are really good"
Maximo Chumpitas Mentyaqui, coffee grower
View more from these categories