blog
Competition time: hug a tree, win a prize
27 November 2020 | OVO Energy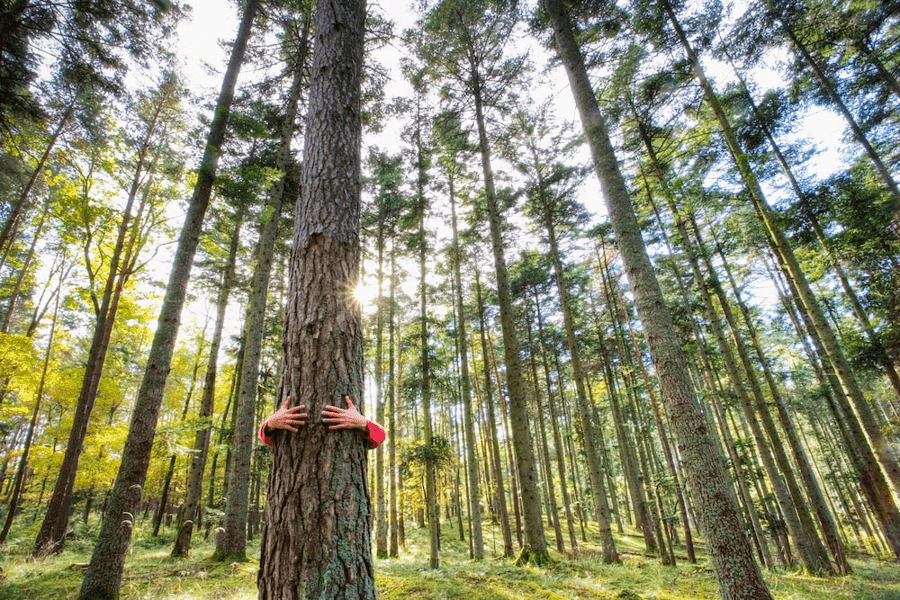 When you hear the term 'tree hugger', what do you think of? For some reason, many people don't think of an eco-hero fighting for the preservation of nature. Instead, they unfairly have a more negative stereotype in mind. 
Well, this National Tree Week, we're making an effort to bust stereotypes and turn more of us into tree-hugging nature lovers. Not only because we're all about planting trees and showing our leafy friends some respect. But because the physical, mental and emotional benefits of being around trees are becoming increasingly well-known.
We think the folks at the Iceland Forest Service have the right idea. Earlier in the year, being mindful of both the feel-good benefits of getting out into nature and the importance of social distancing, they encouraged people to find a tree and give it a hug. 
And with much of the UK currently in lockdown, we took a cue from our Icelandic friends and found a unique way to share some tree love this National Tree Week.
Win a Canopy & Stars voucher – just by hugging a tree!
Yup, you read that right. With everything going on right now, we realise some people might need a hug. But of course lockdown restrictions make that tricky. So we're inviting you to get outside in the fresh autumn air and enter yourself into our competition through one simple medium – sending a virtual (tree) hug to your friends!
Here's how the competition works:
Take a snap of yourself hugging your favourite tree before 6 December 2020.
Send it as a virtual hug via an Instagram post to friends and family members of your choice, making sure you add the hashtag #OVOHugATree.
When the competition ends at the end of National Tree Week, our judging panel will pick the best photo. 
And if you're the winner, you'll snap up a £300 voucher with

Canopy & Stars

– the glamping experts. The perfect thing to look forward to when we're all able to travel again! 
If you're keen to enter, just give the competition T&Cs at the end of this article a read. Oh, and don't forget – we won't be able to see your posts if you have a private Instagram profile, and we can't accept entries via Instagram Stories. 
Now we've got the competition bits out the way, why not read on to learn more about the history and well-being benefits of tree hugging?
What is tree hugging? A little bit of history...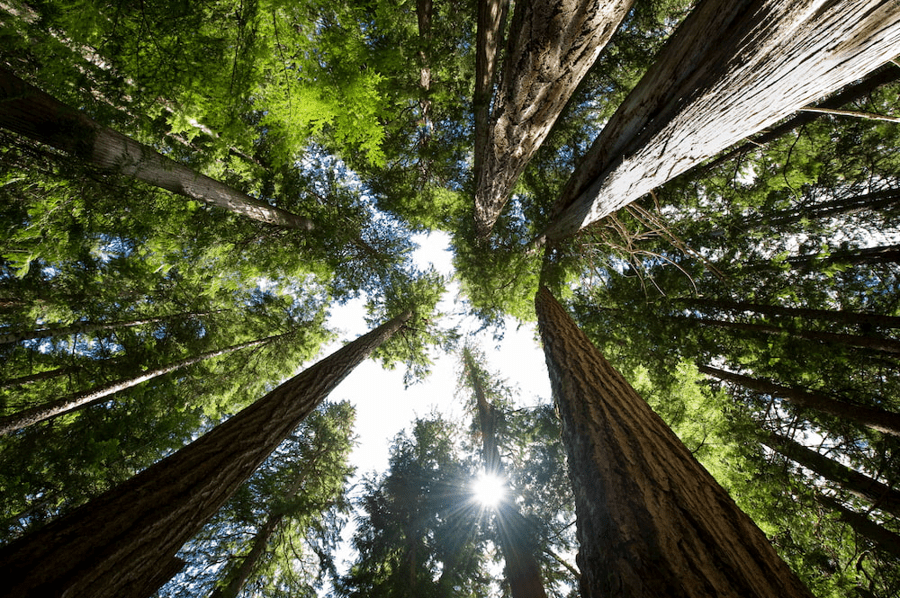 We've already said how we're keen to change the tree hugger stereotype. But it's also important we remember and celebrate the original tree huggers. And it all began rather morbidly in India, nearly 300 years ago.
In September 1730, soldiers of the Maharaja Abhai Singh ordered the Bishnoi people out of their village so that the community's trees could be cut down to make room for a new palace. But the villagers had other ideas. A brave woman called Amrita Devi started hugging the native khejri tree and refused to move in a bid to protect it. When the soldiers showed no mercy and decapitated her, her 3 daughters took her place – only to meet  the same fate.
Their actions inspired another 363 brave Bishnoi people to line up, take their place – and sacrifice their lives in defense of their beloved native trees. When the Maharaja heard about what would come to be known as the Khejarli Massacre, he not only rescinded his original order – he permanently banned the felling of the Bishnoi's trees and erected a temple in honour of the 363 who gave their lives for the cause.
Years later, the incredible history of the Bishnoi later inspired further non-violent protests against deforestation in Northern India, in what is now known as the Chipko movement. Many think it was this movement that led to the phrase 'tree hugger' becoming widely used – the word chipko means 'to hug'. 
A Ghandian activist named Sunderlal Bahuguna got behind this cause and the world took notice of how successful this nonviolent way of protesting was in helping to slow down deforestation and increase social and ecological awareness. And so what began as a moving dedication and sacrifice to nature has ended up inspiring generations of would-be tree huggers. 
If hearing all about the origins of tree hugging is making you want to drop what you're doing and get out into nature, just wait until you hear how great hugging a tree can be for your wellbeing!
The benefits of hugging a tree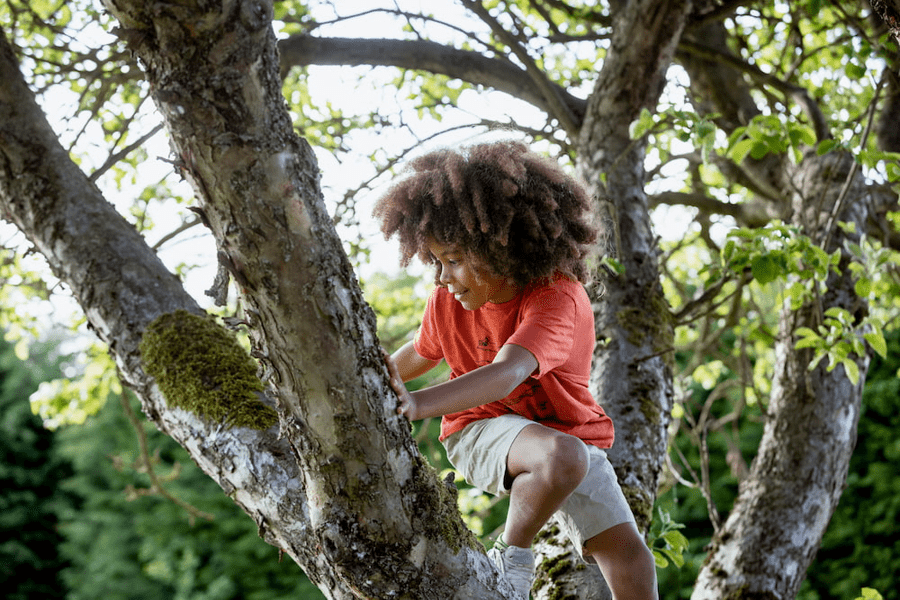 We know that being amongst trees can have amazing health benefits – but many think we can actually take this up a notch by getting up close and personal with the trees we visit. 
For starters, studies have shown that the simple act of hugging someone boosts the production of oxytocin, the hormone that makes us feel warm and fuzzy. Some have claimed that oxytocin is also released when hugging a tree, alongside serotonin and dopamine – contributing to an overall feeling of calm and happiness. 
This is the view held by Matthew Silverstone who, in his book Blinded by Science, gives scientific proof that trees can improve several health issues for adults and children alike. He explains that we're exposed to vibrational patterns when hugging a tree. And these patterns can have a healing, revitalising effect that can help us feel more grounded, less stressed, and more happy! 
Thor Thorfinsson, the overall forest manager for East Iceland and one of the people behind the tree hugging idea we mentioned earlier, seconds Silverstone's claim. He says that "When you hug [a tree], you feel it first in your toes and then up your legs and into your chest and then up into your head. It's such a wonderful feeling of relaxation and then you're ready for a new day and new challenges."
Excited to get out amongst the trees as soon as you can? Us too!
More tree planting = more trees to hug = a happier planet
In exchange for the positive health benefits that trees gift us, we need to show the trees around us love and protection – just like the inspiring original tree-huggers did. And not just during National Tree Week, but every week! 
And we can't change climate change without planting more trees. Lots more. To get to net zero carbon, the Committee on Climate Change recommends the UK planting 30,000 ha of woodland a year until 2050, starting from now. Last year, the government said it would plant 30,000 ha a year until the end of the next Parliament in 2025. But this falls far short of the 2050 commitment. 
That's why we've started a petition to make sure the government is legally-bound to its tree-planting target. So we'd love it if you could take a moment to sign it – and please spread the word!
Once you've done that, why not get out into nature, find a tree and give it a big old hug? Take a moment to breathe in the fresh air it gives us – and see for yourself if it makes you feel stronger, calmer, and happier. 
If you like the sound of being with an energy company that plants trees in your name, why not check out our plans? And if you want to take your carbon-kicking to the next level, our green upgrade OVO Beyond might just be what you're after. 
Full competition terms
The promoter of this competition is OVO Energy Limited  ("OVO", "We"), which has its registered offices located at 1 Rivergate, Temple Quay, Bristol BS1 6ED and is a company registered in England and Wales under company number 06890795. 
The competition will run on OVO's Instagram page and will open 27.11.2020 and close at 11.59pm 06.12.2020 .  
There will be one winner (the "Winner") of this competition. The Winner will win a £300 voucher to be redeemed towards a holiday with Canopy and Stars. Terms and conditions shall apply to the redemption of the voucher. These can be found here

https://www.canopyandstars.co.uk/gift-cards/terms

.
The Winner is responsible for all expenses and arrangements not specifically included in the prize, including travel to and from the site, insurance, food and spending money. 
This competition is free to enter and no purchase is necessary. You do not have to be a customer of OVO or any OVO group company to enter.
This competition is open to residents in the UK (excluding Northern Ireland) aged eighteen (18) or over with access to the internet, excluding employees and past employees of OVO or any of its group companies, and anyone materially connected to the administration of this competition. Proof of eligibility must be provided upon request.  
How to enter
To enter this competition you must post a picture of yourself on your Instagram account hugging any tree and tag the photo with the hashtag #OVOHugATree. You must get the permission of everyone featured in the photograph (or from their parent/guardian if under 18).
Your Instagram account must be public in order for you to enter the competition.
Copyright in the photographs will remain with the respective entrants. Your entry must be your own work and must not be copied or feature any third party materials, content or trade marks which you do not have permission to use. Photographs which are deemed offensive or inappropriate or are otherwise in breach of these Competition Terms will not be accepted. It is entirely at the discretion of the judges as to whether a photograph is accepted for entry into the competition.
By entering the competition you grant to use a non-revocable, royalty free licence to use your photograph on the OVO Instagram page.
One one entry per person is permitted.
By submitting an entry, you agree to be bound by these terms (the "Competition Terms").
The Winner
The Winner will be selected by a panel of judges, including at least one independent member, who will judge the competition entries based on who, in their opinion, is the most visually appealing and original and best demonstrates the theme of love for nature. The decision of the judging panel is final and no correspondence will be entered into over this decision.
The Winner of the competition will be notified by private message to their Instagram account or by commenting on the winning image. By entering the Competition you agree that we may contact you via your Instagram account. We will ask you to provide your email address so that your Canopy and Stars voucher can be sent to you. The voucher will be dispatched to you by 31.12.2020. 
Reasonable efforts will be made to contact the Winner. If the Winner cannot be contacted or does not respond to OVO within 14 days of being notified by OVO, or if the Winner is unable to comply with these Competition Terms, OVO reserves the right to offer the prize to the next eligible winner selected by the judges.
Failure to provide information requested, or failure to meet the eligibility requirements, may result in forfeiture of the prize.
Travel and Coronavirus
If you are chosen as the Winner you agree to follow the UK Government's Coronavirus travel and quarantine regulations and guidance at all times. Please see the Canopy and Stars' website for their COVID-19 FAQs and details on amending your booking if you need to:

https://www.canopyandstars.co.uk/faqs?__tm_dr=1#CORONAVIRUS%20FAQs
Your Data
If you are the Winner we will ask you for your full name and email address so that we can email your voucher to you.
By entering this competition you agree that your personal information, your name, county of residence and email address may be used by OVO to operate the competition which may include sharing such data with third parties as required for the administration of the competition. The administration of the prizes will include giving these details to Canopy and Stars who will fulfill the prizes. Any personal information, will only be used by OVO in accordance with its privacy policy available at

https://www.ovoenergy.com/privacy-policy

If you are the Winner of this competition, you agree that OVO may use your name and county of residence to announce the winner of this competition and for any other reasonable and related promotional purposes, and you agree to co-operate with any other reasonable requests by OVO relating to any post-winning publicity. Your name and county of residence may also be made available to the public on request. However, you have the right to object to your details being shared or request to limit the information shared. We may also wish to share your name as a Winner on our other social media sites but we will always ask your permission before we do this and you have the right to object to your name being shared. The surname and county of winners can be obtained by emailing 

[email protected]

unless the Winner has objected to their details being shared. 
General
The prize is as stated, is not transferable to another individual and no cash or other alternatives will be offered. The prize cannot be used in conjunction with any other special offer. OVO accepts no responsibility whatsoever for elements of the prize being withdrawn. In the event of the prize being unavailable, OVO reserves the right to offer an alternative prize of equal or greater value.
OVO reserves the right to amend or alter these Competition Terms at any time and reject ineligible entries. This competition may be modified or withdrawn at any time.
Insofar as is permitted by law, neither OVO or its affiliates will in any circumstances be responsible or liable to compensate the Winner or accept any liability for any loss, damage, personal injury or death occurring as a result of taking up the prize except where it is caused by the negligence of OVO, its affiliates or that of their employees. Your statutory rights are not affected. 
This promotion is in no way sponsored, endorsed, administered by or associated with Instagram. 
In the event of a discrepancy between these Competition Terms and the details in the promotional material, the details in the promotional material shall prevail.
View more from these categories