blog
Plan Zero: one year closer to zero carbon living
26 October 2021 | OVO Energy
Plan Zero is the sustainability strategy behind everything we do. It's about powering progress towards zero-carbon living. We want a future where you can turn on the kettle, drive your car, and live your life - all without harming our planet. Every year, we plan to report on how we're getting on with our Plan Zero goals – and this is our update for 2020.
The challenges ahead are huge
Energy causes almost 75% of the world's carbon emissions. Here at OVO, we have a big responsibility to help change that. 
If we want to avoid the worst effects of the climate crisis, electricity needs to be fossil-free by 20351. Not only that, but all new cars and boilers must be electric (or a low-carbon alternative) by the early 2030s. 
In other words, we need to completely transform the way we power our lives. And we need to be quick about it! That's why we're helping to build an energy system for the UK that's smart, flexible, and digital. So our country can be run on clean, renewable energy.
We've made some real progress
At the centre of Plan Zero is our goal to be a net zero carbon business by 2030. We made a huge step towards this in 2020, by reducing our total carbon footprint by 23%2.
That's not all. Way back in January 2020, we welcomed SSE Energy Services and its brilliant customers into the OVO family. We went from 1.4 million members to over 4.5 million – a whole lot of extra people joining us on the journey to zero carbon! 
Putting tech to the test: a big part of Plan Zero 
Another one of our big Plan Zero goals is to help get the UK energy grid ready to be powered by renewables alone – and no more nasties! That's why we pioneer all sorts of energy-efficient tech that supports this move. In 2020, we completed the world's largest vehicle-to-grid charger trial. This tech uses electric cars to store renewable energy, as it's produced – when the wind's blowing and the sun's shining. Then, when the UK needs it, that green power gets released to power our homes. Clever, huh?
We looked into plenty of other tech too – like smart thermostats, EV smart-chargers, and home batteries. And we kicked off that all important move away from gas central heating, thanks to our Zero Carbon Heating Trial.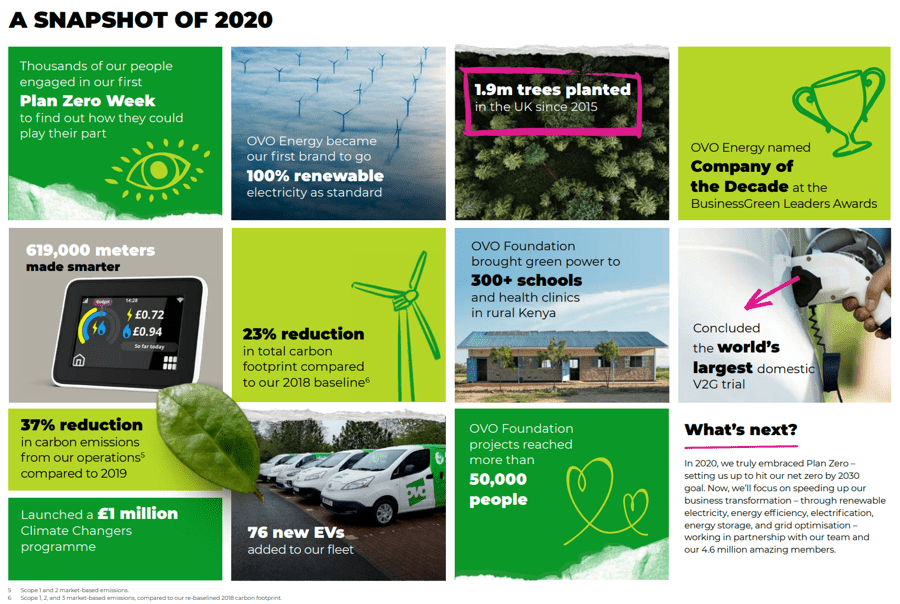 See our progress in action
This was the year we truly embraced Plan Zero
In 2020, we made Plan Zero a real part of our DNA. We now use it to choose new projects, prioritise our actions, and make decisions right across the business. It's right there at board level, keeping us all pointed towards the same goal.
Read the full report for 2020 and see exactly how we're doing.
What's next for us... 
We'll be doing more of the same. We want to speed up the transformation of our business, so we can help OVO members everywhere save the planet. 
We'll be making it even easier for people to opt for an electric car. We'll be exploring more ways to make the energy grid ready for a renewable future. And, as ever, we'll be developing handy new products that help you save energy at home. Our work is all aimed at fighting the climate crisis. But we're not doing that alone. Plan Zero can only happen with the help of all our amazing members.
This blog is dedicated to every single OVO member who's with us on the journey to zero carbon. There's a long way to go – but, together, we'll get there. 
Sources and references:
1 (UK Climate Change Committee) 
2 Compared to our 2018 baseline readjusted to include SSE.
View more from these categories