blog
The Nearest Green Space to Every London Tube Station
20 October 2021 | OVO Energy
Non-stop city life is great in so many ways, but we all need a little time in nature every now and then. It's not just our energy that needs to be greener. Science has proven that spending time in green spaces is extremely beneficial to us. But, according to a 2015 Bupa survey, two thirds of workers don't take a proper lunch break. It's time for this to change.
Finding some me-time in your busy workday is good for both your mental and physical health – and this can easily be done by getting outdoors during your lunch break. That's why we've created this series of maps showing the parks closest to each London tube stop, so you can find your nearest dose of nature. This is: London's Greenstops.
These maps show the tube stops you need to get off at to access London's biggest parks, like Lee Valley Regional Park – which is less than a mile from Seven Sisters. Plus: discover the parks closest to the busiest stations, so you can escape the hustle and bustle of Central London for 20 minutes (Green Park is only half a mile from Oxford Circus – we'd recommend it!).
We used walking distance data from Google Maps to put this info together. Why not give it a try on your next lunch break?
What we discovered about London's Greenstops
The Circle and Victoria lines have the shortest average walk to their respective Greenstops. We also found that the Circle line has one of the highest numbers of green spaces along its route, making these two lines the best for a quick visit to nearby nature. 
The Waterloo and City line only has two Greenstops, the fewest of any tube line. And the Metropolitan line has the longest walks to Greenstops, with an average of 6 minutes. The longest walk to a Greenstop is 24 minutes, from Moor Park station to Eastbury Park. If you want a brief park visit that doesn't take your whole lunch break, then this Greenstop is probably best avoided.
Green spaces like the ones found along these tube lines are vital for clean air and biodiversity in cities all over the world. So, if you're in London, what are you waiting for? Here's your ultimate guide to your local Greenstops!
Bakerloo line
With 25 stations across the Bakerloo line, there are many options for those seeking their daily dose of nature. The average length walk to one of these parks from the Bakerloo stops is only 5 minutes, so you'll be enjoying the greenery in no time.
Find out more: Greenstops on the Bakerloo line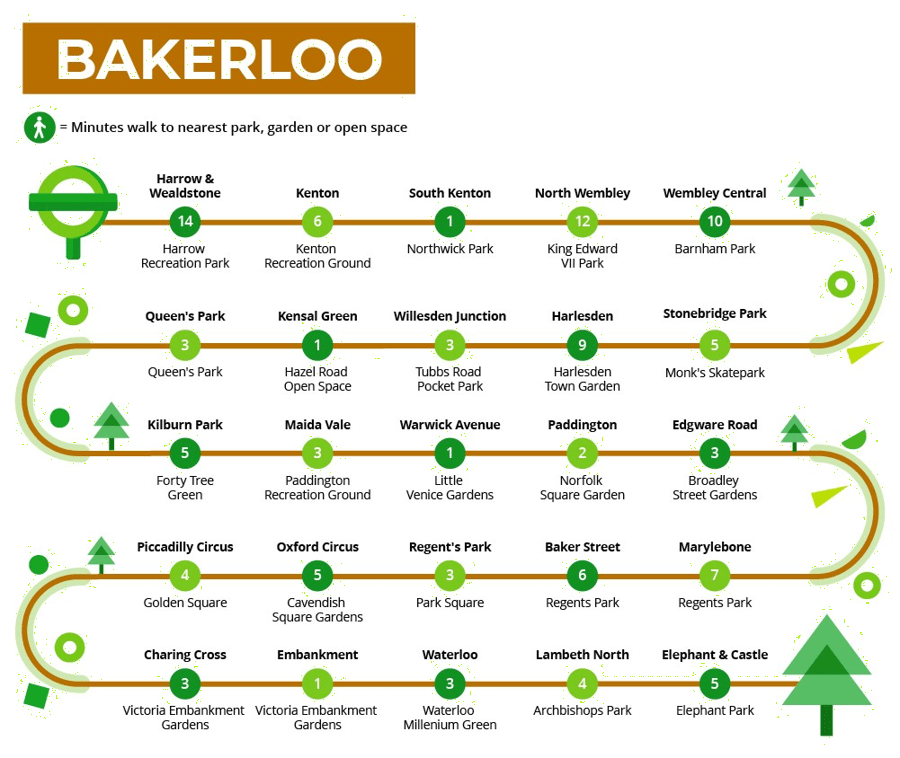 Central line
The Central line has a huge 49 Greenstops. On average, it takes 6 minutes to walk from a Central line stop to a green area, so if you use this line often, pay one a visit sometime.
Find out more: Greenstops on the Central line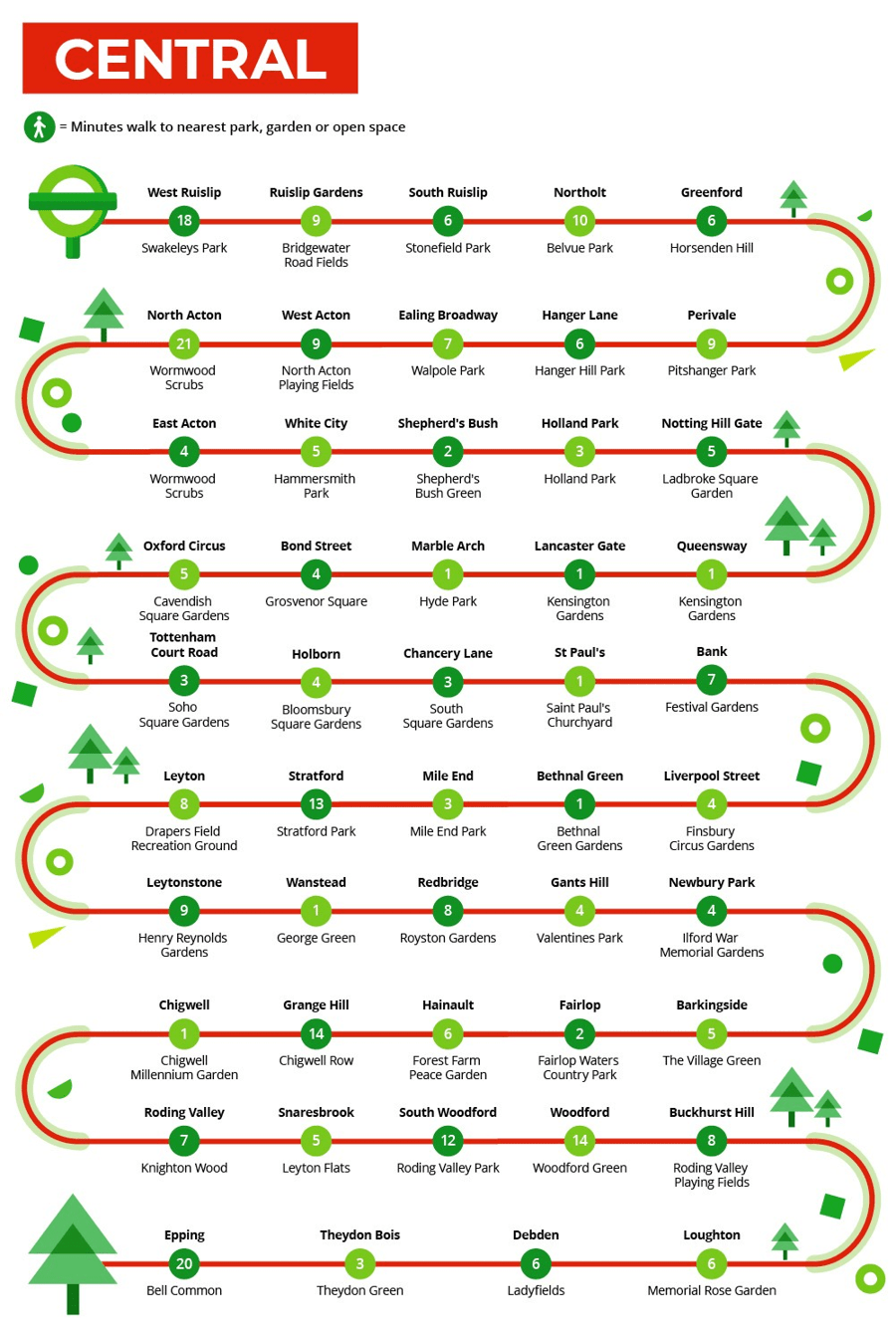 Circle line
With an average walk length of 3 minutes, the Circle line is your gateway to some of the most accessible Greenstops in London. There are 35 green areas along this line, so there's no lack of choice when it comes to enjoying the great outdoors.
Find out more: Greenstops on the Circle line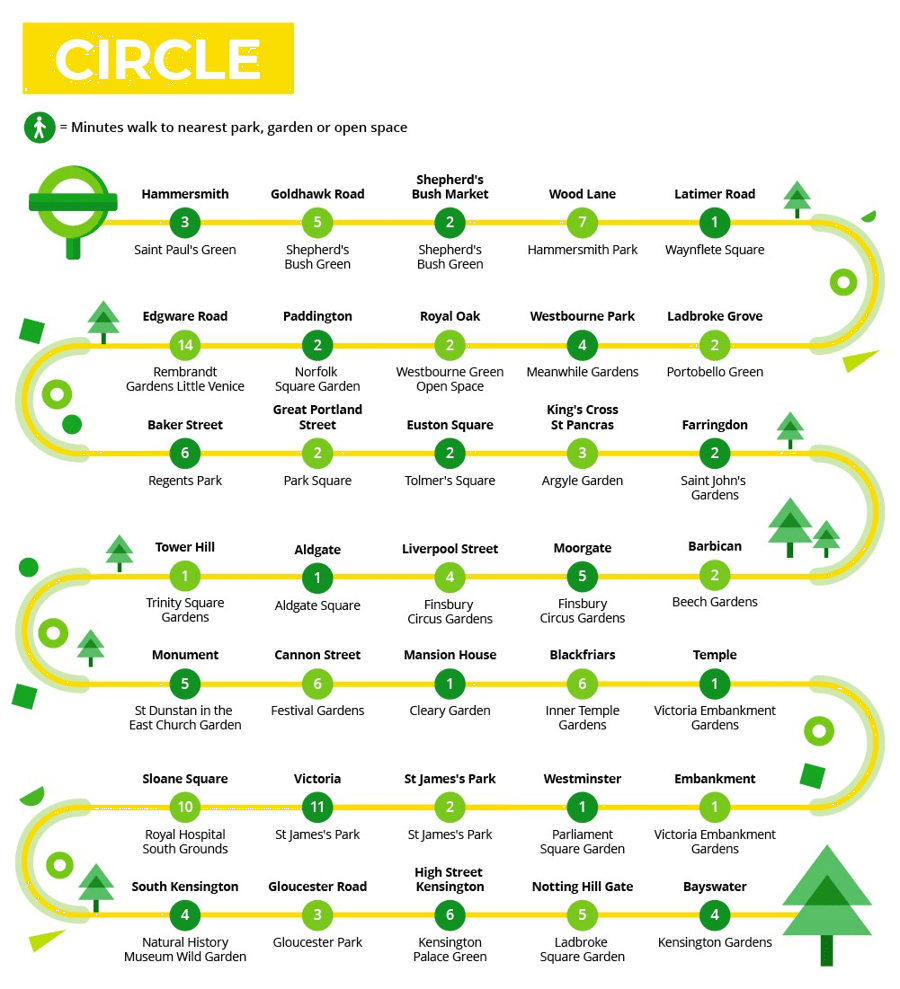 District line
The District line has the most stops of any London tube line with a huge 59. So, no matter what type of green space you're after, the chances are the District line can take you there. There's an average walk length of 5 minutes to these Greenstops, so your journey to greenery will never be too long.
Find out more: Greenstops on the District line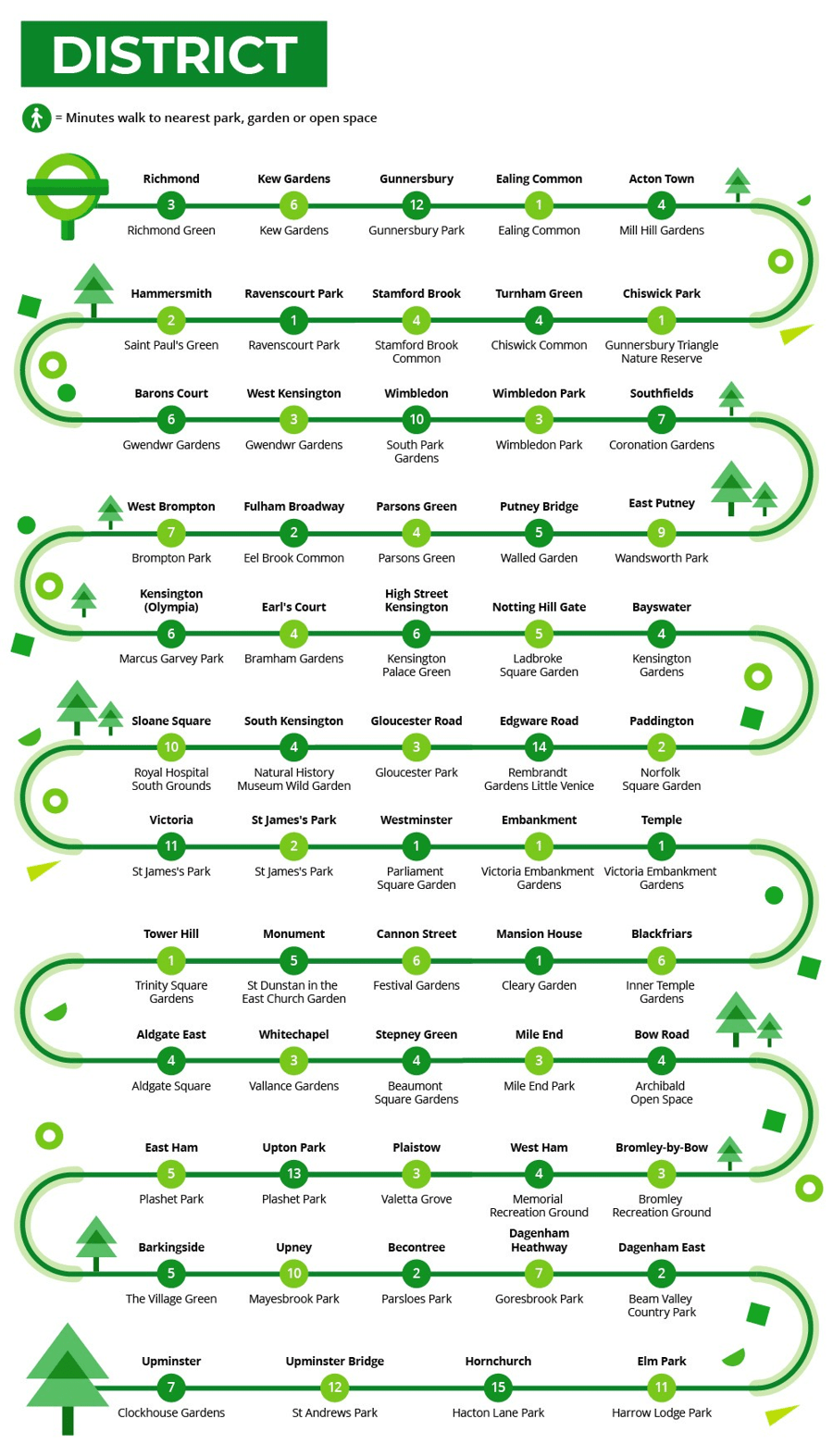 Hammersmith and City line
From the Hammersmith and City line, you can reach 29 Greenstops across London. The average length of the walk to one of these is 4 minutes, so if you've been putting off a trip into nature because you think it's inconvenient, think again. The Hammersmith and City Greenstops are calling!
Find out more: Greenstops on the Hammersmith and City line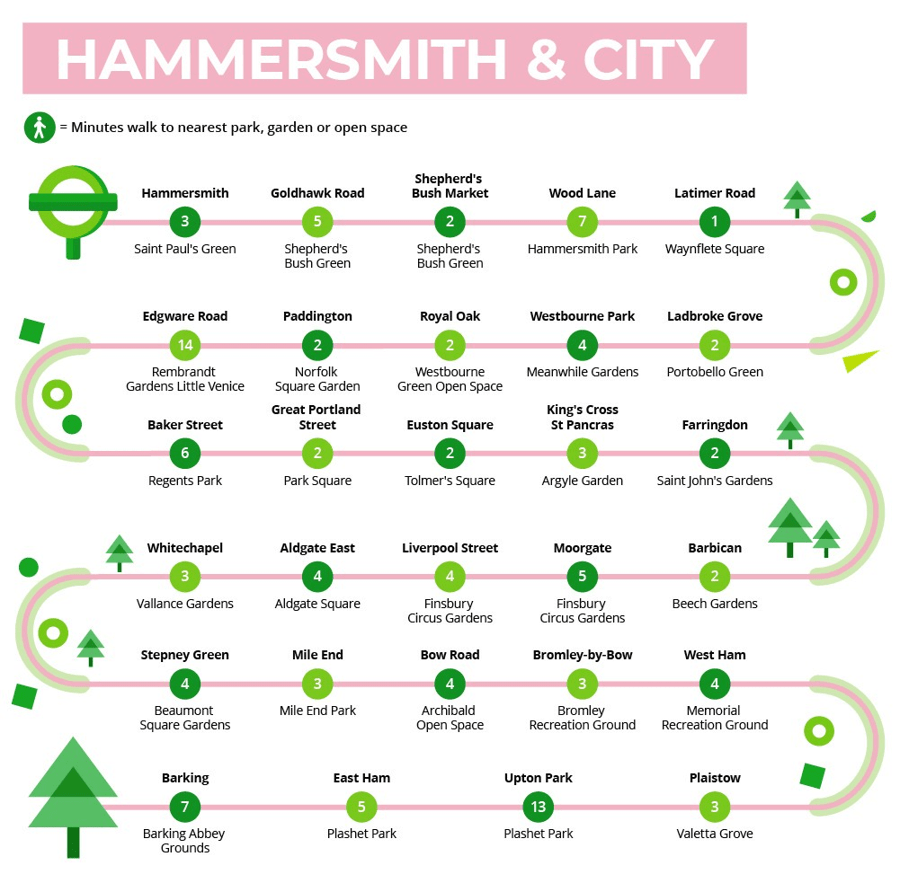 Jubilee line
The Jubilee line stops come to a grand total of 27, with a wide variety of green spaces available. They're all reachable within an average walk of 5 minutes, making the Jubilee line a great option if you want to explore more of London's great outdoors.
Find out more: Greenstops on the Jubilee line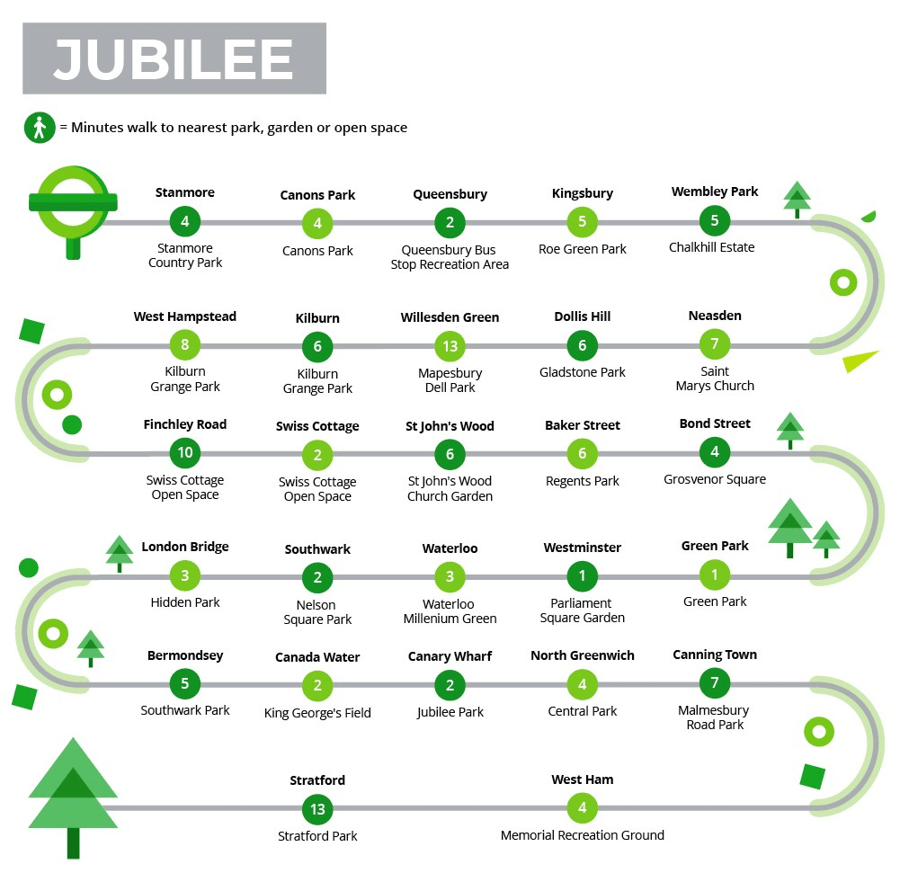 Metropolitan line
Along the Metropolitan line, there are 33 possible Greenstops you can visit when you need a break from the cityscape. It has the longest average walk to a green space, at 6 minutes, but the reward is certainly worth it.
Find out more: Greenstops on the Metropolitan line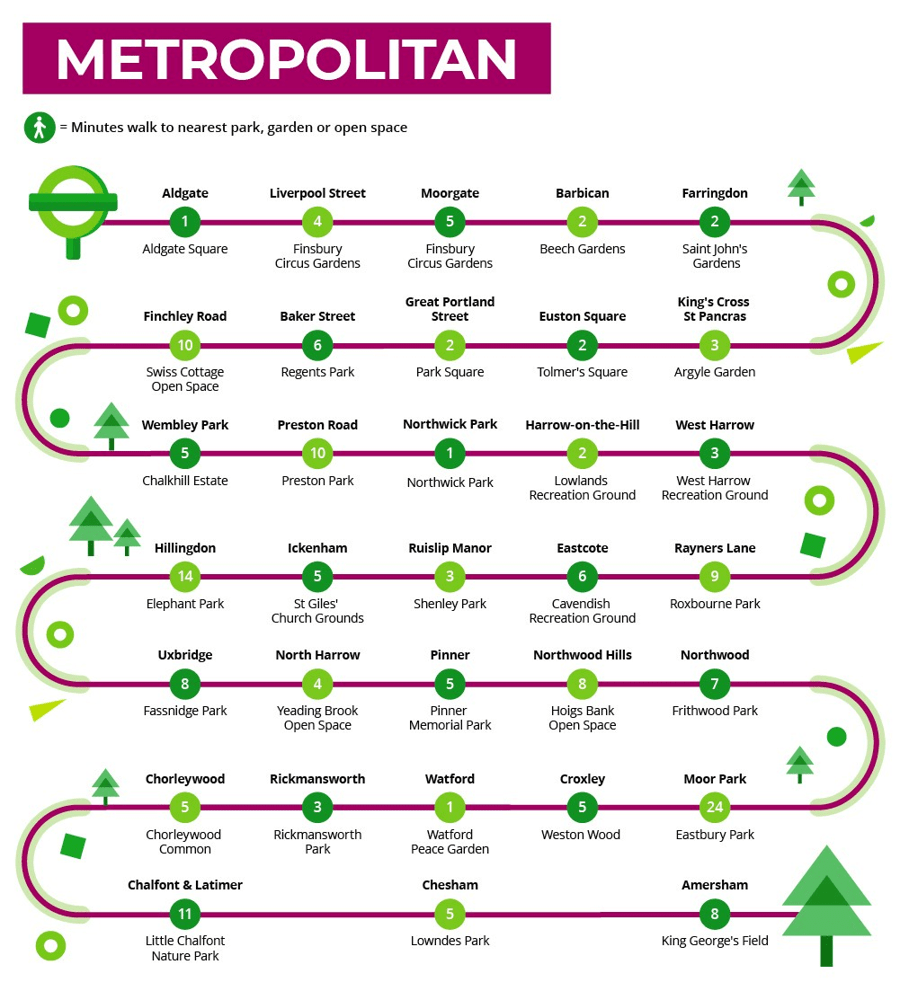 Northern line
With the second most stops of any line in London, the Northern line gives you unbridled access to 52 green spaces across the city. The walk from station to nature takes an average of 5 minutes along this line.
Find out more: Greenstops on the Northern line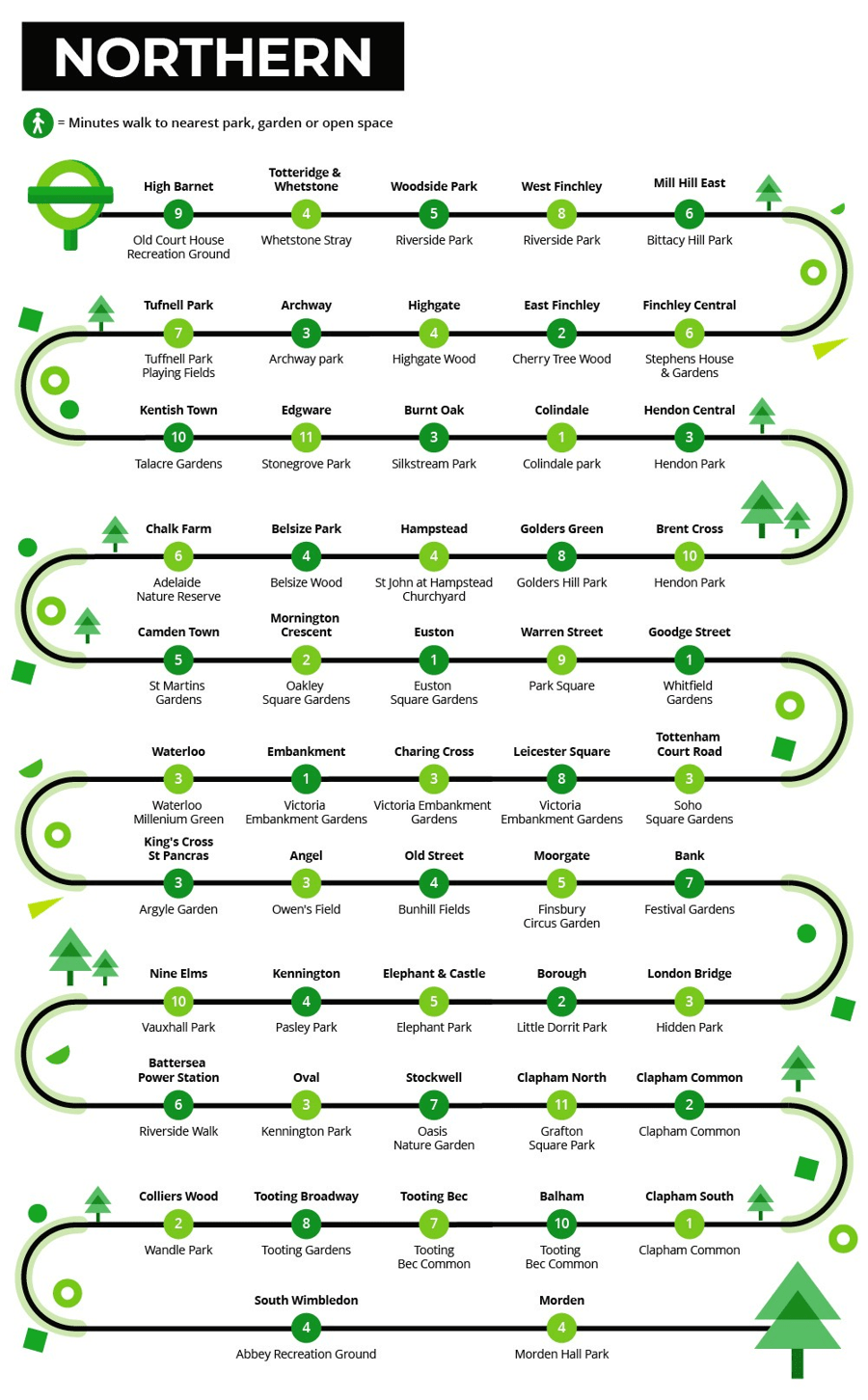 Piccadilly line
Closely following the Northern line, the Piccadilly line has 50 stops scattered along its route across London. From the stops, you can expect an average walk length of 5 minutes.
Find out more: Greenstops on the Piccadilly line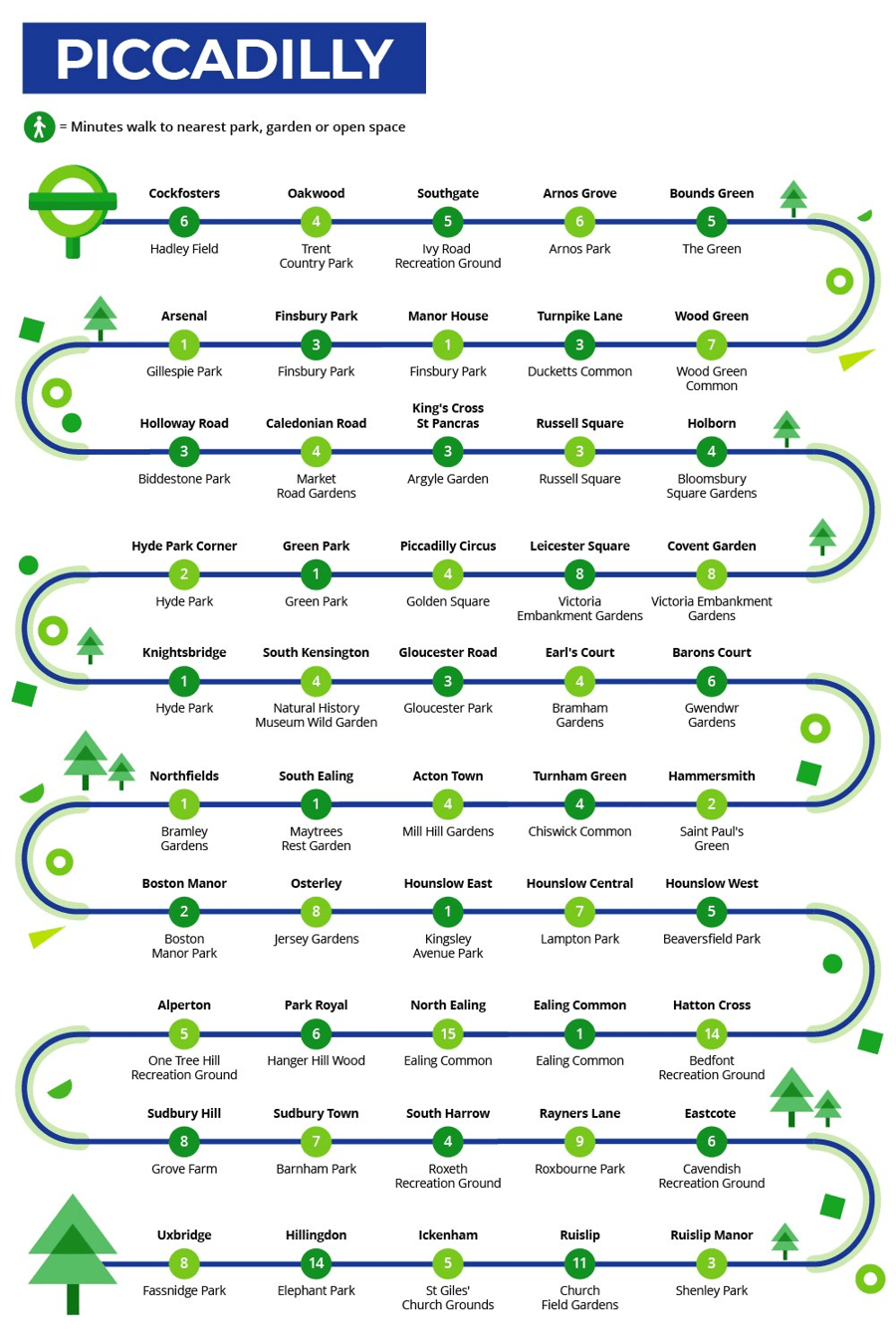 Victoria line
There are only 16 stops along the Victoria line, but they're some really great ones. The average walk length between the stations and the greenery is only 3 minutes, so once you've set your sights on one, you can get there in no time at all.
Find out more: Greenstops on the Victoria line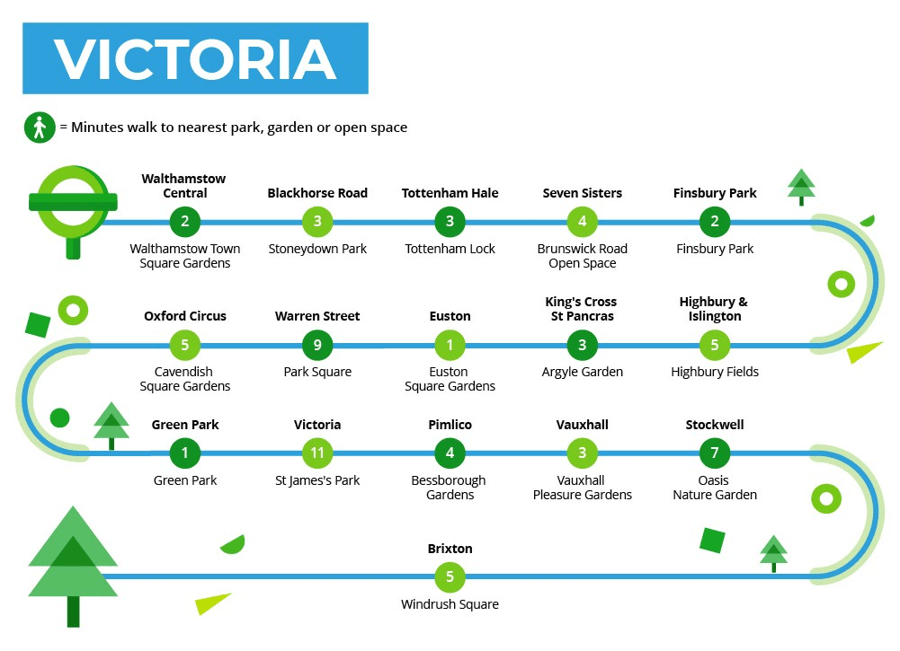 Waterloo and City line's greenstops
The Waterloo and City line has just 2 Greenstops: the stunning Festival Gardens and the scenic Waterloo Millennium Green. Either of these would make a great trip out if you're on the search for nature, and the average walk length is only 5 minutes. Perfect.
Find out more: Greenstops on the Waterloo and City line