guide
A complete guide to ground source heat pump installations
08 October 2021 | Celia Topping
With climate change at the top of the agenda, it's up to all of us to take responsibility and reduce our carbon footprint. Home energy accounts for 28% of the average person's carbon footprint1, with a lot of that going on heating and hot water. One of the most effective ways we can cut back is by swapping our gas boilers for greener alternatives. 
So, if you're thinking about getting a ground source heat pump installed, that's great news! You're taking a crucial step towards fighting climate change. 
But, we'll be honest with you: although they're super-efficient and a great long-term investment, ground source heat pumps are not for everyone. We've put this article together so you can work out whether or not they're a realistic option for your home. 
Read on to find out exactly what to expect before, during, and after the installation of your low-carbon heating system. We have advice on finding the right engineer, which system is best for you, and how you can apply for the Renewable Heat Incentive (RHI). 
Is your home suitable for a ground source heat pump?
Of all the sustainable heating systems available, ground source heat pumps are the most efficient. They offer 3 or 4 times more heat than they use up in electricity2. 
But not all homes can have a ground source heat pump installed. Why not? Here's a quick list of the things you need to consider:
1. Do you have enough space outside your home?
Ground source heat pumps  need some equipment to be installed under the ground, outside your home.  
How much space you need depends on whether you choose to go with ground loops or boreholes. (More on those later on.) You'll either need enough space to install the ground loops horizontally (around 700 metres square3), or you'll need to be able to bore down 100 metres into the ground4. 
You also need enough space on your property for the diggers and/or borehole machinery. 
2. Do you have enough space inside your home?
The ground source heat pump unit itself, the water tank, pipework, and the controller need to be stored inside, in a plant room. 
Your plant room could be in your garage, under your stairs, or in a spare room. You'll need a space around 2-2.5m by 1m, which is quite a bit larger than a typical airing cupboard. 
3. Is your home well insulated?
Ground source heat pumps work best when producing heat at a lower temperature than your average gas boiler. This means they're suited to well-insulated, draught-proof homes. 
4. Do you have underfloor heating?
Because of their lower temperatures, ground source heat pumps work best with underfloor heating, or large radiators. If you don't have either, you'll have to spend a bit more to get those installed, too. 
5. What heating system are you replacing?
If you're replacing an old coal, LPG, or electrical heating system, a ground source heat pump makes good sense – as it could help you to make savings on your energy bills, especially if you also insulate your home and receive the RHI. 
What type of ground source heat pump will you need to install in your home?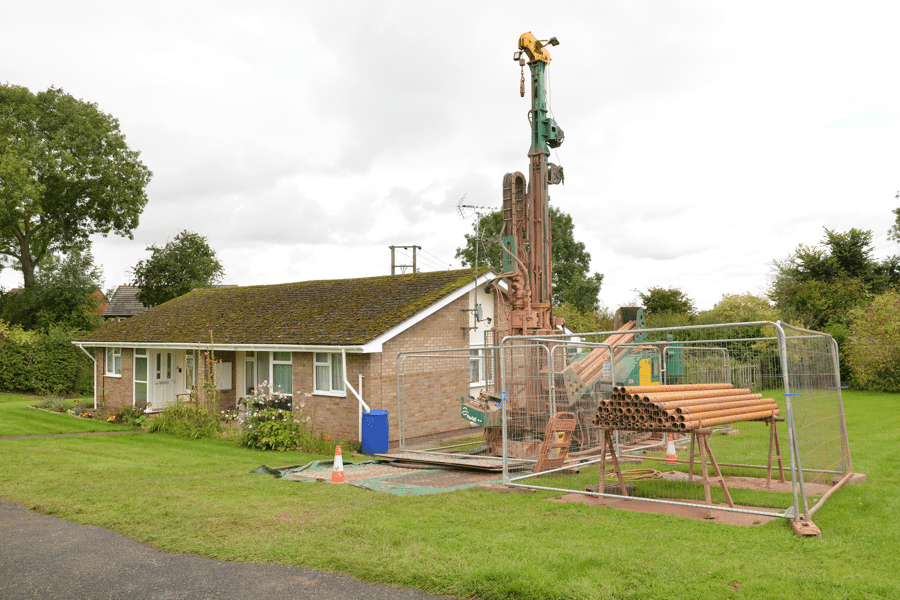 Preparation for drilling a borehole. Credit: Kensa heat pumps
So: you've got a well-insulated house with underfloor heating and a decent sized garden, and you want to replace your old electric system. Sounds like the perfect home for a ground source heat pump. Now just one more question:
Should I choose ground loops or boreholes?
This basically comes down to the space you have available, and how much money you want to spend. 
Ground loops
Ground loops are laid horizontally in trenches about a metre below the surface of the ground, much like underfloor heating.
PRO: Being the cheaper option, they're more popular, and you don't need a special contractor
CON: You need plenty of space (at least 3x the total floor area of your home) in your garden
Boreholes
Boreholes need very little space on the surface of your garden (around 0.25m5), but they need to go deep as they bore straight down, vertically. 
PRO: Far less space is needed on the surface
CON: The biggest disadvantage of boreholes is the cost – they can cost twice as much as ground loop installation because of the specialist contractors and equipment needed. 
CON: A borehole might not be possible for your property if the ground is rocky. 
If you're thinking about a borehole ground source heat pump, you might want to consider installing an air source heat pump instead. Air source heat pumps are far cheaper to install, and well suited for those with less outdoor space – and still have an efficiency of around 300%6. 
How much will it cost to install a ground source heat pump?
You can expect to pay anything between £13,000 to £35,0007, so it's not a decision to be taken lightly. 
Ask your installer to advise you on how long it might take you to get a return on your investment. They must give you not only a quote on the initial cost of installing your ground source heat pump, but also how quickly you might be able to make your money back through the Renewable Heat Incentive (RHI). 
In April 2022, the RHI will be replaced by the government's Boiler Upgrade Scheme. These grants will make £6000 available, up front, towards installing your ground source heat pump!
This table gives a rough idea of the costs you can expect with the different types of GSHP installation, via GreenMatch.co.uk:
| Number of rooms | Heat pump capacity | Heat pump and installation cost | Horizontal groundwork cost | Vertical groundwork cost |
| --- | --- | --- | --- | --- |
| 1-2 | 4kW | £11,000+ | £3000 | £6000 |
| 3-4 | 8kW | £16,000+ | £5000 | ££13,000 |
| 5-6 | 12kW | £20,000+ | £8000 | £20,000 |
How to find the right ground source heat pump installer
Using a Microgeneration Certification Scheme (MCS) certified installer is essential to be eligible for the Renewable Heat Incentive (RHI). They'll know whether the heat pump you're installing is MCS-approved or not. 
The MCS website is a good place to start looking for an installer, if you don't have a firsthand recommendation. Remember to look at customer reviews, as this will help you find a reputable installer. 
We recommend that you get at least 3 or 4 quotes from different installers before you take the plunge. Be sure to get the quotes in writing, so you can compare, and keep the installer to their word.
Can I install a ground source heat pump myself?
Installing a ground source heat pump is definitely not a DIY job. Here's why:
Without being MCS certified, you wouldn't be eligible for the RHI
Your heat pump won't work as efficiently as it would if installed by a professional
You'd need to follow strict health and safety rules
But there are a couple of things you could do to reduce the cost of your installation, by cutting the time spent by your installer:
Dig the trenches for the ground loops  yourself (this isn't possible for boreholes). You'd have to discuss the work in detail with your installer, but if you have your own digger, or rent one, it could work out cheaper.
Preparing the outdoor and indoor spaces ahead of time for the installer is something everyone can do. Make sure the installer has easy access to both the outdoor space and the potential plant room. This will mean they can finish their job in the quickest time possible. 
Step-by-step guide to ground source heat pump installation
What will happen before installation?
Careful planning and preparation. This is perhaps the most important stage of the process. Before installation, an engineer will have to complete a thorough assessment of your home. This is to make sure they recommend the right ground source heat pump for your property. 
Get a registered engineer's assessment. Each of your chosen potential MCS-qualified installers should assess your existing heating system, hot water needs, levels of insulation, and the quality of the soil on your land. After this, they'll be able to give you a well-designed ground source heat pump system plan, tailored to your home. 
Get a detailed evaluation from the engineer. This should include information about your potential savings and RHI earnings. This will be for guidance only, rather than a guarantee.
Ask questions. It's a good idea to jot some down before your engineer comes to do the assessment. You might want to ask about the actual installation, how to prepare the space inside and outside your home, and the timescale.
How long does it take to install a ground source heat pump?
The amount of time it takes to install a ground source heat pump varies for each particular property, depending on type, size, and complexity. 
Your installer should be able to give you an accurate estimate of time after they've done the initial assessment. But you can expect the work to take at least a week8. 
What will happen during the installation?
There are many elements to a ground source heat pump installation. These are the stages you can expect to see:
Digging the trenches or borehole/s. This process takes around 1 to 2 days. 
Installing the pipes into the freshly dug trenches/borehole/s. 
Modifying or replacing your old heating distribution system (such as your radiators). If you have underfloor heating already, and your installer doesn't have to start from scratch, this part of the process could take just a day or 2. 
Installing the heat pump, hot water tank(s), and controls in the plant room.
Connecting the system. Your installer will connect the ground loops, pipework, heating distribution system, hot water tank(s), and the heat pump together. 
Handing over the controls to you! 
As you can see, having a ground source heat pump installed is not a one day job. But how disruptive it is depends on your current system, and how much of it you need replacing. 
Whatever kind of system you have,  it'll need to be disconnected while the new one is fully installed. This means you'll be without heating and hot water for at least a day. 
What do I need to know after my ground source heat pump has been installed?
After installation, your engineer will start up the system and talk you through how it all works. They'll explain the ground source heat pump functions, and show you how to change settings where needed. 
They might also offer you a maintenance package and aftercare support (make sure it comes with performance guarantees if so!).
How much maintenance does a ground source heat pump need?
Happily, the answer to this is not much! A ground source heat pump has very few moving parts, and most of it is buried underground, so not much can go wrong. 
Your installer will tell you how to keep on top of seasonal adjustments and simple routine maintenance to keep your system working efficiently. You'll only need a full service every 3 to 4 years. 
What does an installed ground source heat pump look like?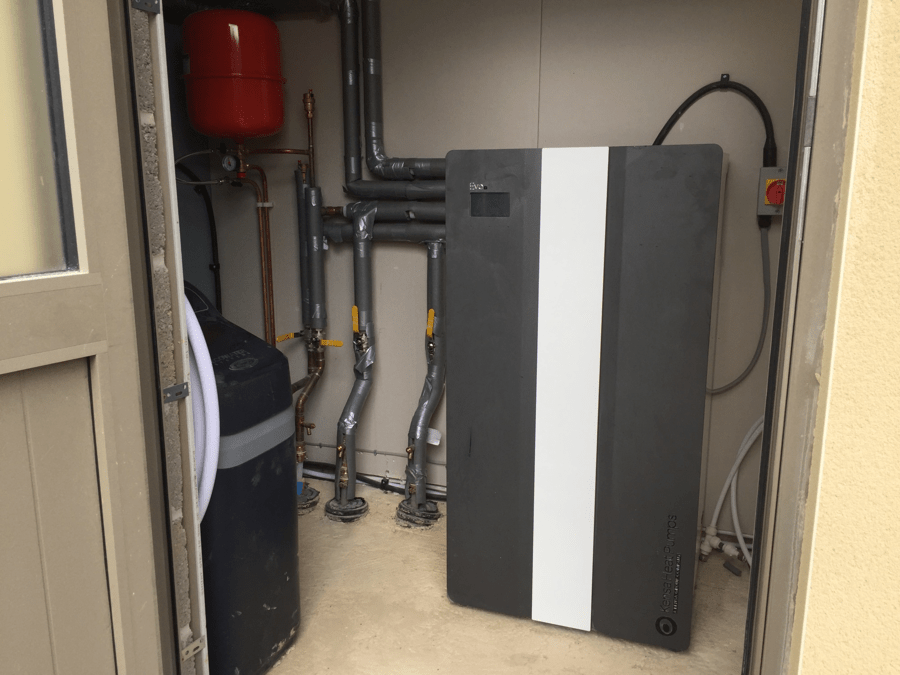 Credit: Kensa heat pumps
The pump itself sits indoors, inside the plant room, along with the water tank(s) and controls. It's about the same size as a washing machine (see above).
How to benefit from the Renewable Heat Incentive with my installed ground source heat pump
The Renewable Heat Incentive (RHI) is a government-funded scheme9 to encourage homeowners to install green heating technology. The incentive comes in the form of quarterly tariff payments for every single kilowatt hour (kWh) of renewable heat you produce. And it continues for 7 years after your installation! 
Read our comprehensive guide to the Renewable Heat Incentive,  for everything you need to know, including: how to find out if you're eligible, how much you could be paid. and how to apply.
As we've mentioned above, the RHI will be replaced by the Boiler Upgrade Scheme in April 2022, so you could be eligible for a grant of up to £6000, up front, towards the installation of your ground source heat pump.
If you have any more queries about ground source heat pumps, why not head to the OVO Forum? The Forum is where our green community comes together to share their first-hand experiences of green living, and help each other out. There are tonnes of discussions about every aspect of heat pumps, so why not get involved and join the conversation? 
Kickstart your zero carbon lifestyle with OVO
Because we supply only 100% renewable electricity, we can help you achieve a net zero lifestyle by cutting your carbon emissions. 
Getting a smart meter installed can help to reduce your carbon footprint even further. Regular insights into how you're using your energy can help you tweak your use to be more efficient. That means lower bills, too!  
Book your smart meter installation today, and start saving energy, money, and the planet!
Join OVO on our mission to decarbonise home heating
Interested in being a heat pump pioneer? You've come to the right place! 
Share your contact details via the link below, and we'll make sure you're the first to know about OVO's green tech offers and trials. 
Register interest
View more from these categories