blog
EV Stories: get the lowdown on an OVO engineer's new carbon-busting electric van
04 June 2021 | Celia Topping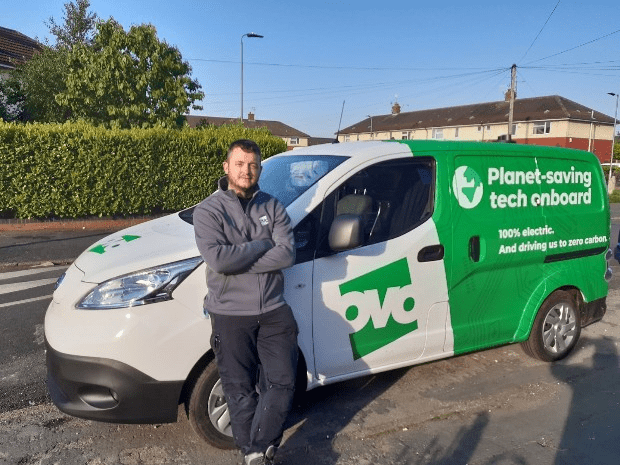 This is the third in our series of EV Stories, where we meet various members of the OVO team and hear their first hand experience of electric vehicles. The series aims to offer you valuable insights into the reality of EVs, including real-life information on buying, driving, leasing, charging, insuring and beyond. We hope to be able to give you all the answers you need about this exciting technology, especially if you're thinking of making the switch.
At OVO, we're on a mission. In response to the climate crisis, we're aiming to achieve zero carbon by 2030. This means reaching net zero carbon emissions across all our operations and supply – as well as helping our members reduce their carbon footprint. 
Plan Zero includes supplying our buildings with 100% renewable electricity1. It's also why we've committed to electrifying our entire fleet, and have signed up to The Climate Group's global EV100 initiative. 
In December 2020, in partnership with Zenith, we supplied our Field Force team with 40 Kia e-Niros. And we're currently delivering a batch of Nissan e-NV200s to 26 more engineers nationwide. These carbon-busting OVO Energy vans take us another step closer to having an all-electric fleet by 2025, and fulfilling our commitment to be net zero carbon by 2030.   
We spoke with Luke Fawthrop, who's been working as a field engineer in Hull for over 5 years. He's one of the first OVO engineers to drive one of the newly delivered Nissan e-NV 200s, and was keen to give us the lowdown:
1. What's your role, and how does it tie in with OVO's Plan Zero?
I work as a field engineer, fitting smart meters at OVO members' homes. Smart meters and their In-Home Displays (IHDs) help our members understand their energy use, and cut it down where they can. If they're using less energy, they're creating less carbon – which is what Plan Zero is all about! With this new electric van, I'll be delivering smart meters without creating any carbon emissions myself – so it makes perfect sense! 
2. What were you driving before you got your new van, and did you have any reservations about driving an EV?
I used to drive a Ford Transit Custom for work. I'd never driven an EV before, and didn't know much about them – except they have a battery instead of an engine, so don't create any carbon emissions. Oh, and they're a lot more expensive than regular vehicles! 
3. How did your colleagues feel about you getting the new van first?
They were quite happy for me to be the guinea pig! The way they see it is I can be the one to deal with any issues and iron out any early problems, so they get a smooth ride! 
4. What's your daily use in your van? How far do you drive?
My daily use really varies. Usually my jobs are local to Hull, so I only drive up to about 7 miles away from home – but some jobs could be up to 70 miles away. 
5. What's the van like for city driving?
It's great! It's like driving a dodgem car – you just put your foot down and off you go. And it's so quiet, you can barely tell it's switched on! There's no drag like in a diesel, so it's far less sluggish when accelerating. It's like driving a light little 1 litre car, not a big van! And it has this great regenerative braking system, which means when you brake, it recharges the battery. The van has a 187 mile range, so in the city it's easy to drive around all day and hardly run down the battery at all. 
6. Where do you usually charge? How easy/convenient is it?
I've got a home charger, so I can just plug it in when I get home from work and it charges up overnight, ready for when I go to work in the morning. I can do it all from my phone app, so it's really easy. 
7. What's the furthest you've driven on one charge? Did you have any issues?
Yesterday, I drove to Knottingley, on a last-minute job. It's about 60 miles away. I had 140 miles left on the battery, so I knew it would be fine. I put the van into eco-mode which immediately adds 10 miles to the battery. This mode conserves energy, so it's not as quick to accelerate, but on long journeys, without many stops and starts, it's ideal. 
I know this van is made for shorter journeys in city conditions, so I wasn't sure how it would perform on a motorway. The drive was smooth, but as I was driving faster, the battery depleted much quicker than it had in the city. That's certainly something to bear in mind in future, and it's a good idea to know where your charge points are ahead of time. Air-con seems to zap the battery quickly, too.
8. Have you charged on the street at public charge points? How easy was this? How long did it take?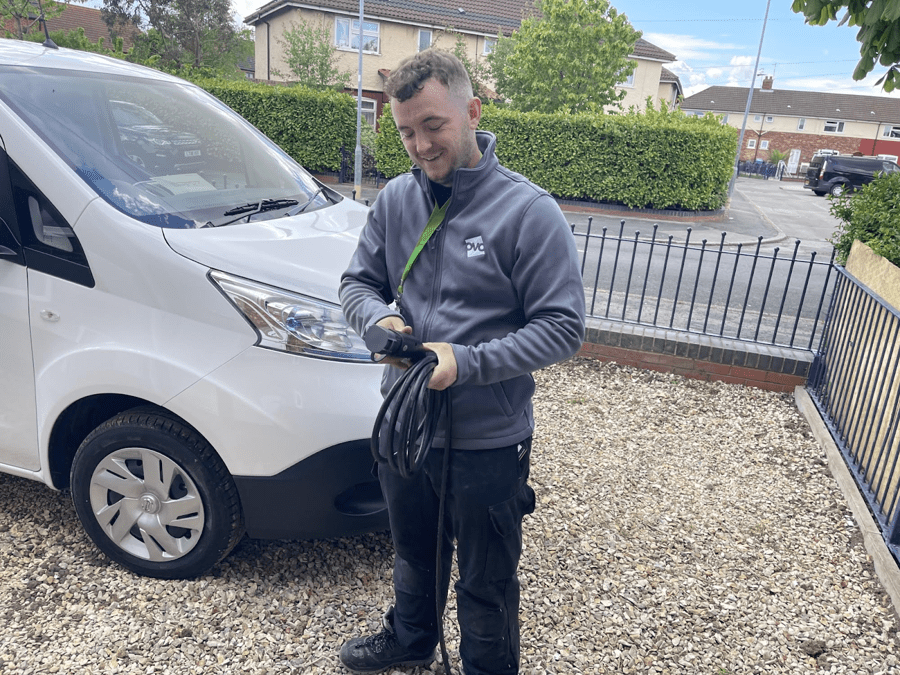 The Nissan e-NV200 has a 40kW battery, so I charged it at Ferry Bridge service station on a fast charge. It took around 35 minutes to get from 22% to 90% charge, which gave me 115 miles on the battery. So I had a chance for a coffee, and a chat with the chap charging his van next to mine. I used Zapmap to find the charging station, but it didn't seem like there were that many charge points around Hull – which could be a problem for some. 
9. Have you ever not had enough charge in your battery to complete a journey?
Not yet! But now I know how quickly the battery runs down once I'm travelling over 45mph, I'll know to top up before motorway runs. It's a learning curve, and I can pass on my knowledge to my fellow engineers. It's just a case of getting used to a different way of driving. 
10. Would you switch to an EV for your non-work vehicle? If so, are there any barriers to buying or leasing one?
Yes, I'd love to switch my car for an EV. The only problem is the price. I drive an Audi A3 and the nearest equivalent car, which is a hybrid, is about £8,000 more expensive. 
11. So overall, how was your first EV driving experience? Would you go back to your old van?
I was pretty happy with it, and wouldn't want to go back to the old van. The driving position was higher in my Ford, but I really like the automatic feel of the EV, and how quiet it is. It's a lot nippier, too. Apart from the small practical things, like knowing about charging, it felt good that I wasn't creating any carbon emissions. I have 3 young daughters, so it's all about making sure they have a clean environment to grow up in, and for their kids too! 
Learning from Luke's experience…
From Luke's experience, it seems we need a lot more EV chargers throughout the UK. And fast. An announcement by Ofgem a few days ago addresses that very point. The UK's energy regulator is investing £300 million in the EV infrastructure, to improve drivers' experience, reduce range anxiety and boost EV sales – meaning range anxiety could very soon become a thing of the past. 
Also, as Luke quite rightly noted, EVs are currently far more expensive than their combustion-engine counterparts, even with the grants available. But with improvements to battery technology, combined with an increase of dedicated EV production lines, experts forecast that EVs will reach a price parity with conventional cars by 2026 and could even be cheaper by 2027. And of course, you can make big savings in the cost of fuel, even if the initial purchase cost is higher. 
What can OVO offer you as an EV driver?
Our OVO Drive tariff doesn't only offer unbeatable flat rates for charging your EV at home. Our members also get:
100% renewable electricity as standard1
A tree planted in your name every single year you're with us2
An award-winning smart meter experience (Uswitch 2020)
A

£50 gift card

every time you

introduce a friend

A 5-Star

TrustPilot

rating by 30,000 members
So why not get a quote, and switch to OVO today? You could be charging your EV and saving money sooner than you think.
For other articles from our EV Stories series, and everything else EV-related, head over to our guides:
EV Stories: Things to consider when buying an EV
EV Stories: A beginner's guide to electric cars
What is the OLEV grant, and how to claim £350 off your home charger
How far can an EV go on one charge?
A complete guide to EV charging: slow, fast, rapid explained
Vehicle-to-Grid (V2G) technology explained
Sources and references:
1. 100% of the renewable electricity we sell is backed by renewable certificates (Renewable Energy Guarantee of Origin certificates (REGOs)). See here for details on Renewable Energy Guarantee of Origin certificates and how these work. A proportion of the electricity we sell is also purchased directly from renewable generators in the UK.
2. Each year, OVO plants 1 tree for every member in partnership with the Woodland Trust. Trees absorb carbon dioxide from the atmosphere, so tree-planting helps to slow down climate change.
3.  Interest Rewards are paid on credit balances of customers paying by monthly Direct Debit. It is calculated at 3% in your first year, 4% in your second year and 5% in your third year (and every year thereafter) if you pay by Direct Debit. Interest Rewards are paid monthly based on the number of days you have a positive balance and the amount left in your account after you've paid your bill. Full terms apply
4. Average unit price in the market (among the top ten suppliers) is 16p per kWh, based on the London region. The OVO Drive Anytime plan guarantees 6p per kWh for car charging. Assuming an EV uses 2000kWh per year charging at home, this equates to £120 on OVO's Drive Anytime preferential rate and £320 on a regular tariff – a 63% saving.  
5.  The OVO Drive Anytime rate is 6p per kWh for EV charging. A Tesla Model 3 does 240Wh per mile, or 4.17 miles per kWh. A Model 3 driver could therefore charge on the OVO Drive Anytime tariff for 1.44p per mile.
View more from these categories