blog
Top 10 hybrid cars for every type of driver
13 August 2021 | Celia Topping
Hybrid cars are an extremely popular choice for those looking for the low emissions of electrification, but the security and range of a petrol engine. For many people, buying an electric car feels a step too far – range anxiety is still a concern, not to mention the upfront cost of pure EVs. Plus, a battery powered EV means you may need a smart charger installed at home, and your own driveway – which not everyone has. 
That's why a hybrid car is a happy halfway house between traditional carbon-heavy petrol engines and pure electric cars. 
What are hybrid cars?
Not all hybrid cars are created equal. Manufacturers have been developing hybrid technology over the last quarter of a century(!), in a bid to reduce exhaust emissions and limit environmental impact. And during that time, different methods have been developed. So let's take a look at what's on the market today, and how these cars can improve fuel efficiency and cut carbon emissions. 
1. Plug-in Hybrid Vehicles (PHEV) 
A plug-in hybrid does exactly what it says on the tin. You have to plug it in to charge the electric battery – but you can also use the petrol/diesel engine when the battery runs out.
PHEVs only have a range of about 30 to 40 miles on battery alone, which is fine for a short commute and around town, but for longer journeys, a shift to the engine is needed – which is a seamless transfer requiring no input from the driver.
This type of hybrid is best for the environment, as it can be charged with green energy and has fewer carbon emissions.
2. Mild hybrid
You may have heard about mild, or "self-charging" hybrids. But despite the buzz, they're not actually electric cars! These vehicles have the technology to run for short periods on electric energy, but the source of that energy is ultimately from the petrol or diesel that fuels the engine. A plug-in hybrid does e
The electricity that these vehicles generate comes from charging their battery when braking, rather than direct electrification from a plug socket. This means that the vehicle has to be moving, and that movement comes from... the engine! Once the small battery is empty, you'll only be able to recharge by fuelling with petrol/diesel, then driving and braking.
That means only PHEVs and fully electric vehicles can be driven on electric power – and can be supported by the energy provided by our 100% renewable electricity1 tariffs, for cleaner, greener driving! 
Mild or self-charging hybrids do offer some small fuel economy benefits. The electrical input from the battery assists the engine when accelerating, which reduces the amount of fuel burned. But it's nothing compared to the benefits of a plug-in hybrid. 
It's for these reasons, in this article, we're focusing only on the plug-in hybrids available, for their superior carbon-kicking benefits! So whatever kind of driver you are, check these out... and beware of one that's best avoided! 
Top 10 best plugin hybrid cars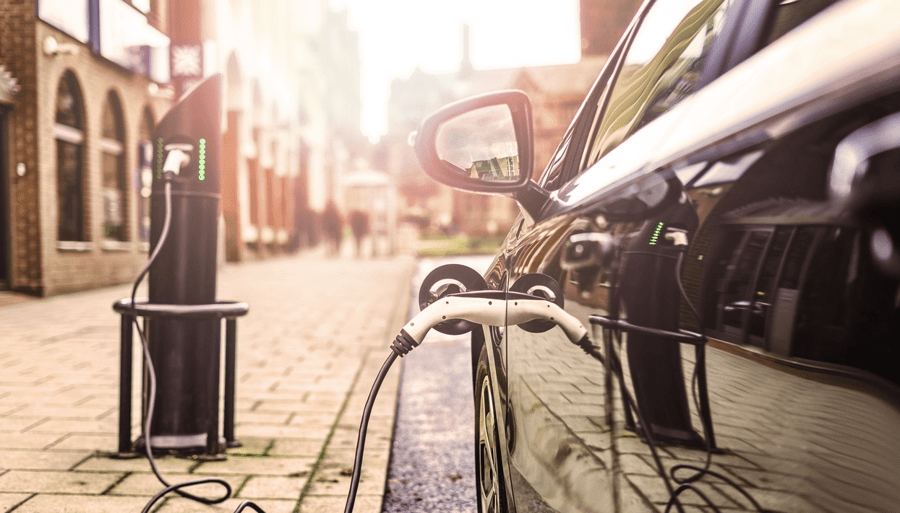 These are our top 10 picks, which we've divided into various categories below. So you can find the right hybrid car for you, no matter what kind of car you currently drive, or want to drive – from family hatchbacks to SUVs, plus the coolest car in town to lust after:
Kia Niro  
Ford Kuga PHEV 
Hyundai Ioniq Plug-in
Mini Countryman PHEV
BMW 330e touring
Skoda Superb iV
Seat Leon 1.4v eHybrid Xcellence
Volvo XC90 Recharge T8
VW Golf GTE
Ferrari SF90 Stradale
Best SUV hybrid cars
SUVs (Sports Utility Vehicles) used to be synonymous with gas guzzling – huge cars, with big engines, needing lots of fuel to power them. How times change. The modern hybrid SUV is the gentle giant of the motoring world, and there's a lot of competition out there to be the best. 
Kia Niro PHEV
This ever-popular PHEV was initially designed as a dedicated hybrid, so the battery and engine components work in perfect harmony. You can choose between a standard or plug-in hybrid – they both have the same 1.6 litre petrol engine but the plug-in has the capacity to travel 30 miles on battery alone. The Niro is spacious inside with a good level of driving comfort for its reasonable price tag. We would tip the plug-in above the standard, just because of better fuel economy and eco-credentials. 
Ford Kuga PHEV 
The Kuga PHEV's battery can take you up to motorway speeds quicker than many of its rivals and keep you going for 35 miles without switching to petrol. With a high, supportive driving position, those who share their car with a smaller or taller partner, will appreciate the seat's memory functions in the higher range models. The Kuga is a competitively priced SUV that's definitely worth a test drive. 
Cost: from £33,085
CO2 g/km: 32
Range: 35 miles battery only
Best hybrid cars for those on a budget
If you're on a budget, leasing can be a great alternative to buying – and you'll probably be able to get a better car than you could afford to buy. Read more in our leasing section further down, for great deals through our award-winning partner, Vanarama. 
But if you're determined to make a purchase, then here's one on the cheaper end of the spectrum:
Hyundai Ioniq Plug-in
It's tricky to find a PHEV under £30,500 because of the technology that goes into their design. But the Ioniq just squeezes in there, and has been the cheapest plug-in hybrid for some time now. The plug-in version of the Ioniq offers a good alternative to the more well-known Toyota Prius, and is a good eco-friendly option. 
Cost: £29,811
CO2 g/km: 26
Range: 39 miles
Best small hybrid car
Small hybrids can give you the best of both worlds – being efficiently electric and nippy for urban driving, and also capable of those long motorway journeys when the petrol engine kicks in. 
Mini Countryman PHEV
Ok, so it's not a tiny car, but it's certainly one of the smaller SUVs with a plug-in powertrain, and we love it for it. The hybrid version of the Countryman comes with all the usual Mini good looks, including Union jack tail lights. And there are tonnes of personalisation options that mean your Mini won't be the same as anyone else's. So for street cred as well as eco-cred, look no further. 
Cost: from £33,500
CO2 g/km: 44 g/km
Range: 22 miles
Best hybrid cars for families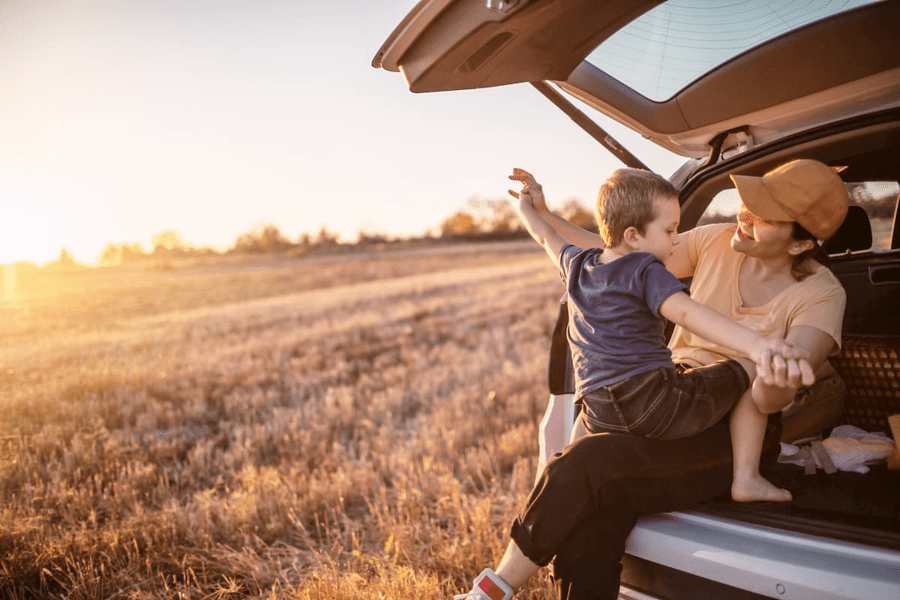 For a family car you need to consider not only practicality (like big boot space) but also reliability and running costs. You can rely on a plug-in battery for school runs and short weekend jaunts, so fuel economy is good. Plus, plug-ins are cheaper than full EVs. Here are 2 we like:
Seat Leon 1.4v eHybrid Xcellence
This hatchback comes with cruise control and parking sensors to support you on the road, even if the kids are doing everything they can to distract you! The Xcellence is a comfortable ride, with responsive steering and a 270 litre boot to fill with their clutter, as well as your shopping. And with its bold, sporty design, your teen won't be too embarrassed to be dropped at the school gates. 
Cost: from £26, 630
CO2 g/km: 26 
Range: 40 miles
Volvo XC90 Recharge T8
For big families with cash to splash, this 7 seater plug-in SUV is as elegant as they come. Plus, the 2 litre engine, combined with an electric motor, offers the kind of acceleration that means your kids won't be late for school any time soon. Essentially, the safety features are all top notch, and a spacious, classy interior makes for less squabbling in the back. 
Cost: from £56,135
CO2 g/km: 63g/km
Range: 31 miles
Best hybrid car for city driving
Hybrid cars are actually ideal for city driving – with a lot of stopping and starting, the battery can self-charge through the regenerative braking system, meaning fuel economy is at its best, with zero emissions. You also need a car small enough to park in the tiniest of spaces, yet big enough to hold its own on the road. Here's our top pick: 
VW Golf GTE
Volkswagens have always had class, and now they have low emissions and excellent fuel economy too! For city driving, it's quiet, quick and comfortable, with the same VW quality you're accustomed to. And with a 40-mile electric-only range, you can get out of the city too, without mounting fuel costs. 
Cost: from £35,960
CO2 g/km: 38
Range: 40
Our favourite hybrid cars
As far as hybrids go, PHEVs are the way forward in terms of fuel economy and reducing carbon emissions. The best ones act as a gateway for many drivers into pure EV purchases, because the smooth, quiet functionality of the electric motor is kinda addictive. So get chalking up some eco-friendly points with our top picks:
BMW 330e touring 
To be frank, if we could pick any hybrid car right now, it would be this one. And according to Top Gear, "For most of us, it's all the car we could use or want… have your cake and eat it. It'll carry a lot of cake." 
Cost: from £32,190
CO2 g/km: 38 to 44
Range: 35 miles
Skoda Superb iV
Skodas have had their fair share of criticism from experts and comedians alike, but it would be hard to fault the Superb, which really does live up to its name. Affordable, spacious, comfortable and economical on fuel – this is a quality car from whichever way you look at it, with very low carbon emissions, at just 30g/km.   
Cost: from £33,255
CO2 g/km: 30
Range: 35 miles
The coolest hybrid car
The last category is for those for whom money is no object. Plus, we can all dream, right? 
The Ferrari SF90 Stradale
This stunner from Ferrari is the new supercar. It may have a low electric range of only 15 miles, but it's Ferrari's fastest, most powerful road car to date – capable of  0-62mph in 2.5 secs. And it's all-wheel-drive too. The 3 motors bring benefits such as instant torque and impressive traction, with 1,000 horsepower. For those with money to burn, the SF90 is your lighter fuel. 
Cost: from £374,420
CO2 g/km: 154
Range: 15 miles
A hybrid car to avoid 
When spending this amount of money, you want to be sure you get it right. That's why we recommend you take a leaf out of our team member Michelle Little's book, and test drive, test drive, test drive! But, having said that, there are a few hybrids we wouldn't recommend you try. Here's one.  
DS 7 Crossback E-Tense
Tense is what you might become while driving this car. Being rather jerky on the brakes and with a bumpy transfer from motor to engine, the DS 7 Crossback E-Tense isn't the smoothest of rides. Plus, the interior quality is not what you'd expect for the relatively high price, and the depreciation value is thought to be lower than its competitors. 
Cost: from £49,970
CO2 g/km: 30-39
Range: 40 miles
Best hybrid cars to lease
Leasing a hybrid car is a  great alternative to buying one – especially if you want to drive a brand new car for less money per month than finance methods can offer, without the worries of depreciation. Most drivers find they can afford a more expensive car through leasing, than they could afford to buy. Just ask our OVO team member Todd Carter who's been leasing his car for over a year. 
Through our partnership with the UK's award-winning vehicle leasing business, Vanarama, you can access the best plug-in hybrids at great prices. And with our Free Green Miles scheme, you can convert the EV miles you drive into a reduction on your energy bills – meaning you'll save money on charging your vehicle, as well as on your household energy.
And that's not all! When you lease a "Hot Offer" plug-in hybrid, you'll also qualify for a year's free full insurance (worth an average £538). Not bad, eh?
The best offers at the moment include:
Seat Leon 1.4v eHybrid Xcellence
Recommended above as a good family option, the Seat Leon 1.4v eHybrid Xcellence hatchback is a comfy, practical car for you and your family. Leasing just makes driving one that little bit sweeter, with a year's free insurance included with your contract.
Cost: from £266.96 per month, including a year's free full insurance2
CO2 g/km: 26
Range: 40 miles
Peugeot 3008 SUV 1.6 Hybrid 225 GT e-EAT8 
A striking SUV with stylish good looks both inside and out, the Peugeot 3008 SUV hybrid is a joy to drive. Happily it's not style over substance, as the Peugeot competes admirably in fuel efficiency and practicality too. If you can't afford to buy, then take a look at Vanarama's hot offer deal. 
Cost: from 308.88 per month, including a year's free full insurance3
CO2 g/km: 30
Range: 39 miles
What can OVO offer you as a plug-in hybrid car driver?
OVO's Drive tariff doesn't only offer unbeatable flat rates for charging your plug-in hybrid (or EV) at any time4. Our members also get:
100% renewable electricity as standard5
A tree planted in your name every single year you're with us6
An award-winning smart meter experience (Uswitch 2020)
A

£50 gift card

every time you

introduce a friend to us

A 5-Star

TrustPilot

rating by 30,000 members
£70 off a smart charger
So why not get a quote, and switch to OVO today? You could be charging your EV, fighting the climate crisis – and saving money – sooner than you think. 
Sources and references:
1 and 5. 100% of the renewable electricity we sell is backed by renewable certificates (Renewable Energy Guarantee of Origin certificates (REGOs)). See here for details on Renewable Energy Guarantee of Origin certificates and how these work. A proportion of the electricity we sell is also purchased directly from renewable generators in the UK.
2 and 3. This offer is available in August 2021, but offers vary and change over time. Please check the Vanarama.com website for current offers. Ts and C's apply
4. To be eligible for OVO Drive, our members must drive a plug in hybrid or full EV.
6. Each year, OVO plants 1 tree for every member in partnership with the Woodland Trust. Trees absorb carbon dioxide from the atmosphere, so tree-planting helps to slow down climate change
View more from these categories