guide
Fast fashion: what it is, why it's bad for the environment, and how to shop smarter
17 December 2020 | Aimee Tweedale
Is green your colour? Once you learn about the impact that fast fashion has on our environment, it might just be. 
We talk a lot here on the OVO blog about changes you can make around the home to reduce your carbon footprint.  We also shed light on some of the biggest challenges in the climate crisis, which can't be tackled by small changes. When it comes to fashion, there are huge problems that need to be tackled industry-wide by brands and companies. But as consumers, we play a role too: it's important that we think about our own habits, and know the issues with the clothes we choose to wear.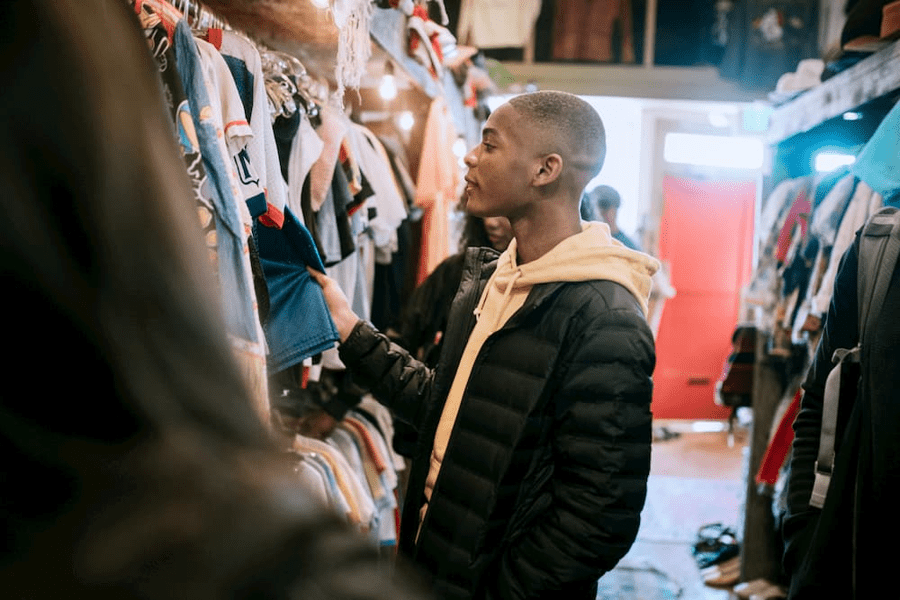 Why? Because, believe it or not, each year the fashion industry consumes more energy than flying and shipping combined. In fact, 10% of the world's total greenhouse gas emissions comes from the world of fashion. That's almost as much as the whole of China (12.5%)1!
Fashion is the second biggest polluter after the oil industry, contributing to everything from the plastic particles in our drinking water, to the exploitation of workers around the world. We all want to look good, but when we're shopping, we have to know what our clothes really cost.
First things first: what is fast fashion, and why is it such a problem?
What is 'fast fashion'?
Walk down any high street, and you'll likely have an array of clothing shops to choose from. Each one will be fully stocked with garments that look like things you've seen on your Instagram feed, or in a magazine. You'll have your pick of many identical pieces in different colours and sizes, for bargain prices. If you can't find the exact size or style you want, you could go online, and order it for next day delivery. That's fast fashion.
The 'fast' in fast fashion refers to how quickly trends go from the catwalk to your wardrobe. Plenty of fashion brands churn out many new designs every year, manufacturing them at breakneck speed to meet consumer demand. 
Fast fashion convinces us that we need to constantly update our look, because there's always a fresh new trend to buy. But despite how fun and easy that seems on the surface, there's a massive hidden cost to the process.
Keen to slow down your approach to fashion? Lucky for you, these days there are more and more sustainable brands and options available. Keep reading to find our tips on how to look good without hurting the planet. But first: some facts.
What is the environmental impact of fast fashion?
The effects of fast fashion on the environment are too huge to cover fully in this article, but here's a breakdown of some of the key issues.
Carbon emissions
As we mentioned above, about 10% of the world's greenhouse gas emissions (including carbon) come from the fashion industry. Brands need to confront a number of areas to tackle this – with manufacturing, transport, materials, and packaging all playing a role. So too does consumer behaviour – and that's where we can play our part. Keep reading to find out more about how to reduce the carbon footprint of your wardrobe.
Water use
The fashion industry glugs approximately 1.5 trillion litres of water every year2. And that's only expected to get worse. Without significant changes, if demand for fashion continues to grow, the industry could be consuming 50% more water by 20303.
Read more about how water use impacts climate change.
Polyester fibres
Check the label of something you're wearing now, and chances are, you'll see that it's partly made of polyester. It's one of the cheapest and most popular textiles used by the fashion industry. It's also very bad for the planet.
70 million barrels of oil per year4 are used to make polyester fibres. Not only do these man-made fabrics use a lot of fossil fuels in the manufacturing process, but they're also impossible to get rid of, because they don't decay like natural fibres do. In fact, the plastics in our clothes are one of the leading causes of the plastics in our oceans.
Toxic textile dyes
Bright, colourful clothing is great for making a statement – but have you ever thought about how those colours were created? Many fashion brands use chemical dyes that are toxic to our environment, and end up polluting rivers and oceans. This makes the fashion industry the second biggest polluter of water after the agriculture industry. To find out more about this issue, take a look at Greenpeace's Detox My Fashion campaign.
Waste
One of the biggest problems when it comes to clothing and the environment is simply how much of it we throw away. Three quarters of Brits throw away their old glad-rags, rather than donating or recycling them. Our culture of buying outfits just to wear them once results in lots of fashion ending up in the bin.
Want to learn more about recycling and how it works? Read our complete guide.
Manufacturing in developing countries
Many western fashion brands pay for their clothes to be made in factories based in developing countries. This can mean that the resulting pollution is a lot higher in countries where regulations on manufacturing are less strict5.
It can also lead to exploitation of garment workers and other labourers, who are often paid less than a living wage, and face dangerous working conditions. While that's not directly an environmental issue, it does make the fashion industry less sustainable. 
To learn more about this, it's worth watching the acclaimed 2015 documentary, The True Cost. (Click here to find out more about this and our other favourite documentaries about climate change.)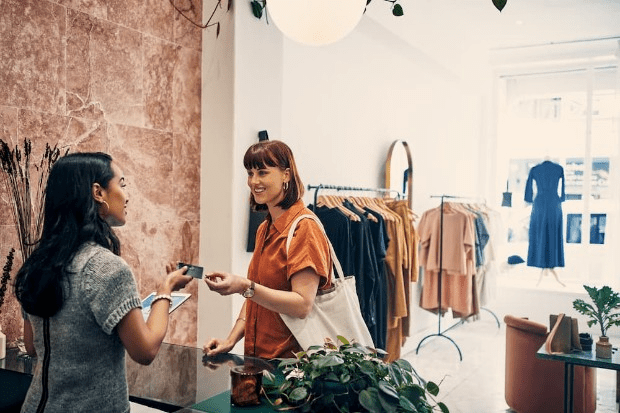 5 fast facts about fast fashion 
Trying to convince someone it's time to ditch their retail therapy? Here are some key fast fashion environmental impact statistics.
Every second, the equivalent of a garbage truck full of clothes is either thrown into landfill, or burned6. It's a level of waste that's hard to even imagine – and we keep buying more!
In the UK alone, we dump 350,000 tonnes of clothing into landfill every year7. That's almost the same weight as the Empire State Building8.
The average home in the UK owns about £4,000 worth of clothes, but around 30% of that clothing probably hasn't been worn for at least a year9.

As well guzzling huge amounts of oil

, the fashion industry is the second largest consumer of water. It takes 2,000 gallons of the stuff to create just one pair of jeans. (That's about

48 bathtubs

' worth.)
Our oceans are also suffering because of our shopping habits. According to the International Union for Conservation of Nature (IUCN), 35% of all the non-biodegradable microplastics in the ocean are there because of synthetic fabrics that have been made by – you guessed it – the fashion industry10.
Want to know more about how you can cut down your carbon emissions? Read our guide to fighting climate change at home.
It's not just fashion that impacts the environment more than you think. Food waste causes more carbon emissions than global aviation! Find out how food waste is damaging our environment and what we can do about it in our guide. 
So, how can I make my wardrobe more sustainable?
By now, you get the picture: the relationship between the fashion industry and the environment is pretty toxic. 
As shoppers, the biggest difference we can make is changing our habits. Fast fashion creates trends that move quickly. When we feel like we have to be at the forefront of those trends, we buy lots of new things, only to wear them very little. 
Being fashionable without damaging the environment is all about slowing down. It means taking your time to find second-hand pieces that are really special, or investing in high-quality, timeless clothing that you'll never tire of.
It also means paying attention to what your favourite brands are doing when it comes to making their fabrics and supply chains more ethical. If you don't like what a shop is doing, show them you care by taking your money elsewhere.
Wondering whether it's more eco-friendly to buy your clothes on the high street or online? Read our guide to the carbon footprint of the internet.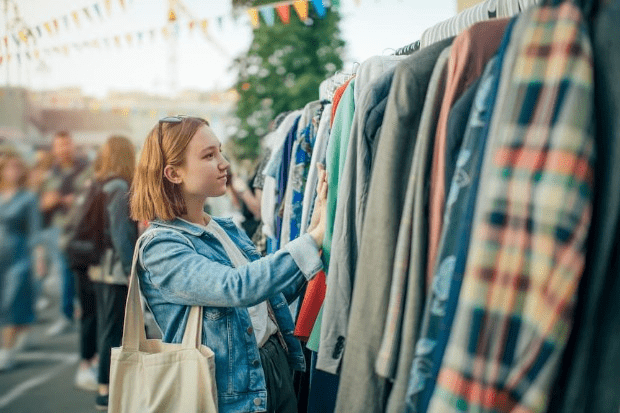 9 tips to help you cut down the carbon footprint of your clothes
Only buy things you know you'll wear a lot. We've all felt the last-minute panic before a night out, when you realise you don't know what to wear, and the temptation to buy something new is strong. But to break our impulsive fast fashion habits, we need to invest in pieces that we'll use again and again. Eco Age suggests the

30 Wears Test

: before buying something, ask yourself, will you wear it at least 30 times?
Share, swap, and borrow. Perhaps you have a special occasion coming up that does require more effort, like a wedding. Try coordinating with friends to share glam outfits, or join a local group for swapping clothes. There are now plenty of rental services, too, such as

Girl Meets Dress

or

Rent the Runway

, where you can hire designer looks for one-off events.
Buy second-hand (and donate your unwanted clothes, too). There are loads of beautiful, nearly-new clothes out there in charity shops, and on platforms like

eBay

,

Depop

, and

Vinted

. If we all get into the habit of giving away clothes we no longer want, together we can shift our reliance away from fast fashion (and support some good causes, too).
Do your own research into brands. When buying something new, have a look into the shop you're buying from. What materials do they use? How much new clothing do they create every year? How far does the clothing travel from the production line to your home? Do the workers in their supply chain earn a living wage? It's important to know the answers to these questions so that we can make informed choices. Conscious brands like

Patagonia

and

Allbirds

are committed to transparency, and

directories like Good on You

can help you find the answers more easily. (Good on You is also available as an app – 

find out more about smart phone apps that can help you be more eco-friendly

.)
Shop locally. If there are local, independent fashion brands in your area, it's a great idea to support them. Not only does that help boost the local economy, but if an item travels less distance, then it has a smaller carbon footprint.
Look out for symbols and certifications. Programmes like the

Better Cotton Initiative

,

Global Organic Textile Standard

, and

OEKO-TEX

exist to help shoppers see where the material in their clothes has come from. But be careful: these logos all mean different things – and besides, even if your clothing has a symbol to show it's made from organic cotton, that doesn't mean it's ethical in other ways. That's why it's always good to do your own research. (To help, we've put together

this guide on how to know what 'eco-friendly' really means

.)
Splash out on high quality. Spending more on your clothes isn't an option for everyone. Sometimes we have to be thrifty (and, if you can, it's best to buy second-hand). But if you can afford it, then it's worth saving up to buy an expensive, durable item of clothing that you'll love for years, rather than something that will end up in a landfill sooner.
Learn how to be handy with a needle and thread. Why throw away a perfectly good pair of jeans when you get a hole in the seam? To make your clothing really go the distance,

teach yourself how to sew

. 
Do less laundry. No, really. Each time you put on a load of washing, synthetic fabrics shed microplastics, which end up in our oceans. In fact, up to 25% of each garment's carbon footprint comes from the way you wash it11. To lessen the impact, wash your clothes less often. Instead, you could air them out, or

make a fabric spray to keep them smelling fresh

.
For tips on how to be a more responsible consumer beyond fashion, read up on 30 ways to be more environmentally friendly, the smartphone apps for living an eco-friendly lifestyle, and sustainable gift-giving.
Sources and references
1  https://ourworldindata.org/contributed-most-global-co2
2  https://www.theguardian.com/fashion/2020/apr/07/fast-fashion-speeding-toward-environmental-disaster-report-warns
3  https://www.theconsciouschallenge.org/ecologicalfootprintbibleoverview/water-clothing
4  https://books.google.co.uk/books?id=NtShDwAAQBAJ&pg=PA36&lpg=PA36&dq=polyester+and+70+million+barrels+of+oil%5C&source=bl&ots=wXTC1l_Bpk&sig=ACfU3U1X2TKwebkQ-4qLIlQpM8ZbDnmdQw&hl=en&sa=X&ved=2ahUKEwitn9uhz43oAhX8SRUIHf2NCkAQ6AEwCnoECAkQAQ#v=onepage&q=polyester%20and%2070%20million%20barrels%20of%20oil%5C&f=false
5   https://www.theguardian.com/fashion/2020/apr/07/fast-fashion-speeding-toward-environmental-disaster-report-warns
6  https://www.unenvironment.org/news-and-stories/story/putting-brakes-fast-fashion
7  https://www.wrap.org.uk/content/textiles-overview
8  https://www.esbnyc.com/sites/default/files/esb_fact_sheet_4_9_14_4.pdf
9  https://www.wrap.org.uk/content/textiles-overview
10  https://earth.org/fast-fashions-detrimental-effect-on-the-environment/
11  https://www.fashionrevolution.org/dont-overwash-its-time-to-change-the-way-we-care/
View more from these categories