guide
A guide to condensing boilers: costs, savings and benefits
24 March 2021 | Celia Topping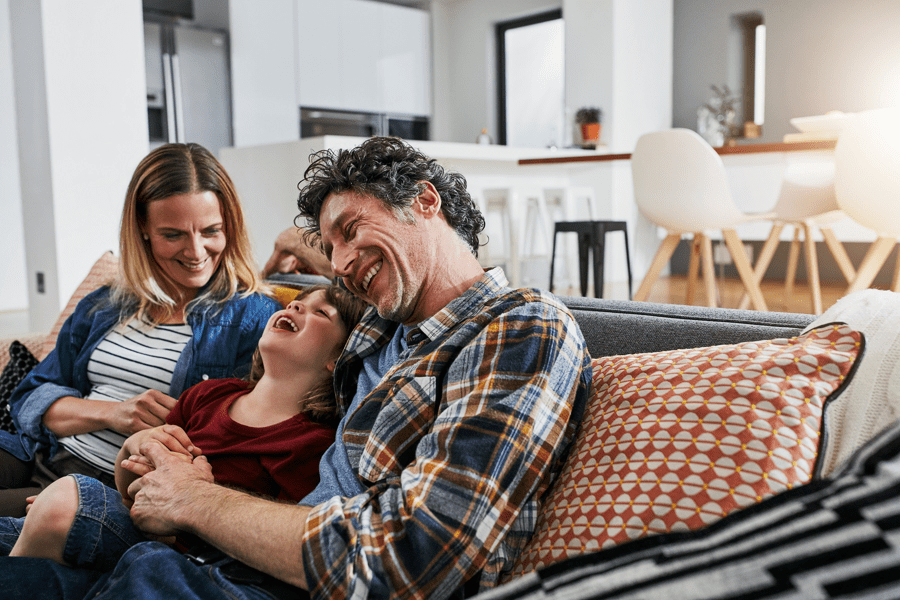 Boilers. Admittedly, they're not particularly fun or glamorous! But getting a good one is vital to the warmth and comfort of your home. In fact, replacing or buying a new boiler is probably one of the most important purchases you'll make for your home. 
If you've had your boiler for longer than 10 years, it might be a good idea to start thinking about upgrading. And if you've not bought a boiler before, the jargon can be a bit confusing – like, what's the difference between a combi boiler and a condensing boiler? Don't worry, we're here to help. 
Read on, to find out everything you need to know about gas condensing boilers, including how they work, what they cost, and what to look out for.
What is a condensing boiler?
Let's start at the beginning. An old-style, non-condensing boiler heats water – but a lot of that heat is wasted, as it escapes through the flue as boiling hot water vapour. Modern condensing boilers on the other hand, are designed to trap and use that previously wasted vapour, and convert it into heat energy. 
Condensing boilers use less fuel and power, while also producing fewer carbon emissions. Win-win! And where a non-condensing boiler is only 50-70% efficient1, a condensing boiler has up to 90% efficiency. 
Condensing boiler regulations
Changes in boiler regulations came in response to the vast amount of carbon emissions being produced by UK homes, contributing to climate change. So in April 2005, the Government made it mandatory for all new gas boilers to be condensing boilers. And from 1st April 2007, the same rule applied for oil boilers. So you don't really need to worry about whether or not you're buying a condensing boiler. By law, they're the only kind available.
What's the difference between a combi boiler and a condensing boiler?
It's easy to be confused by these terms – so let's break it down. A combi boiler (combination boiler) gives both heating and water within one unit. It's supplied by the water mains, and heats the water internally, on demand. There's no external tank, like there was in the old "system" and "conventional" boilers. 
A condensing boiler is any boiler using condensing technology. This refers to the way they use the heat generated from the gas or oil they burn. So a combi boiler can also be a condensing boiler. (But not all condensing boilers are combi boilers!)
Being small, powerful, convenient and energy efficient, gas condensing combi boilers are the most popular choice for the majority of homes today.
Thinking about getting a new boiler? Read our explanatory guide to the various boilers available, and how to choose the right  one for you. 
What does a condensing boiler look like
As explained above, a condensing boiler can also be a combi boiler. Similarly, condensing technology can also be used in "system" and "conventional" boilers, making them condensing boilers, too. So if your boiler was installed after 2005, it's a condensing boiler, no matter what it looks like. Here's an example of a gas condensing combi boiler.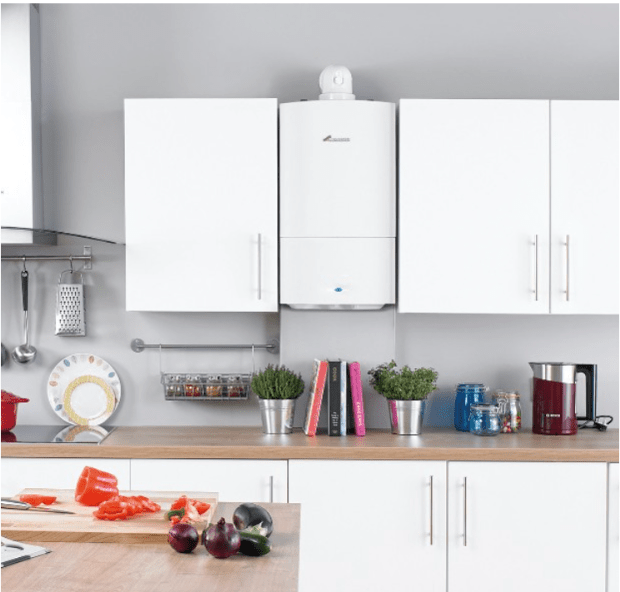 How does a condensing boiler work?
This is the slightly techy bit, so bear with us! The key function of a condensing boiler is its ability to recycle the heat it generates – heat that was previously lost in non-condensing boilers. 
All boilers have a primary heat exchanger, to heat the water that travels to your radiators and taps. But a condensing boiler also has a secondary area, where the heat is used as energy. As it does this, the warm air condenses, (see where the name comes from!), forming cooler droplets, which are then disposed of through the condensate pipe outside. 
In older boilers, water vapour of over 200°C would escape through the flue – but with condensing boilers, that heat is recycled. That means the heat escaping is only around 55°C. 
Does a condensing boiler use gas or electricity?
As a large majority of UK households are connected to the gas mains supply, most condensing boilers use gas. But, it's also possible for condensing boilers to be fuelled by oil, in more remote areas where homes aren't on the mains supply. To read more about different heating options for your home, read our guide on gas vs oil vs electric heating. 
What temperature should a condensing boiler be set at?
For a condensing boiler to be as efficient as possible, it's important to set it at the right temperature.The best temperature for your central heating should be around 70°C, and your hot water around 60°C2. 
Pros and cons of a condensing boiler
When you're about to spend a lot of money on anything, it's important to weigh up the pros and cons. And it's no different for boilers. Let us give you a helping hand:
What are the key advantages and benefits of a condensing boiler?
As we've already mentioned, a condensing boiler offers you a fantastic 90% efficiency rate – but that's not all:
Lower energy bills – due to their 90% energy-efficiency, more heat is saved and recycled, meaning less to pay at the end of the month. 
Eco-friendly – being energy-efficient means your boiler's more environmentally friendly, helping you to

lower your carbon footprint

.
Space-saving – this kind of boiler is small and compact, and can be easily hidden away out of sight. 
Easy installation – your qualified engineer will be in and out in just a few hours.
Hot water on demand – no tiresome waiting for that immersion heater to heat up.
Advanced wireless features – some boilers can be linked up with your

smart thermostat

, so you can monitor and control your heating and hot water from wherever you are. Welcome to the ultimate in smart home heating! Find out how easily you can get a new one, thanks to our partnership with supercool

smart tado° thermostats

. 
What are the drawbacks of a condensing boiler? 
In the main, condensing boilers are great, but there are a couple of points to consider:
Old pipework would need to be checked, as it may not be compatible with modern condensing boilers
The plastic condensate pipe that runs to the outside of your home could freeze up when the temperature drops. Although

this is a pretty easy problem to fix

. 
Do I need a condensing boiler? 
Yes! Is the short answer. And the slightly longer one is – you need one because they're more economical, more energy-efficient, more eco-friendly, reliable and safer than non-condensing boilers. Plus, considering the government regulations of 2005, you don't really have any other choice – as all new boilers are condensing, by law. 
When should I replace my boiler?
If your boiler is between 10-15 years old, it's definitely time to start thinking about replacing it. The older a boiler is, the less efficient it is at heating your home and water. A modern condensing combi boiler will be far more efficient, and save you money on your bills, as well as being safer and more reliable. So what are you waiting for?!
What size condensing combi boiler do I need?
Size does matter when it comes to boilers. But size doesn't mean the physical dimensions of the unit. We measure the output of boilers in kilowatts (kW), which tells you how powerful it is. How much power you need depends on the number of bathrooms and radiators you have – as well as the general demand for heating and hot water in your household. Take a look at the table below, to see which size would be most suitable for your home. 
| | | | |
| --- | --- | --- | --- |
| Number of bedrooms | Number of radiators | Number of bathrooms | Recommended size |
| 1-2 | 0-10 | 1 | 24-27kW |
| 3-4 | 10+ | 2-3 | 28-34kW |
| More than 4 | 20+ | More than 3 | 35-42kW |
How much does a condensing boiler cost in the UK?
The average cost of a boiler, depending on the brand and the size you need, varies between £500 and £1,500. Plus the cost of installation. If you're installing from scratch, then you also need to consider the price of radiators and pipework etc, which could take you over £3,000. 
But, according to the Energy Saving Trust, you could save over £300 a year if you install a modern, highly efficient condensing boiler. So although the initial install is expensive, it could pay back in as little as 2 years. Read our guide to learn more about the costs for a new boiler, and how much they cost to repair.
Can I get help with the cost of a new boiler?
Installing a new boiler is expensive. But help is at hand. OVO is part of the Energy Companies Obligations scheme (ECO) – which was set up to help low-income families improve the energy efficiency of their home, and reduce their carbon footprint. You could meet the criteria if:
You're on a low income
You're on benefits
Your boiler is over 8 years old
Find out more about how OVO can help you with the cost of a new boiler through the Energy Companies Obligation Scheme. 
Whichever boiler you choose, make sure it's covered
So you've done the hard work by choosing your new boiler. The last things you want to worry about are costly emergency call-outs, or niggling breakdown concerns. Enjoy peace of mind, with OVO Boiler Cover – complete with an annual boiler service – from just £13 a month.  
Get an OVO HomePlan quote here
How long will a condensing boiler last?
On average, a modern condensing boiler should last between 10-15 years. Its lifespan depends on the model, manufacturer, and how much you use it. A regular boiler service and professional maintenance could help your boiler happily chug along for a quite a few years longer. 
To find out which kind of boiler is the right one for you, read our handy guide. 
Condensing combi boiler models
There are plenty of condensing combi boiler models to choose from, including Worcester, Ideal and Intergas. It's worth doing your research as to which one is the best for you. Find out more in our handy boiler guide.  
Is it time for a new boiler? Get a quote with OVO
You can get an A-rated, award-winning boiler from CORGI HomeHeat (part of the OVO family). Want to know more? Visit our boilers page to check out the offers from CORGI HomeHeat. Don't leave it to guesswork – get a new boiler installed safely by local engineers. 
Not yet a member? Switch to OVO today, and not only will you get competitive rates, but we'll give you 100% renewable electricity3, and plant a tree4 for every year you're with us.
Condensing boilers: a summary
Here's a quick rundown of the main points in this article:
All new boilers now installed in the UK must be condensing boilers, due to government regulation
Condensing boilers are far more efficient than non-condensing boilers, so can save homeowners hundreds of pounds a year in bills
Condensing boilers also reduce a home's carbon footprint, as they use less fuel, and create fewer carbon emissions
The size of a condensing boiler ranges between 24 and 42kW, depending on the heating, and water needs of a home
Regular boiler services and correct maintenance could keep your boiler going even longer than its estimated 10-15 year lifespan
Sources and references:
1  https://www.viessmann.co.uk/heating-advice/what-is-a-gas-condensing-boiler
2  https://www.boxt.co.uk/boilers/guides/what-is-a-condensing-boiler
3  The renewable electricity we sell is backed by renewable certificates (Renewable Energy Guarantee of Origin certificates (REGOs)). See here for details on REGO certificates and how these work. 
4  Each year, OVO plants 1 tree for every member in partnership with the Woodland Trust. Trees absorb carbon dioxide from the atmosphere, so tree-planting helps to slow down climate change.
View more from these categories