guide
10 things to consider before getting an air source heat pump
07 December 2021 | Celia Topping
Around 14% of the UK's carbon emissions are created from home heating<1>. That's why the Government's recent Heat and Building Strategy2 set a new target for phasing out gas boilers from 2035 – in favour of more low-carbon alternatives. 
Air source heat pumps are seen as vital in making the way we heat our homes greener. But as a fairly new technology here in the UK, switching to an air source heat pump is not a decision many homeowners can make lightly. 
You might know they're energy-efficient (generating up to 4 times more energy than they consume!3), low-maintenance, low-carbon, and long-lasting. 
But with so much information (and misinformation) out there, it's difficult to know if they're really right for your home. 
So we've put together this article to guide you through the most important things to consider when thinking about installing an air source heat pump. 
The cost of air source heat pumps
Grants available to help with the installation cost
Choosing a reputable installer
How well is your home insulated?
The coefficient of performance of your heat pump
Where will the air source heat pump be installed?
Consider your heat distribution system
Installing a heat pump can be fairly disruptive
Make sure your air source heat pump is fully renewable to run
1. The cost of air source heat pumps
Cost is undoubtedly the biggest consideration for most households. The cost of an air source heat pump is around £2,000-£9,0004, but for an average 2 to 3-bedroom home, you can expect to pay in the region of £3,000-£4,000. That's the cost of the heat pump alone. It doesn't include the price of installation, plus replacing your radiators if needed, and other associated costs.
The Energy Saving Trust estimates that the total cost of getting an air source heat pump fully installed comes to around £7,000-£13,0005. 
Part of the problem is that specially skilled engineers are needed, and at the moment, there just aren't enough fully trained engineers available6. This means you're paying for specialised skills, which is always more expensive. The good news is, as more engineers become qualified, the cost will go down. And, as the technology becomes more commonplace and competitive, the price of the pump itself will drop too. 
More info about the costs of air source and ground source heat pumps is in our handy guide
2. Grants available to help with the installation cost
Happily, you might not have to wait for prices to drop as there are government grants to help with the cost of installing low-carbon tech, including air source heat pumps. 
The Renewable Heat Incentive (RHI)
This government scheme offers households installing air source heat pumps quarterly payments for each kWh of heat they produce. The payments will be made for 7 years. 
It's important to note that the heat pumps installed must have the Microgeneration Certification Scheme (MCS) stamp of approval to be eligible for the RHI7. That goes for the installer too. Take a look at the Microgeneration Certification Scheme site to find qualified contractors and products. 
Applications for the RHI are open until 31 March 2022. 
The Boiler Upgrade Scheme
As the Renewable Heat Incentive is only available until March 2022, it'll be replaced by the Boiler Upgrade Scheme in April 2022. 
The new scheme offers homeowners a one-off grant towards the cost of installing a heat pump, rather than quarterly payments afterwards. This could be more attractive for many would-be buyers, considering it's a lump sum of:
£5,000 towards the cost of an air source heat pump
£6,000 towards the cost of a ground source heat pump
Find out more about the grants available for installing green home improvements
3. Choosing a reputable installer
As mentioned above, you need to ask a reputable, MCS-certified engineer to fit your air source heat pump. This means the installer has completed specific training and must follow certain codes of conduct and industry compliance. Not all heat pump installers have this certification, so make sure you do your homework. 
Looking at customer reviews will also help you book a trustworthy company. It's a good idea to get a few different installers to give you quotes before you commit. Make sure you get your quotes in writing – so you can remember all the details, compare quotes, and keep the installer to their word! 
If you're applying for the Renewable Heat Incentive, you can ask your engineer to give you an estimate of your potential earnings. This is not a guarantee, but should give you an idea of what you stand to gain. 
4. How well is your home insulated?
An important factor in how efficiently an air source heat pump will work is how well-insulated your home is. After all, you don't want all that lovely warm air being lost out of your windows, roof, or walls. This means making sure your home's Energy Performance Certificate (EPC) is up to date. The EPC shows how much energy your home uses and how energy-efficient it is. It will also help you work out the size of heat pump you need. Another vital consideration. 
If your home is poorly insulated – which is often the case in old, leaky homes – you may need to make some insulation improvements before installing a heat pump. 
5. The Coefficient of Performance (CoP) of your heat pump
Don't worry about the flowery language. It's just a fancy way of saying how efficient your heat pump is. Air source heat pumps are very efficient – for every unit of electrical energy they take in from the National Grid, they should give out about 3.5 times the amount of heat. That's a Coefficient of Performance, or CoP, of 3.5. 
So the higher a heat pump's CoP, the more efficient it is at turning electricity into heat. Not all heat pumps are created equal, so check when you're buying your unit. As you'd expect, the higher-rated CoP pumps are generally the more expensive ones, but not always. 
6. Where will the air source heat pump be installed?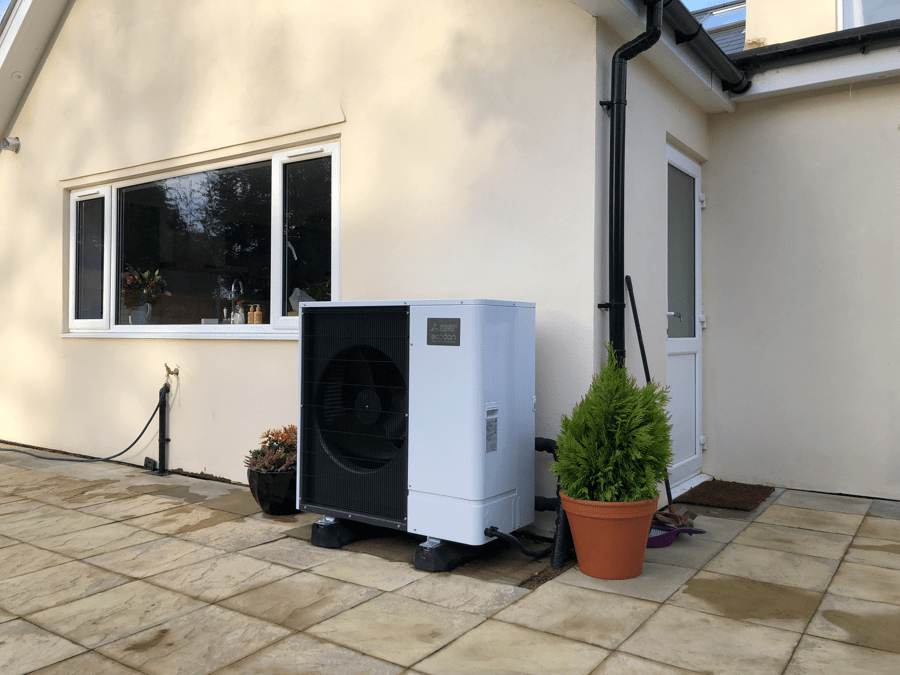 Air source heat pumps are most commonly installed on the ground against an outside wall of your home. But they can also be sited on a flat roof or fixed to an exterior wall if you're in a flat. What's important is that there's plenty of space around it, for unobstructed air flow. Enclosed spaces won't work. 
Heat pumps are listed under "permitted developments", so planning permission isn't usually needed. But you will need to check with your installer that building regulations are being followed if your home's boundary is very close to your neighbours'. You can find all the rules online8. 
7. Consider your heat distribution system
Air source heat pumps work best with low-temperature heat distribution systems, like underfloor heating. If you have radiators, the likelihood is you'll either have to swap them out for larger ones, or switch to underfloor heating.
Your heating system will also have an effect on the size of heat pump you'll need. But don't worry too much about all the options just yet. Your engineer will be able to recommend the correct-sized heat pump for your home's heating system when they do the survey. 
8. Installing a heat pump can be fairly disruptive
We'll be honest with you, unlike getting a new boiler fitted, having an air source heat pump installed can cause a bit of an upheaval. The engineers will have to install not only the outdoor pump itself, but also potentially swap out your radiators too. Plus, elements such as the thermostats and controls will need to be installed inside. 
The amount of time it takes to install an air source heat pump depends on the size of your property, and how complex the install is. For a fairly straightforward install in an average 3-bed house, you can expect 3 engineers on site for 4 to 5 working days. Of those days, you may be without heating and hot water for 1 or 2 days. We suggest that if you're thinking about renovation or redecoration in the near future, why not factor in a heat pump too? That way, you're keeping disruption to a minimum.
For a detailed rundown of  what to expect before, during, and after your heat pump is installed, read our comprehensive guide. 
9. Where do you live?
It's worth thinking about your home's location, because air source heat pumps extract heat from the air. They can do this with temperatures as low as -25C, but the amount of heat extracted is, obviously, much lower. So if you're in a part of the country with a low average temperature, you may be better looking at other low-carbon alternatives, such as a ground source heat pump. 
10. Make your air source heat pump fully renewable to run
Air source heat pumps use one of the most sustainable sources of energy around, air! But they also need electricity to run. It's possible to combine other renewable technologies, such as solar power with your heat pump to supply some of that energy. 
It'll all be worth it! 
It may seem like there's a lot to think about, but don't worry, you can discuss all these considerations with your potential installer when they assess your home. 
You can rest assured that you're making the right decision because soon you'll have a perfectly heated, energy-efficient home, with none of the carbon emissions. Getting a heat pump installed is the right thing to do by our planet, and could save you money too. 
Sources and references:
1 https://es.catapult.org.uk/guide/decarbonisation-heat/&sa=D&source=docs&ust=1637934051245000&usg=AOvVaw1rPH4C49mIW65ylj6fruvq
2 https://www.gov.uk/government/publications/heat-and-buildings-strategy
3 https://www.theecoexperts.co.uk/air-source-heat-pumps/efficiency
4 https://www.boilerguide.co.uk/air-source/air-source-heat-pump-costs-prices
5 https://energysavingtrust.org.uk/advice/air-source-heat-pumps/
6 https://www.building.co.uk/news/less-than-half-the-number-of-qualified-heat-pump-installers-than-government-claims-report-finds/5112269.article
8 https://www.planningportal.co.uk/info/200130/common_projects/27/heat_pumps/2