guide
The decarbonisation of heat: everything you need to know
15 September 2021 | Aimee Tweedale
The UK government has a goal: net zero emissions by 2050. It's the task of a lifetime, and it's not going to be easy. In fact, it's going to mean that we all need to rethink some key parts of our daily lives – including how we heat our homes.
Reaching our green goals will mean decarbonising home heating, and switching to low-carbon heating instead. Confused? Don't be! Read on to find out more about what this all means for you and your home. 
What is the decarbonisation of heat?
Decarbonisation of heat sounds complicated, but the idea is simple: it's about removing carbon from the process of heating buildings.
Carbon is released when we burn fossil fuels. So the goal is to find ways of heating our homes and offices which don't rely on burning natural gas or oil.
Why do we need to decarbonise heat?
Carbon dioxide, often called carbon for short, is a greenhouse gas. Greenhouse gas emissions are the biggest cause of the climate crisis. And here in the chilly UK, the energy we use to heat our buildings accounts for a whopping 17% of our total carbon emissions1. 
And if we focus on homes, domestic heating alone accounts for 13% of the UK's greenhouse gas emissions2. 
That's why the UK has committed to decarbonising the heating sector. We need to find low-carbon ways to keep warm if we want to fight global warming. 
Heat decarbonisation: the benefits
Cutting down your carbon footprint: the biggest, most crucial benefit to decarbonising our heating systems is one that affects us all. With such a big percentage of the UK's emissions coming from heating and hot water, it's vital that we take the carbon out of heating in order to meet our net zero target. Why is reaching net zero important? Because it's time to do everything we can to stop the earth's temperature from rising, and mitigate the

effects of climate change

.
Longer lifespan: are you always worrying about how you'll cover the costs when your boiler breaks down? Great news: some low-carbon heating solutions, such as heat pumps, can last for as long as 20 years3.
Safety: electric heating systems are, generally, safer than natural gas or oil, which are flammable4. Installing one will mean you avoid the risk of gas leaks or

carbon monoxide poisoning

.
Heat decarbonisation: the challenges
Decarbonisation isn't going to happen in the UK overnight. After all, about 85% of us currently have gas boilers in our homes to keep us warm5. There's no straightforward or cheap solution to replacing millions of central heating systems. 
So what are the biggest challenges to decarbonising heat in the UK?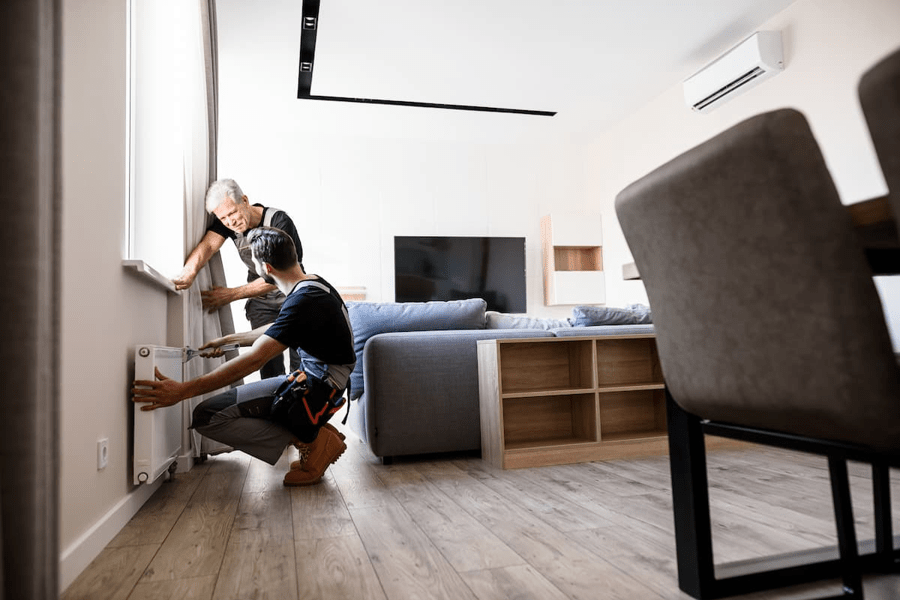 The scale of the change
Right now, about 24.5 million homes in the UK use natural gas for central heating. There's no question that fossil fuels dominate our heating systems at the moment, with only 5% of people using low-carbon heating6.
Of course, it's going to take a long time and a lot of investment to change the heating systems in all those homes. But if there's anything worth our time and money, it's cutting carbon and fighting climate change. 
Find out more about things you can do to reduce your home's carbon footprint
Lack of awareness
In 2019, a survey of 130,000 plumbers, installers and heating engineers found that 43% had no experience at all with heat pumps. What's more, 74% of them didn't rate themselves as very confident when it came to recommending low-carbon heating options to their customers7.
Of course, with even heating experts feeling unsure about new technologies, it makes sense that awareness among the general public is also low. One 2019 survey found that only 38% of people think they will need to change how they heat their home as part of the UK's journey to net zero8.
Low energy efficiency
As well as being heated by fossil fuels, unfortunately a lot of British buildings are not very energy-efficient. 
Research has found that 2 in 3 UK households suffer from draughts, damp, mould or overheating9. This means that lots of UK homes are using far more energy than they need to, which is bad news for the climate.
Why does this matter? Because if our homes aren't efficient, then low-carbon heating systems won't work as well as they should. To decarbonise heating, we need to not only switch to green technologies like heat pumps, but also make sure our homes are well-insulated so the green tech can work well. 
Learn more about how to make your home more energy-efficient
Costs
Right now, switching from a gas boiler to an eco-friendly alternative is expensive. An air source heat pump, for example, could set you back between £7,000 and £13,000 (including installation costs)10. This is mainly because the heat pump market and supply chain is much newer than that for gas boilers. These prices are expected to fall over time. 
There is some help available: the Renewable Heat Incentive is a government scheme that gives people financial support to install a new low-carbon heating system. It's open to new applicants until March 2022. 
In April 2022, the government will replace the Renewable Heat Incentive with the Boiler Upgrade Scheme. This scheme will give homeowners £5,000 grants to help with the cost of installing an air source heat pump. (There will also be £6,000 grants available for ground source heat pumps.) Scroll further down this page to read more about the Boiler Upgrade Scheme. 
What is low-carbon heating?
When it comes to low-carbon heating systems, there's not just one option. Instead, there are several new (and some slightly older) technologies that have potential to replace gas and oil boilers. 
Here's the lowdown on some of the low-carbon heating solutions being discussed right now. For more detail, check out our complete guide to eco alternatives to gas boilers.
Electrification of heat
Over the past 20 years in the UK, we've managed to slash emissions from generating electricity by nearly half11. With renewables on the rise, electricity is a much greener option than gas, making it the natural choice to power our heating systems. 
What could an electrified heating system look like? Well, it could come in the form of an electric boiler, electric underfloor heating, or heat pumps. Specifically, air source heat pumps (which take heat from the air and use it to warm your house) and ground source heat pumps (which do the same thing, but with warmth from the ground).
Find out more in our guide to air source heat pumps and our guide to ground source heat pumps. 
Green gas and hydrogen
Some argue that the best way to transition away from fossil fuels in heating is to keep using the existing gas grid and infrastructure, but with greener fuel. 
One of these greener fuels could be hydrogen. After all, it's the most abundant natural element in the universe. It also doesn't release carbon when burned. But there are some big drawbacks: hydrogen doesn't occur naturally, but has to be separated from other elements – this process usually produces carbon. 
Hydrogen also isn't available yet in our gas network. Research says it won't be available until at least 2030, which means it's a slow solution to the problem of decarbonising heating. The government has said they will make a decision about the future role of hydrogen in home heating by 202612.
Learn all about hydrogen boilers by reading our complete guide
Others suggest that we could use green gas (aka biomethane or biogas) to power our gas boilers instead of natural gas, which is a fossil fuel. But, similarly to hydrogen, green gas isn't yet available on the scale we need. And it's not clear if we can scale it up without significant emissions and costs13.
Insulation and energy-efficiency
As well as the actual central heating systems, insulation is a big part of the puzzle when it comes to decarbonisation.
We need to make sure our homes are energy-efficient, so that they use as little energy as possible while staying warm. This means they need to be able to hold onto heat, through roof and wall insulation. 
Some homes can actually maintain comfortable temperatures without any heating at all, thanks to clever, energy-efficient design. These are known as Passive Houses.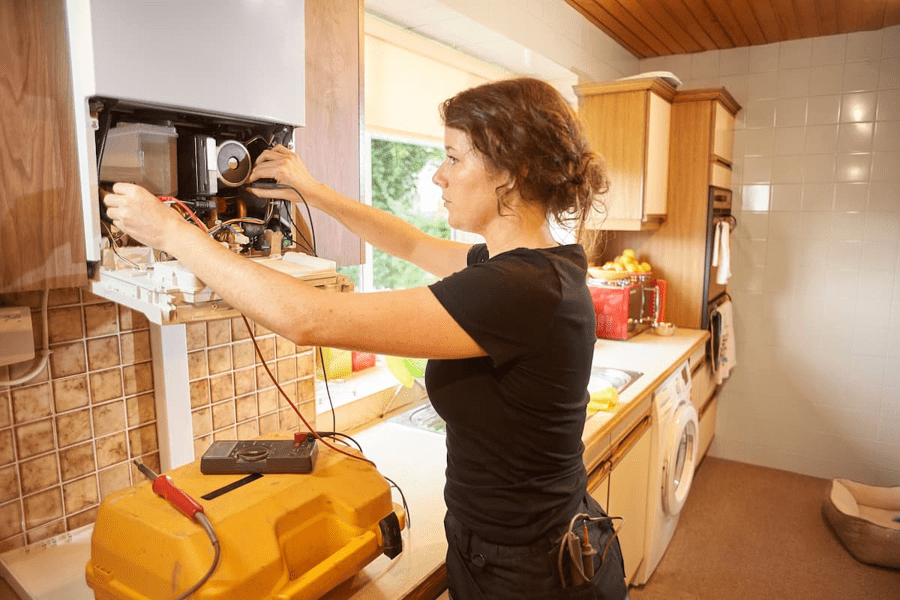 Schemes and incentives to switch to low-carbon heating
All this talk of replacing our heating systems leads to an obvious question: who's going to pay for this?
Many of us can't afford to swap our gas boilers for more pricey heat pumps right now. That's why subsidies and incentives, as well as innovative packages and services will be an important part of the road to decarbonisation. Currently, the government is offering the Renewable Heat Incentive (RHI). In 2022, this will be replaced by the Boiler Upgrade Scheme. 
The Renewable Heat Incentive
The RHI offers quarterly cash payments to people who install a carbon-kicking heating system in their homes. Payments can continue for up to 7 years. The exact amount you'll get depends on what tech you install and other factors.
Applications are still open until 31 March 2022, after which the scheme will be replaced by the Boiler Upgrade Scheme.
Find out more about the RHI, and about other government schemes and grants to make your home greener. 
The Boiler Upgrade Scheme
The UK government announced in their Heat and Buildings Strategy, published in October 2021, that they'll be releasing new grants to help people switch to green heating. 
The new grants will be available from April 2022. They'll give householders £5,000 towards the cost of an air source heat pump, and £6,000 towards the price of a ground source heat pump. 
Join OVO on our mission to decarbonise home heating
Interested in being a heat pump pioneer? You've come to the right place! 
Share your contact details via the link below, and we'll make sure you're the first to know about OVO's green tech offers and trials.
Register interest